It's Time to Commit to Jalen Hurts in Dynasty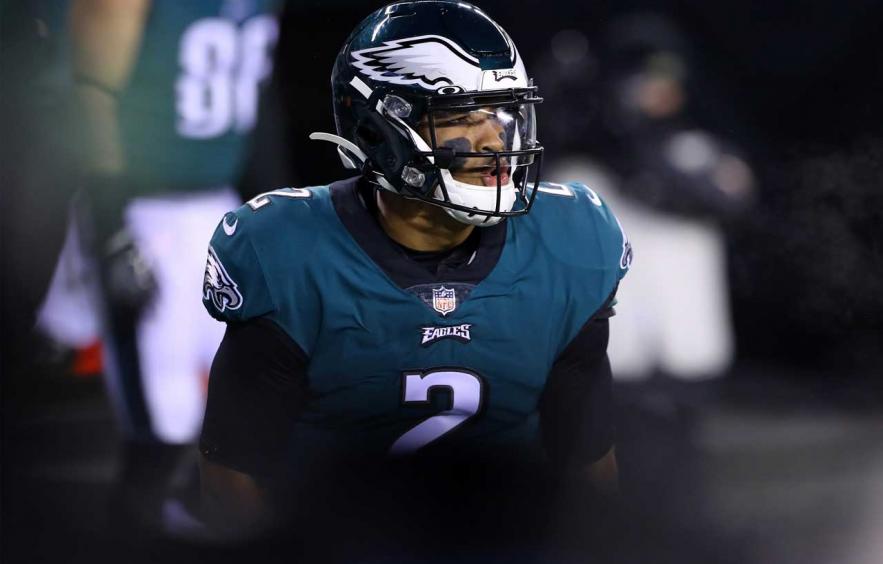 Mitchell Leff/Getty Images
Flashback to the 2020 NFL Draft leadup and this was seen as a three-quarterback class with Jordan Love rising up boards as a developmental franchise-starter and a potential fourth option. There was some hope that perhaps Jake Fromm, Jacob Eason, or someone else could emerge in the right situation, but it was a proposition of betting the field versus singling out an individual.
Lost in the shuffle was Jalen Hurts. Yes, he was accurate but that was in an Oklahoma offense that made every quarterback look good. Hurts was raw, not progressing through reads, and was more of an offensive weapon like Taysom Hill than someone who could lead an offense.
---
MORE 2021 DYNASTY CONTENT: Player Profiles & Strategy | Rookie Rankings | Top 200 Overall Rankings: Superflex + Non-Superflex | NFL Mock Draft | NFL Draft Big Board | Rookie Mock Draft
---
The last 12 months included a Day 2 selection to Philadelphia, a four-game audition at the end of the season, and Carson Wentz leaving town for Indianapolis via trade, the latter removed the only roadblock in Hurts's way. The offseason, other than Wentz's departure, was quiet until the Eagles traded down in the first round of the draft with the Miami Dolphins, going from sixth overall to 12th. That trade has left many wondering if the team is planning to invest in him by providing more offensive help.
Dynasty players, particularly those in Superflex, are also wondering about how to invest in Jalen Hurts. There are three areas to consider as we evaluate his worth in dynasty formats:
What did his four-game sample show us about his ability to produce fantasy points?
How is the Eagles' offense positioned to maximize his production?
Does he have a long-term future as a starting quarterback?
Jalen Hurts

's 2020 Season

Those who started Hurts in the fantasy playoffs were largely rewarded. He finished as the QB3 from Weeks 14 to 16, with a QB19 performance in Week 17 against a tough Washington defense. Hurts had a pair of top-12 performances in that three-week key fantasy stretch, including the QB1 in Week 15, and he never scored less than 18 fantasy points in any of those games.

It all starts with his rushing ability. Hurts rushed at least eight times in all four games he started with three of four resulting in 60+ rushing yards and three rushing touchdowns during that time. Asking him to average 11 attempts per game in 2021 is risky, only Lamar Jackson averaged double-digit rush attempts in 2020, but 8-10 rushes per contest is achievable—and similar to Kyler Murray and Cam Newton. That type of volume could put Hurts in line for 650-750 yards rushing, which would have put him third among quarterbacks in 2020. Add in another 6-8 rushing touchdowns, which could be conservative, given the lack of Philadelphia red-zone options, and suddenly the weekly floor for Hurts is much higher.

But that brings us to the part of the game that many scouts were skeptical of prior to the 2020 NFL Draft: his passing. Hurts threw the ball less than 150 times in 2020 (148) and completed less than 52% of his attempts, never surpassing 56% in a start last year. That lack of accuracy can be partially explained by an 8.1 air yards per attempt (average distance a ball travels to the target), which would have ranked a respectable 14th last year if he had enough attempts to qualify. That number was higher than Tua Tagovailoa (7.5) and Justin Herbert (7.4) and is strongly correlated to passing accuracy, so there is a chance that improves with better short and intermediary options. The Eagles also ranked 10th in pass attempts last season, Hurts averaged just over 32 per game in four starts, so while there could be regression in team passing volume, there should be enough to keep Hurts's inefficient passing from becoming a complete liability.
2021 Philadelphia
Eagles

Offense

As mentioned before, the Eagles have done little to change their offense. In particular, the team has failed to add any wide receivers from a group headlined by last season's first-round NFL Draft pick Jalen Reagor, inconsistent Travis Fulgham, and depth options like Greg Ward and J.J. Arcega-Whiteside. That isn't inspiring for Hurts's future growth, although the tight end position remains a place of strength with Dallas Goedert and Zach Ertz. The running back position has good options as well with Miles Sanders and Boston Scott, who combined for 53 catches in 2020.

Free agency did nothing to help, but the NFL Draft could be an opportunity to improve the offense. The team might balk at picking a wide receiver in the first round for the second year in a row, but they are in prime range for some of the key prospects at the position. Could Jalen Hurts see a reunion with former teammate Jaylen Waddle? Anthony Staggs seems to think so in his latest NFL Mock Draft. That would certainly add an explosive underneath option that Hurts is currently lacking in Philadelphia. Even if they wait beyond Round 1, there is depth in Day 2 that will provide potential immediate help, but something needs to be done heading into 2021.
Jalen Hurts

's Dynasty Value

One of the more debated topics this offseason is around how to value Jalen Hurts in dynasty. Some contend he's on a shorter leash as Philadelphia could look to replace him quickly if 2021 doesn't work out. Others don't see much potential in Hurts, particularly in the passing game as it relates to fantasy. However, the Carson Wentz and sixth-pick trades are moves that show confidence in Hurts, giving him the reins to the offense for at least this season and likely beyond.

In Superflex leagues, Hurts has been traded around the 1.03 to 1.05 range in rookie picks, which could even decrease further as rookie picks gain hype over the next month. This is a good price to buy Hurts, he is young with immediate opportunity and the skill set to produce in fantasy. I would be on the high side here, but know there is enough doubt that trading my 1.03 for Hurts in a 1-on-1 deal is likely not needed. Hurts sellers are likely looking for a quarterback replacement so whether that's a top-five pick for a rookie signal-caller or a package deal with a veteran starter (Wentz and Matthew Stafford have been some in recent trades via DLF's Dynasty Trade Finder) will do the trick in most cases.

In traditional one-quarterback leagues, a random second-round pick is likely all it will take to acquire Hurts. Having one of those veteran starters like Stafford, Derek Carr or Matt Ryan paired with Hurts could make playing the matchups easier while having a safe option if Hurts struggles in his second year.

Currently, Jalen Hurts remains on the fringes of the top-12 quarterbacks in my dynasty and Superflex dynasty rankings, oscillating with Tua Tagovailoa and incoming rookie Justin Fields, the latter potentially slipping in the NFL Draft next month.
Bottom Line
---
Related Articles