2021 NFL Draft Rookie Profile: RB Travis Etienne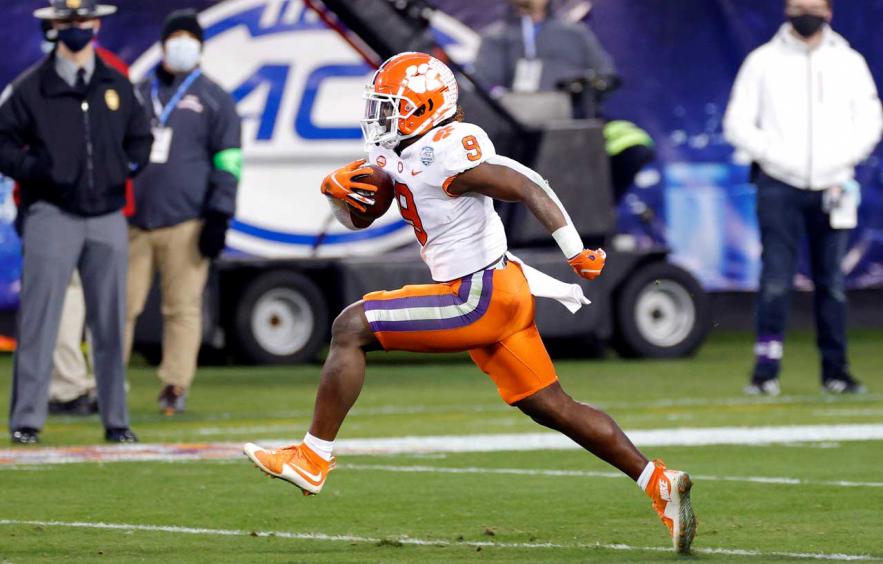 Jared C. Tilton/Getty Images
Originally expected to come out in 2020, Travis Etienne ultimately decided to return to Clemson for his senior season. Unlike many prospects in similar situations, Etienne improved his draft stock through another solid season. Now widely viewed as a top-three back in the NFL Draft, the ACC's all-time leading rusher should hear his name called early in this year's draft.
Coming out of high school, recruiting services labeled Etienne as a four-star prospect and the 15th overall running back in the 2017 class. Prior to running a 4.43 40-yard dash at a regional camp, Etienne only had one collegiate offer. After his eye-opening performance, schools across the country came calling, including LSU in his home state of Louisiana. However, rather than play in front of a home crowd, Etienne opted to attend Clemson. This breakdown will examine Etienne's collegiate production, how that translates to the NFL game, and the potential fantasy implications.
---
2021 NFL Draft Resources: NFL Mock Draft | Top 150 Big Board | Team Needs & Draft Capital
More Rookie Profiles: Kyle Pitts | Elijah Moore | DeVonta Smith | Trevor Lawrence
---
Travis Etienne

's College Production & Profile

From a production standpoint, Etienne produced right out of the gate at Clemson. As a true freshman, he quickly worked his way ahead of standout recruit Tavien Feaster to lead the team in rushing. In that freshman season, Etienne finished with 776 yards and 13 scores on just 107 carries. More impressive yet, Etienne recorded these numbers while seeing double-digit carries in just a pair of games.

Moving forward to his sophomore and junior seasons, Etienne fully emerged as Clemson's primary rusher. He carried the ball 204 times, notching 1,658 yards and 26 scores behind Clemson's elite offensive line as a sophomore. He doubled down on these numbers as a junior, recording 1,614 yards and 23 scores on 207 carries. Impressively, Etienne began to show his receiving chops with 37 catches for 432 yards out of the backfield.

After his junior season, Etienne made the curious decision to return to school. As a senior, Etienne managed just 914 yards on 168 attempts. However, it should be noted that Clemson lost four starting offensive linemen to the NFL Draft ahead of the 2020 season. This caused a drop in production from 3.8 yards before contact in 2018 to 1.8 yards before contact in 2020. Even with the decreased efficiency, Etienne still found ways to improve his draft stock through receiving. Often criticized for his limitations as a receiver, Etienne squashed all doubt with 48 catches and 588 yards as a senior.
Travis Etienne

's 2020 Game Logs

| Opponent | Attempts | Rush Yards | TD | Rec | Rec Yards |
| --- | --- | --- | --- | --- | --- |
| Wake Forest | 17 | 102 | 1 | 3 | 47 |
| Citadel | 8 | 68 | 0 | 1 | 11 |
| Virginia | 14 | 73 | 1 | 5 | 114 |
| Miami | 17 | 149 | 2 | 8 | 73 |
| Georgia Tech | 11 | 44 | 1 | 2 | 29 |
| Syracuse | 16 | 86 | 3 | 3 | 20 |
| Boston College | 20 | 84 | 1 | 7 | 140 |
| Notre Dame | 18 | 28 | 1 | 8 | 57 |
| Pittsburgh | 11 | 58 | 2 | 3 | 20 |
| Virginia Tech | 16 | 66 | 0 | 1 | 1 |
| Notre Dame | 10 | 124 | 1 | 3 | 12 |
| Ohio State | 10 | 32 | 1 | 4 | 64 |
From an efficiency perspective, Etienne checks almost every box as well. As mentioned above, Clemson's offensive line took a step back in 2020. However, Etienne still managed 822 yards after contact, which ranked fifth in the country. Etienne also forced 43 missed tackles, showing his ability to create in less than favorable offensive environments. Coupled with his ability as a receiver, Etienne profiles as an immediate three-down back at the NFL level.
Player Comparison
From an athleticism standpoint, most already considered Etienne among the elite prospects in the class. However, Etienne improved his stock further by checking in at 5-foot-10 and 215 pounds, giving him feature-back size. On top of the size, Etienne ran a 4.41 40-yard dash and jumped 33.5-inches in the vertical. This type of athleticism, an 18.6 Breakout Age, and a 26.4% College Dominator give Etienne some of the top comparables in recent memory. Breakout Age refers to the age of a player during their first season accounting for 20% of the yardage and touchdowns in their offense. College Dominator refers to the total percentage of yardage and touchdown production a player accounted for in their final season.
Among the group, Alvin Kamara, Felix Jones, Cam Akers and LaDainian Tomlinson offer the closest comparisons. Tomlinson makes the list from an athleticism standpoint after running a 4.46 40-yard dash at 215 pounds. However, he proved far more productive at San Diego State with a 46.2% Dominator Rating. Akers presents a better comparison after running a 4.47 40-yard dash at 217 pounds. He also broke out at age 18.2, but posted a superior 39.8% College Dominator at Florida State.
Travis Etienne

vs.

Alvin Kamara

| Player | School | Height | Weight | 40-Yard | Breakout Age | Dominator% | Target Share% |
| --- | --- | --- | --- | --- | --- | --- | --- |
| Travis Etienne | Clemson | 5'10" | 215 | 4.41 | 18.6 | 26.4% | 12.2% |
| Alvin Kamara | Tennessee | 5'10" | 214 | 4.56 | 20.1 | 23.3% | 14.0% |
The best comparison in the group—and perhaps Etienne's NFL ceiling—is Kamara. Kamara left Tennessee as a 5-foot-10, 214-pound prospect with a 4.56 40-yard dash. While ceding some athleticism to Etienne, Kamara's production profile looks quite similar. Kamara broke out at age 20.1, but posted a 23.3% College Dominator and a 14% target share. Either way, nearly every running back in this cohort found success at the NFL level with Pro Bowl-caliber ceilings.
Closest Player Comparison: Alvin Kamara
Ideal Landing Spot
With running backs more replaceable than ever, teams continue to prioritize other positions in the NFL Draft. Because of this, teams drafting towards the end of the first or top of the second make the most sense for Etienne. Isolating teams with a need at the position in this range, Jacksonville, Buffalo, Atlanta and Miami all make varying degrees of sense.
Jacksonville needs to fill a roster full of holes, but they also have an abundance of draft capital. The Jaguars draft first, 25th, 33rd and 45th, giving them a solid shot at Etienne. Presumed to be drafting Trevor Lawrence first overall, this would reunite the collegiate teammates as well. Buffalo also could stand to draft a running back, but they've now selected Devin Singletary and Zack Moss in two consecutive seasons.
Atlanta sits with just Mike Davis after letting Todd Gurley walk. However, they need to replace the aging Matt Ryan and Julio Jones, while piecing together a new-look defense. Perhaps the best fit comes with the Miami Dolphins. The Dolphins draft sixth, 18th, 36th and 50th, giving them an abundance of draft capital. Their roster contains just Myles Gaskin, Salvon Ahmed and Malcolm Brown. They've also made it a priority to bring in talent to surround Tua Tagovailoa. With pick 36, Miami can find an immediate upgrade in the run and pass game, while using their other draft capital to address additional needs.
Best Landing Spot: Miami Dolphins
Bottom Line
A consensus top-three back in the class, Etienne has a legitimate shot to land with an emerging offense. Possessing the skills to play a feature-back role immediately, Etienne should contribute early on from a fantasy perspective. If Etienne lands with Atlanta, Miami, or another team with an immediate running back need, the former Clemson Tiger could come off fantasy draft boards as high as the second round. As for dynasty, 4for4 Dynasty Lead George Kritikos has Chase ranked as his rookie RB2 and 37th overall player in his dynasty rankings.
---
Related Articles