Myles Gaskin Has Nothing to Worry About in Malcolm Brown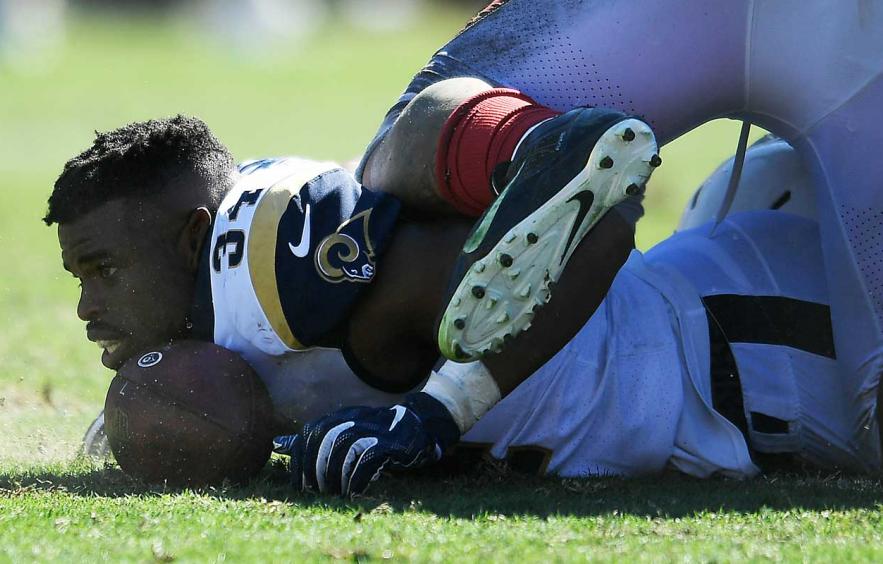 John McCoy/Getty Images
One of the more low-key storylines heading into free agency was what the Miami Dolphins were going to do at the running back position. If the Dolphins made a splashy running back signing, it likely would have spelled the end of Myles Gaskin's run as the team's No. 1 back, killing any potential fantasy appeal he would hold as a viable RB2. They had been linked as a potential suitor for the services of Aaron Jones (before he re-signed with the Green Bay Packers) and James Conner (who still remains unsigned). The heart of the free-agent frenzy has come and gone, though, and the only move the Dolphins made to bolster their running back corps was to add Malcolm Brown on a one-year deal. Let's take a look at what this means for fantasy football.
---
Editor's Note: Read more free agent player profiles from the rest of the 4for4 staff.
---
Welcome to Miami
Brown, a former undrafted free agent who spent the past six seasons with the Rams, now heads to a Miami running back room headed by Gaskin. A one-year deal for less than $2 million doesn't sound like much of a commitment to Brown, nor should it be seen as a major threat to Gaskin's workload. However, Brown does have a history of siphoning touches from the back(s) ahead of him on the depth chart. He actually led the Rams in touches through the first quarter of the 2020 season, if you recall, and he led the position in touches in three games last season. He also recorded double-digit touches in a game five times. Small-game sample size Twitter remembers how Brown turned 21 touches into 110 total yards and two touchdowns in Week 1 of the 2020 season, finishing the week as fantasy's half-PPR RB4. Outside of a couple of more double-digit half-PPR weekly performances, Brown wasn't much of a fantasy factor last season. In fact, his 24.5 half-PPR points in Week 1 accounted for 25.1% of his season total. A role as a capable backup who can fill in when needed is the type of role he was likely signed for in Miami—music to the ears of fantasy players who believe in Gaskin.
Myles Ahead
Even though he played in only 10 games last season, Gaskin still led the Dolphins in touches with 183. Prior to a spell in the second half of the season where he missed six of the Dolphins' final nine games, his 18.6 touches/game from Weeks 1-8 were the ninth-most in the NFL (if we remove Christian McCaffrey, who played only two games during that span). Gaskin touched the ball 10+ times in each of his 10 games, with 13+ touches in nine games and 19+ touches in six games. If we remove Week 17 from the equation, only six of the top-12 half-PPR backs from last season touched the ball more than Gaskins on a per-game basis. His 14.2 half-PPR points/game average from last season was the ninth-most at running back (minimum 9 games played).
Gaskin was also involved in the passing game in Miami, catching at least three passes and seeing at least four targets in all but one of his 10 games. Again, despite missing six games, he finished 19th at the position in targets (47), 15th at the position in catches (41) and seventh at the position in receiving yards (388). A back who averaged 18.3 touches (including 4.1 catches) and 97.2 combined yards per game is definitely worthy of consideration in today's fantasy football game.
Malcolm Brown is not going to get in the way of Myles Gaskin in 2021, and it looks highly unlikely at this point the Dolphins add another free-agent back such as James Conner or Todd Gurley. The only thing stopping Gaskin from being the team's unquestioned top back and one to target in fantasy drafts is the actual NFL Draft—admittedly, this is a potentially huge obstacle. The Dolphins are loaded with premium draft capital, currently holding two first-round picks and four picks in the top 50. It's not hard to envision the Dolphins coming away from the draft with a Day 1 or Day 2 back such as Najee Harris or Travis Etienne, who could eat into Gaskin's workload. We need to re-consider Gaskin as a fantasy target if that were to happen. However, as it stands now, Gaskin's RB29 ADP (behind rookies such as Javonte Williams and backups like A.J. Dillon) is too low.
Post-NFL Draft Update: The Dolphins used very little draft capital on the running back position, selecting Gerrid Doaks with the 17th pick in the seventh round (244 overall). Gaskins looks locked and loaded as the team's No. 1 RB headed into the season.
Cam Akers

to the Moon

We've gone over what Malcolm Brown's signing means for the Miami Dolphins, specifically the fantasy impact it has on Myles Gaskin, but what about his former team? The 2021 season looks like it will start where the 2020 season ended, with Cam Akers as the team's lead back. From Weeks 13-17, Akers's 23.5 touches/game was fourth at the running back position. Of backs with 90+ touches during that span, only Jonathan Taylor (1.22) had a higher PPR points/touch rate than Akers (1.04). Following a strong end to the regular season, Akers showed out in the Rams' two playoff games: 49 touches, 272 yards and two touchdowns, equating to 21.4 half-PPR points/game.

The most likely scenario for Akers and the Rams is that he heads into the new season as their unquestioned back, with Darrell Henderson entrenched as the backup. Unlike the Dolphins, the Rams lack the necessary firepower to add a top back in the draft (they don't have a first-round pick thanks to the Matthew Stafford trade). A former second-round pick, Akers will be only 22 when he heads into his second season in the league, negating any need for the team to draft a back early. The departure of Brown should only put more work on Akers's shoulders and cement him as a top-10 fantasy back with an early-round ADP. His BestBall10s ADP currently sees him going off the board 13th overall (RB9) with an ADP of 13.43.
Bottom Line
Myles Gaskin (and fantasy managers) shouldn't be worried about the arrival of Malcolm Brown in Miami, who should be viewed as nothing more than a backup.
Gaskin has the potential to produce high-end RB2 numbers if he can stay healthy for a full season and the Dolphins don't bring in true competition in the form of an early-round rookie running back. (Post-NFL Draft Update: They did not draft an early-round RB.)
Brown's departure from Los Angeles means only a bigger workload for Cam Akers, which will solidify him as an early-round fantasy pick. Be prepared to select him within the first two rounds of your fantasy draft.
---
Related Articles