2021 NFL Draft Rookie Profile: WR DeVonta Smith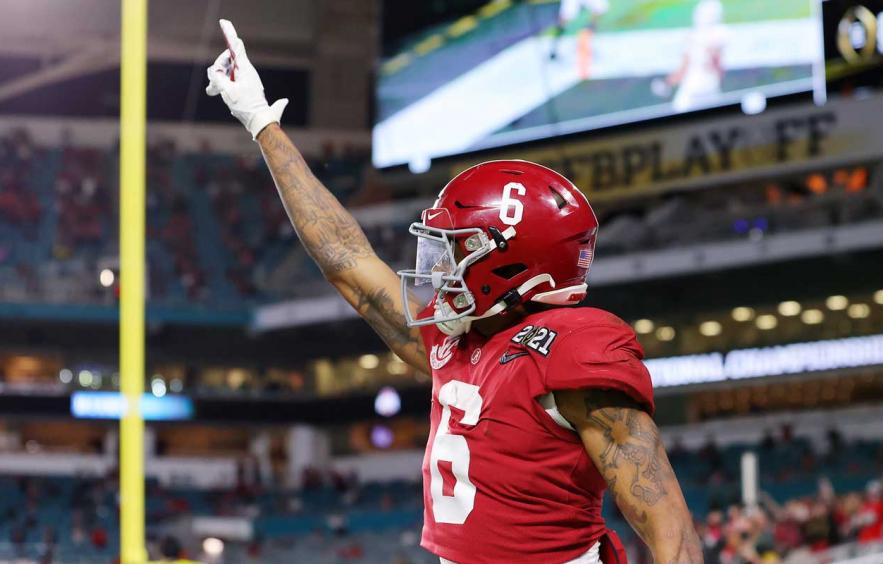 Kevin C. Cox/Getty Images
After spending multiple seasons in Alabama's elite wide receiver room, DeVonta Smith broke out in a major way in 2020. Recipient of the Heisman Trophy, Smith also broke the SEC record for most receiving yards and touchdowns in a single season during his historic 2020 campaign.
Coming out of high school, recruiting services labeled Smith a four-star prospect. He was the ninth overall receiver in the 2017 class. Smith originally committed to Georgia but re-opened his recruitment following changes to the coaching staff. After entertaining offers from the top programs in the country, Smith ultimately signed with Alabama. This breakdown will examine Smith's collegiate production, how that translates to the NFL game, and the potential fantasy implications.
---
2021 NFL Draft Resources: NFL Mock Draft | Top 150 Big Board | Team Needs & Draft Capital
More Rookie Profiles: Kyle Pitts | Elijah Moore | Travis Etienne | Trevor Lawrence
---
DeVonta Smith

's College Production & Profile

As a true freshman, Smith burned his redshirt season and immediately appeared in eight games. However, he notched just eight catches for 160 yards and three scores as he competed for playing time alongside Calvin Ridley, Jerry Jeudy, Henry Ruggs, Irv Smith Jr., Robert Foster and Cam Sims. While the production wasn't there, Smith actually played the fourth-most snaps among Alabama's wide receivers that season.

Moving to 2018, Smith began to show glimpses of elite production. He finished the season with 42 catches, 693 receiving yards and six scores, despite still competing with Jeudy, Ruggs, Irv Smith Jr. and Jaylen Waddle. Smith also suffered a hamstring injury in the middle of the season, causing him to miss multiple games and slowing him down the stretch. Prior to the injury, Smith ranked second on the team in receptions.

Finally healthy, Smith erupted in 2019 to lead Alabama in receiving, notching 68 catches for 1,256 yards and 14 scores—besting first-round draft picks Jeudy and Ruggs. This set the stage for Smith's historic 2020 season, where he recorded 117 catches, 1,856 yards and 23 scores. Between these two seasons, Smith leaves college as one of the most productive wide receivers of all time.
DeVonta Smith

's 2020 Game Logs

| Opponent | Targets | Receptions | Yards | TD |
| --- | --- | --- | --- | --- |
| Missouri | 12 | 8 | 89 | 0 |
| Texas A&M | 7 | 6 | 63 | 1 |
| Ole Miss | 14 | 13 | 164 | 1 |
| Georgia | 14 | 11 | 167 | 2 |
| Tennessee | 10 | 7 | 73 | 0 |
| Mississippi State | 15 | 11 | 203 | 4 |
| Kentucky | 13 | 9 | 144 | 2 |
| Auburn | 7 | 7 | 171 | 2 |
| LSU | 10 | 8 | 231 | 3 |
| Arkansas | 4 | 3 | 22 | 0 |
| Florida | 17 | 15 | 184 | 2 |
| Notre Dame | 7 | 7 | 130 | 3 |
| Ohio State | 15 | 12 | 215 | 3 |
Player Comparison
Smith produced all over the field in his time at Alabama, playing in the slot on 35% of his snaps in 2020, while moving across the formation when split out wide. Smith excelled downfield, leading the country with 589 receiving yards on catches occurring beyond 20-yards. He also created on his own—8.2 yards after the catch per reception, which ranked 20th in the country in 2020. While Smith certainly benefited from the elite quarterback play of Tua Tagovailoa and Mac Jones, his production all over the field in a variety of alignments speaks for itself.
Unfortunately, Smith underwent finger surgery following an injury in the College Football playoff. This prevented him from working out fully, but he still checked in at 6-foot-0 and 170 pounds. Fortunately, Smith's collegiate profile keeps him among the elite wide receivers in this class: a 20.9 Breakout Age, a 47.3% College Dominator and a 35.8% target share during his time at Alabama. Breakout Age refers to the age of a player during their first season accounting for 20% of receiving yards and touchdowns in their offense. College Dominator refers to the total percentage of receiving yardage and touchdown production a player accounted for in their final season.
However, entering the NFL with the slightest of frames, player comparisons remain a real challenge for Smith. Players like Rashad Ross, Tiquan Underwood and Dede Westbrook entered the league with similar frames. However, none displayed elite college production. The top comparison in the group remains Paul Richardson, who left Colorado at 6-foot-0 and 170-pounds. Richardson ran a 4.40 40-yard dash and jumped 38 inches in the vertical. He also recorded an 18.4 Breakout Age, 46.3% College Dominator and a 35.6% target share.
DeVonta Smith

vs.

Paul Richardson

| Player | School | Height | Weight | 40-Yard Time | Vertical Jump | Breakout Age | College Dominator% | Target Share% |
| --- | --- | --- | --- | --- | --- | --- | --- | --- |
| DeVonta Smith | Alabama | 6'0" | 170 | - | - | 20.9 | 47.3% | 35.8% |
| Paul Richardson | Colorado | 6'0" | 175 | 4.40 | 38 | 18.4 | 46.3% | 35.6% |
While few comparisons exist in this size range, Richardson shows the risks of this size profile at the NFL level despite collegiate production. Richardson played six seasons in the NFL, maxing out at 703 yards in 2016. However, the former collegiate star failed to eclipse 300 receiving yards in any of his other seasons. Drafted not that long ago in 2014 and only 28 years old, Richardson failed to reach an active roster in 2020.
With that said, outliers exist and they will continue to emerge in the future. In recent seasons, both Tyreek Hill and Calvin Ridley emerged as outliers in their respective draft classes. Unlike Richardson, Smith already bested elite SEC competition for multiple seasons alongside top competition within his own offense. Still, Smith's profile comes with a degree of risk NFL teams will have to be comfortable.
Closest Player Comparison: Paul Richardson
Ideal Landing Spot
Even with the concerns, Smith still sits in the top three wide receivers of most NFL media scouts. A potential top-10 pick, Smith likely comes off the board well within the first round. Similar to Ja'Marr Chase, the expected early draft capital removes numerous teams from contention. However, Atlanta, Cincinnati, Miami and Detroit all pick between four and seven, and need wide receiver help to some degree. A potential slide could also set up teams like Philadelphia (12 overall) and New England (15 overall) to pick Smith. Our mock draft expert, Anthony Staggs, has Smith as a top-7 pick.
Of this group, Atlanta and Miami look like the most logical destinations. Cincinnati needs offensive line help and Detroit may find themselves on the outside looking in. Atlanta needs aid on defense, but they also need to figure out a way to replace Julio Jones. Already displaying clear ties to the Alabama receiver room, both Ridley and Jones came from the same program. Meanwhile, Miami added speedster Will Fuller to complement boundary receiver DeVante Parker this offseason. Selecting Smith would upgrade the slot and reunite Smith with Tagovailoa, his college quarterback.
Best Landing Spot: Miami Dolphins
Bottom Line
While his size does raise concerns at the NFL level, projected draft capital combined with elite collegiate production gives Smith a solid projection at the NFL level. Teams that utilize Smith in the slot or give him clean releases project to carry the most success. For fantasy purposes, Smith looks like a solid bet to receive an immediate opportunity. This means Smith deserves consideration in the top half of drafts with a chance to creep inside the top five rounds, pending landing spot. As for dynasty, 4for4 Dynasty Lead George Kritikos has Chase ranked as his rookie WR2 and 44th overall player in his dynasty rankings.
---
Related Articles