The Key to Un-Locking Jerry Jeudy's Long-Term Dynasty Potential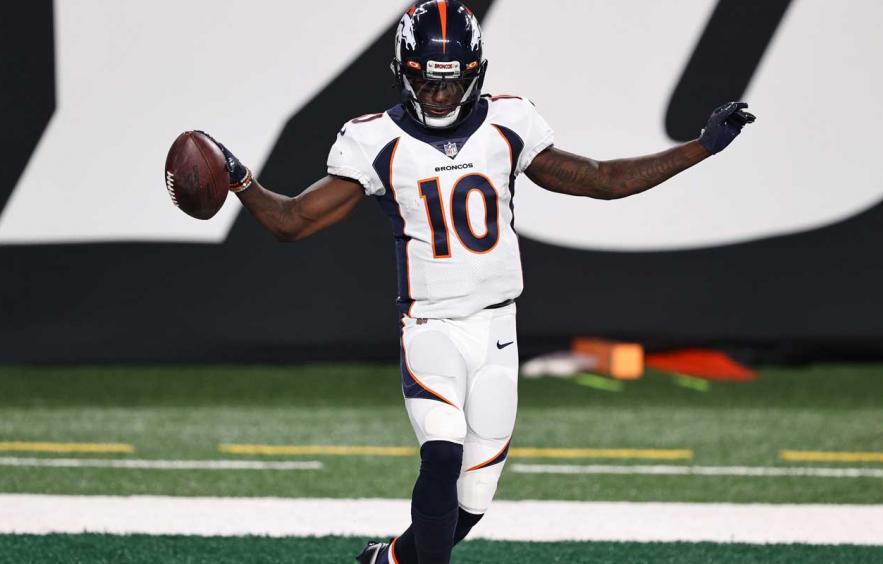 Elsa/Getty Images
A promising Denver Broncos skill position group heading into 2020 looked to be the key to buoying their scoring offense into the top half of the league, if not the top 10. Instead, they scored the fourth-fewest points and led the league in turnovers, thanks in large part to inconsistent quarterback play and an injury to the team's number one wide receiver.
---
MORE 2021 DYNASTY CONTENT: Player Profiles & Strategy | Rookie Rankings | Top 200 Overall Rankings: Superflex + Non-Superflex | NFL Mock Draft | Rookie Mock Draft
---
The injury opened the door of increased opportunity for the 15th overall selection of that year's draft: Jerry Jeudy. Because of the glaring weakness of the quarterback position—and Jeudy's own hands—that opportunity was mostly floundered even though he finished the season with 113 targets. Will the 2020 season turn out to be an outlier in Jeudy's career, or will we be riding that rollercoaster of instability in fantasy football with him for the foreseeable future?
We'll dissect exactly that question and figure out what type of dynasty value he holds.
Jerry Jeudy

's 2020 Overview

2020 Raw Stats: 16 Games, 52-856-3 on 113 targets (46% catch rate)

2020 Half-PPR Fantasy Finish: WR45 overall, WR62 in points per game (8.1)

Rumored before the 2020 NFL Draft to be a target for the newly-transferred Las Vegas Raiders, Jerry Jeudy instead began his professional career with AFC West rival the Denver Broncos. Jeudy was almost immediately thrust into a quasi-number one receiver role when running mate Courtland Sutton went down for the season after only one game. Even with the increase in target share, it was a season to forget. Fellow rookie wide receiver K.J. Hamler (a second-round pick) shared in the struggle to find reliability in an offense headed by a wildly inconsistent Drew Lock and a sprinkling of Brett Rypien, Jeff Driskel, and practice-squad-wide-receiver-turned-quarterback, Kendall Hinton.

Though there was a lack of fantasy production, Jeudy was still able to exhibit the route-running ability that made him a consensus top-three draft option at the wide receiver position, showing glimpses of a future top-tier player.

*Yards per route run

Nobody in Denver had much of a usable season, and though Jeudy led the team in fantasy production, he still finished as the overall WR45. If he had closer to a league-average catch rate, we could have seen him in the 70-catch radius and would be singing a different tune. Though drops are oftentimes overstated, Jeudy's hands need to be addressed here. Of the 41 players with 100+ targets during the 2020 season, the rookie ranked first in drop% (17.6) and 40th in on-target catch% (78.1).
This was a nightmare game for Jerry Jeudy. 5 drops. One for a TD and another to possibly put the Broncos in place to win the game. I'll say this, Drew Lock keeps going to him. He has shown Jeudy he still has confidence him. But he can't catch a ball.

— James Palmer (@JamesPalmerTV) December 28, 2020
A big knock on Jeudy coming out of Alabama was his issues with drops, and particularly concentration drops. Because of his immense run-after-catch abilities, he frequently takes his eye off the ball in flight to map out his plan of action post-catch. It is unlikely a physical limitation and should be something he can work on in his first full offseason as a pro. Talking to the Denver Post after that brutal five-drop Chargers game, the rookie was very aware of his issue;
"Having that Chargers game helped me a lot in practice because I focused a lot more on catching the ball and during the offseason, I'm going to do everything to make sure I don't have a game like that again"
The numbers are there to back up the drive; according to a study done by TJ Hernandez last Summer, a wide receiver's catch rate is one of the least sticky year-to-year stats. More importantly, the two most sticky year-to-year stats—average depth of target (aDOT) and targets per game—are exactly where Jerry Jeudy was able to stand out last year. Jeudy racked up 7.1 targets per game despite playing with a roulette wheel of quarterbacks. His 13.7 aDOT ranked in the top 10 amongst qualifying wide receivers.
It was a rookie season to forget, but it's clear head coach Vic Fangio and offensive coordinator Pat Shurmur want to get the ball into Jeudy's hands—sometimes that's the biggest hurdle.
Long-Term Offensive Environment and Competition
The significant red flag to consider when projecting Jerry Jeudy's immediate usage with the team is the return of Courtland Sutton. A Pro Bowl selection in 2019, Sutton cleaned up his own issues with drops and expanded his route tree to take over a gaping target-hole left by the departure of veterans Demaryius Thomas and Emmanuel Sanders. Teams can often work with two "alpha" receivers, such as the Buccaneers (Mike Evans/Chris Godwin), the Falcons (Julio Jones/Calvin Ridley), or the Seahawks (DK Metcalf/Tyler Lockett), but is that something Drew Lock can support? Not exceedingly likely.
Lock took a three-step drop backward during the course of his sophomore year; finishing the season with 16 touchdown passes, 15 interceptions and a 71.3% on-target%, ranking him 34th out of 36 qualifying quarterbacks. With crushing needs on the defensive side of the ball, it is all but certain the Broncos will not address the Drew Lock problem through the draft, but that doesn't mean we can't or won't see a free agent addition sooner rather than later.
Sam Darnold, Ryan Fitzpatrick and Deshaun Watson are rumored to be possibilities, with varying degrees of likelihood and excitement tied to each of them. If Watson is shipped to Denver I think we would all be in lock-step that both Sutton and Jeudy would be easy top-24 and possible top-12 options, while the impact made from a Darnold signing would be a little more blase.
Both Sutton and Jeudy can be options to stretch the field, Sutton with his contested catch prowess, and Jeudy with his flat-out speed and after-the-catch abilities. The current quarterback situation does not set up well to unlock those abilities, as Drew Lock has not shown a propensity to uncork the ball down the field with accuracy relative to the rest of the league. Lock attempted 64 passes with 20+ air yards in 2020. Here is what he did with those attempts: five interceptions (tied-worst), 7.8 interception% (third-worst), 10.3 yards per attempt (fourth-worst), 28.1 completion% (third-worst) and a 4.7 touchdown% (second-worst).
The competition for a market share inside of the Broncos' offense with Courtland Sutton and a developing tight end tandem of Noah Fant and Albert Okwuegbunam is a strike against Jerry Jeudy's dynasty outlook, but his quarterback may be an even bigger problem.
Value
As everybody knows, Twitter is where you need to go to find reasonable, unbiased opinions on football, and all other walks of life. As such, I polled the Interwebz to find out what dynasty players thought a good price for acquiring a share in Jerry Jeudy would be. Here are the results:
What would you pay for Jerry Jeudy in Dynasty right now?

— Justin Edwards (@Justin_Redwards) February 21, 2021
Quite the mixed bag here, with the overwhelming takeaway being that a mid-first-round rookie pick is going a little too far to acquire Jeudy. The option of "Not buying" nearly winning the poll feels like an oversight, as paying a couple of random second-round rookie picks for a guy who was going in the 1.04-1.06 range this time last year is an exceptional value. People are scared away by Drew Lock, and though I understand we should be taking Jeudy's ceiling into account. He still went 143-2,478-24 over his final two years in college and has plenty of physical tools that are very liable to translate into a career of fantasy production.
4for4 Dynasty Lead George Kritikos has Jeudy ranked as the 32nd-most valuable dynasty asset (WR16). That puts his value somewhere around the 1.09 rookie pick.
Bottom Line
Jerry Jeudy has a legitimate problem with drops, but it is possible we have already seen the worst of it.
A change at quarterback is needed for us to see a sophomore (and beyond) realization of Jeudy's fantasy ceiling.
Courtland Sutton returning may be causing Jeudy's value to dip too far, presenting an opportunity to acquire shares of a player who could eventually follow in the footsteps of another route running maven in Stefon Diggs.
---
Related Articles