The Chase Edmonds Dynasty Hate Has Gone Too Far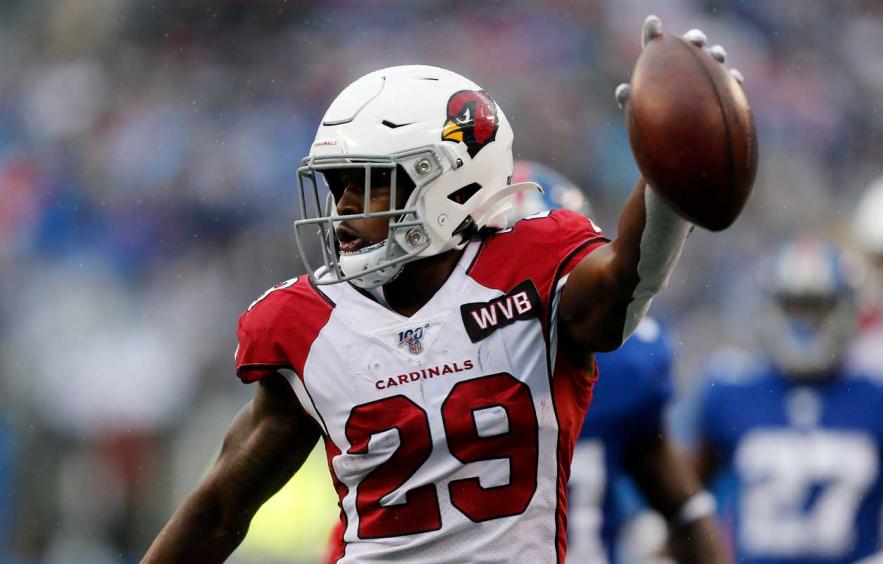 Jim McIsaac/Getty Images
On paper, the Arizona Cardinals' 2020 season could be considered a success; an electrifying sophomore season from Kyler Murray and a 115-catch Cardinal debut from DeAndre Hopkins led to an 8-8 season—and one Week 17 win away from sliding into a Wild Card slot of the NFL playoffs. Though, if we take a step back, we notice Arizona's eight wins came against teams with a combined .437 winning percentage, and, more importantly for today's topic, the running game looked inept at times—unless sparked on Murray's wheels.
Kenyan Drake and Chase Edmonds had the backfield almost entirely to themselves but neither could sustain long stretches of usable weeks behind an offensive line ranked 30th in Adjusted Line Yards. There are reasons to believe Edmonds can continue to build upon his moderate success over the last two seasons while sharing the backfield with Drake—and David Johnson in 2019—but exactly how high is his ceiling?
We'll dissect exactly that question and figure out what type of dynasty value he holds.
---
MORE 2021 DYNASTY CONTENT: Player Profiles & Strategy | Rookie Rankings | Top 200 Overall Rankings: Superflex + Non-Superflex | NFL Mock Draft | Rookie Mock Draft
---
Chase Edmonds

's 2020 Overview

2020 Raw Stats: 16 Games, 97-448-1 rushing, 53-402-4 receiving (on 68 targets)

2020 Half-PPR Fantasy Finish: RB28, RB41 in points per game (8.8)

A four-year starter as a Fordham Ram (Division 1AA), Chase Edmonds finished his college career with the most yards in Patriot League history (5,862). After a rookie season in which the Cardinals only had him on the field for 187 offensive snaps (and a similar number on special teams), Edmonds proved he should spend less time on punt coverage on more time above David Johnson on the pecking order of touches in 2019.
2019 Arizona

Cardinals

RB Production

| Player | Rush Attempts | Y/A | Yards After Contact/Att | Brkn Tkl% | Targets | Y/Target |
| --- | --- | --- | --- | --- | --- | --- |
| Kenyan Drake | 123 | 5.2 | 2.3 | 9.8 | 34 | 5.03 |
| David Johnson | 94 | 3.7 | 2 | 5.0 | 47 | 7.87 |
| Chase Edmonds | 60 | 5.0 | 2.7 | 3.2 | 20 | 5.25 |
Though Johnson was hindered with a back injury, Edmonds made his case for more playing time. The coaching staff had no problem moving most of the pass-catching work out of the backfield onto Edmonds's plate following an off-season trade that shipped out David Johnson and brought in DeAndre Hopkins. The 2020 season saw Kenyan Drake's passing game usage take a hit while Edmonds had 5+ targets in eight games.
2020 Arizona

Cardinals

RB Production

| Player | Rush Attempts | Y/A | Yards After Contact/Att | Brkn Tkl% | Targets | Y/Target |
| --- | --- | --- | --- | --- | --- | --- |
| Kenyan Drake | 239 | 4.0 | 1.9 | 2.5 | 31 | 4.42 |
| Chase Edmonds | 97 | 4.6 | 2.1 | 5.2 | 68 | 5.96 |
Despite setting career-highs in practically every counting stat department of both rushing and receiving, Edmonds was far out-touched by his backfield mate Drake. What we should focus on—and where we can derive value in fantasy land—is Edmonds's passing-game usage. Even if he played second fiddle on his team, he still finished tied for sixth in the league in targets as a running back with those 68 looks shown above.
Far superior in a raw number sense, Edmonds was also much more efficient with his route running; accruing 1.33 yards per route run (15th/58 qualifying backs, 302 routes run) to Drake's 0.55 YPRR (54th/58, 251 routes run).
Long-Term Offensive Environment and Competition
In his second year as coach of the Arizona Cardinals, Kliff Kingsbury successfully bolstered his team's total yardage from 21st in the league to sixth and turned 38 offensive touchdowns in 2019 into 49 offensive touchdowns in 2020. Whether or not NFL defenses catch up with Kingsbury's offense is a different topic, but top-10, top-15 offensive output is very much in the cards for this team, with a possibility for more.
While raw offensive output shouldn't be a problem moving forward, both Kingsbury's running back usage history and Kyler Murray himself sap some of the ceiling away from potential fantasy studs.
Murray ran the ball 133 times for 819 yards and 11 touchdowns in 2020. That in and of itself is obviously yardage that the running back can't rack up, but what's more, 66 of those attempts came on designed quarterback runs, which was the third-most in the league behind Lamar Jackson and Cam Newton.
To further exasperate things, Kingsbury has not been historically known to grind away with just one bell-cow running back. After the departure of DeAndre Washington from Texas Tech following the 2015 season, Kingsbury spent his final three years in Lubbock, Texas spreading the ball around to his running back room. It culminated in his final college coaching season (2018) where not a single player on the team eclipsed the 100-carry mark. Judging by the types of running back names available on the market and a full offseason to plan with life after the corpse of David Johnson, I would bet on the 239 rush attempts from Kenyan Drake last year to be an outlier.
It looks like Drake will turn that usage into a paycheck elsewhere, leaving Edmonds as the incumbent to battle with a rookie or a free agent, as Jonathan Ward and Eno Benjamin are unlikely to vie for a large share of playing time.
Talking with Jess Root, site editor of Cards Wire, he proposed two names he believed Arizona might look at: Le'Veon Bell and Carlos Hyde. For fantasy purposes and workload prognostications, we would much prefer the second option, as Hyde has never been known to be much involved in the passing game. Besides that, Edmonds would probably have an easier job siphoning touches from Hyde rather than Bell, just considering the price Arizona may have to pay the latter.
A couple of other names I've seen floating around that could make some sense for Arizona are Jamaal Williams and Marlon Mack, both of whom would fill into a Kenyan Drake role pretty seamlessly. Chase Edmonds maintaining his 2020 role behind any of these free agents (or a returning Drake) is certainly the most likely scenario, but it doesn't mean it's the only possible scenario.
Edmonds's size (5-foot-9, 210 pounds) is always an easy go-to when pondering if he'll ever be an 18-20 touch a game player, but that size is overstated when you consider some recent players who have gone on to carry a majority workload. Alvin Kamara (5-foot-10, 214 pounds), Austin Ekeler (5-foot-10, 200 pounds), Aaron Jones (5-foot-9, 208 pounds) and D'Andre Swift (5-foot-8, 212 pounds) are all examples of similarly-built players people don't seem to be too worried about. That's not to say Edmonds has the ideal size or he will be unhindered by a 250+ touch season, but it would be lazy to simply eliminate him just because of a perceived size disadvantage.
Value
As everybody knows, Twitter is where you need to go to find reasonable, unbiased opinions on football, and all other walks of life. As such, I polled the Interwebz to find out what dynasty players thought a good price for acquiring a share in Chase Edmonds would be. Here are the results:
What would you pay for Chase Edmonds in Dynasty right now?

— Justin Edwards (@Justin_Redwards) February 17, 2021
Not only did a "late-second rookie pick or later" blow the rest of the options out of the water, but some people were also offended the first three answers were even options. The most likely scenario—Arizona runs Edmonds's usage back at the same levels as 2020—would mean he is right back in the running as a back-end RB2 in fantasy. If these results speak true to your league and dynasty players as a whole, Chase Edmonds is very much worth your "later than a late-second rookie pick".
4for4 Dynasty Lead George Kritikos has Edmonds ranked as the 78th-most valuable dynasty asset (RB27). That puts his value somewhere around the 2.01 rookie pick.
Bottom Line
Chase Edmonds is the most efficient back on the Cardinals' roster right now, and would likely remain that way barring a first- or second-round rookie running back addition.
Edmonds needs everything to break his way to become a top-15 back in 2021 but almost nothing to ensure a top-30 finish, which has its value in a dynasty league.
A low-ceiling option with big question marks about his future after this season, shares of Edmonds can be had for cheap. He should be targeted for teams that have strong rosters everywhere but running back and need consistent production in half- and full-PPR leagues.
---
Related Articles