Clyde Edwards-Helaire Can Still Be a Top-10 Dynasty Running Back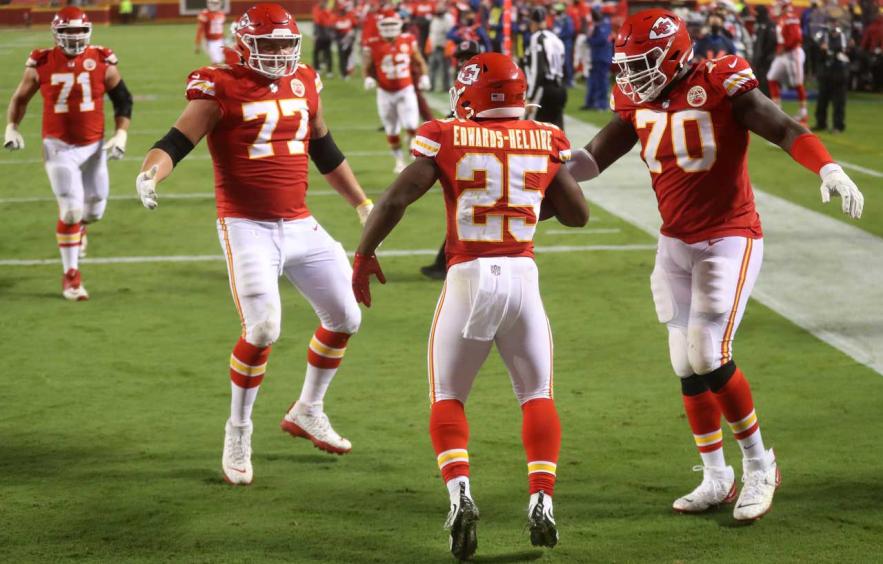 Jamie Squire/Getty Images
In a pandemic-laden 2020 offseason, it would seem most rookies really didn't get a fair shake leading up to their first professional season. Amongst all first-year players, nobody quite had the rollercoaster of a season Clyde Edwards-Helaire had with the Kansas City Chiefs. Other rookies had disappointing beginnings with incredible back-ends of the season (Jonathan Taylor) or were able to dominate the whole year through (Justin Jefferson) but nobody had the absolute peaks and valleys such as Edwards-Helaire.
SIGNUP BEFORE THE SUPER BOWL and receive a 100% instant deposit match up to $100 from PrizePicks. PrizePicks is the simplest fantasy game on the market! Just pick 2-5 players and you can win up to 10x on any entry. Learn More →
Below we're going to take a look at Edwards-Helaire's seismogram of a rookie season and exactly what that means for his outlook in dynasty leagues.
Clyde Edwards-Helaire

's 2020 Overview

2020 Raw Stats: 13 Games, 181-803-4 rushing, 36-291-1 on 55 targets receiving

2020 Half-PPR Fantasy Finish: RB21, RB24 in points per game (12.2)

A 5-foot-7, 207-pound pass-catching monster coming out of college (55 receptions for 453 yards in his final year), the dynasty community was drooling over the prospect of Clyde Edwards-Helaire going to Kansas City to catch passes from the best quarterback in the league for the next three seasons (and beyond).

While we certainly had glimpses of that, it never came together for large stretches of time. Edwards-Helaire finished the season ranked 14th amongst running backs with his 55 targets but his rushing opportunities were poached by some unlikely names over the course of the season; namely, Le'Veon Bell, who cut deeply into Edwards-Helaire's value when the veteran shared the field with him. The rookie averaged 42 fewer yards rushing with Bell on the field, making us wonder what type of role the former LSU Tiger would have had if Damien Williams had not opted-out of the season due to COVID-19 concerns two short months before the regular season started.

Not many people honestly believed Edwards-Helaire would turn into a "bell cow" running back in an offense predicated on constantly mixing things up and getting the ball into the hands of ultra-talented options Travis Kelce and Tyreek Hill, but that didn't stop the dynasty community from making Edwards-Helaire the consensus 1.01 in rookie drafts. Five running backs ended up going in the first round of rookie drafts—all five of them actually went in the first seven picks. Let's take a look at how our subject measured up to them, and whether or not we could have gotten similar (or better) production by trading back.

Regardless of what those numbers tell us, there was nothing wrong with aiming for the sky-high ceiling Edwards-Helaire could (and may still) provide us. With that said, some of us paid the highest price possible in a rookie draft and got a running back who still finished in the middle of the pack with regards to the rest of his class. Almost across the board, this group either started out of the gates struggling or were doomed to wait for the veteran(s) in front of them to fail. That is, besides Edwards-Helaire, who turned 25 carries into 138 yards in Week 1 to kick off his rollercoaster of a season. He added a 161-yard performance to his ledger in the middle of the season but even those two performances couldn't separate him from the pack.

Edwards-Helaire finished the regular season in the fourth quarter of Week 15, being helped back to the locker room with a hip injury that would keep him out of the next two weeks and the Divisional Round of the playoffs. On top of that, he had to deal with the aforementioned Le'Veon Bell eating into his workload—including a three-game stretch in which Edwards-Helaire mustered only 19 carries—but no excuses here; the rookie had a middling premiere season and we're going to need more going forward to find validation for selecting him with our 1.01 rookie pick.
Long-Term Offensive Environment and Competition
The Kansas City Chiefs likely offer the ripest opportunity for fantasy football production and Edwards-Helaire will be in the thick of things no matter who is sharing the backfield with him. Kansas City has ranked no lower than sixth in total yardage production or total points scored as a team over the last four years, and that includes a 2017 season with Alex Smith as the quarterback and Matt Nagy as the offensive coordinator. Heading into the 2021 season, Eric Bieniemy looks like he'll be returning to help guide this ultra-productive ship (even though he should be coaching a team right now) for at least one more season as offensive coordinator, all but guaranteeing another top-five offensive season barring injuries.
The question is, of course, can we expect a larger workload for Edwards-Helaire in his sophomore season and beyond, or will he always have volatile output? Compared to the other options on his own team, it doesn't seem like he out-produced them quite enough to convince the coaching staff to hand the reins completely over to him quite so fast.
The spry young back was mostly out-produced on a per-touch basis by a 28-year-old Bell, while Darwin Thompson was used mostly as a breather and Darrel Williams managed to break a tackle on 0% of his rushes. It seems clear Kansas City will continue to deploy a second, veteran running back for the foreseeable future, whether that is Bell, a returning Damien Williams, or whatever bargain back they can get off the street. Being that Bell could be seeking a contract in the $10+ million range and the Chiefs only had to pay him $700,000 for this past season, it is likely not going to be him working as the 1B to Edwards-Helaire's 1A in 2021.
Value
As everybody knows, Twitter is where you need to go to find reasonable, unbiased opinions on football, and all other walks of life. As such, I polled the interwebz to find out what dynasty players thought a good price for acquiring a share in Clyde Edwards-Helaire would be. Here are the results:
Assuming that the rest of the playoffs don't effect his Dynasty value, what would you be willing to pay for Clyde Edwards-Helaire?

— Justin Edwards (@Justin_Redwards) January 21, 2021
The slight majority here is leaning towards paying a back-end first-round rookie pick for who was, as mentioned before, the consensus 1.01 leading up to the 2020 season. I was not an Edwards-Helaire "guy" heading into last Summer (as evidenced by my painful shares of Damien Williams in best-ball leagues), but I don't exactly see what has changed so drastically that his value has fallen off a cliff. I'm of the belief he will be paired with a veteran until he proves he's going to avoid clunkers like his seven-yard, six-carry performance in the Conference Championship game, but he is still a former first-round NFL Draft pick, and he's tied to the best offense in the league.
4for4 Dynasty Lead George Kritikos has Edwards-Helaire ranked as the 21st-most valuable dynasty asset (RB13). That puts his value somewhere around a top-three/top-six rookie draft price.
Bottom Line
There is more in the tank for Edwards-Helaire and with a complete offseason, I believe 2021 will be less of a rollercoaster ride with him. Even as a Super Bowl team, the Chiefs have some issues to address, so I don't think he'll have any rookie competition unless it comes in the form of a Day Three NFL Draft running back.
With how the dynasty community seems to value him, he should be a hold on your squads unless he has an awful showing at the Super Bowl, in which case he would turn into a buy.
There are clear paths for Edwards-Helaire to grab hold of a 60/65% snap share, realize his pass-catching potential and find the end zone in the NFL's most potent offense, making him a strong—if not inevitable—option to consistently produce like a top-10 fantasy running back.
---
Related Articles