2021 NFL Draft Rookie Profile: TE Kyle Pitts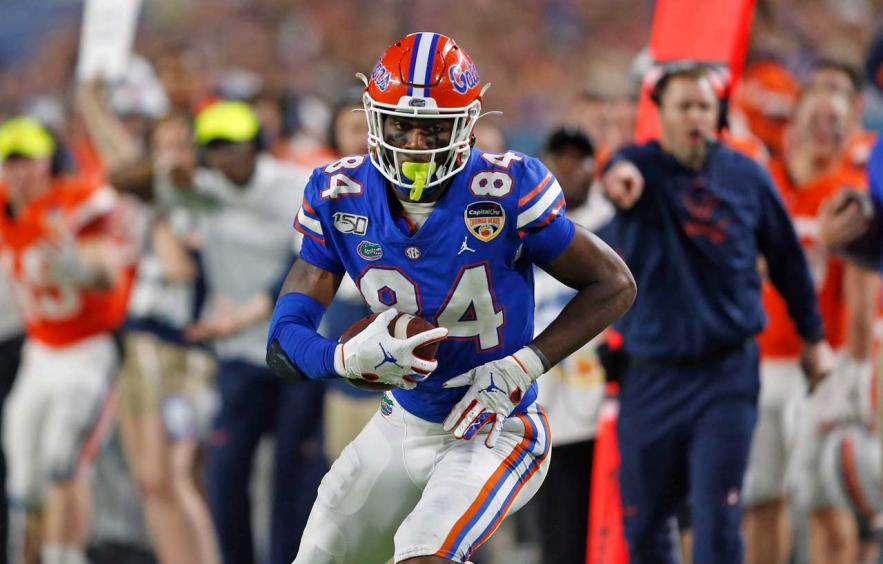 Joel Auerbach/Getty Images
Perhaps the most nuanced position on the offense side of the ball, tight ends come in all shapes and sizes. Rarely garnering elite draft capital, Florida's Kyle Pitts looks like an exception to this rule. Coming out of high school, recruiting services labeled Pitts as a four-star prospect and the fifth overall tight end in the 2018 recruiting class. Pitts entertained offers from the top programs in the country, including Alabama, Georgia, Ohio State, and Oklahoma before making Florida his collegiate football home.
Unlike wide receivers, production and athleticism aren't quite as meaningful for tight ends. They come with varying degrees of size and athletic ability, with some functioning as pure blockers or receivers. From a fantasy perspective, many tight ends take multiple years to develop. With that said, Pitts checks almost every box, making him a truly elite prospect. This Pitts breakdown will highlight the young tight end's collegiate production, how that translates to the NFL game and potential fantasy implications.
---
2021 NFL Draft Resources: NFL Mock Draft | Top 150 Big Board | Team Needs & Draft Capital
More Rookie Profiles: Elijah Moore | DeVonta Smith | Travis Etienne | Trevor Lawrence
---
Kyle Pitts

's College Production & Profile

Similar to tight ends at the NFL level, college tight ends often require developmental time in their respective systems. For Pitts, the four-star tight end immediately burned his redshirt season and appeared in 11 games as a true freshman. However, most of this came in a situational role as a backup to C'yontai Lewis. Pitts entered college at 6-foot-6 but weighed just 225 pounds. With Pitts putting on an additional 20 pounds of muscle throughout his time at Florida, the limited production as a freshman starts to make sense as he bulked up to handle the rigors of SEC play.

Moving forward to his sophomore season in 2019, Pitts emerged as a focal point of the Florida offense among a crowded depth chart. This offense included future NFL players Van Jefferson, Freddie Swain and Kadarius Toney, but Pitts still managed to lead the team in overall receptions. The emerging stud finished the season with 54 catches, 649 yards and five scores. Interestingly, Florida began to discover Pitts's true mismatch ability this past season. Initially functioning as an in-line tight end, Pitts's slot percentage began to rise as the season progressed along. Pitts ended played 62% of his snaps in-line throughout the 2019 season.

As for 2020, Pitts truly asserted himself as the top tight end in the country with 43 catches, 770 receiving yards and 12 touchdowns. More impressively, Pitts accomplished all of this in just eight games after missing four due to injury. Excluding these games, Pitts accounted for an elite 21.7% target share within Florida's offense. Pitts also posted career bests in pass blocking and run blocking grades, according to Pro Football Focus, in his final season at Florida.
Kyle Pitts

's 2021 Game Log

| Opponent | Targets | Receptions | Yards | TD |
| --- | --- | --- | --- | --- |
| Mississippi | 9 | 8 | 170 | 4 |
| South Carolina | 8 | 4 | 57 | 2 |
| Texas A&M | 8 | 5 | 47 | 1 |
| Missouri | 8 | 5 | 81 | 0 |
| Georgia | 2 | 2 | 59 | 1 |
| Kentucky | 7 | 5 | 99 | 3 |
| Tennessee | 11 | 7 | 128 | 0 |
| Alabama | 12 | 7 | 129 | 1 |
Digging further into efficiency metrics, Pitts spent 55% of his snaps in-line, 24% in the slot and 21% split out wide in his final season. On top of his positional versatility, Pitts also showed the ability to produce downfield. Pitts finished 2020 with an average depth of target (aDOT) of 13.8, while notching 331 yards on receptions of 20+ yards. These numbers ranked fourth and first, respectively, among tight ends in the country in 2020. With zero drops on 65 targets, Pitts also finished as the most sure-handed tight end in the country, despite his usage downfield.
Player Comparison
While Pitts rarely dominated an individual player in his matchups on the field, he collectively created problems for opposing defenses as a whole. Too fast for linebackers and too big for corners and safeties, Pitts created a constant mismatch for opposing defenses. At Florida's Pro Day, Pitts checked in at 6-foot-6, 245-pounds, before subsequently running a 4.44 40-yard dash and jumping 33.5-inches in the vertical.
With elite athleticism across the board, Pitts finds himself in rare territory coming out of college. On top of his 19.0 Breakout Age and 32.6% College Dominator, Pitts's elite athleticism makes him a rare prospect. Breakout Age refers to the age of a player during their first season accounting for 20% of receiving yards and touchdowns in their offense. College Dominator refers to the total percentage of receiving yardage and touchdown production a player accounted for in their final season.
With very few prospects hitting all of these thresholds, Pitts's closest comparison remains Noah Fant. Coming out of Iowa, Fant stood 6-foot-4 and weighed 249 pounds. He ran a 4.50 40-yard dash and jumped 39.5-inches in the vertical. Also productive in college, Fant posted a 19.8 Breakout Age, 30.4% Dominator Rating, and 16% target share. A few other close comparisons included Ladarius Green, O.J. Howard, George Kittle, Mike Gesicki and Jared Cook.
Kyle Pitts

Player Comparisons

| Player | School | Height | Weight | 40-Yard Time | Vertical Jump | Breakout Age | College Dominator% | Target Share% |
| --- | --- | --- | --- | --- | --- | --- | --- | --- |
| Kyle Pitts | Florida | 6'6" | 245 | 4.44 | 33.5" | 19.0 | 31.6% | 22% |
| Noah Fant | Iowa | 6'4" | 249 | 4.50 | 39.5" | 19.8 | 30.4% | 18% |
| George Kittle | Iowa | 6'4" | 247 | 4.52 | 35" | 21.9 | 23.2% | 10% |
| Ladarius Green | Louisiana | 6'6" | 240 | 4.54 | 34.5" | 18.3 | 34.1% | - |
| Jared Cook | South Carolina | 6'5" | 248 | 4.50 | 41" | 21.4 | 17.4% | - |
| Mike Gesicki | Penn State | 6'6" | 247 | 4.54 | 41.5" | 20.9 | 21.5% | 18% |
| O.J. Howard | Alabama | 6'6" | 251 | 4.51 | 30" | 21.8 | 15.2% | 15% |
While all of these players provided varying degrees of success at the NFL level, most came as a receiver. Kittle has already asserted himself as one of the elite receiving tight ends in football, with a pair of 1,000-yard receiving seasons. Likewise, Fant notched 562 and 673 receiving yards in his first two seasons with the Broncos in a less-than-ideal fantasy environment. Creating similar mismatches as a receiver, Pitts provides the potential to provide Day One success as a receiving tight end.
Closest Player Comparison: Noah Fant
Ideal Landing Spot
With Pitts projected to come off the board in the NFL Draft inside the top 10, numerous ideal landing spots need to be removed from consideration. Among teams possessing the draft capital and need at the tight end position, Cincinnati, Miami, and Carolina make the most sense. The Bengals, Dolphins and Panthers sit at picks five, six, and eight, respectively. The Bengals have already invested elite draft capital into pass-catchers between John Ross, Tee Higgins and Tyler Boyd in recent seasons. With a dire need at the offensive line, Cincinnati continues to be linked to Penei Sewell.
Miami holds an abundance of draft capital, including two first-round picks, two second-round picks and a third-round pick. However, they've already invested second-round draft capital into Mike Gesicki and possess a larger need at receiver. While Carolina holds the latest pick of the three, they have the biggest hole at the tight end position with Ian Thomas sitting as the incumbent. Seemingly missing out on the run on quarterbacks, Pitts should provide a solid foundational piece for whatever signal-caller Carolina ends up settling on. Already losing Curtis Samuel this offseason, Pitts could also double as a big slot receiver in Carolina's Joe Brady-led offense.
Best Landing Spot: Panthers
Bottom Line
Almost a surefire top-10 pick at this point, Pitts will certainly come off the board sometime in the first round. Providing the flexibility to play in-line, in the slot and even out wide, Pitts can contribute immediately to any NFL offense. While tight ends historically take some time to develop at the NFL level, Pitts's generational prospect profile projects to buck this trend. For fantasy purposes, Pitts deserves mid-round consideration and potentially a selection inside the top 10 rounds (pending landing spot). As for dynasty, 4for4 Dynasty Lead George Kritikos has Pitts ranked as his rookie TE1 and 73rd overall player in his dynasty rankings.
---
Related Articles