Using Vacated Targets to Identify Opportunity (2021)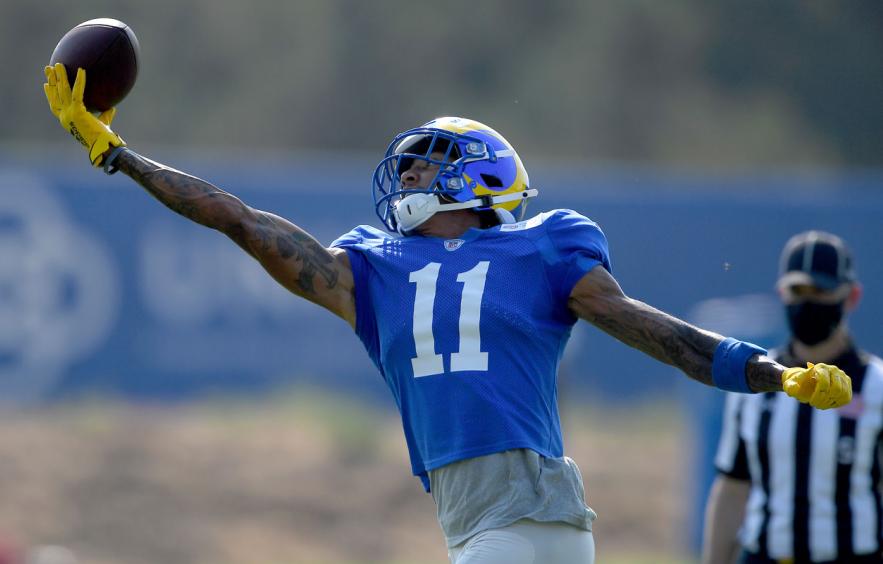 Jayne Kamin-Oncea/Getty Images
Opportunity is one of the biggest factors I consider as I evaluate free agent signings and trades, and attempt to identify impact rookies in any given season. For years, I gauged this opportunity holistically—e.g. Kenny Golladay and Marvin Jones left Detroit, so there's major opportunity there—but a couple of years ago I thought I'd go through the process of actually calculating vacated targets to see if it would identify opportunity that wasn't readily apparent. I found that a few surprise teams would pop up.
Be sure to check out the other part of John's series: Using Vacated Touches to Identify Opportunity
Below is a list of the teams ranked by the number of their vacated targets per game. The Lions and Titans have a ton of targets up for grabs while Washington and the Browns do not. I also included the percentage of vacated targets and the team's implied fantasy points—calculated by multiplying the team's vacated targets per game by the quarterback's half-PPR fantasy points per pass attempt over the last two seasons—since not all targets are created equal. For teams who will likely start a rookie quarterback—at this point, I'm assuming the Jaguars, Jets and 49ers—I used 1.21 fantasy points per pass attempt since that's what the last 19 first-round quarterbacks (who started at least 12 games) averaged as rookies.
Vacated Targets (2021)

| Team | Vacated Tgts/G | Vacated Tgts % | Key Additions | Implied FP (Half-PPR) |
| --- | --- | --- | --- | --- |
| DET | 21.9 | 58.5% | Tyrell Williams, Breshad Perriman, Jamaal Williams, Kalif Raymond | 27.8 |
| TEN | 18.7 | 60.0% | Josh Reynolds | 30.4 |
| JAX | 16.0 | 41.0% | Marvin Jones, Phillip Dorsett, Carlos Hyde | 19.4 |
| SF | 14.5 | 39.2% | Mohamed Sanu | 17.5 |
| CAR | 12.8 | 36.4% | David Moore, Dan Arnold | 14.9 |
| LAR | 11.7 | 31.3% | DeSean Jackson | 17.1 |
| HOU | 11.0 | 31.4% | Andre Roberts, Chris Conley, Phillip Lindsay, Mark Ingram, Chris Moore | 16.7 |
| NO | 10.8 | 31.9% | | 15.4 |
| ARI | 10.4 | 28.6% | A.J. Green, James Conner | 13.3 |
| CIN | 9.0 | 23.9% | | 10.7 |
| LAC | 8.4 | 20.6% | Jared Cook | 11.5 |
| ATL | 7.9 | 19.7% | Mike Davis | 10.4 |
| NYG | 7.5 | 22.6% | Kenny Golladay, Devontae Booker, Kyle Rudolph, John Ross | 9.0 |
| NE | 7.3 | 26.2% | Nelson Agholor, Hunter Henry, Jonnu Smith, Kendrick Bourne | 8.3 |
| SEA | 7.1 | 19.9% | Gerald Everett | 10.8 |
| LVR | 6.9 | 19.7% | John Brown, Kenyan Drake, Willie Snead | 9.7 |
| NYJ | 6.3 | 20.3% | Corey Davis, Keelan Cole, Tevin Coleman, Tyler Kroft | 7.6 |
| KC | 5.7 | 14.1% | | 8.6 |
| TB | 5.5 | 13.7% | Giovani Bernard | 7.4 |
| BUF | 5.1 | 13.5% | Emmanuel Sanders, Jacob Hollister, Matt Breida | 7.1 |
| PHI | 4.5 | 11.9% | | 5.5 |
| BAL | 4.5 | 17.1% | Sammy Watkins, Brandon Powell | 7.0 |
| MIA | 4.2 | 11.5% | Will Fuller, Robert Foster, Malcolm Brown | 4.9 |
| GB | 3.7 | 11.0% | | 5.5 |
| IND | 3.1 | 8.8% | | 3.7 |
| PIT | 2.9 | 6.6% | Kalen Ballage | 3.6 |
| MIN | 2.6 | 8.0% | | 4.0 |
| DEN | 2.6 | 7.3% | Mike Boone | 3.1 |
| CHI | 2.6 | 6.5% | Damien Williams | 3.1 |
| DAL | 1.0 | 2.4% | | 1.4 |
| WAS | 0.6 | 1.6% | Curtis Samuel, Adam Humphries, DeAndre Carter | 0.8 |
| CLE | 0.2 | 0.6% | | 0.3 |
Here is the same data, presented visually, courtesy of Sam Hoppen (@SamHoppen):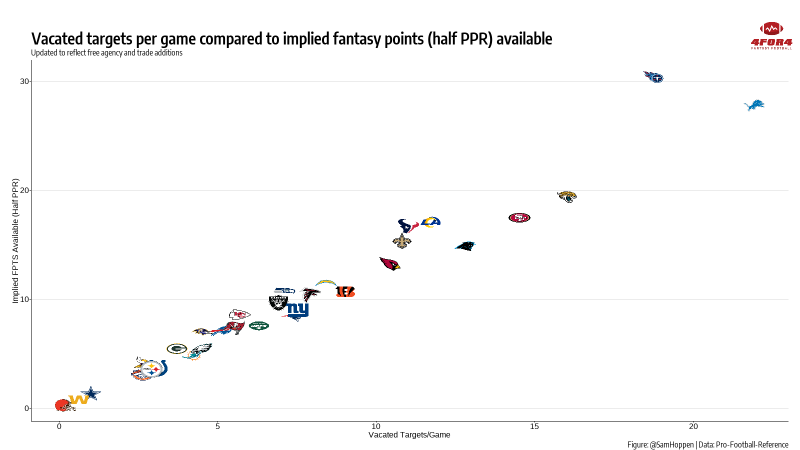 Players/Situations to Consider