1QB Rookie Mock Draft: Pre-NFL Draft vs. Post-NFL Draft Value Shifts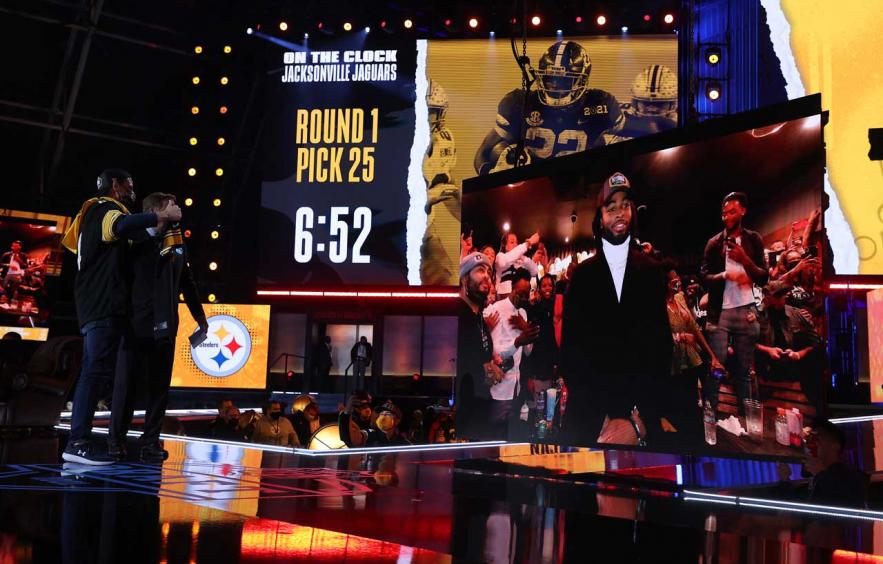 Gregory Shamus/Getty Images
The NFL Draft was somehow already over a week ago and those snap judgments on draft capital, landing spot and opportunity are in full swing. We saw a pair of running backs go in Round 1 of the NFL Draft, along with five quarterbacks, five wide receivers and a tight end. Things softened up after that but it didn't lessen the impact from the weekend. I gathered together Pete Davidson (@Rotobahn), Chris Allen (@ChrisAllenFFXW), and Andrew Fleischer (@afleischer) to do a pair of 1QB rookie mock drafts—one occurring the week leading up to the NFL Draft and one right after. We kept the same draft slots so we can examine key shifts in value as a result of the NFL Draft.
---
Previous Rookie Drafts: 1QB | Superflex | Superflex/TE-Premium
---
Round 1
Things mostly stayed the same in the top three with a slight flip-flop on my part from Ja'Marr Chase to Najee Harris at the 1.01 spot. It will be an extremely close call in many leagues but running back scarcity is a thing in the NFL and Harris will get an immediate opportunity, even if the offensive line is still in need of help. There were actually no new players in Round 1, just a shuffling of the order as Rashod Bateman dropped five spots with the move to Baltimore and Javonte Williams fell four spots for the biggest sliders. On the flip side, slot wide receivers won the day as Jaylen Waddle rose four spots with his Miami destination and Elijah Moore climbed three spots after being drafted in early Round 2 to the Jets.
I have few reservations about how Round 1 went with the exception of Trey Sermon. He is the ultimate boom-or-bust option in this range who could benefit greatly from the San Francisco run-first offense or fall into the quicksand of a committee if he fails to shine early. I do expect the last three picks of Round 1 to have some serious movement this offseason with preferences and training camp buzz to impact the fringes of the round.
Round 2
When we talk about risers, the conversation has to begin with Amari Rodgers, who went from 3.07 in the pre-NFL Draft mock-up to 2.01 in the most recent version. The landing spot, decent draft capital and obvious chance to contribute early all played into his rise and consideration as a Round 1 option. Others, like Trevor Lawrence, Kadarius Toney, Michael Carter, and Amon-Ra St. Brown all stayed in the relatively same range in both instances.
After the two quarterbacks, Justin Fields and Trey Lance, the terrain gets awfully unstable again. Dyami Brown slipped some while Kenneth Gainwell barely held onto Round 2 relevance. On the other hand, Tylan Wallace and Pat Freiermuth are looking like reasonable late-Round 2 options for the moment with Chuba Hubbard making his case while emerging as the favorite to back up the returning Christian McCaffrey.

Round 3
This is where we see some major rises and falls from before to after the NFL Draft. Dez Fitzpatrick, who wasn't even selected in our first iteration, debuted in round three (3.05) after he was picked early on Day 3 in the draft by the wide receiver-starved Tennessee Titans. Josh Palmer, who was a surprise Day 2 pick to the Chargers, also breaks into the top 36 of the post-NFL Draft rookie mock.
On the flip side, Seth Williams saw a tumble after he slid to the Broncos in Round 6 in what will be a crowded wide receiver group. Chuba Hubbard, another intriguing pre-NFL Draft prospect with some past college production, also slipped with a one-round drop in our rookie mock after landing in Carolina. Players like Brevin Jordan and Tamorrion Terry slid as well, but their slides were more prominent as neither managed to stay in the top-48.
Round 4
The lack of depth in this class is told simply by the fact that seven quarterbacks were drafted in the post-draft mock, compared to five beforehand. We also saw three tight ends in the fourth round of the redo as the lack of running back depth, in particular, had drafters looking elsewhere. We saw three fewer running backs (16 versus 13) picked in the post-NFL Draft edition while wide receivers made up nearly half (23) both times.
There were a pair of sleeper wide receivers in Ihmir Smith-Marsette and Jaelon Darden who have me intrigued to see where they fit on their respective NFL teams and could be great fourth-round stash options. Don't sleep on Kellen Mond either, who could make up for a raw passing arsenal with the ability to accumulate rushing yards (and touchdowns) as a starter.
---
Related Articles