Is Amari Rodgers the Next Great Green Bay Packer?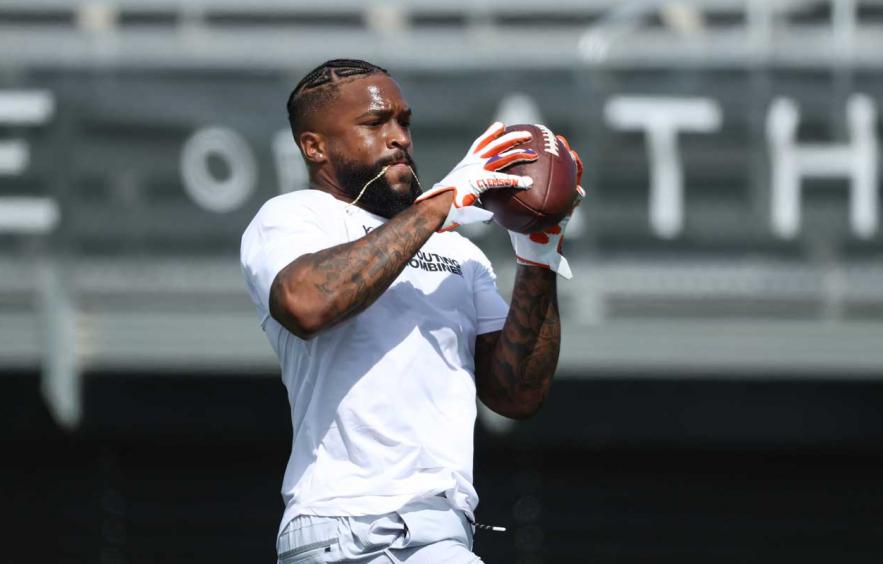 Cliff Hawkins/Getty Images
After neglecting the wide receiver position in the early rounds for years, the Green Bay Packers finally selected Amari Rodgers with the 85th pick in the third round of the 2021 NFL Draft. A senior from Clemson, Rodgers enters what appears to be a solid fantasy environment in Green Bay. However, a questionable prospect profile combined with recent Aaron Rodgers's discontent renders this a dicier fantasy situation than first glance lets on.
This piece will first highlight Amari Rodgers's collegiate production and what to expected at the NFL level. Second, this piece will analyze the fit with Green Bay and how this influences the entire offense.
---
EDITOR'S NOTE: Read more player profiles from the rest of the 4for4 staff!
---
Amari Rodgers

Slot Specialist

Leaving Clemson after four seasons, Rodgers's stands 5-foot-10, 212 pounds. Built almost like a Deebo Samuel-light, Rodgers ran a 4.51 40-yard dash, displaying solid athleticism. However, Rodgers leaves quite a bit to be desired from a production standpoint. Playing outside early in his career (17.6% slot in 2018), Rodgers posted 55 catches for 575 yards and four scores in his first extended game action in 2018. While this didn't constitute a breakout season, Rodgers also competed with Tee Higgins and Justyn Ross within the Clemson offense.

After contributing as a role player in 2018, Rodgers, unfortunately, tore his ACL in the spring of 2019. While he worked his way back for opening day, the injury still caused a slow start. With Higgins and Ross both playing in the offense, Rodgers posted just 30 catches for 426 yards and four scores after a move to the slot. However, the following season, Higgins entered the NFL Draft and Ross suffered a season-ending injury, thrusting Rodgers into a feature role. In 2020 Rodgers led the team with 77 receptions, 1,020 yards, seven scores while playing 82.5% of his snaps from the slot.

Still, Rodgers displayed some troubling efficiency metrics. His 21.0 Breakout Age and 23.5% College Dominator leave quite a bit to be desired. Breakout Age refers to the age of a player during their first season accounting for 20% of receiving yards and touchdowns in their offense. College Dominator refers to the total percentage of receiving yardage and touchdown production a player accounted for in their final season. Both Rodgers's Breakout Age and College Dominator occurred as a senior, competing with only Cornell Powell for targets. Historically, late Breakout Ages and low College Dominators correlate with reduced chance for NFL success.

As mentioned above, Rodgers played a majority of his snaps in the slot over his final two seasons, rarely seeing targets down-field. In 2020, Rodgers only saw 10 such targets, while 39% of his total receiving yards came on screen passes. In fact, Rodgers only eclipsed 100 receiving yards on three occasions in 2020 as Clemson deployed him as a low target depth chain-mover. Already playing a role limited to the slot, Rodgers's lack of career production remains a major red flag as we project him moving forward into Green Bay's offense.
Amari Rodgers

2020 Game Logs

| Opponent | Targets | Receptions | Yards | TDs |
| --- | --- | --- | --- | --- |
| Wake Forest | 7 | 5 | 90 | 0 |
| Citadel | 2 | 1 | 44 | 1 |
| Virginia | 8 | 6 | 72 | 2 |
| Miami Fl | 9 | 7 | 62 | 0 |
| Georgia Tech | 7 | 6 | 161 | 2 |
| Syracuse | 10 | 8 | 91 | 0 |
| Boston College | 8 | 7 | 66 | 1 |
| Notre Dame | 13 | 8 | 134 | 0 |
| Pittsburgh | 11 | 10 | 93 | 0 |
| Virginia Tech | 5 | 3 | 32 | 0 |
| Notre Dame | 9 | 8 | 121 | 1 |
| Ohio State | 10 | 8 | 54 | 0 |

Offensive Fit in Green Bay
Luckily for Rodgers, Green Bay has pieced together mediocre receiver production outside of Davante Adams for numerous seasons. Last year, Marquez Valdes-Scantling (875 snaps), Allen Lazard (582 snaps), and Equanimeous St. Brown (245 snaps) functioned as the next men up within the offense. None of whom drafted higher than the 174th overall, Rodgers easily possesses the most draft capital of the group, as John Paulsen noted earlier this week. With this context, Adams's league-leading 34% target share makes a lot more sense.
As for potential fit, Green Bay prefers to rotate receivers around the formation. Last year, Adams played 28.3% of his snaps in the slot. Extremely productive from that alignment, he caught 48 of 57 targets for 488 yards and seven scores from that alignment. Lazard played 42.6% of his snaps in the slot and Valdes-Scantling played 27.8%. With Rodgers possessing little experience playing the boundary, it is possible his role is limited to start out the year.
As for competition, will Green Bay cast aside Lazard, Valdes-Scantling, or St. Brown in favor of using Rodgers in a feature role? In the playoffs, Lazard out-snapped Valdes-Scantling in all three games played. In that span, Valdes-Scantling and St. Brown each rotated in as downfield vertical threats. Right now, Rodgers projects to play most of his snaps in the slot, while Adams and Lazard man the outside. Still, that creates two problems. In this configuration, Green Bay loses its explosive vertical element in the offense. Adams ran a 4.56, Lazard ran a 4.55, and Rodgers ran a 4.51. Second, it forces Adams and Lazard outside, when they both excelled in the slot.
With Green Bay rotating receivers and alignments on the field, Rodgers looks likely to play a complementary role early in his time with Green Bay. If Rodgers cannot exceed expectations in year one and moving forward (as his prospect profile suggests), Adams looks likely to assume another elite season from a volume perspective. Rodgers himself remains a late-round pick in redraft, coming off the board in the same tier as Lazard. As long as their ADPs remain in check, both should be worth a late-round flier throughout the summer.
Even riskier in dynasty formats, Amari Rodgers runs the risk of losing MVP Aaron Rodgers following offseason discontent. Propped up entirely by landing spot, Amari Rodgers would see a dip in draft position and expected production with the move towards Jordan Love. While Aaron Rodgers's future remains uncertain, this still makes Amari Rodgers a risky dynasty asset. George Kritikos currently has Rodgers ranked WR54 and the 97th overall player in dynasty formats.
Bottom Line
Despite the addition of Rodgers in the third round of the 2021 NFL Draft, Adams still remains a solid bet to lead all wide receivers in scoring. Right now, Adams comes off the board at pick 13.4 on Underdog Fantasy's early best-ball ADP, making him an early-round value. Lazard and Rodgers come off the board at 194.9 and 198.9, respectively. Without knowing how Green Bay will deploy their receivers or if Aaron Rodgers will remain with the team, taking a stab at either in this ADP range makes sense. With Lazard already having NFL production to his name and Rodgers's questionable analytical profile, Lazard remains the slight preference here.