Najee Harris Landed in the Perfect Spot for Fantasy Goodness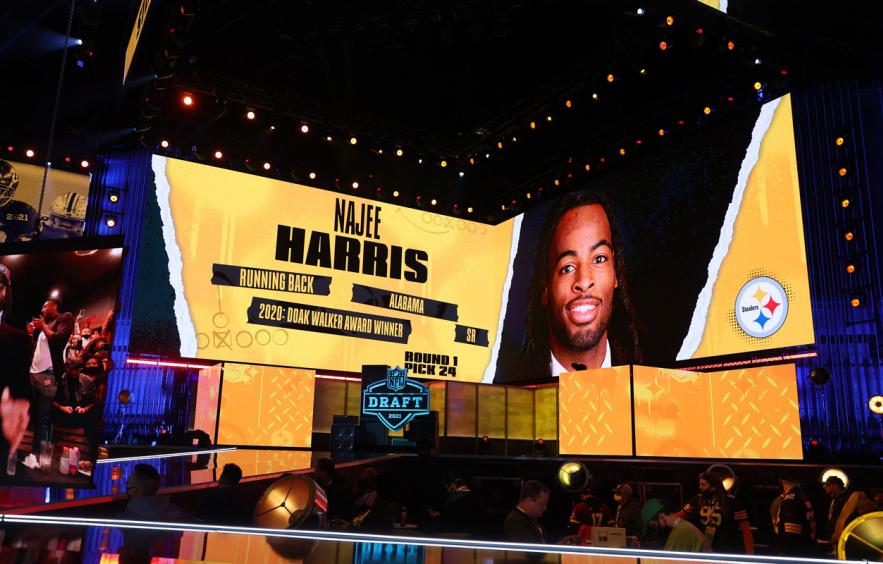 Gregory Shamus/Getty Images
In one of the least surprising moves of the 2021 NFL Draft, the Pittsburgh Steelers addressed a glaring hole at RB and selected Najee Harris with the No. 24 pick.
Harris finds himself in an ideal spot for fantasy purposes and is currently being drafted as RB16 with an ADP of 25.4 in Underdog leagues, up three positional spots and five draft picks since before being taken by the Steelers. Let's take a look at how he fits in with his new team and what we can expect from the rookie this season in fantasy.
---
EDITOR'S NOTE: Read more player profiles from the rest of the 4for4 staff!
---
But First, a Look Back
Coming out of high school near San Francisco, Harris was a Five-Star recruit after scoring an insane 94 rushing touchdowns in four seasons. At Alabama, the now 23-year old ran for 3,843 yards and 46 scores with another 80 receptions for 781 yards and 11 touchdowns.
In 2019 he shared the load with Damien Harris, before leading the Crimson Tide backfield in 2020. Harris eclipsed the 1,000-yard mark in each of those last two seasons and earned a whole slew of accolades including the Doak Walker Award for best running back in the nation, as well as first-team SEC honors.
Tomlin's Glass Slipper
Mike Tomlin loves himself a lead back and will ride them all season long if given the chance. We've seen more of a committee situation over the past two years due to James Conner's health, but Tomlin is admittedly a "featured-runner type guy by mentality". From 2013–2018, a Pittsburgh rusher was among the top four at his position in touches per game, playing out in the table below.
Harris has a true three-down skill set and has proved that he can handle a heavy workload. Between 2019-2020, the Alabama back carried the ball 460 times and averaged 22.6 touches per contest last season alone.
He may be slower than some would like, but his tackle-breaking ability is ridiculously impressive, as he broke 20 more tackles than any other senior RB last season.
Iron City Lockdown
Let's be real, a team usually isn't drafting an RB in the first round of the draft to not start them, especially when the position has been devalued as a whole in recent years. Harris is walking into a running back room comprised of Benny Snell Jr., Anthony McFarland, Jaylen Samuels and Kalen Ballage.
Snell Jr. has had ample chances to prove he's the guy and failed to do so, and McFarland only played in 11 games as a rookie, ending up as a healthy scratch for a few contests in favor of Snell. Samuels has been forgettable in his three years as a Steeler but could serve as the pass-catching speller in this backfield (but probably not much since Harris has legit receiving ability, too). There's also Ballage, but he's not exactly a threat to anyone.
The path to volume is certainly there for the rookie as a fantasy starter in 2021, at least as an RB2 with upside. He may end up crushing it in full-PPR leagues and his potential workload is also advantageous in half-PPR formats like Underdog.
A Few Concerns
The offensive line in Pittsburgh was not so great in 2020, in fact, they ranked 31st in run blocking as a unit according to PFF. The front office added a few pieces last weekend via the draft, bringing in a center and an OT, but it's tough to go from the team that averaged the fewest yards per rushing attempt (3.6), to cranking out a fantasy RB1 with the addition of just two rookie o-linemen. The Steelers also added rookie TE Pat Friermuth in the Draft, but he's not known for his blocking prowess and will also need time to develop in the league.
Some may see handling a large workload at Alabama as a negative as well as his age (23), which is middle-aged in football running back years. Sure there's some tread on the tires, but similar to a player comparison I've seen, Todd Gurley, Harris is strong, tough and versatile, and should be solid to start out his NFL career.
Bottom Line