2021 1QB Rookie Mock Draft 2.0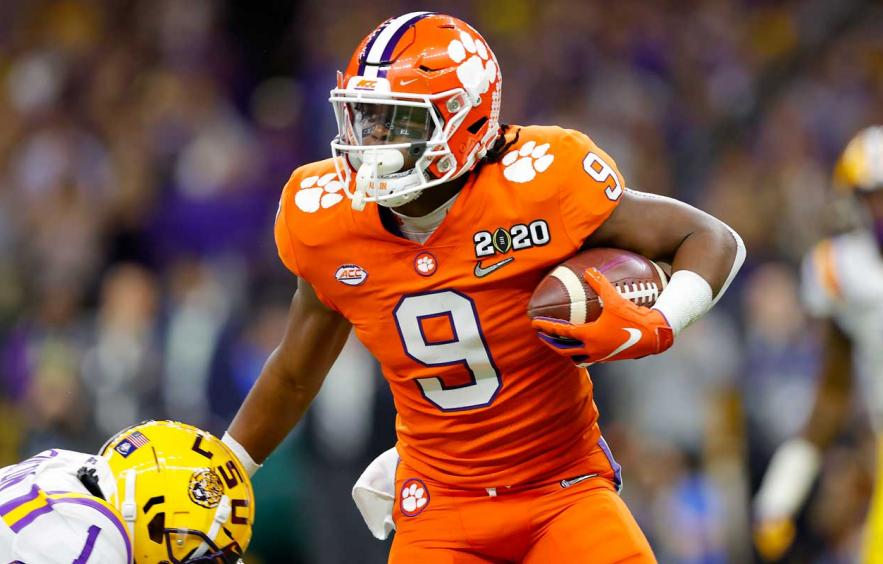 Kevin C. Cox/Getty Images
With the NFL Draft not far off and rumors swirling, some truer than others, it seemed like the right time to take a pulse check of the dynasty community with a 1QB rookie mock draft. The rules were fairly basic with PPR scoring implied and no premium positional scoring or other quirks with lineup assumptions. We will dig deeper into Round 1, including a comparison with my rookie ranks, with broader thoughts around Rounds 2-4. The participants:
Chris Allen - 4for4
Nathan Powell - DLF and RotoViz Dynasty Tradecast
Justin Edwards - 4for4
George Kritikos - 4for4
Amr Gabr - RotoViz
Anthony Amico - Footballguys
John Michael - The Open Bar
Salvatore Stefanile - 4for4
Aaron Swinderman - Just a good dynasty player
Brandon Niles - 4for4
Andrew Fleischer - 4for4
Pete Davidson - 4for4
---
More 2021 Dynasty Mock Drafts: 1QB Startup | 1QB Rookie | Superflex Rookie | Superflex/TE-Premium Rookie
2021 Dynasty Rankings: Rookie Ranks | Top 200 Overall Superflex Ranks
2021 NFL Draft Resources: NFL Mock Draft | Top 150 Big Board | Team Needs & Draft Capital
---
Round 1
1.01 (Chris Allen) -
Travis Etienne

, RB, Clemson
George's Rookie Rank: 3
Obviously, I don't have Travis Etienne as high but can see the argument here. He was tremendously productive in college, a great athlete, and has improved leaps and bounds in the passing game. My concern is that it will take the right landing spot for Etienne to rise here—a risk I wouldn't make pre-draft.
Amr Gabr agrees with me, seeing landing spot for Etienne as extremely important, mentioning a possible rise like Clyde Edwards-Helaire in 2020, not just in dynasty, but in redraft as well.
1.02 (Nathan Powell) -
Ja'Marr Chase

, WR, LSU
George's Rookie Rank: 1
Ja'Marr Chase feels like the most bulletproof prospect at the moment. He's been productive and showed out at his Pro Day. His 4.38 forty time is likely aided by the generous nature of Pro Days, but the 41-inch vertical and 11-foot broad jump confirms his potential as an elite outside receiver for an NFL team.
1.03 (Justin Edwards) -
Najee Harris

, RB, Alabama
George's Rookie Rank: 2
This top three feels fairly solid, even if the order shifts around before the NFL Draft. Najee Harris has all the tools to be successful, but like Etienne, landing spot could catapult him to the top or tamp down his value a bit closer to a mid-first round rookie pick.
Justin Edwards mentioned Najee Harris as the player he's watching closest for a good landing spot, seeing upside to the 1.01 and some potential slippage if he ends up in a tough situation.
1.04 (George Kritikos) -
DeVonta Smith

, WR, Alabama
George's Rookie Rank: 4
I went with my board here, even if I'm less confident about DeVonta Smith compared to the top three heading into the NFL Draft. The concerns about his size are legitimate—he supposedly weighs around 170 pounds at 6-foot-1—but he has the technical skills that will make his success more likely. Barring an NFL Draft Day tumble, he will be a mid-first round lock in rookie drafts.
1.05 (Amr Gabr) -
Kyle Pitts

, TE, Florida
George's Rookie Rank: 8
While I have Kyle Pitts in the second tier and outside the top five, I understand this pick. Pitts has the look of a generational position prospect. If his NFL team views him as more of a weapon than a traditional tight end, his likelihood to be a productive fantasy player right away goes way up. His landing spot is less about if he can succeed and more about when.
Aaron Swinderman disagrees, seeing Kyle Pitts's landing spot as a key component, knowing that tight end typically has a steeper learning curve than other offensive positions.
1.06 (Anthony Amico) -
Jaylen Waddle

, WR, Alabama
George's Rookie Rank: 5
There's a real possibility that an NFL team favors Jaylen Waddle over Smith and Chase due to his unique skill set as a playmaker with the ball. We've seen the success players like Brandon Aiyuk and Laviska Shenault had last year as rookies with the comparisons to Tyreek Hill showing the potential as an explosive downfield threat as well. This could look like a minor steal in a month.
1.07 (John Michael) -
Javonte Williams

, RB, North Carolina
George's Rookie Rank: 9
I believe the gulf from RB3 to RB4 in this draft is significant, more on that in a minute, so grabbing Javonte Williams here is fair. He has the traits to become a three-down back in the NFL and that's becoming rarer as teams embrace committees. Just like the others, let's see where he lands before we get too excited.
Anthony Amico agrees here, citing Williams as the player he feels a good landing spot is most important to. That may have been the thought process of Aaron Swinderman, who flagged Williams as the player he felt was most likely to tumble out of the top 12.
1.08 (Salvatore Stefanile) -
Rondale Moore

, WR, Purdue
George's Rookie Rank: 6
Rondale Moore is going to be controversial due to his injury past weighing against his early college production and freakish athleticism. His Pro Day led to a sub-4.3 40-yard dash and a 42.5-inch vertical, making some less concerned about his 5-foot-7 stature. A good NFL fit could see Moore's value, and productivity, rise.
1.09 (Aaron Swinderman) -
Kenneth Gainwell

, RB, Memphis
George's Rookie Rank: 19
For me, this was the first surprise of the draft. I have mentioned being low on Kenneth Gainwell before, and I do have him as my RB4 currently, but few are willing to pull the trigger in the first round. He has the receiving ability to find fantasy relevance early but like his past teammates, Darrell Henderson and Tony Pollard, he's going to struggle without an optimal landing spot.
Salvatore Stefanile was skeptical with this pick as well, rating Gainwell as the most likely to tumble out of the first round of rookie drafts based on this mock. Nathan Powell mentioned Gainwell also, worried that the NFL doesn't like him as much as some dynasty managers. Anthony Amico brought up Gainwell as a potential faller too, expressing concern that he loses value in the coming months.
1.10 (Brandon Niles) -
Rashod Bateman

, WR, Minnesota
George's Rookie Rank: 7
Some have cooled on Rashod Bateman, citing his size and separation ability as factors in a recent slip. Both have some relation to his Pro Day, which saw Bateman come in smaller (6-foot-3/8, 190 pounds) compared to his list size (6-foot-2, 210 pounds), leaving some concerned about his true play strength. His success in college, speed (a 4.39 forty was unexpected even if inflated), and a likely top-32 selection in the NFL Draft should keep his stock high.
Justin Edwards wasn't as high on Bateman, fearing he is vulnerable to a drop out of the top 12 between now and after the NFL Draft.
1.11 (Andrew Fleischer) -
Trevor Lawrence

, QB, Clemson
George's Rookie Rank: 12
While I had a few on my board above Trevor Lawrence, this remains a pick rooted in safety, as we know where Lawrence will land and the team's commitment to him as an offensive cornerstone. It's not a bad offense either for a rookie quarterback to command at the top of an NFL Draft. That said, for a 1QB league, his value is limited at the position even if he lives up to the immense hype.
1.12 (Pete Davidson) -
Trey Sermon

, RB, Ohio State
George's Rookie Rank: 24
Admittedly, I'm not there with Trey Sermon the way others are. I think he has all the tools but is inconsistent as a runner, showing indecisiveness to hit the hole, which is unfortunate given his power and acceleration when he gets going. If a team can unlock him, Sermon has starter potential with three-down ability as a receiver as well. That would be a boon for this running class.
Round 2
The first half of this round was full of solid picks with none of them outside my top-21 ranked players. It's also a reminder of the depth that wide receiver has in this class compared to other positions with as many wide receivers going in the first six picks of Round 2 (five) as there were in the entire Round 1. Amr Gabr sees Terrace Marshall Jr. as a player who could rise quickly into the top 12 and sees primary wide receiver potential for him on an NFL team. Aaron Swinderman had similar thoughts. Anthony Amico, Nathan Powell and Salvatore Stefanile view Elijah Moore as a potential riser into Round 1 of rookie drafts, while Pete Davidson is more hesitant with landing spot a high priority for the speedy receiver.
The second half of this round had a mix of three running backs, two quarterbacks and a wide receiver all going in this range. It shows a lack of confidence in the latter part of this round with several of these players ranked outside my top-24 rookie ranks, including Kylin Hill at number 40. A potential slide for one of these quarterbacks in the NFL Draft could suppress their rookie ADP into May, but don't discount their ability to add fantasy points on the ground.
Round 3
This round featured a lot of potential and unknowns, which is typical for this stage of the draft. The battle for TE2 in this class is between Brevin Jordan and Pat Freiermuth, with landing spot a potential tiebreaker. Meanwhile, speedy options such as Anthony Schwartz and Tutu Atwell are balanced out by larger receivers like Nico Collins and Tamorrion Terry, giving drafters a chance to choose their fighter. Amr Gabr has hesitancy with Zach Wilson as he sees the potential landing spot, likely the Jets, being a reason many could push him down their draft boards. Salvatore Stefanile mentioned Amari Rodgers as a player he's watching as far as landing spot and draft capital are concerned.
Round 4
Don't dismiss the fourth round of this rookie class for dynasty purposes. Some are still high on Sage Surratt and Javian Hawkins, while others point to the college production of players like Mac Jones and Jaret Patterson as indicators for NFL success. If Kellen Mond sneaks into Round 1 of the NFL Draft, he could become an easy Round 4 option, even in 1QB leagues, with the upside to pay off well. Pete Davidson highlighted Ihmir Smith-Marsette as a player to watch who could catapult up draft boards over the next month. He also is looking out for Demetric Felton, a Swiss Army Knife player, who some have compared to Antonio Gibson.
And that's it. Another rookie mock draft in the books with more on the way as the NFL Draft unfolds!
---
Related Articles