Perfect Fantasy Football Draft: 4th in a 12-Team ESPN PPR League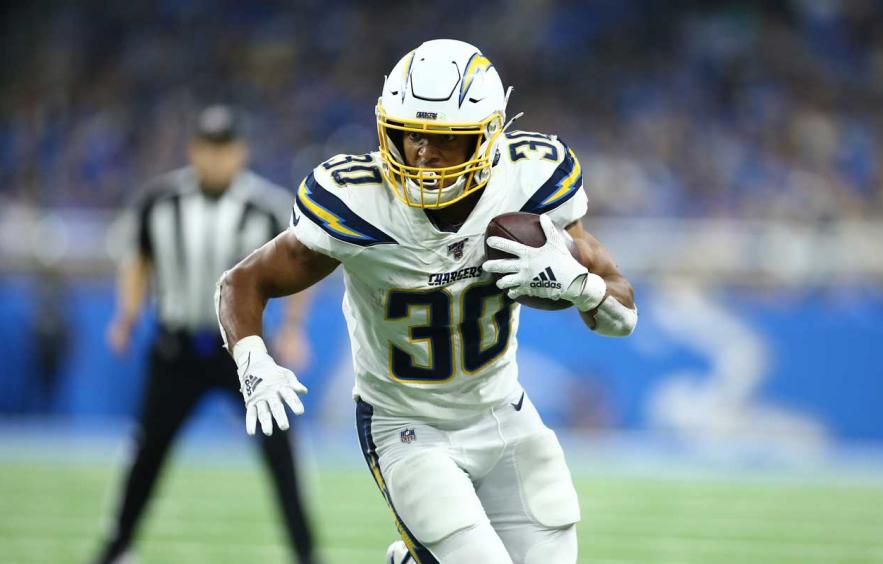 Rey Del Rio/Getty Images
Picking from the fourth spot in fantasy leagues this year presents a unique challenge. With the very top running backs usually off the board, taking one of the three elite wide receivers becomes tempting in a way that my old-school mind struggles to fathom. Gone are the days when eight of the top 10 picks are automatically bell cow running backs, as more and more teams have ushered in committee approaches to the run game and 4,000-yard passing seasons have become the norm. Let's see how tempted I am to eschew years of stubborn reliance on elite rushers and nab one of the electric young pass-catchers available in the middle of the first round.
In this article, I will walk through a perfect draft with the No. 4 pick in a 12-team ESPN PPR league. Each pick was optimized using projections and value-based rankings from the 4for4 Draft Hero tool.
---
More Perfect Drafts: 6th in a 12-Team ESPN PPR League | 1st in a 12-TEAM Superflex PPR league | More to come!
---
Draft Hero Settings
Roster Settings: 1 QB, 2 RB, 3 WR, 1 TE, 1 Flex (WR/RB/TE), 1 Kicker, 1 DEF, 6 bench spots
No Kicker or Defense until the last two rounds: This is pretty standard practice for seasoned fantasy football managers, but I have no interest in kickers or defenses until the last two rounds, and I adjusted my Draft Plan accordingly.
Wait on a Quarterback (maybe?): This is the first year I'm not putting restrictions on quarterback selections. Normally I wait until double-digit rounds to take my first signal-caller in 1QB formats, but with the way dual-threat options have dominated fantasy leagues in recent years, I'm not willing to ignore any options that fall. I still favor waiting, but I'm keeping my options open.
Jump to Pick: 1 | 2 | 3 | 4 | 5 | 6 | 7 | 8 | 9 | 10 | 11 | 12 | 13 | 14 | 15 | 16 | Draft Recap
Round 1, Pick 4 (4) – RB
Austin Ekeler

,

Chargers
I'm not boring! Ekeler counts as a pass-catcher, right? Right? Okay, apparently decades of drafting running backs early is exceptionally hard to get over. Still, there's a lot to like about Ekeler in PPR formats. He's averaged 4.6 receptions per game since becoming a regular part of the offense in 2018 and double-digit touchdowns in two of the last three seasons. While some touchdown regression is likely with the addition of Isaiah Spiller, he should still find his way into the end zone enough in this high-powered offense to supplement his substantial production in the passing game. I have no qualms pouncing on Ekeler at ADP in PPR formats.
If this were a half-PPR or standard scoring league, I would've gone with Draft Hero's recommendation of Derrick Henry, and I strongly considered going with Justin Jefferson. I also love Najee Harris, but his recent minor injury in practice gave me just enough pause to pull the trigger on Ekeler.
Suggested Alternatives: Derrick Henry, Najee Harris, Justin Jefferson, Ja'Marr Chase
My Top Alternative: Najee Harris
Round 2, Pick 9 (20) – RB
Leonard Fournette

,

Buccaneers

I didn't plan on starting with back-to-back running backs, but with the top eight wide receivers off the board, Fournette provides the best value at the back end of the second round. I'm not worried about whether or not Fournette is in playing shape in July, rather, I'm thinking about his role in one of the top offenses in football. He was the RB5 in PPR points last year and he caught 69 passes. The Buccaneers let Ronald Jones sign with Kansas City and replaced him with third-round rookie Rachaad White. This is one of the rare backfields where we have a legitimate three-down player to bank on and Fournette could be in for a career year.

I strongly considered Keenan Allen here and I like Javonte Williams as well, but I have the most confidence in Fournette getting a full workload this season and building on his strong finish to 2021.

Suggested Alternatives: Keenan Allen, Michael Pittman Jr., Saquon Barkley, Javonte Williams

My Top Alternative: Keenan Allen
Round 3, Pick 4 (28) – WR
D.J. Moore

,

Panthers

The only thing missing from D.J. Moore's career is touchdowns. Despite questionable (to be generous) quarterback play, he's put up three straight 1,000-plus yard seasons and he was sixth in the league with 163 targets last year. Baker Mayfield has yet to be named the starter, but it seems like only a matter of time before he takes over behind center. Mayfield has his issues as a quarterback, but he averages 0.45 more touchdown passes per game than Sam Darnold. Even if Darnold starts, three of Moore's four touchdowns came from Darnold last season, despite Darnold playing in only 12 games. I think this is the year the touchdowns increase for Moore.

Mike Evans is another safe option and I actually like all the wide receivers available at this pick. I ultimately went with Moore because I'm hoping the addition of Mayfield will land him in the end zone more frequently, while not affecting his usual reception and yardage numbers. This is really dealer's choice, but I like Moore the best.

Suggested Alternatives: Michael Pittman Jr., A.J. Brown, Tee Higgins, Mike Evans

My Top Alternative: Mike Evans
Round 4, Pick 9 (44) – WR D.K. Metcalf,
Seahawks
I cheated a little on this one. I originally thought I could snag both Brandin Cooks and D.K. Metcalf here, but every simulation I ran had the other one gone by the time it got back to me in the fifth round. I love the "Undo" feature on Draft Hero, giving me a do-over when I want to see if I can wait for another round.
The hate has gone a little too far with Metcalf. I get the concerns going from Russell Wilson to either Geno Smith or Drew Lock, but he's also a very talented receiver with over 100 targets in three straight seasons and a size-speed ratio that makes your jaw drop. With his late-fourth round price tag, he's worth the risk, betting on talent over situation. Also, Metcalf played pretty well with Geno Smith last year and Drew Lock has a big arm, creating a little more upside than expected. I also like Cooks a lot as a super steady option, but I decided to swing for the upside with Metcalf instead. Either option is fine here.
Suggested Alternatives: Brandin Cooks, Lamar Jackson, Mike Williams, Kyler Murray
My Top Alternative: Brandin Cooks
Round 5, Pick 4 (52) – WR
Darnell Mooney

,

Bears

Draft Hero wants me to go WR or QB here, but I'm still waiting on a passer so I snatch up Mooney, who I'm over the moon about. I feel like if Darnell Mooney had a radio talk show on Tuesday nights in Chicago, it would be called "Over the Mooney" and he would feature smooth jazz and romantic advice. Do you know who would be a regular guest? Justin Fields, who in the midst of a terrible first year, managed to help Mooney to his first 1,000-plus yard season. I'm expecting progression from Mooney, Fields, the Chicago coaching staff, and hopefully quality options for weeknight radio in Chicago.

I'm also perfectly happy with Courtland Sutton here, who I think will thrive with uber-efficient Russell Wilson slinging him the ball. I ultimately went with the smooth, dulcet tones of Mooney but could just as easily side with Sutton on another day.

Suggested Alternatives: Courtland Sutton, Marquise Brown, Kyler Murray, Jalen Hurts

My Top Alternative: Courtland Sutton
Round 6, Pick 9 (69) – RB
A.J. Dillon

,

Packers

The Packers lost their top wide receiver in Davante Adams and replaced him with rookies and whatever's left of journeyman Sammy Watkins. I think they're going to run the ball, and I think both Dillon and Aaron Jones will be prominent parts of the offense. Dillon only started two games last season, but still managed 1,116 yards from scrimmage and seven touchdowns. I expect those numbers to grow even higher this season, as Jones uses his substantial skill as a receiver to help aid the lack of talent outside. Also, if Jones – who will be 28 in December – misses time for the third straight season, Dillon theoretically becomes RB1 material.

I like T.J. Hockenson in the seventh round, so I considered him here after checking to see that he wouldn't make it back to me. Still, I prefer to wait on the tight end position if I'm not getting an elite one, so I decided to go with Dillon. This is the point where I decide to either pull the trigger on Hockenson or wait until waaaaaay late to nab an upside player at the position. I usually opt for the latter.

Suggested Alternatives: Allen Robinson, Adam Thielen, Joe Burrow, Russell Wilson, Aaron Rodgers

My Top Alternative: T.J. Hockenson
Round 7, Pick 4 (76) – WR
Rashod Bateman

,

Ravens

Sign me up for the Rashod Bateman bandwagon. He had a slow start to his rookie season, beginning 2021 with an injury and then returning to catch 46 balls for 515 yards and a lone touchdown in 12 games. Bateman was playing catchup after missing time with injury and played in only six full games with Lamar Jackson. This year, Marquise Brown leaves 146 vacated targets and Bateman should be the prime candidate to receive the lion's share of work in the Baltimore passing offense. He's a complete receiver with a nice size-speed combination and should be in line for a breakout sophomore campaign.

I like Allen Robinson to have a bounce-back season in Los Angeles this year, so I'd have been fine going that route as well. There are some question marks with Robinson after a lost year in Chicago and rumors circulating about Matthew Stafford's health, but ultimately I decided the upside was bigger with Bateman than Robinson, given the litany of other receiving options in Los Angeles.

Suggested Alternatives: Allen Robinson, Adam Thielen, Joe Burrow, Russell Wilson

My Top Alternative: Allen Robinson
Round 8, Pick 9 (93) – QB
Trey Lance

,

49ers

Lance is the last remaining quarterback on the board who looks like he has elite upside. The early returns on Lance aren't great, based on a small sample size from 2021 where he looked very raw as a small-school prospect in his rookie season. With a full offseason as the starter and a coaching staff that has publicly committed to him this year, I'm betting on massive improvement. Lance is mobile, so he adds the coveted rushing production crucial to fantasy quarterback success. Plus, the weapons around him should amplify his effectiveness as a passer. Deebo Samuel, George Kittle, and even Brandon Aiyuk can all make big plays out of short passes and Head Coach Kyle Shanahan is excellent at drawing up high-percentage completions to players who can rack up YAC. Buy Lance.

Chase Edmonds is going to catch passes this year and if Lance wasn't available, he'd have been my pick as a valuable reserve running back or flex option.

Suggested Alternatives: Cole Kmet, Pat Freiermuth, Chase Edmonds, Allen Lazard

My Top Alternative: Chase Edmonds
Round 9, Pick 4 (100) – RB
Chase Edmonds

,

Dolphins

I was happy Edmonds fell to me and it took me zero time to snatch him up at this spot. He's one of the best values at his current ADP. The Dolphins gave him $6.1 million guaranteed over the next two seasons, per OverTheCap, so they intend to use him. While the backfield in Miami might be muddy, especially with Mike McDaniel coming over from San Francisco, Edmonds should be a constant in the passing game. He has 96 receptions over the past two seasons in Arizona and was brought in to be a valuable weapon out of the backfield for Tua Tagovailoa.

If Edmonds wasn't here, I probably would've gone with Robert Woods, who should lead the Titans in targets this year. Draft Hero wants me to take a tight end for the second consecutive round, but I don't see a huge difference between the available options and the next tier.

Suggested Alternatives: Cole Kmet, Pat Freiermuth, Noah Fant, Dawson Knox

My Top Alternative: Robert Woods
Round 10, Pick 9 (117) – WR
Tyler Boyd

,

Bengals

Boyd is kind of the forgotten man in the Bengals' offense. However, the forgotten man in an offense expected to be this electric makes for excellent value in the 10th round. Boyd doesn't have a lot of upside so long as Tee Higgins and Ja'Marr Chase are healthy, but he's not a bad plug-and-play depth option on your fantasy bench. He was the WR38 in PPR points per game last season and the Bengals may throw more with Joe Burrow two years removed from his injury. As my fifth receiver, I like having a safe lineup option like Boyd.

Draft Hero wants me to take a tight end still, but at this point, every other team has a tight end, so I see no reason to pass up a good wide receiver here. I also like Kenny Golladay this late in drafts, but he went just one pick before me to Team 5, who I assume is a jerk, regardless of their status as a non-human simulation.

Suggested Alternatives: Cole Kmet, Noah Fant, David Njoku, Hunter Henry

My Top Alternative: D.J. Chark
Round 11, Pick 4 (124) – WR
D.J. Chark

,

Lions

There are several wide receivers this year going in double-digit rounds who could easily end up the top receiver on their respective teams. Chark is one of them. I don't love the Detroit offense, but Chark is only three seasons removed from his breakout sophomore year in 2019 when he caught 73 balls for 1,008 yards and eight touchdowns. That was largely with Gardner Minshew at quarterback, so Jared Goff should be able to find the 6-foot-4 target out of LSU. Chark is still in just his age-26 season and at this point in the draft is worth the risk. He's on a one-year deal and will look to get his career back on track after a middling 2020 and an injured 2021. I thought about Khalil Herbert here, who is an excellent value late as one of the few true backup running backs in the league who are RB1 threats in the event of an injury to the starter, but there are other running backs I like to target late.

Suggested Alternatives: Cole Kmet, David Njoku, Hunter Henry, Tyler Higbee

My Top Alternative: Khalil Herbert
Round 12, Pick 9 (141) – RB
Nyheim Hines

,

Colts

Hines is an automatic for me in PPR formats. It seems as though drafters have forgotten he's caught 60-plus balls in two of his four seasons and he's about to have a serious upgrade at quarterback. Cordarrelle Patterson and Mike Davis combined for 96 receptions from the running back position with Ryan slinging the ball in Atlanta last year. Devonta Freeman had three seasons with over 50 receptions playing with Matt Ryan, including 59 as recently as 2019. Ryan knows how to find his running backs, which should put Hines back in play for 60-plus catches as one of the premier PPR demons at the position.

Suggested Alternatives: Cole Kmet, David Njoku, George Pickens, Marvin Jones

My Top Alternative: Cole Kmet
Round 13, Pick 4 (148) – TE
Cole Kmet

,

Bears

I finally acquiesced to the wishes of Draft Hero and grabbed a tight end. I have no problem streaming the position, so I went for upside with Kmet. Kmet has a ton of potential heading into his third season, a common year for tight ends to find their groove. He caught 60 of 93 targets last year but failed to find the end zone after scoring just twice as a rookie. Jimmy Graham scored 11 touchdowns over the last two seasons in Chicago. With him off the roster, there's opportunity for Kmet to increase his scoring numbers. Plus, the offense almost has to be better after a dismal showing in 2021 and a new coaching staff for 2022. David Njoku would also be a nice option here, with Austin Hooper gone and a potential upgrade at the quarterback position, but I'm fine streaming the position if Kmet doesn't work out.

Suggested Alternatives: David Njoku, Tyler Bass, Bills DST, Ryan Succop

My Top Alternative: David Njoku
Round 14, Pick 9 (165) – RB
Kenneth Gainwell

,

Eagles

I would normally go with a receiver here, but I can't pass up the potential value with Gainwell. Even though I'm already pretty thick at running back and could use the wide receiver depth, Gainwell's special, particularly in PPR formats. He had 50 targets as a rookie and finished with 544 total yards from scrimmage and six touchdowns. Plus, he's been impressing in camp and is expected to take on a pivotal role in the offense. Even if he doesn't take the step we're all hoping he will, the risk is low at this point in the draft. If I were going wide receiver, I'd throw a dart at Steelers' rookie George Pickens. Pickens was a second-round pick, has had a nice offseason so far, and the Steelers have been lights out drafting that position over the past several seasons.

Suggested Alternatives: Bills DST, Ryan Succop, Darrell Henderson, Matt Prater, Robbie Gould

My Top Alternative: George Pickens
Round 15, Pick 4 (172) – Buffalo
Bills

Defense

Draft Hero suggested the Bills' defense for this pick. I will likely stream defenses throughout the season based on matchups, so I just selected the top option presented by the software. I may ultimately swap the Bills for the Dolphins prior to Week 1, when the Bills play the Rams and the Dolphins get the Patriots at home. Either way, I don't put too much thought into my defensive selection at this point in the draft, knowing I'm not going to pay up for a top defense and the one I draft is unlikely to last on my roster.

Suggested Alternatives: Ryan Succop, Matt Prater, Robbie Gould, Cade York

My Top Alternative: Dolphins DST
Round 16, Pick 9 (189) – K
Ryan Succop

,

Buccaneers

With my last pick being kicker, I went with the top suggested option. Succop kicks for one of the best offenses in football, which is usually a good method for selecting kickers. I usually stream kickers anyway, however, and will make great use of our weekly streaming article during the season.

Suggested Alternatives: Matt Prater, Robbie Gould, Cade York, Chris Boswell

My Top Alternative: Robbie Gould
Draft Recap

Lessons Learned: Drafting from the fourth spot is a good place to take a receiver, as Justin Jefferson and Ja'Marr Chase were still on the board at my selection, but you can still get quality receivers even if you take a more traditional approach and go with a running back.
Waiting on tight end is a very viable strategy, as Kmet in the 13th round seems just as likely to work out as players like Noah Fant and Pat Freiermuth, drafted in the three and four rounds earlier, respectively.
Rounds 6-8 seem to be the sweet spot for targeting one of the second-tier quarterbacks, as seven passers went in that range, starting with Jalen Hurts at pick 61.
I probably didn't need to grab two running backs in rounds 6-9 after starting with a pair of backs, given the value I found at the end of the draft. This roster doesn't look terribly different if you swap Robert Woods for Chase Edmonds, considering Hines will be a plug-and-play option on bye weeks. That being said, depth at the most physically demanding position in fantasy football is never a bad thing, and trading later is always an option. I'm happy with my stable of backs and wouldn't change it.
I'm confident with stars at the key positions and depth at the core running back and wide receiver spots, I have enough upside combined with stable production to dominate this league from the four spot.