4for4 Dynasty Round Table: March 2021 Edition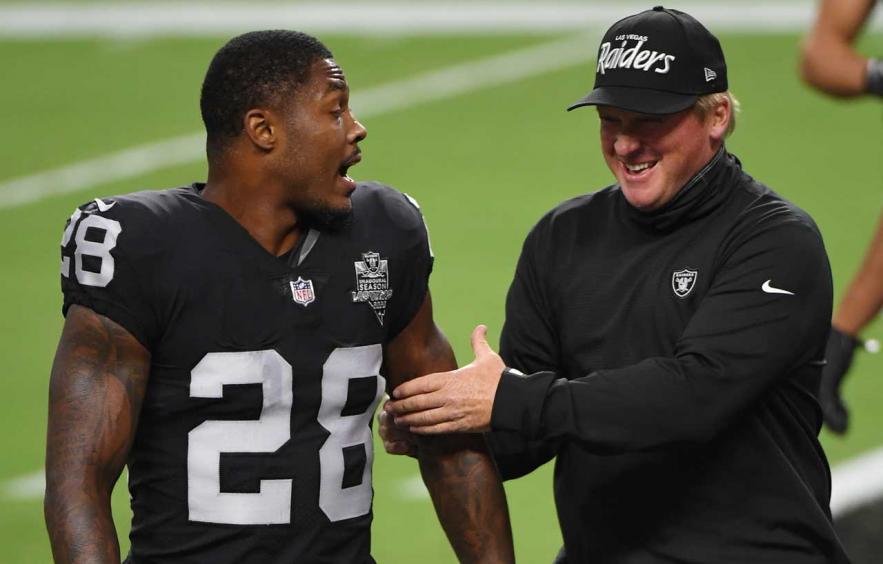 Ethan Miller/Getty Images
Since we last broke bread at the dynasty dinner table, the landscape of the NFL has altered a tad thanks to free agency. The Chicago Bears (Andy Dalton) and the Washington Football Team (Ryan Fitzpatrick) have new starting quarterbacks, Aaron Jones stuck around in Green Bay, while free agency's biggest prize, wide receiver Kenny Golladay is now a New York Giant. The next event scheduled to alter the fortunes of teams (both real and in fantasy) is the upcoming NFL Draft. Before NFL commissioner Roger Goodell gets booed for announcing the names of incoming prospects, it's time for another dynasty round table with the 4for4 staff, as well as special guest Peter Howard of Dynasty League Football. Peter also runs a data-centric Patreon worthy of subscribing to. Make sure you also check out our previous Round Table discussions from January (with special guest Ryan McDowell) and February (with special guest Ben Gretch) before grabbing a seat at this round table...
---
MORE 2021 DYNASTY CONTENT: Player Profiles & Strategy | Rookie Rankings | Top 200 Overall Rankings: Superflex + Non-Superflex | NFL Mock Draft | Rookie Mock Draft
---
March 2021 Dynasty Round Table Q+A
Question #1: What are your biggest takeaways so far from free agency from a dynasty fantasy football perspective? Biggest surprise? Most exciting move? Biggest disappointment?
Andrew Fleischer: Purely from a football perspective, my head is still spinning from the Patriots' scorched-earth approach to free agency. It was like riding a rollercoaster that splits in two directions randomly at the very end, and the left turn pulls you into the station while the right turn launches you into a swimming pool filled with brown recluse spiders. Thrilling and terrifying. Free agency was fun for a day, but history hasn't looked kindly on teams dumping truckloads of money into free agency. For fantasy purposes, I had been leaning into Jonnu Smith; I took him in Underdog's The Big Board tournament in the 11th round, in best ball drafts often in the 10th-12th round range, and even in George's 2021 startup mock in the ninth. I did not expect the Patriots to sign the top free-agent target at the position, and I really didn't think they'd follow that by signing Hunter Henry, who I had also drafted in early best-ball leagues. I don't think this torpedoes the value of either completely, as Josh McDaniels would love to return to the halcyon days of the Rob Gronkowski/Aaron Hernandez dual-tight end attack (minus the off-field murders of course). I'm hoping my pet theory is accurate that Cam Newton was signed to backup quarterback money to be the backup signal-caller sooner than later and we'll see New England trade up in the first round of the NFL Draft for one of either Kyle Trask or Mac Jones. That would bolster both the short- and long-term values of Smith and Henry.
Brandon Niles: My biggest takeaway is that running backs aren't getting paid, and that committee approaches continue to be the new normal. Chris Carson stays put for a bargain, Aaron Jones gets a good deal, but nothing earth-shattering, and teams around the league continue to add solid complementary players like Jamaal Williams, Kenyan Drake and Malcolm Brown to places with young talent already in place. I'm most surprised and also most disappointed by the Patriots signing two of the three top tight ends on the market in Jonnu Smith and Hunter Henry. I wanted those two to go to places with open jobs to help add a much-needed boon to the fantasy tight end position. Instead, we get a team that went from no value to murky value. The most exciting move is Will Fuller to Miami. Not because I think it changes his fantasy value, but because second-year quarterback Tua Tagovailoa now has a legit deep threat and his chances of breaking out of his conservative shell just increased. Tagovailoa may land in fringe starter status instead of waivers, especially if the Dolphins continue to add around him in the draft, as expected.
Kevin Zatloukal: My biggest takeaway is that all things are possible within the salary cap. Even when the salary cap actually fell, after every contract was written assuming a steady increase, we see teams able to adjust and make things work. Their ability to maneuver within the cap is incredible. My biggest surprise is that the Bears didn't find a better upgrade at quarterback than Andy Dalton. My biggest disappointment is that Russell Wilson isn't going to a team that will let him cook. (Despite the fact they sell "Let Russ Cook" aprons in grocery stores, Russ will not be cooking in Seattle next season.) I'm most excited about the moves the Dolphins were able to make. They're already the best team in their division and now they have a ton of picks to improve even further. It must be a good time to be a Dolphins fan.
Peter Howard: After 2020—or, as I believe it's more commonly known, Corey Davis SZN—it'll be interesting to see what he can do alongside Denzel Mims, and without the deadweight of the previous coaching staff. I've been high on both since their respective rookie drafts and lower on the Jets than pretty much anyone.
I think the highest upside signing in free agency is Will Fuller, to be honest. Fuller's shown, consistently when healthy, he has the potential to put up great production. His injury history seems to have developed in the NFL (he was healthy in college.) The PED suspension is a concern but—in my understanding at least—his injuries are preventable and at low risk of recurrence. It has not felt that way watching his career unfold, I'll grant. Also, I don't know why some have already written off Tua Tagovailoa. He was once so highly thought of many felt NFL teams should tank their season for the opportunity to draft him. He has not played nearly enough NFL football for me to know if he will or won't elevate to this level of the game.
It's tough to bet on "bad" teams (for fantasy) but at their current ADPs, these players all look like interesting upside bets in 2021.
Question #2: The 2021 NFL Draft is right around the corner. Which rookie is rising up your draft board? Who's a player sliding down your draft board? Any Pro Day thoughts?
Andrew Fleischer: The guys I value at the top haven't changed much, given many of them either won't test at their Pro Days or haven't had them yet. Demetric Felton is definitely an interesting prospect who should still be available in the fourth round of a rookie draft. He's one of the biggest rookie running back risers over the last few weeks of MFL10 ADP (37 spots), and he hasn't even tested yet. I'm less bullish on Kylin Hill than I was in early February, as it's looking more and more likely he'll be fighting uphill against his NFL Draft capital. There have been some very interesting Pro Day results lately—Rondale Moore's (Pro Day grain of salt) 4.29 40-yard dash & 42.5" vertical were encouraging, though his 5-foot-7 stature could force him out of the first round of the NFL Draft and make him a huge value in the second. Ihmir Smith-Marsette's results of a 4.43 40-yard, 4.20 short shuttle and 7.00 3-cone should help out his stock. He wasn't really on my radar until Pete Davidson mentioned him as a sleeper in February.
Brandon Niles: DeVonta Smith weighing 170 pounds had him drop down my board. I still see him as a first-round talent, but I now officially and unequivocally have him third among my wide receivers, behind Ja'Marr Chase and Rashod Bateman. It's splitting hairs with these three, but that low weight puts him just behind the other two. It was also interesting to see Pooka Williams showing off his route-running and hands at the Kansas Pro Day. His slight frame might keep him out of the running as an every-down back, but if he becomes a third-down player and/or slot receiver, he could very well find his way to the field sooner than expected for an expected Day 3 prospect. The prospect rising up my draft board is Michael Carter. He's a likely Day 2 running back, but he has a compact frame with a ton of explosiveness. As the lightning to Javonte Williams's thunder, Carter showed off both rushing and receiving talent at North Carolina. I think he's going to land a complementary role right out of the gate wherever he lands, with lots of PPR potential as a rookie.
George Kritikos: I haven't had much movement on my rookie board this offseason and maybe that is due to a lack of an NFL Combine and all that it entails, including medicals and interviews. I will say, the idea of Tutu Atwell weighing less than 160 pounds is a terrifying thought given the NFL implications—but that was expected and it will be intriguing to see how NFL teams react to that fact being confirmed.
Peter Howard: Man, that's a big question this time of year. I'm enjoying not having to care about the combine because I typically spend the time talking about how combine stats aren't as useful as many think. Unfortunately, for some reason, that's made Pro Day numbers the center of several rookie evaluations in public discussion.
I'm in no way concerned about Rondale Moore's height, but I'm somewhat concerned we only got to see one (great) year, at 18 years old. Overall, I'm enamored by the production he put up in that year, and not convinced he's limited in the potential of his NFL role ("Slot guy") by his role in college or that players can't excel in fantasy out of the slot.
I was impressed with DeVonta Smith's last two seasons and unmoved by his BMI. He once outproduced Jerry Jeudy in terms of volume. They both have good college profiles in comparison, overall, and I think it's positive.
I'm concerned about Rashod Batemans's draft capital as the NFL has yet to spend more than a fifth-round pick on a wide receiver from his side of his conference, but absolutely adore how productive he was in college.
Kenneth Gainwell is another player with great production in a limited college career. However, I've heard concerning reports about how well developed his overall running back skills were from tape evaluators. Given that he's coming back from a long absence and that the class is weak, NFL teams could and should look at him—he is also relatively highly ranked by consensus. I am concerned about his cost versus his reward in fantasy, though. He measured in over 200 pounds recently, which should further solidify that cost.
Tylan Wallace and Elijah Moore. I just wanted to be on the record saying their names, I like their production a lot. They are my Dyami Brown, as he seems to be gaining more traction as a sleeper in the dynasty community now that everyone has become more informed on this class.
Isaiah McKoy isn't even ranked in DLF's current rookie rankings, but he was a very impressive producer—even at Kent State—at a young age. He's someone I'm keeping my eye on.
I think Chatarius "Tutu" Atwell might be miscast as "just a Jet Sweep" guy from Louisville. Though, I'm struggling to find tape evaluators to go along with that idea.
Brevin Jordan was just as impressive a receiver as Kyle Pitts, in my opinion, that feels pretty hot.
There's nothing I like about Jaylen Waddle, Terrence Marshall or Kadarius Toney. Only draft capital could put them on my radar at all.
This doesn't mean much but I keep thinking Amon-Ra St. Brown (great name) feels like the next fourth-round wide receiver the Packers or Rams draft, and everyone gets way too excited about it. Maybe it's because his brother Equanimeous did just that. He has a decent college profile, the equal of either Allen Lazard or Marquez Valdes-Scantling, but with a young breakout age.
I also have a rookie profiles video series on YouTube you can check out.
Question #3: In a move that came out of nowhere,
Kenyan Drake

signed with the Las Vegas

Raiders

. What does this do to

Josh Jacobs

's dynasty value? Is he a buy-low candidate? Someone you want nothing to do with?

Andrew Fleischer: I was really looking forward to an increase in Jacbos's usage as a receiver in 2021. Instead, the Raiders now have Josh Jacobs, Kenyan Drake, Theo Riddick and Jalen Richard in their running back room—that vision is now a horror-scape of Lovecraftian proportions. I think this move definitely caps Jacbos's 2021 ceiling based on Drake stealing third-down touches alone, but Drake is also likely to reduce the rushing volume for Jacobs. It seems fairly clear based on his moves at the position over the last two seasons that Gruden does not envision a larger role for Jacobs, which puts him into RB2 territory for the foreseeable future.

Brandon Niles: Jacobs only had 45 targets last season, up from 27 as a rookie. Jalen Richard and Devontae Booker combined for 115 carries and 44 targets last year. I'm guessing Drake siphons away a few of those targets and completely replaces Richard and Booker in the offense. I would consider Jacobs a buy-low candidate, thinking he'll still get the bulk of the work he's been getting.

George Kritikos: Josh Jacobs has definitely dropped down my board as it is another sign the team wants him as its primary runner in the most literal sense. He hasn't flashed much in the passing game, largely due to a lack of opportunities with a total of 72 in his first two seasons in the NFL, but that could be a sign the team hasn't been impressed with that facet of his game in practice settings. The reserves are loaded with receiving options out of the backfield, including specialists Theo Riddick and Jalen Richard, so Kenyan Drake feels more like a direct backup to Josh Jacobs than another threat to his receiving work.

Kevin Zatloukal: I will stay away from Jacobs. I think the consensus is correct: This limits his upside significantly. Drake is also overvalued at his current ADP. However, I have some hope that later in the offseason his price will drop to the point where he could be a value. If Jacobs is injured, Drake will have a great role, and he may carve out a third-down role even if Jacobs stays healthy.

Peter Howard: For me? Not much. For some reason, the Raiders have shown a stubborn unwillingness to use players how they excelled in college. Jacobs was a good college receiver but has been consistently left out of that role since being drafted. We can argue till we are blue in the face about what a team "should" or "shouldn't" do but I've found it more useful to accept, at a certain point, when teams tell us what they intend to do. Jacobs's highest fantasy upside has been consistently capped by his role, and the signing of Kenyan Drake just seems like more evidence they intend to keep doing that. He's a good player and should continue to be. I don't think Drake threatens that. But if it hadn't already, I think it's time to let the heights of his potential go, like a child faced with vegetables.
Question #4: Who are some players the dynasty community has soured on that you are not ready to bail on yet and why?
Andrew Fleischer: Things have gone from "Tank for Tua" in 2019 to "Red-Flag-ovailoa" after 2020. How much really changed last season? He ceded the starting job to Ryan Fitzpatrick for the first half of the season, and then a few more games in the second half due to rookie struggles, but he wasn't surrounded by great offensive weapons. Mike Gesicki has a ton of potential in 2021 after finishing as fantasy's PPR TE7 in 2020, and DeVante Parker will have a legitimate receiver lining up across from him now that Miami signed Will Fuller in free agency. The Dolphins are expected to go either OL or WR (or perhaps tight with Kyle Pitts) with the No. 6 pick and continue to bolster the offense at OL/WR later in the draft. Either way, Tagovailoa will almost certainly be surrounded by better weapons in 2021. He's a decent bet to make a sizeable improvement in his sophomore season, and betting on quarterback accuracy is not a bad idea (Tagovailoa was in the top five in accuracy in all of college football for Alabama's 2018 season, via PFF).
Brandon Niles: I think Odell Beckham Jr. was valued way too high when he was traded to the Browns. Now, after some disappointing seasons and injuries, he's valued way too low. He's still one of the most dynamic players in the game, and we only saw the beginning of what the Browns offense could do toward the end of last season. We have him ranked in our dynasty rankings at WR44, which seems like a pretty rough drop in startup drafts, even though he is 29 years old. He may not be an elite WR1 anymore, but I'm not ready to relegate him to WR3/WR4 territory yet. If he can stay healthy—an admittedly big if—then I think he has at least five more seasons of strong play.
Kevin Zatloukal: Lamar Jackson, who I mentioned in our last round table, remains a value to me. I think people are too down on him. He could easily be the fantasy QB1 next season, and he's only 24. This time around, I will add Chris Carson. I don't think drafters are down on him the way they are with Jackson, but there is certainly no excitement for Carson, and there really should be. He's the clear lead back on a run-first team that should score a lot of points this year. Since he also catches passes, I think he has low-RB1 upside. At 26, he definitely has a couple of good years left. He's a good value at the end of the seventh round in dynasty startups.
Peter Howard: Safe to say I find it harder to forget good players are good. There's a particularly large list of players this year many seem willing to move on from. For example, Michael Thomas currently has an ADP of WR11.
I don't understand that.
JuJu Smith-Schuster has fallen outside of the top 15 at the position. Austin Ekeler feels like an afterthought in drafts, but I still like his skill set and see potential upside at his RB18 ADP.
If you take a stroll outside the first five rounds, you can also find Julio Jones and Tyler Boyd hanging out together in the sixth round, while Adam Thielen, Tyler Lockett and Odell Beckham are just chilling in the seventh round.
If you look real close, you can even see lifetime members of Team Forever Underrated, Jarvis Landry and Brandin Cooks in round nine.
Question #5: Let's focus on Superflex rookie drafts for a moment. The top five quarterbacks on most people's boards are some combination of
Trevor Lawrence

,

Justin Fields

,

Zach Wilson

,

Trey Lance

, and

Mac Jones

. Who's your QB6? What would it take for you to trade away the 1.01 pick in a Superflex rookie draft?

Andrew Fleischer: I'm a Jamie Newman QB6 kinda guy, and I'm not worried Newman has only one complete season on his resume (2019-2020) after opting out of the 2020/2021 season. In that full season, Newman averaged nearly 50 rushing yards per game, and in games alongside Wake Forest's No. 1 receiver Sage Surratt, he averaged 287 passing yards and 2.75 passing touchdowns per game. Any quarterback who doesn't have first- or even second-round NFL Draft capital is a relatively low-percentage play, even in Superflex leagues, but Newman appears to have the tools to take advantage of the right NFL opportunity. If I've got the 1.01, I'm leaning back in a lounge chair with a neat whiskey and a cigar and mumble-demanding "make me an offer that'll blow my hair back". That would have to include at least the offering team's 2021 first, 2022 first and a mid-career RB1 or WR1.

Brandon Niles: It would take a godfather offer for me to give up Trevor Lawrence. Partially because of the prospect he is, partially because of the value that pick will have as it gets closer to draft time. Draft picks get more and more valuable as people have time to fall in love. I would want a first, a future first and a decent quarterback as the starting point for negotiations. I love Kellen Mond as my QB6 (actually my QB4 in this draft over Trey Lance and Mac Jones). He probably won't be drafted to a spot where he'll start right away, but he has the dual-threat ability that could make him fantasy gold if he can get an opportunity. He's also a four-year starter who improved every year and often played up to competition, even though he was inconsistent at times. He has all the tools you look for in a starter, and I'll definitely take a gamble on him getting a chance somewhere over any of the other options after the top three.

George Kritikos: I think there are two guys in the next tier of quarterbacks in Kellen Mond and Kyle Trask. There are some rumors that one of the two could find themselves a late Day 1 selection. I think that's unlikely but the fact that those rumors exist is enough to highlight the number of teams looking to quarterback in the NFL Draft and their willingness to invest early in this draft class. As for the 1.01, it's going to take quite the haul. Currently, I have Trevor Lawrence as a top-12 option in startups—and the QB7 overall. That means we are looking at a cornerstone dynasty player or somewhere in the four-to-five random first-round rookie pick range. That's a steep price that will be hard to find.

Peter Howard: I'm not much of a quarterback evaluator. I don't want to dodge the question, but I've found it important to recognize where I struggle. Right now, I only have three rookie quarterbacks ranked and have to wait for the NFL Draft and ADP to settle before I'll know too much more. Having said that, I took a quick look through DLF rookie rankings, and Kellen Mond of Texas A&M sticks out. Around 10.3% of quarterbacks drafted in the first three rounds since 2000 have come from the SEC (West). He also looks to have experience—with four years of 200+ pass attempts—and he's entering the league at 22 years old. His raw completion percentage looks low, but early experience is mostly positive when combined with efficiency. His overall completion percentage is 4% higher than his conference average, at least. He has some rushing upside as well with around nine rush attempts per game in college. He seems like an interesting prospect if I'm taking a swing outside the top five.

*If you're interested, my data is all pinned to my Twitter timeline.
Question #6: Who are some of your current favorite late-round targets in startup drafts?
Andrew Fleischer: Mike Davis is an easy target in the late rounds of startups right now, though his ADP has risen sharply since he signed with the Atlanta Falcons. Gus Edwards is another decent value right now in the 11th/12th round of a startup as the presumptive No. 2 back behind J.K. Dobbins in Baltimore's run-heavy offense. Phillip Lindsay is egregiously cheap right now in a Houston backfield corps alongside Mark Ingram and David Johnson, who are both older and frequently injured. I still like 14th-round Tyler Johnson entering his second season, despite Chris Godwin re-signing in Tampa Bay. You can probably land tight end Anthony Firkser in the final rounds of a startup—he's looking like the starter in Tennessee now that Jonnu Smith has landed in New England.
Brandon Niles: I already mentioned Kellen Mond, and I'll be eyeing where Pooka Williams lands. A few others include Tutu Atwell from Louisville, who I think will earn a job as a starting slot receiver earlier rather than later; and Jermar Jefferson, who I watched as an Oregon State fan and runs with the competitive fire you look for in a starting running back.
George Kritikos: The fact Anthony McFarland is sitting on draft boards in the 16th round of startups when the only running back the Steelers signed this offseason was Kalen Ballage seems crazy to me. Yes, they likely will look to the NFL Draft but they haven't been the most eager to pick running backs early or give them a large workload early on. McFarland has a year of experience, is their most explosive option, and has the benefit of his old offensive coordinator and head coach at Maryland coordinating the Steelers offense. That seems worth a shot after pick 180.
Kevin Zatloukal: Chase Edmonds is still going in the 10th round. That probably changes fast, but if you can get him there, that's great value. He has a high floor as a useful FLEX play, even if the Cardinals draft another running back early. If they don't, he has RB2 upside. In the very late rounds, I like Josh Reynolds and Donald Parham. Reynolds was productive when given chances in Los Angeles, and now that he's in Tennessee, he could be a useful player, even if he's just 80% of what Corey Davis was last season. Now that Hunter Henry has left the Chargers, Parham is set up to be a usable tight end this season. He's also just 24 years old. That's a lot of upside for someone you can get in the 20th round.
Peter Howard: I'm defining late as round 20 and beyond. I'm using DLF's March ADP for reference, even though ADP lags behind real-life news, to be clear, but it seems deep enough to cover most opinions. At wide receiver, I like Jakobi Meyers and Tim Patrick in the 20th round, Antonio Gandy-Golden in the 22nd round, and Andy Isabella and Julian Edelman in the 23rd round also seem interesting. At running back I still like Eno Benjamin in the 20th round and Trayveon William in the 24th round.
---
Related Articles