Perfect Fantasy Football Draft: 10th in a 10-Team ESPN PPR League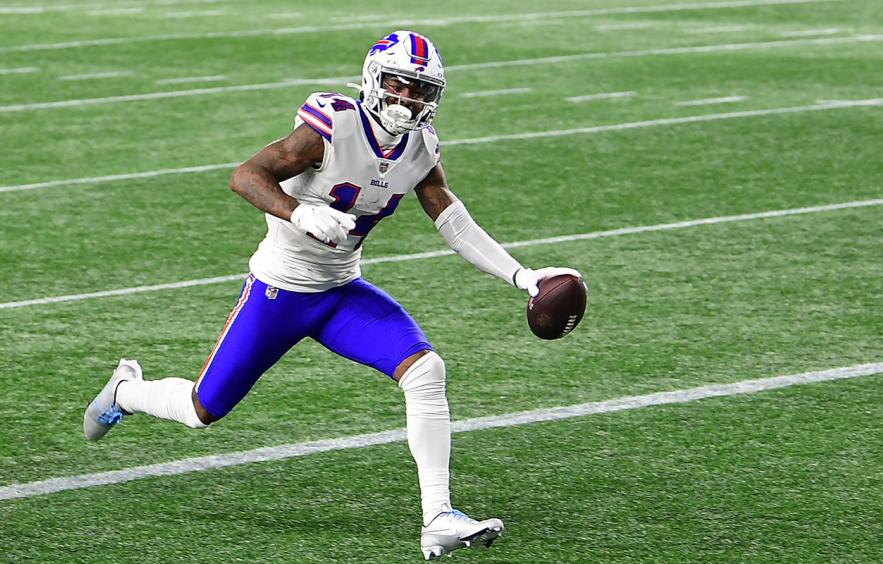 Billie Weiss/Getty Images
Picking at the turn in fantasy drafts is always an interesting spot, and this year is no exception. Because of the level of control you have with back-to-back picks, there are several different ways in which you could go about assembling your team. In this draft, I'm going to be experimenting with the Zero-RB draft strategy. This type of drafting involves loading up on receivers, tight ends, and quarterbacks in the earlier rounds, largely ignoring the running back position. Then, after filling out those positions, you can take a lot of shots at running backs in the later rounds. The strategy was created to help fantasy managers take advantage of the increasingly pass-heavy NFL, and avoid injury risk with elite running backs.
One of the obvious advantages of deploying this strategy is the immense depth and strength you will have at all the positions besides running back. With this being said, the downside is that if the shots you take at running back don't pan out, you might be scrambling to find starting-caliber players during the season. If you do choose to use such a strategy in your drafts, the most important thing to keep in mind is always be flexible. While you might have decided to only take a running back late in drafts, if someone elite falls to you that wasn't expected to drop that much, then please take that player.
---
More Perfect Drafts: 7th in a 10-Team ESPN PPR League | 3rd in a 12-Team Yahoo Half-PPR League | 6th in a 12-Team ESPN PPR League | 1st in a 12-Team Superflex League | 2nd in a 12-Team ESPN PPR League | 1st in a 12-Team Yahoo! Half-PPR | 9th in a 12-Team ESPN PPR League | 4th in 12-team Yahoo Half-PPR League
---
Draft Hero Settings
Roster Settings: 1 QB, 2 RB, 2 WR, 1 TE, 1 Flex (WR/RB/TE), 1 Kicker, 1 DEF, seven bench spots
Only take a running back after the 5th round: Because I'll be experimenting with a Zero-RB strategy, I'd like to load up receivers and an elite quarterback and/or tight end before addressing the running back position.
Limit 1 K, DEF: Limiting these less important positions to just one makes the draft a lot more realistic and challenging.
Targets: Tee Higgins and Travis Etienne. I'll explain why I like these specific targets in their respective draft rounds, assuming I am able to land them.
Jump to Pick: 1 | 2 | 3 | 4 | 5 | 6 | 7 | 8 | 9 | 10 | 11 | 12 | 13 | 14 | 15 | 16 | Draft Recap
Round 1, Pick 10 (10) - WR
Davante Adams

,

Raiders
What better way to start off our Zero-RB draft than with arguably the best wide receiver in the NFL. While Adams is apart from Aaron Rodgers for the first time in his career, he still should be great for fantasy. He's the clear top receiving threat in the Raiders offense and has an established connection with Derek Carr (the two were college teammates). It is possible he sees a little less volume due to competition from guys like Darren Waller and Hunter Renfrow, but Davante will still get more than enough targets to be a rock-solid WR1 for our team.
If you aren't trying out Zero-RB and want to take a running back, Adams' former teammate Aaron Jones or Lions back D'Andre Swift are great picks here. They are both RB1s on their team and excellent pass-catchers, giving them a valuable floor-ceiling combo.
Suggested Alternatives: Stefon Diggs, CeeDee Lamb, Josh Allen, Aaron Jones
My Top Alternative: Stefon Diggs
Round 2, Pick 1 (11) - WR
Stefon Diggs

,

Bills

With my second pick in a row, I'll take Stefon Diggs, who is a top-5 receiver in the NFL himself. Diggs might have the best situation for a receiver in all of football. He's the undisputed top target attached to a phenomenal quarterback in Josh Allen. He has had over 160 targets in each of the last two seasons, and could easily beat that number again. The only downside with Diggs is he isn't that much of a big-play threat, which limits his ceiling just a little. However, he still has more than enough opportunity to comfortably be a top-10 fantasy option for the third straight year.

If Diggs or Adams don't float your boat, Cowboys receiver CeeDee Lamb is an excellent alternative here. CeeDee has a real chance at leading the NFL in targets as the clear #1 in the Cowboys offense and is poised for a breakout year.

Suggested Alternatives: Travis Kelce, Josh Allen, Mark Andrews, Aaron Jones, D'Andre Swift

My Top Alternative: D'Andre Swift
Round 3, Pick 10 (30) - WR
Tee Higgins

,

Bengals

My top target for this draft, Higgins is one of my favorite players in the NFL and a ceiling-raiser for our team. Perhaps overshadowed by teammate Ja'Marr Chase, Higgins had a breakout sophomore season last year, racking up over 100 targets and 1,000 receiving yards en route to a WR13 finish in fantasy points per game. A jump-ball-winning machine who is also a good separator, Higgins would likely be the best receiver on most other teams in the league. Despite technically being the #2, Higgins should still see plenty of volume from Joe Burrow. In fact, his role as the 1B might actually benefit him—last season, Higgins was only doubled on 2.1% of his routes, compared to 6.8% for Chase (per ReceptionPerception). He's an incredible player to have in our FLEX, and we've now locked in three elite receivers to start off our draft.

Suggested Alternatives: Ezekiel Elliott, Justin Herbert, Patrick Mahomes, Kyle Pitts

My Top Alternative: A.J. Brown
Round 4, Pick 1 (31) - TE
Kyle Pitts

,

Falcons

With our starting wide receivers all set, it's a good time to address the tight end position. Pitts is the consensus TE3 and is in a tier of his own behind Travis Kelce and Mark Andrews. Last season, his lack of touchdowns made him a bit of a fantasy disappointment, but Pitts still became just the second rookie tight end to ever have over 1,000 receiving yards. He should be in line for some serious touchdown regression, as he was just the 3rd player to ever have at least a thousand receiving yards and score exactly one touchdown. Throw in the fact that Calvin Ridley's suspension will lead to even more opportunity for targets, and there's a real chance that Pitts finishes as the overall TE1 this season.

Suggested Alternatives: Ezekiel Elliott, Michael Pittman, David Montgomery, A.J. Brown

My Top Alternative: A.J. Brown
Round 5, Pick 10 (50) - QB
Kyler Murray

,

Cardinals

Before taking my first running back I'll lock in one of the best fantasy quarterbacks in the NFL. Kyler has finished as a top-5 quarterback in fantasy points per game in each of the past two seasons, and despite his late-season struggles, is still one of the most valuable assets in fantasy. He is incredible as both a passer and a rusher, giving him the cheat code that managers have discovered to be so overpowering. As long as he stays healthy, Kyler is a near lock to finish as a top-10 QB and will be a dynamic and explosive addition to our team.

Suggested Alternatives: Travis Etienne, Jalen Hurts, Elijah Mitchell, Courtland Sutton

My Top Alternative: Jalen Hurts
Round 6, Pick 1 (51) - RB
Travis Etienne

,

Jaguars

My other target for this draft, I consider Etienne to be the ideal RB1 for a Zero-RB team. He's one of the few running backs going past the first few rounds that realistically could finish in the top 15 without an injury to someone else. A year removed from the foot injury that kept him out of his rookie season, Etienne has been the star of the Jags' training camp. While he might be in a committee with James Robinson to start the year, Etienne will see most of the pass-catching work and can use his explosiveness and speed to create big plays. If Robinson suffers any setbacks in recovering from his torn Achilles, Etienne would be the three-down back in this offense and be a weekly RB1. The combination of floor and upside that Etienne offers is hard to find this late in drafts, making him a great first RB for our team.

Suggested Alternatives: Elijah Mitchell, Courtland Sutton, Cordarrelle Patterson, Marquise Brown

My Top Alternative: Elijah Mitchell
Round 7, Pick 10 (70) - WR
JuJu Smith-Schuster

,

Chiefs

I believe JuJu is being criminally underrated in fantasy this season. It is true that he has been pretty disappointing the past three seasons, but it's hard to blame him for that. Not only has JuJu dealt with injuries that have caused him to miss time, but the quarterbacks he's played with are Ben Roethlisberger's corpse, Mason Rudolph, and Devlin Hodges. Going from that to playing for Patrick Mahomes in Andy Reid's offense might be the biggest situation glow-up in NFL history. Additionally, JuJu is the clear top receiver in the Chiefs' offense, and will be able to slide back into the second option role that he was great at in Pittsburgh—in 2018, playing next to Antonio Brown, JuJu racked up over 1,400 receiving yards and was a top-10 receiver for fantasy. Now, he can play that same role next to Travis Kelce and is poised for a career resurgence.

Suggested Alternatives: A.J. Dillon, Allen Robinson, Adam Thielen, Gabriel Davis

My Top Alternative: Adam Thielen
Round 8, Pick 1 (71) - RB
Clyde Edwards-Helaire

,

Chiefs

Doubling up on Chiefs with hyphenated last names here, CEH is an excellent second running back for this team. He hasn't come close to living up to his lofty expectations after being selected in the first round of the 2020 NFL Draft, but that letdown is built into his ADP this year. He is still the presumptive lead back in the offense, and although he might cede touches to guys like Jerick McKinnon and Isiah Pacheco, should get enough volume to be a low-end RB2. If he can tap into the upside that made him a 1st round pick in his rookie year, this could be a huge value.

Suggested Alternatives: A.J. Dillon, Allen Robinson, Adam Thielen, Gabriel Davis

My Top Alternative: A.J. Dillon
Round 9, Pick 10 (90) - RB
Rhamondre Stevenson

,

Patriots

Stevenson fits the mold of the type of running back you should be targeting in the later rounds of a Zero-RB Draft. He's a very talented player and was one of the few Bill Belichick running backs to actually get playing time in his rookie season. While he is behind Damien Harris on the depth chart, he still should get plenty of volume, especially through the air now that James White has retired. He has enough standalone value as a FLEX-type player, and if Harris goes down with an injury, would vault into being a weekly top-20 option.

Suggested Alternatives: Allen Lazard, Rashaad Penny, Elijah Moore, Melvin Gordon

My Top Alternative: Allen Lazard
Round 10, Pick 1 (91) - RB
Rashaad Penny

,

Seahawks

Penny is very similar to Rhamondre in that he is guaranteed a certain level of touches, and has the opportunity to make that number even higher if things work out. A former first-round pick, Penny will likely split touches with rookie Ken Walker. However, Walker has already gotten injured in camp, so there is certainly an opportunity for Penny to steal the bell-cow role. The overall RB1 for the last five weeks of 2021, there is no denying Penny has the talent to be great, and he's another great option for us to rotate in.

Suggested Alternatives: Allen Lazard, Elijah Moore, Melvin Gordon, James Robinson

My Top Alternative: Melvin Gordon
Round 11, Pick 10 (110) - WR
Robert Woods

,

Titans

Now that we've taken four running backs with our past five picks, I'll address the receiver position again. Perhaps due to his somewhat boring playstyle, Bobby Trees is seemingly always underrated in fantasy. While his situation is much worse now that he is in Tennessee, Woods is still the #1 receiver for Ryan Tannehill and should be a solid fantasy player. He will be peppered with targets and is a high-floor backup option in PPR.

Suggested Alternatives: Brandon Aiyuk, James Robinson, Nyhiem Hines, James Cook

My Top Alternative: James Cook
Round 12, Pick 1 (111) - RB
James Cook

,

Bills

You might be seeing a pattern here—Cook is in almost the same exact situation as guys like Rhamondre and Penny. He's listed as the No. 2 on the depth chart behind Devin Singletary, but the Bills invested significant draft capital in him (he was a 2nd-round pick) meaning he will see the field. If Singletary gets injured or his fumbling issues of years past come back to haunt, Cook could find himself as the RB1 in what might be the best offense in the NFL, something that will be very valuable.

Suggested Alternatives: Brandon Aiyuk, James Robinson, Nyhiem Hines, Tyler Boyd

My Top Alternative: Nyhiem Hines
Round 13, Pick 10 (130) - RB
Dameon Pierce

,

Texans

Pierce is the last starting running back you can take in drafts. He has been the star of Texans training camp and preseason, looking like a much better option to be the lead running back than Marlon Mack and Rex Burkhead. The Texans' offensive talent shortage probably means Pierce won't have that high of a ceiling, but he still could become a dependable RB3/FLEX for our team.

Suggested Alternatives: Jahan Dotson, Marquez Valdes-Scantling, Tyler Bass, K.J. Osborn

My Top Alternative: Jalen Tolbert
Round 14, Pick 1 (131) - WR
Jalen Tolbert

,

Cowboys

Tolbert is someone that has shot up in ADP through training camp. With Michael Gallup expected to miss the beginning of the season as he recovers from a torn ACL and James Washington done for the year, Tolbert has found himself as the #2 receiver in the Dallas offense. He is bound to see volume in this role and is a great late-round flier.

Suggested Alternatives: Tyler Bass, Bills DST, Jahan Dotson, Brandon McManus

My Top Alternative: Jahan Dotson
Round 15, Pick 10 (150) -
49ers

DST

With our second to last pick, I'll finally take a defense. The 49ers are chock-full of superstars on the defensive end like Nick Bosa and Fred Warner and should be a great unit once again. 4for4 has them projected to be the fifth-best fantasy defense this season.

Suggested Alternatives: Tyler Bass, Bills DST, Ryan Succop, Matt Prater

My Top Alternative: Bills DST
Round 16, Pick 1 (151) - K
Tyler Bass

,

Bills

It is important that our kicker is on a good offense, and the Bills should be one of the best units with Josh Allen leading the charge. We'll also get an extra point every time Stefon Diggs scores a touchdown.

Suggested Alternatives: Ryan Succop, Matt Prater, Jake Elliott, Graham Gano

My Top Alternative: Matt Prater
Draft Recap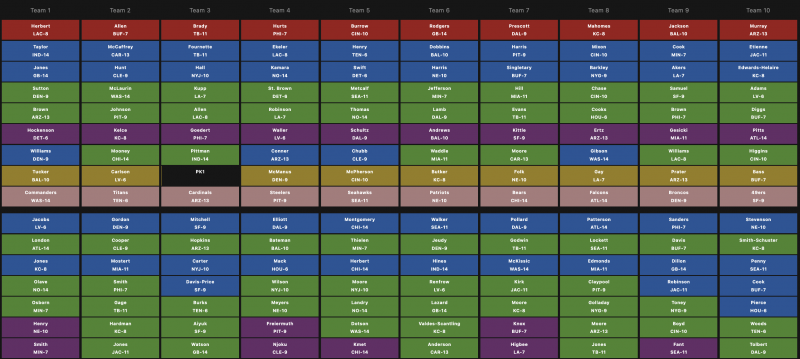 Zero-RB drafts can sometimes backfire and turn out poorly, but I think we've avoided that in this draft. With three superstar receivers and elite options at both quarterback and tight end, there's no doubt that we were able to load up on the non-RB positions really well. The running back position will always be a little bit suspect, but I think we did a solid job there too. We are stacked with high-upside players who just need a few things to break right for them to emerge into fantasy relevance. Although unconventional, this team will be ready to compete for a championship and is built for the long run.