Draft Rookies in Best Ball Leagues Using These Parameters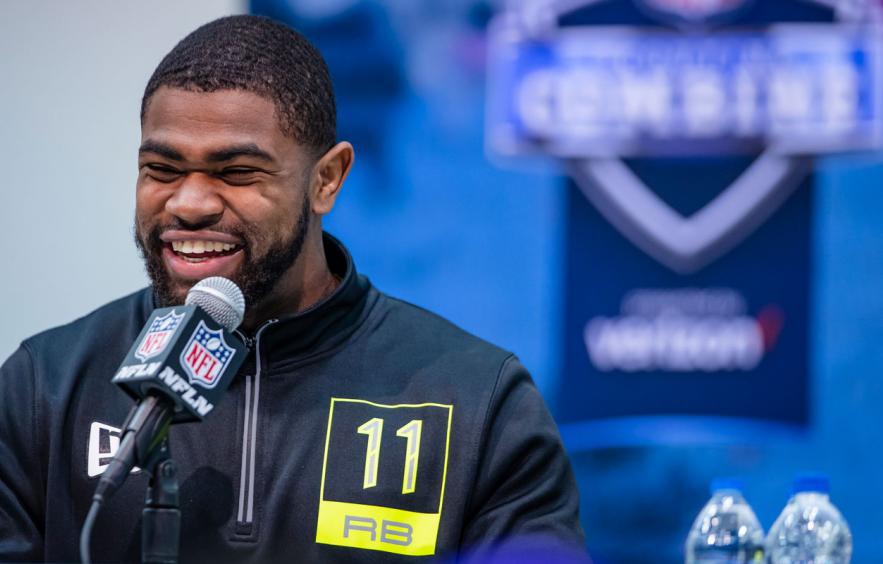 Michael Hickey/Getty Images
With the offseason Super Bowl in our rearview mirror, it's full steam ahead into a new season of fantasy football. Not traditional leagues, of course, as those drafts won't take place until August. Best ball season, on the other hand, is in full bloom. As we sit between the NFL Draft and the mini-camps, it's a good idea to dig into exactly how rookie picks impact best-ball scoring, or rather, if they do impact scoring.
Below I'll be breaking down rookies by position to find 2019 contributors, trending factors when considering rookies, and what options we have to bolster our score in this, the 2020 season.
Running Backs
Last season saw four rookie running backs score 140+ points, which puts them right at the threshold of an RB3 in these 12-team best-ball leagues. Miles Sanders finished as the overall RB15 (RB29 ADP) and Devin Singletary finished as the overall RB33 (RB39 ADP), each returning great value, while David Montgomery returned adequate value as the RB24 (RB21 ADP) and Josh Jacobs (RB16 ADP) was well on his way to end the season as an RB1 before having shoulder issues that kept him out of games and relegated him to an RB21 season.
As discussed by 4for4's very own Andrew Fleischer in his article on player win rates, Sanders wasn't just a good rookie pick, he was a great pick-up in general. Amongst winning best ball teams, Sanders was owned on 13.9% of FanBall teams (fourth-highest mark) and 14.6% of FFPC teams (fourth-highest). His 1,229 total yards on 62 targets were quite literally league-winning numbers.
Singletary was another first-year player that ended up contributing solid fantasy production despite being selected in the eighth or ninth rounds of best-ball drafts. After a hamstring pull forced him out of action in Weeks 3-6, he came back to the Bills and was eased back into the offense until he began logging 80% of snaps by Week 13. On a team that sported Frank Gore, LeSean McCoy and T.J. Yeldon as their running back depth chart in August, it was only a matter of time before Singletary saw the field.
A trend that we see with these top scorers, the position in general, and really offensive positions across all rookies, is that fantasy scoring in the second half of the season outweighs fantasy scoring in the first half of the season. Running backs, in particular, have scored 20.3% more fantasy points between Weeks 9-17 than they have in Weeks 1-8 over a three-year span. Even if every single rookie in the study had a bye week in the first half of the season (they didn't), that would only account for 6.25% of their overall scoring to be in the second half of the season, meaning no matter how you break it down, rookie running backs simply get more run in Weeks 9-17.
How To Use This Information For 2020
Almost across the board, rookie average draft positions are on the rise now that we have an NFL team associated with them and the running back position is seeing the largest push. With offseason puff pieces and coach-speak abound in the coming months, right now is the best time to buy into your favorite rookies before their prices soar even higher.
As the only first-round running back off the board, Clyde Edwards-Helaire boosted his draft stock considerably by going to the most explosive offense in the league. The Chiefs selected CEH's passing game prowess and elite explosiveness with the 32nd overall pick and fantasy owners are rightfully excited to reap the benefits, with his best-ball ADP rising as far as the third round and very likely settling into the second when the buzz of the draft wears off. That price is a little high for me, but Eric Moody believes a top-15 finish is very much in the cards for 2020.
The two names up top —D'Andre Swift and Jonathan Taylor— are going in opposite ADP directions after going to Detroit and Indianapolis, respectively. Swift is falling in drafts with fantasy players concerned about the presence of Kerryon Johnson while Taylor's ADP has already jumped more than a round despite the residence of Marlon Mack and Nyheim Hines. I believe (and wrote about) in D'Andre Swift's ability to see the field early in the season as a Theo Riddick-plus and eventually usurp Johnson as the main ball hog with the Lions. Joe Paeno shares my concern that Taylor is highly unlikely to strip away both Hines' and Mack's workload right off the bat and believes a three-headed attack is the committee for this season. Taylor's ever-growing price makes him a fade for me in best-ball but things are a different story in dynasty leagues.
In all, current 2020 rookie running back ADP isn't much different from how 2019's ADP wrapped up, with a couple of guys being a sure bet to take over as a lead-back eventually (think Miles Sanders, Josh Jacobs) and a large group likely looking to pick up scraps and work their way into an offense by season's end. Your best bet is to pair these rookies with veterans, even the boring two-down backs, so they can help fill-in scoring towards the front half of the season when rookies are historically subpar. Think guys like Todd Gurley, Ronald Jones or Sony Michel. These are not sexy names anymore, but they can help bridge the gap until your rookies start producing.
Wide Receivers
Six wide receivers bested the 140-point threshold in 2019, finishing as a WR4 or better. In a fascinating development, exactly zero of these players were drafted before the start of the 13th round in best-ball. Perceived bad offenses (A.J. Brown, Titans), limited route trees (DK Metcalf), or questions about the quarterback's ability to get the ball down the field (Marquise Brown) all littered the reasons we avoided these rookies until well into the double-digit rounds last season.
Deebo Samuel led the way for rookie wide receivers contributing to winning best-ball teams, landing on 11.8% of winning FanBall teams (12th-highest mark), and 13.4% of FFPC teams (fifth-highest mark). Kyle Shannahan used the versatility of Deebo throughout the year, lining him up all over the field, as an in-line tight end, in the backfield—everywhere. That adaptability eventually paid off, as his last eight games saw him accumulate 697 total yards on 44 touches and a couple of scores. Drafters with the foresight to see Deebo Samuel as a possible upside piece in one of the most creative offenses in the league were rewarded handsomely.
First-year wide receivers, as a whole, saw an increase of 31% in fantasy scoring in Weeks 9-17 from Weeks 1-8. This is actually much less than the three-year historical difference of 57%. As we've seen with running backs switching teams or being signed as a free agent and immediately contributing, (see: Kenyan Drake with the Cardinals or LeSean McCoy with the Chiefs in 2019, C.J. Anderson with the Rams in 2018) there are only so many blocking schemes in the football world and the B-gap in the SEC is the same B-gap on Lambeau Field. In contrast, wide receivers—even veterans—can have a hard time assimilating to new verbiage, option routes, and different competition at the pro level. It makes sense that a majority of rookie WRs take a moment to get their feet under them before they can contribute in a meaningful way to our fantasy teams.
How To Use This Information For 2020
So much of a wide receiver's rookie value is dependent on his landing spot in the draft, but as we mentioned with the running back position, as soon as these guys officially became professionals, (nearly) all of these ADPs jumped, some of them multiple rounds.
Jalen Reagor was a player I was targeting heavily before the draft, and if his ADP can stick around in the double-digit rounds, I'm still going to stay on him. His 18.01 pre-Draft ADP ranked sixth out of the 10 rookie wideouts being drafted and with his athletic profile, he was well worth a purchase of shares. Reagor's 42" vertical jump and 11' broad jump at the combine both ranked him in the 99th-percentile at the wide receiver position. Pair those with an 18.7 breakout age (95th-percentile) and crisp route running and you have an intriguing prospect who can become an immediate deep threat and underneath weapon for Carson Wentz.
At this position more than any other, the learning curve is likely going to prove frustrating for owners with shares of rookie wide receivers. You can't go into your drafts planning on consistent WR2 or WR3 numbers from first-year players, no matter how much you like their draft profile and/or landing spot.
The best way to go about aiming for rookie wideout upside is to stack them with quarterbacks you already have. Make stacking a tiebreaker between late-round rookies you have ranked closely. If the stars align, you'll have a wide receiver who sees snaps from week one, playing for your quarterback who you drafted for his top-five upside.
Tight Ends
It has long been a maxim of the position that because tight ends are half offensive lineman, half receiver, it takes prospects longer to become an impact player in either realm. This is never truer than in fantasy where usable weeks from a rookie tight end feel heaven-sent. While we saw glimpses of what may turn out to be an impressive 2019 class of tight ends, the fact remains that the highest scorer of the group was Noah Fant, who finished as the overall TE14 and hit double-digit PPR points just three times. Those aren't the types of numbers we're looking for in best-ball.
Unlike the running back and wide receiver positions, tight ends are able to see the field consistently (albeit often consistently little) throughout the season, as evidenced by their minuscule 9% increase in fantasy scoring from the first half to the second half over the last three years. Instead, their improvements seem to grow year-to-year, making disappointing sophomores a better target than players assimilating to the position out of college.
That being said, there was one player who popped up on 8.1% of winning Fanball lineups with a site ADP of 14.08: T.J. Hockenson. It was clear the Detroit Lions had plans to use Hockenson as a major offensive piece from the start, as evidenced by the first-round (eighth overall pick) draft capital they spent on him. You almost have to wonder if this pick being so popular among winning teams was just happenstance, or if it simply meant that teams were smartly waiting on tight end and loading up on more important positions in the single-digit rounds. Hockenson scored 31% (25.1 PPR points) of his season's total fantasy points in Week 1 and broke double-digit points in just one more game. It's hard to believe that those kinds of numbers alone propelled his owners to championships.
How To Use This Information For 2020
This tight end section isn't a ringing endorsement of selecting rookies at the position, and that's likely the correct path. These prospects' ADPs have actually gotten worse since the draft and only two of them are even coming off the board with any consistency. At this point in the calendar, it's very tough to know if these players are going to be 15% snap guys or 60% snap guys in their first season.
I am intrigued by the uber-athletic Adam Trautman, who ranked third among draft-eligible tight ends with 2.71 yards per route run last year while playing for the University of Dayton. He landed in a great Saints offense but he's stuck behind Jared Cook and has known deficiencies as an in-line blocker which will both stand in his way of extended playing time. Nonetheless, he is worth a (very) late-round flier in FFPC's tight end premium format.
Quarterbacks
As the most important piece of the puzzle when it comes to "real" team success, rookie quarterbacks typically get the most fanfare of any position; be it offensive or otherwise. For that reason, the success (or lack thereof) is the easiest position to track. The vast majority of football fans know that Kyler Murray was implementing Kliff Kingsbury's new offense with the Cardinals, Daniel Jones usurped longtime starter Eli Manning in New York and Dwayne Haskins wasn't given a shot in the offense until deep into the season.
With the quarterback position being the easiest to project in terms of usage, it should come as no surprise that Murray was the only reasonable option during fantasy drafts—he was the only one without any roadblocks in his way. No matter how much you may have loved Daniel Jones or hated Eli Manning, it would have been a waste of a pick to select either QB with the conviction that they would be the full year's starter.
Those with trust in Murray and Kingsbury were rewarded, as 10.1% of the teams that owned Murray went on to win their league in Fanball, the seventh-highest mark at the position.
Considering rookie quarterbacks typically end up winning the job from someone else, and rarely the other way around (yes, I remember DeShone Kizer), it's very rare that a group of rookie signal-callers will ever score more as a whole in the first half of the season than the second half of the season. This could have something to do with more complex offensive gameplans as the season progresses but it would be very difficult to impossible to parse out that effect on fantasy points.
How To Use This Information For 2020
Joe Burrow had been etched into the Cincinnati Bengals' draft board since January, so his moving back to Ohio had no effect on his post-draft ADP. The cabinets are packed for Burrow to cook up an impactful rookie campaign with the likes of A.J. Green, Tyler Boyd, John Ross, Auden Tate, Tee Higgins and Joe Mixon. While those names don't jump off the page quite like the tandem of Mike Evans and Chris Godwin down in Tampa Bay, it could be argued that Cincinnati has built one of the best "basketball teams", or, five-wide sets in the NFL. Depending on the flow of your draft and the make-up of your team, Burrow's QB20 price in the 12th round is an auto-click in best-ball where it's easier to fade the early season learning curves.
Outside of Burrow, we have two quarterbacks who are going to have to wait for their teams to pull the trigger to get them on the field (Tua Tagovailoa - Dolphins, Justin Herbert, Chargers) and another (Jordan Love - Packers) who is unlikely to take a meaningful snap in 2020. If you absolutely have to take any of these latter three options, Herbert is the most plausible to accrue double-digit starts, but you'd have to be desperate.
Bottom Line
Entirely ignoring rookie targets from your best ball portfolio is not a good idea, even though I'm sure you've heard of people avoiding them altogether with varying degrees of success. Setting parameters around yourself before a draft even begins is a great way to limit your upside in the long run. Rather, know that rookies typically surge in the second half of the season and can still be league-winners without early-season production. Balance your rookie picks with these tactics:
Pair rookie running backs with unsexy bridge players like Todd Gurley, Ronald Jones or Sony Michel.
Stack late-round rookie wide receivers with quarterbacks you already have on your roster.
Restrict your rookie tight end ownership to roster fillers at the end of FFPC drafts.
Outside of Joe Burrow, it's not worth taking any of these rookie quarterbacks unless news comes out of a new Week 1 starter.