Can Clyde Edwards-Helaire Finish as a Top-15 Back in 2020?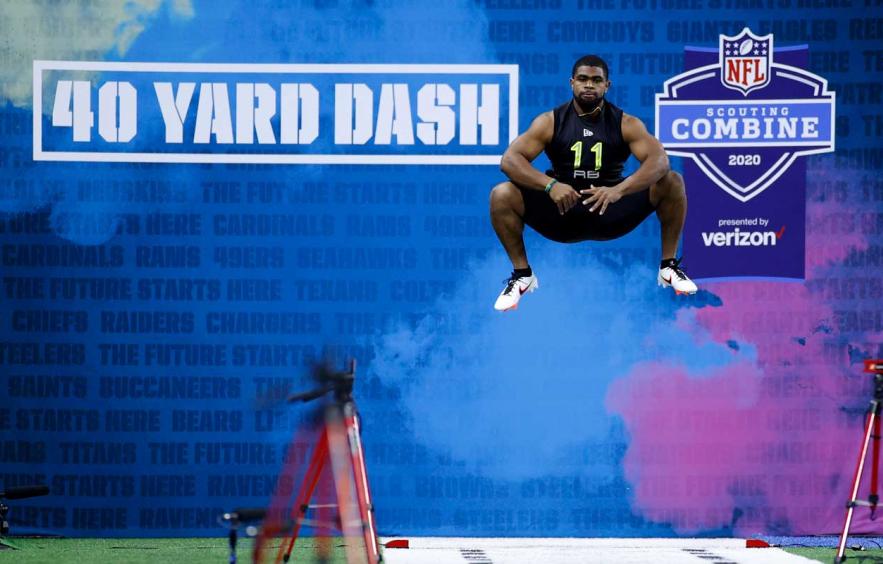 Joe Robbins/Getty Images
Did you know that Edwards-Helaire's odds to be the first running back drafted in the first round of the 2020 NFL Draft were 45/1 according to Las Vegas? The irony was that former Georgia's running back D'Andre Swift and Wisconsin's Jonathan Taylor dominated the headlines.
This narrative was destined to change when Chiefs general manager Brett Veach texted franchise quarterback Patrick Mahomes which player he wanted the team to select just before the NFL Draft. The Most Valuable Player of the Super Bowl replied with one word: "Clyde." Chiefs head coach Andy Reid and Veach followed through with Mahomes's recommendation by drafting Edwards-Helaire 32nd overall.
Veach says he told Andy Reid he would watch Clyde Edwards-Helaire's film and be reminded of Brian Westbook. Reid came back after watching the film and told Veach, "He's better than Brian."

— Matt Derrick (@mattderrick) April 24, 2020
Reid hasn't used this much draft capital on a running back since selecting LeSean McCoy back in 2009 when he was the head coach of the Eagles. This article will discuss Edwards-Helaire's collegiate statistical body of work, why he will flourish in Kansas City, and his fantasy football outlook.
Clyde Edwards-Helaire

's Statistical Body of Work

Edwards-Helaire met with Reid and Chiefs offensive coordinator Eric Bieniemy at the NFL Combine. The former LSU running back spoke very highly of Kansas City's offense. Edwards-Helaire discovered during this conversation the flexibility of his college offense in Baton Rouge was eerily similar to the intricacies of the Chiefs scheme. His versatility allowed him to make plays for LSU as a runner and a receiver out of the backfield.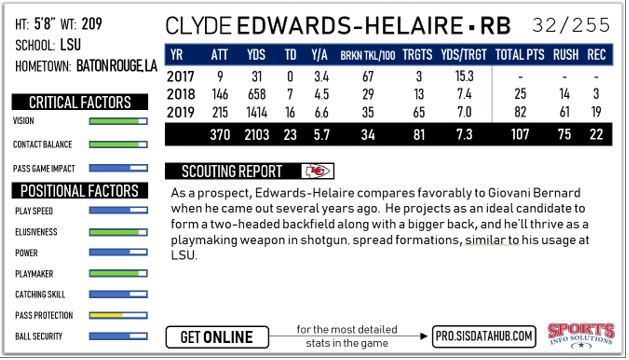 Edwards-Helaire finished his college career ranked No. 15 in LSU in career rushing yards. He also holds the school single-season record for running back receptions with 55. Edwards-Helaire last season at LSU was stunning. He ranked ninth in the FBS with 1,867 yards from scrimmage and scored 17 total touchdowns in 15 games last season. Edwards-Helaire's rushing yards rank as the third-highest single-season total in school history. His statistical contributions helped to propel LSU to a 15-0 record and its fourth national title. Edwards-Helaire's stock was at an all-time high so he decided to forgo his final season. This decision allowed Edwards-Helaire to land in an offensive situation in Kansas City that his running back peers are envious.
Andy Reid



His RB1 has finished as a top 20 RB in 16 of the last 20 years?



In 2 of the last 4 years Reid has had a RB start 14 or more games (Ware/Hunt). Those 2 RBs averaged:



• 16.2 Rush att/gm ✅



• 3.5 Targets/gm ✅ pic.twitter.com/CBz2EeF36W

— Derek Brown (@DBro_FFB) April 29, 2020
Let's walk through his fantasy outlook with the Chiefs in 2020.
How
Clyde Edwards-Helaire

Fits with the

Chiefs

Kansas City's offense finished in the top five in points scored in each of the last two seasons. The Chiefs have averaged an impressive 401.4 total yards per game since Mahomes has been the starting quarterback. Kansas City's front office continues to aggressively surround Mahomes with offensive weapons to complement the NFL's most explosive wide receiver Tyreek Hill, Mecole Hardman, and the league's best tight end Travis Kelce. Mahomes was the NFL's Most Valuable Player during his first season as a starter and led the Chiefs to their first championship in 50 years in his second. The addition of Edwards-Helaire is another vivid example of Kansas City attempting to improve its running game that ranked 22nd in rushing yards per game with 101.5.
Chiefs

Running Backs, 2019

| Name | Games | Rushing Attempts | Rushing Yards | Rushing TDs | Targets | Receptions | Receiving Yards | Receiving TDs |
| --- | --- | --- | --- | --- | --- | --- | --- | --- |
| Damien Williams | 11 | 111 | 498 | 5 | 37 | 30 | 213 | 2 |
| LeSean McCoy | 13 | 101 | 465 | 4 | 34 | 28 | 181 | 1 |
| Darrel Williams | 10 | 41 | 141 | 3 | 19 | 15 | 167 | 1 |
| Darwin Thompson | 12 | 37 | 128 | 1 | 10 | 9 | 43 | 0 |
The Chiefs were not able to replace what Kareem Hunt brought to the table prior to his off the field issues, but that will change in 2020 with Edwards-Helaire on the roster. His skill set is that of a three-down back and Reid is well aware of that.
Brett Veach told Andy Reid to watch some Clyde Edwards-Helaire film and told Reid you'll see Brian Westbrook. Reid watched. Then got back to Veach and said he's better than Westbrook.

— James Palmer (@JamesPalmerTV) April 24, 2020
Edwards-Helaire's rushing ability is criminally underrated considering he played in the SEC among casual football fans when you review his expected points added per attempt or EPA according to Sports Info Solutions:
You must be wondering how Damien Williams and the other running backs, including the recently signed DeAndre Washington fit into the Chiefs' offensive gameplan. Williams was a difference-maker at the end of last season. He rushed for 100 yards or more in two out of the last five regular-season games. Williams also scored six touchdowns in the postseason. The 28-year old running back has developed a reputation among fantasy football players as being injury-prone. Williams is only signed through this season and Washington signed a one-year contract. The selection of Edwards-Helaire has him looking at the Chiefs backfield mimicking lyrics from this classic Alice Cooper song:
Take a look at my face

I am the future

How do you like what you see?
When you take into account Edwards-Helaire's first-round draft selection, the statistical body of work, and his dynamic receiving ability he's the frontrunner to be the main running back to split opportunities with Williams.
The Bottom Line
The Chiefs offense continues to become even more dangerous with the addition of Edwards-Helaire which is mind-blowing considering who's on the roster right now. He's also a dark horse candidate to win Offensive Rookie of the Year.
Clyde Edwards-Helaire to win Offensive Rookie of the Year.



+2500 via @BetMGM.



Booked.



Get it: https://t.co/4KHbpD4mKd

— Matthew Freedman (@MattFtheOracle) April 24, 2020
Edwards-Helaire can be viewed as a high end RB2 with RB1 upside in redraft especially if Williams misses extended time.
His first-round pedigree suggests he'll play a high number of snaps
You'll need a top-three rookie draft pick to have a realistic shot of selecting Edwards-Helaire. He's the RB1 in my dynasty running back rankings.
From a dynasty perspective, he has a very good chance to exceed 1,000 or more total yards per season over the next four to six years as long as he's tethered to Mahomes and the Chiefs don't resign Williams.