Jonathan Taylor Will be a Workhorse But Will it be in Year One?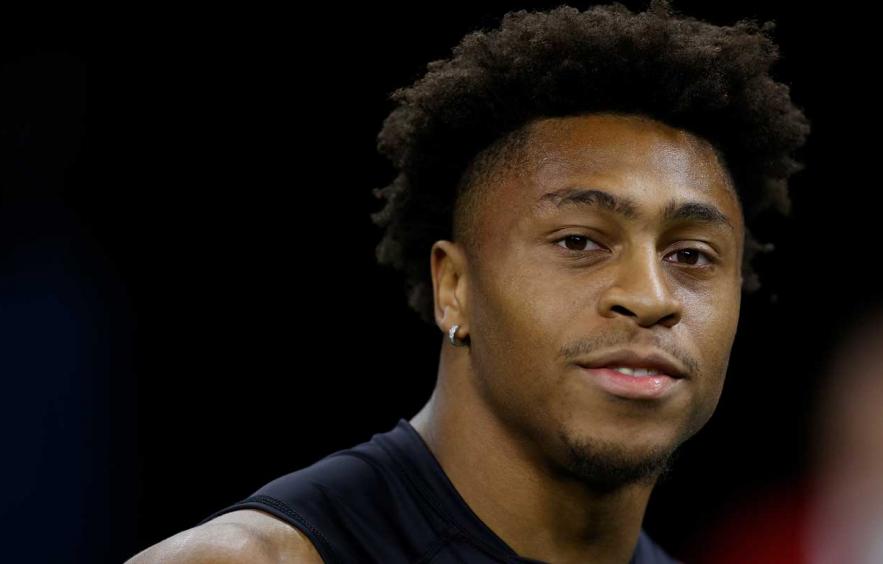 Joe Robbins/Getty Images
The Indianapolis Colts sent a message to their fans and the rest of the NFL when they traded up to the 41st pick in the second round, landing their prized thoroughbred of the future, Jonathan Taylor. While I am excited about Taylor's career with the Colts he isn't guaranteed to become a workhorse in year one.
Jonathan Taylor

's College Career

Taylor is an elite-level prospect. He rushed for over 6,000 yards in his three-year career (sixth-most all-time) and if not for falling 23 yards short in his freshman year, he would've rushed for 2,000 yards all three years. No NCAA running back has ever run for more yards in a three-year span. Taylor won the Doak Walker award, given to the best running back in NCAA, in 2018 and 2019. He also set the NCAA record with the most 200-yard games (12) and registered an eye-popping 53 total touchdowns for the Wisconsin Badgers before declaring early for the NFL draft at only 21 years old.

At 5'10" 226 pounds, Taylor is built like a prototypical work-horse running back whose closest comp according to Player Profiler is a faster version of Ezekiel Elliott. However, Taylors' fantasy outlook will likely resemble a more explosive version of Nick Chubb, who is a dominant runner but will not necessarily be a focal point of the passing game. Taylor is an explosive athlete who ran a blistering 4.39 40-yard dash at the NFL Combine—a 99th percentile speed score when adjusting for his weight.

There aren't many holes you can poke in Taylor's game. However, one potential knock on Taylor was that he wasn't used much as a receiver until his last year in school. Some of that could be chalked up to game plan as the Wisconsin Badgers aren't usually known to throw to their running backs. Taylor did squelch some of those concerns in his final season when he finished with 24 catches, 209 yards, and 5 touchdowns (20.8% TD rate). In a recent interview with Colts' media, Taylor explained that coach Paul Christ tweaked his scheme a bit to feature him more in the passing game in his final season. Consider Taylor's target rate last season:
Wisconsin really tried to get the ball to Jonathan Taylor as a receiver last year. Here are the top-12 RBs in targets per route run among the college backs I have charted: pic.twitter.com/D1hCr6j9Qg

— Graham Barfield (@GrahamBarfield) May 1, 2020
In the same interview, Taylor voiced his progress as a route runner and how he takes pride in being "able to run the whole route tree so that whenever I'm in the slot or split out wide, I'm able to run a plethora of routes."
If Taylor continues to improve in this aspect of his game the sky is the limit. He could be a true fantasy RB1.
The only other red flag is ball security, which is more than likely a non-issue. He fumbled the ball a total of 18 times during his career. However, many of those fumbles came during his freshman year. Fortunately for Taylor, the Colts have the legendary Tom Rathman as their running back coach. He has already promised to take Taylor under his wing and immediately focus on ball security and pass protection once they are able to practice together.
Jonathan Taylor

's Fit with the

Colts

Taylor's skill set fits seamlessly with the strength of the Colts and their mantra: "Run the damn ball."

In 2019, the Colts rushed the ball for 2,130 yards, seventh in the NFL. Marlon Mack had over 1,000 yards on his own. While Mack has filled the lead back role admirably for the last two years, the heavy workload has caused him to miss a total of eight games and be limited in several more. Going back to Mack's collegiate career, his career-high in carries was 210 in his sophomore year. This past season, Mack toted the rock a career-high 247 times out of necessity, but he broke his wrist along the way. Taylor has proven that he can easily handle that type of workload—he touched the ball over 300 times in each of his three years for the Badgers.

Chris Ballard and Frank Reich knew they needed a true work-horse back to hitch their wagon to, which is why they traded up for Taylor, leaving Mack to play to his strength as an outside-the-numbers complimentary back.

The Colts offensive line is one of the best in the NFL and is a perfect fit for Jonathan Taylor's explosive running style. They were sixth in the NFL in yards before contact and finished with a top-three run-blocking grade in 2019 (PFF). One massive reason for this is 6'5" 335-pound All-Pro guard, Quenton Nelson. He is the physical embodiment of the Colts' mantra. Indianapolis had the second-lowest pass percentage in neutral game scripts.

Keep in mind these numbers were with replacement-level Jacoby Brissett at QB. While 38-year-old Philip Rivers is well past his prime and has the arm strength of a piping-hot ramen noodle, his accuracy alone (66% completion rate in '19) should be enough to improve the overall efficiency of the offense and keep them within neutral game scripts. The Colts already have a talented defense and adding defensive lineman DeForest Buckner and corner Xavier Rhodes should keep them within neutral game-scripts. As long as the Colts are keeping the game close, Taylor should be on the field. The DraftKings Sportsbook set the over/under on wins for the Colts at 8.5, which indicates the improvement of the team and more positive game flow for Taylor and the Colts rushing attack.
Jonathan Taylor

's Rookie Season Range of Outcomes

It isn't hard to imagine Jonathan Taylor exploding through wide-open highways paved by his mammoth future-Hall-of-Fame guard or galloping past defenders with his 4.39 speed for 60-yard touchdowns. While the cream will rise to the top, it may not be instant. There are several factors that could affect his range of outcomes, especially during his rookie year.

Frank Reich is a believer in deploying a running back by committee, and while Taylor should take over the lion's share of carries from Mack, we cannot be certain it happens right away. We should probably expect Mack and pass-catching specialist, Nyheim Hines (107 catches in 18'-19'), to retain roles in the offense, which could delay Taylor's breakout party.
A Comparable Rookie Season
Stop me if you've heard this before. Head coach wants to establish the run, so he drafts an explosive 5'11, 227-pound running back in the second round to run behind a mauling offensive line even though he already has a hand-picked veteran lead-back and pass-catching satellite back on the roster, thus creating the dreaded three-headed-monster: RBBC.
Sound familiar? I just described the Browns' situation when they drafted Nick Chubb. Chubb and Taylor are basically the same sizes, with freaky-level speed scores. Both are primarily two-down workhorses that occasionally provide efficient, big plays in the passing game.
While both prospects and situations are eerily similar, the results may vary. Although Chubb truthers celebrated confirmation bias of his rookie season breakout, year one could've looked much different had the Browns not traded Carlos Hyde in Week 6 to the Jaguars.
Back in 2018, the Browns had just signed Hyde to a three-year contract for $15 million—presumably be their lead back—to pair with a former draft pick, Duke Johnson, as their pass-catching satellite back. That quickly turned into a crowded three-headed backfield the Browns drafted Chubb with an early second-round pick. After drafting Chubb, the coaching staff made sure to declare Hyde the starter while Johnson and Chubb would be more role players. Through the first six weeks of the season, Hyde was the primary ball carrier with 114 carries—more than seven times as many as Chubb—and was the PPR RB17.
However, while Chubb was only touching the ball a couple of times per game, he was extremely efficient with those touches and in Week 4, he broke two long highlight real touchdowns against the Raiders, finishing with 105 yards on only three carries. It was likely that game where the Browns decided they needed to trade Hyde so they could feed their new workhorse. We all know what happened after that—Chubb went on to carry the load for the Browns, finishing as the PPR RB7 during Weeks 7-16, rewarding many Chubb owners with a fantasy crown.
But what if Week 4 never happened? What if Chubb got tripped up by a defender at the line of scrimmage or got the ball punched out on one of his three carries? What if the Browns didn't play the 4-12 Raiders until after the Week 8 trade deadline? When you consider how small the sample size was, his breakout appears a bit more fortunate.
You get the point. Eventually, Chubb would have taken his rightful place as the workhorse back of the Browns—he was the superior talent—but it could've easily been delayed. We must fight the urge to confirm our biases and rather think in a range of outcomes.
If Jonathan Taylor were to suffer an injury early in training camp or were slow to learn the playbook due to COVID-19, then Marlon Mack would have a larger role and it would inevitably delay Taylor's ascension.
With an ADP of 26th overall, you'd have to spend an early third-round pick on Taylor which is far too pricey for the number of unknown factors for his rookie year. Taylor's dynasty value's floor is more like Nick Chubb and his ceiling is an overall RB1.
Bottom Line
While it is exciting to think about Jonathan Taylor's fantasy potential once he becomes the Colts' workhorse back it probably won't be in year one. Here is what to expect for 2020 and beyond:
Taylor is an elite RB prospect destined to be the Colts' workhorse of the future—tethered to a top-tier run-blocking offensive line. His 99th percentile speed score and production profile indicate he is deserving of a full workload while also being an efficient fantasy scorer.
Taylor is likely to be part of a three-headed committee between Marlon Mack and Nyheim Hines to start the year which could delay his breakout.
Nick Chubb faced similar obstacles as a rookie and eventually overcame them—however, the results could've been much different.
Taylor's redraft cost will need to drop significantly to account for his wide range of outcomes as a rookie, however, his dynasty ceiling is the literal RB1.