How D'Andre Swift Fits in Detroit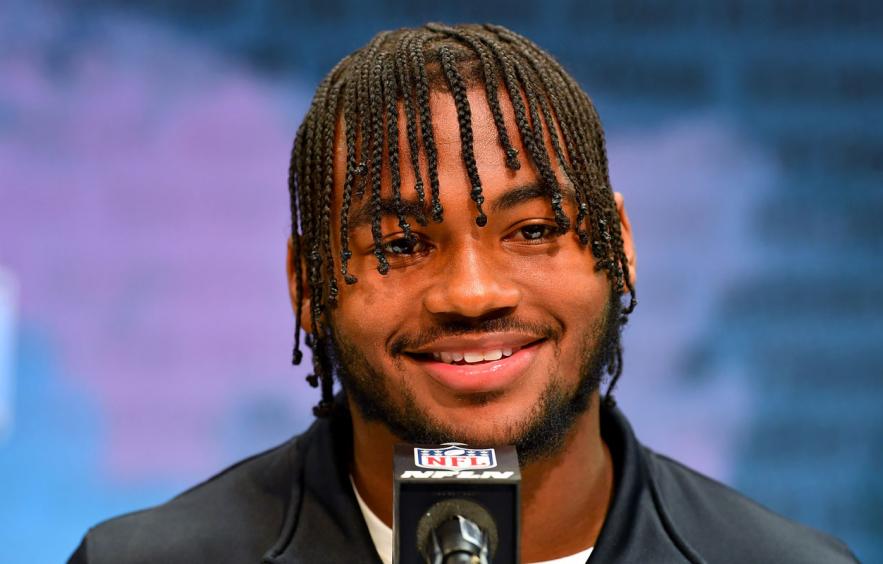 Alika Jenner/Getty Images
With the 35th overall pick of the NFL Draft, the Detroit Lions selected D'Andre Swift, making him the second running back off the board. The Lions backfield depth chart should be an easy one to traverse, with oft-injured Kerryon Johnson and cast-offs Bo Scarbrough, Ty Johnson, and Tra Carson the only thing standing in his way from a role as a lead back. Below we will dig into what that means for the Lions offense as a whole and D'Andre Swift himself.
D'Andre Swift

's College Profile

Rushing for 1,000+ yards in each of his sophomore and junior years, Swift also added 771 total yards in his freshman year despite sharing a crowded backfield with Elijah Holyfield, Nick Chubb, and Sony Michel. Add in 25 career touchdowns and seasons of 32 and 24 receptions, and you have the basic statistical package we're looking for in a college prospect. As a one-and-a-half year starter, Swift finished his career with the seventh-most rushing yards in Georgia Bulldog history.

Combining very good burst into the second level, ability to absorb hits while continuing on his line and relentless leg drive and effort, Swift was nothing less than a pain in the butt to stymy on any given run. His relative lack of "home run" speed meant he was often caught by pursuing defensive backs but his involvement in the passing game helps soften that blow to his overall ceiling.

Throughout his three-year college career, Swift was used all over the formation, but his slot and out-wide snaps degraded as he became more of the focal point of the rushing attack. His history of being an offensive chess piece should help in his bid to see the field early in his NFL career regardless of the layout of the backfield depth chart.
Lions

Backfield Philosophy

The 2020 season will be the third for Head Coach Matt Patricia and the second for offensive coordinator Darrell Bevell in Detroit. Bevell was the offensive coordinator for the Seattle Seahawks from 2011-2017 and oversaw a team that was top-five in rushing percentage in four-out-of his seven years there, including a stretch between 2012-2014 in which the Seahawks led the league in the category three straight times. With the Lions drafting two running backs (Swift and New Mexico State's Jason Huntley), and two offensive guards (Ohio State's Jonah Jackson and Kentucky's Logan Stenberg), signs are pointing towards the Lions moving further towards that Seahawks philosophy. It may be worth noting that the Seahawks 2014 season ended at the hands of Matt Patricia's Patriots defense.
2019

Lions

Usage vs 2019 League Average

| Stat | Detroit Lions | League-Wide Avg |
| --- | --- | --- |
| RB Touch % | 57.3% | 56.4% |
| WR Touch % | 26.9% | 26.4% |
| TE Touch % | 8.8% | 9.8% |
| RB Target % | 18.5% | 20.7% |
| WR Target % | 59.8% | 58.1% |
| TE Target % | 21.3% | 21% |
A comparison of the Detroit Lions' positional usage and the NFL averages reveals that they were utilizing the running back more than most teams, but were still below average using them in the passing game. The Lions finished the season 22nd in RB target percentage, with J.D. McKissic's 42 targets leading the team at the position. Of his 274 snaps in 2019, Kerryon Johnson received only 15 targets - a pace that still would have amounted to only 30-35 targets over a full season.
This information opens pandora's box of usage. Did Detroit draft D'Andre Swift to wallow in this same lack of usage, or did Detroit take Swift because of this lack of usage?
D'Andre Swift's 2020 Outlook
The return of a healthy Matthew Stafford should go a long way towards improving the anticipated production of all Detroit running backs heading into 2020. Not only is Stafford going to help produce a more efficient offense than the likes of David Blough and/or Jeff Driskel, but he also has a history of incorporating his running back into the passing game. Over the four years before 2019, the top two running backs on a Detroit Lions depth chart combined for 436 targets, or 109 targets per year.
Those kinds of numbers can be bolstered with the presence of a player like Theo Riddick, but what is D'Andre Swift if not a very advanced version of Theo Riddick? Swift has a full running back route tree, with a great feel for pockets in zone coverage to work as an easy check-down for Stafford, who has shown that he loves a safety blanket like Riddick or former teammate Golden Tate. While Swift may have the height disadvantage that Riddick has, the rookie possesses much more body mass, vision, and strength to keep him on the field for three downs.
Swift still has some work to do —mainly in his decision making— that will keep the snaps coming for Kerryon Johnson to begin the season, but pure talent (or Kerryon's injury bug) is more likely than not to overcome that hurdle by mid-season.
It's more than fair to pencil in Swift for 65-70 targets with Stafford back at the helm, even with Matt Patricia and Darrell Bevell attempting to recreate the 2014 Seattle Seahawks. If Week 1 comes around and Johnson/Swift is still looking like a 1a/1b scenario, that has no chance of lasting the entire season, even if we are only considering the draft capital invested in the rookie. The 250-touch floor this creates lands Swift into the top-20 fantasy football running backs before he even takes a snap.
Bottom Line
In the latest average draft position update, D'Andre Swift is going at the 4.08 as the 19th running back off the board. Now that there is a team name associated with the player, that ADP will inevitably go up so if you want shares of him, the price will never be better.
Until we get further information about his place in the offense, I wouldn't want to take him higher than the RB14-RB15 range.
Swift's college production profile shows that he can be useful in all facets of the game
Exemplary route tree and pass protection will get Swift on the field day one
Will Detroit allow the rookie to become comfortable at the next level by utilizing his ability to cut and burst into the second level in the zone run game or will they force him into gap/power runs that will exploit his weaknesses between the tackles? This could be the crucial piece to whether or not Swift will take over the majority of backfield snaps sooner rather than later