Fantasy Football: ADP Risers & Fallers (May 8th-22nd)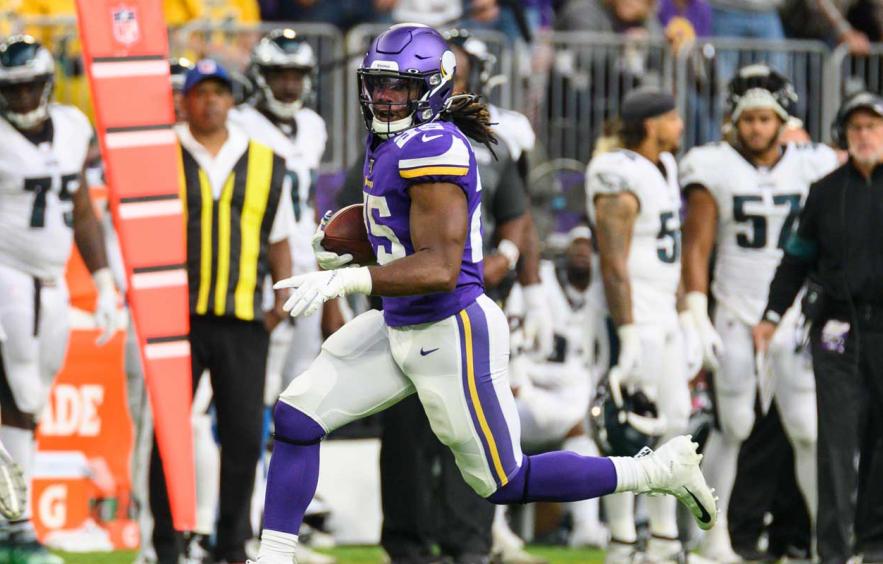 Stephen Maturen/Getty Images
There hasn't been much action in the NFL over the last few weeks so any movement in ADP is still from the NFL Draft along with gossip and murmurs from rookie mini camps.
Let's take a look at the biggest risers and fallers at each position over the last two weeks in Underdog drafts, by comparing players' ADP from May 8th to May 22nd. I'll go position by position to tease out any relevant players' spikes or slides.
*All ADP is courtesy of 4for4's Underdog ADP tool.
Quarterback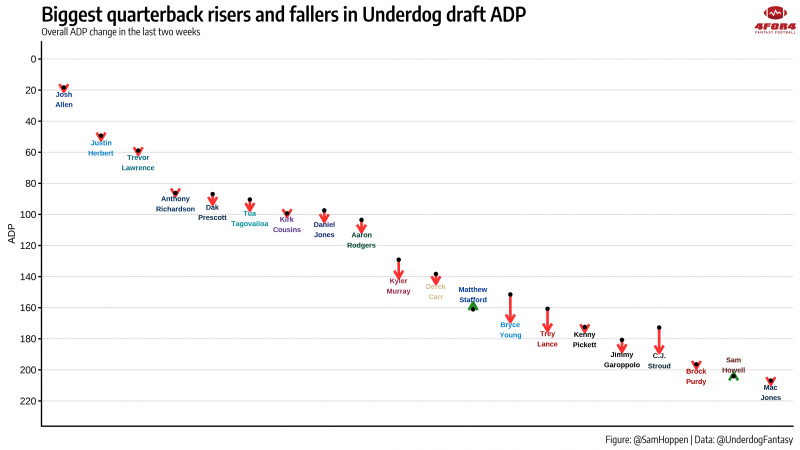 QB Risers
Matthew Stafford

,

Rams

(ADP: 156.6, +4.5)

Nothing really happened to push Matthew Stafford up four and a half draft spots, but perhaps managers are gaining some confidence in his health as the offseason rolls on. The LA QB is coming off a rough 2022 cut short by injury, where he ended as QB33 in fantasy points per game with near career-low numbers in efficiency.

He still has one of the best WRs in the NFL to throw to in Cooper Kupp and presents some value currently, as he's 4for4's QB20 with a current Underdog positional ADP of QB22.
Sam Howell

,

Commanders

(ADP: 201.9, +2.2)

It's not much, but sophomore QB Sam Howell has risen a few slots over the past two weeks. An ESPN report dropped on May 6th indicating that the team is going with Howell as their starter and drafters have started to click the button a little sooner for the 22-year-old. Howell played just one game in 2022, completing 11-of-19 passes for 169 yards, one touchdown, and one interception.

If he does indeed fend off Jacoby Brissett for the starting gig, Howell is a value right now as he's leaving boards as QB29, yet sits as QB19 in 4for4's early rankings.
QB Fallers
Bryce Young

,

Panthers

(ADP: 169.3, -17.87)

While Carolina is a great landing spot for the rookie in terms of opportunity to play in his first season, Bryce Young will start the year as the team's QB2 with a slow integration onto the field. Drafters may be a tad hesitant to select Young in the mid-13th round where he was going a few weeks ago and are now more comfortable with him as an early 15th-round pick.

Stacking the rookie with his equally inexpensive counterparts is easy in best ball formats and could pay off handsomely if Young (QB23) takes quickly to the NFL.
C.J. Stroud

,

Texans

(ADP: 189.2, -16.4)

The cause for C.J. Stroud to fall close to a round and a half over the last few weeks isn't obvious, but maybe rookie fever is wearing off and drafters are being more realistic in their choices. Stroud doesn't have a plethora of pass-catching talent around him and isn't the most mobile of QBs, which tends to create pause when it comes to selecting fantasy signal callers. He's 4for4's QB29 and is being drafted as QB27 currently, but is worth a stab as a QB3 in best ball formats along with his offensive weapons who are all bargain-priced.

Other QB Fallers: Trey Lance, 49ers (ADP: 175.1, -14.4), Kyler Murray, Cardinals (ADP: 141.1, -12), Aaron Rodgers, Jets (ADP: 111.5, -8)
Running Backs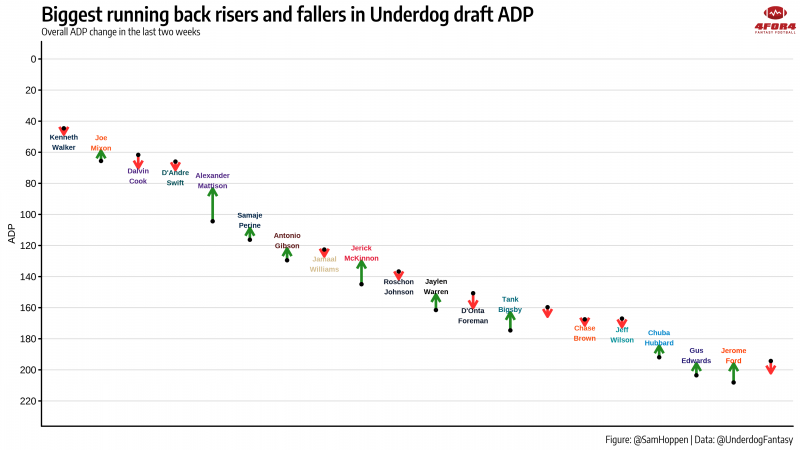 RB Risers
Alexander Mattison

,

Vikings

(ADP: 83.3, +21.1)

I hope you grabbed your fair share of Alexander Mattison in best ball leagues in April and early May because his price tag is soaring. Rumors have been swirling about Dalvin Cook's future with the Vikings all offseason, but as recently as May 14th, ESPN's Jeremy Fowler stated that there's "not a clear-cut avenue for [Dalvin Cook] to be traded, at least at the moment."

If Minnesota does decide to straight-up cut Cook after June 1st they'll save $9 million against their salary cap with $8+ million in dead cap money spread out over this season and next. Mattison's current RB26 pricetag is still desirable if Cook is released, but if he remains a Viking, the seventh round is approaching too rich for his role in the offense with Cook on the roster.
Jerick McKinnon

,

Chiefs

(ADP: 129.9. +15)

The 31-year-old rose 64.3 spots in ADP from May 1st -May 8th and has spiked another 15 places over the last two weeks. The Chiefs did not add any stiff RB competition during the NFL Draft, leaving Isaiah Pacheco as the presumed starter with Jerick McKinnon handling the passing-down work.

He ended 2022 as RB21 in total half-PPR points, and RB30 in half-PPR points per contest, thanks in part to 10 total touchdowns. Nine of those came through the air which was the most by any RB last season. While we can't expect that same production this year, McKinnon boasts plenty of fantasy upside and is still very affordable in the 11th round.
Jerome Ford

,

Browns

(ADP: 195.9, +12.2)

With very little fanfare, Jerome Brown has become the RB2 in Cleveland behind Nick Chubb and maybe drafters are finally realizing there's an opportunity here. Ford isn't guaranteed Kareem Hunt's former workload, but the Browns have 127 RB carries available from 2022 (9th most) and 47 RB targets (7th most), presenting plenty of opportunity for a player getting little to no hype.

Ford is currently being drafted as the RB60 in the 17th round and has the potential to outproduce his ADP even with the recent spike.
Tank Bigsby

,

Jaguars

(ADP: 162.9, +11.7)

The rookie is already turning heads at the Jags OTAs, catching three touchdowns one afternoon and showing his pass-catching prowess. Tank Bigsby will have to compete with D'Ernest Johnson and JaMycal Hasty throughout the summer but could steal the complementary role to Travis Etienne in his first season. As a 14th-rounder, Bigsby is still well-priced as part of an emerging Jacksonville offense.

Other RB Risers: Jaylen Warren, Steelers (ADP: 151.4, +10.1), Gus Edwards (ADP: 195.8, +7.7), Antonio Gibson, Commanders (ADP: 121.9, +7.6)
RB Fallers
D'Onta Foreman

,

Bears

(ADP: 160.2, -9.5)

Chicago added Texas RB Roschon Johnson in this year's NFL Draft, further clouding up their already silty RB room. With Khalil Herbert, Johnson, and a QB in Justin Fields who posted the seventh-most rushing yards among all NFL players last season, that leaves very little opportunity for D'Onta Foreman.

He did post fantasy RB2 numbers last season in Carolina from Week 7 on after Christian McCaffrey was traded, so throwing a few darts his way in the event something happens to the backs above him on the depth chart isn't the worst idea. Foreman has fallen down to the 14th round as the 49th RB off Underdog draft boards.
Dalvin Cook

,

Vikings

(ADP: 70.3, -8.6)

As discussed above, Dalvin Cook's days in Minnesota could be numbered, or maybe not. As a result of trade and cut rumors, the 27-year-old's ADP continues to fall, this time close to nine spots over the last two weeks into the late-sixth round.

The uncertainty surrounding Cook is a gamble, but one that could pay off whether he's a Viking or playing in a different uniform in 2023.
Kareem Hunt

, FA (ADP: 202.2, -7.9)

The longer Kareem Hunt remains a free agent without any buzz, his ADP will keep tanking. Now a late-17th-round selection, Hunt makes for an interesting stab in best ball formats, as the volatility for real-life RBs will land him on a roster at some point this season.

Other RB Fallers: Ezekiel Elliott, FA (ADP: 165.8, -6.1), Jeff Wilson, Dolphins (ADP: 172.5, -5.5), D'Andre Swift, Eagles (ADP: 71.4, -5.4)
Wide Receivers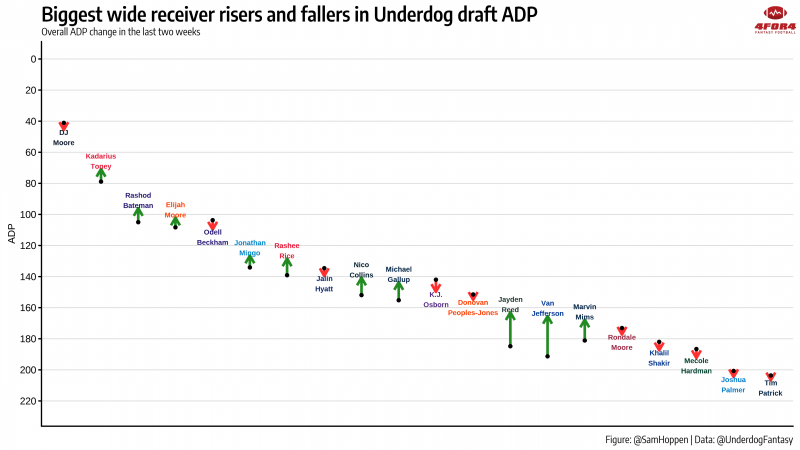 WR Risers
Van Jefferson

,

Rams

(ADP: 165.4, +25.9)

An over-two-round rise for Van Jefferson is certainly interesting in May with no real news going on, but perhaps his presser during OTAs is what moved the needle. The Rams wideout talked about the benefits of being healthy and the advantage of catching balls from Matthew Stafford again since the duo was not healthy at the same time in 2022.

Jefferson is the Rams WR2 heading into the season and if both he and his QB can stay on the field, could easily outperform his current WR73 ADP. Jefferson is currently ranked as 4for4's WR53 in half-PPR scoring.
Jayden Reed

,

Packers

(ADP: 163, +21.8)

Now that the dust has settled in the QB department, drafters are targeting the Green Bay rookie, elevating Jayden Reed's ADP nearly two full rounds over the last fortnight. He'll be competing with Romeo Doubs and two rookie TEs for the targets after Christian Watson, but it looks promising for Reed to be impactful fantasy-wise in his first year in the league.

Currently a 14th-round selection, Reed makes for an affordable stack with Jordan Love and Watson and presents some major value, as he is 4for4's WR47, yet despite the price hike, is still leaving Underdog boards as WR71.
Marvin Mims

,

Broncos

(ADP: 167.7, +13.)

The Broncos traded up to snag Marvin Mims at the end of the second round, adding a downfield speedy threat to their anemic offense from 2022. Denver's offense is tough to gauge coming off such a rough year, so Mims, Tim Patrick, Marquez Callaway, and K.J. Hamler are all similar dart throws for now until we see more from this Sean Payton-run offense during training camp.

Other WR Risers: Michael Gallup, Cowboys (ADP: 143.6, +11.6), Nico Collins, Texans (140.7, +11.2), Rashee Rice, Chiefs (ADP: 128.4,+10.7)
WR Fallers
K.J. Osborn

,

Vikings

(ADP: 149.8. -7.78)

The brief period of excitement for K.J. Osborn after Adam Thielen was released is over, as the Vikings drafted Jordan Addison with the 23rd overall pick in the NFL Draft. After Justin Jefferson, T.J. Hockenson, and Addison, there won't be much of the target pie left over for Osborn to eat, leaving him sliding down draft boards.
Odell Beckham

,

Ravens

(ADP: 109.7, -6)

OBJ fell half of a round over the last two weeks, settling for now at the top of the 10th round. Beckham is a tough sell in Baltimore, competing for low target volume with Mark Andrews, Rashod Bateman, and rookie Zay Flowers. He's currently WR51 in terms of ADP and is 4for4's WR46 in half-PPR scoring.
Mecole Hardman

,

Jets

(ADP: 192.4, -5.8)

It's standing room only at WR for the Jets heading into the 2023 season and Mecole Hardman is going to have to impress the staff and Aaron Rodgers to get noticed. As a late-16th-round pick, the former Chief is certainly affordable and isn't any worse than the other fliers we're taking in those final rounds.

Other WR Fallers: Khalil Shakir, Bills (ADP: 187.4, -5.4), Jalin Hyatt, Giants (ADP: 139.6, -5), DJ Moore, Bears (ADP: 45.6, -4.5)
Tight Ends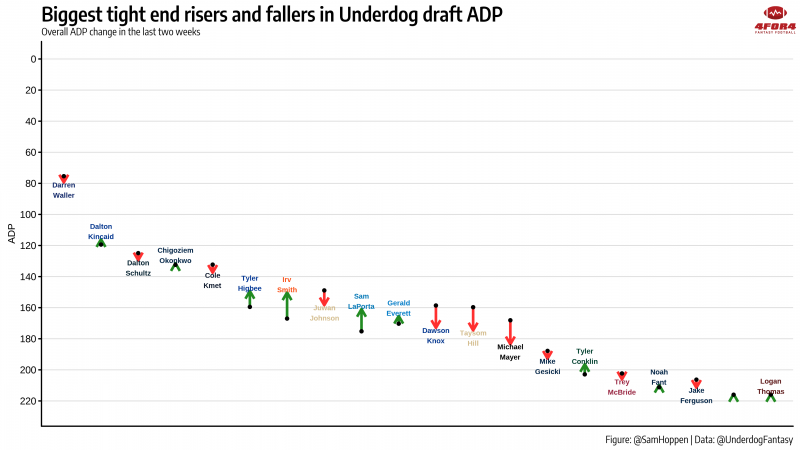 TE Risers
Irv Smith Jr.

,

Bengals

(ADP: 150.2, +16.8)

By not selecting a TE this season, the Bengals caused a near four-round elevation in Irv Smith Jr.'s draft stock over the last month. With Hayden Hurst in Carolina and Drew Sample, well, Drew Sample, Smith is now entrenched as the starting TE in one of the most productive offenses in the NFL.

Hurst saw the 15th most targets per game last year in Cincy (5.3) and their offense has 86 available targets at the position from last year which is the fourth most.

As the current TE17 in Underdog leagues, Smith has the potential for post-hype sleeper status with Joe Burrow at the helm, but he'll need to stay healthy as he's only seen the field 21 times over the last three NFL seasons.
Sam LaPorta

,

Lions

(ADP: 160.9, +14.3)

While rookie TEs historically don't pan out for fantasy purposes, it's difficult to slow the hype train for Sam LaPorta in Detroit. He's already crushing it at rookie minicamp and doesn't have much target competition at TE or even behind Amon-Ra St. Brown at WR to start the season.

LaPorta's ADP has jumped up to the 14th round at TE19, which is still within value range in such a feast-or-famine positional group.
Tyler Higbee

,

Rams

(ADP: 149.3, +10.2)

As the third player on the Rams team to make this column this week, Tyler Higbee jumped just under a full round up to the 13th. No one will ever refer to the 30-year-old as an exciting or sexy pick, but with limited competition, the Rams' TE who ended last year as TE18 in half-PPR points per contest has sneaky value in 2023. He's 4for4's TE8 but is being drafted eight positional spots later as the TE16 in Underdog best ball formats.

Other TE Risers: Tyler Conklin, Jets (ADP: 196.3, +6.6), Gerald Everett, Chargers (ADP: 165.3, +5)
TE Fallers
Michael Mayer

,

Raiders

(ADP: 183.5, -15.4)

The anticipation and excitement of Michael Mayer's landing spot has worn off and the reality of what the Raiders offense could look like is setting in for drafters. There may not be much volume after Davante Adams and Josh Jacobs touch the ball, and Mayer is nothing more than a fringe TE2 for fantasy purposes.
Taysom Hill

,

Saints

(ADP: 174.6, -14.9)

New Orleans signed Foster Moreau to a three-year deal on May 10th to join Juwan Johnson and technically Taysom Hill in the TE room. While Moreau's presence shouldn't really affect Hill's fantasy value, he did drop 15 spots over the last two weeks. Drafting Hill is banking on a few spike weeks via gadgetry in best ball formats and the more he falls, the more appealing the TE gets.

Other TE Fallers: Dawson Knox, Bills (ADP: 173, -14.4), Juwan Johnson, Saints (ADP: 158.4, -9.5)