Fantasy Free Agency Winners & Losers (2022)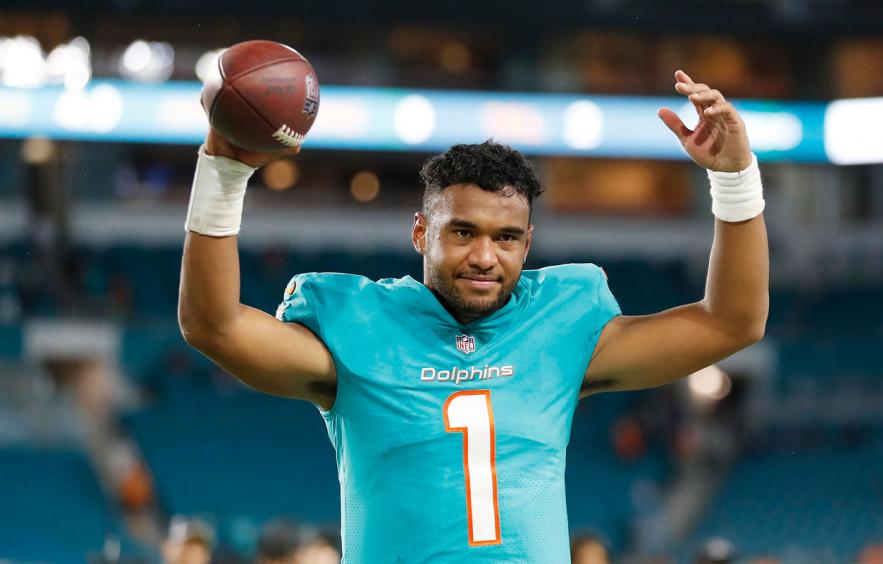 Michael Reaves/Getty Images
The bulk of free agency is over, so I thought I'd compile a list of fantasy "winners" and "losers," taking into account all of the big signings (and trades) thus far.
John Daigle has been blurbing each major signing as they happen, so check the Fantasy Free Agency Tracker for his take. The 4for4 Staff has also written up individual in-depth profiles of this free agency class—read them all here.
Russell Wilson

to the

Broncos

;

Noah Fant

to the

Seahawks

I broke down the impact of this deal in detail.

Winners: Wilson should benefit from playing in a more pass-friendly offense since he's been limited by the run-heavy tendencies of Pete Carroll and Co. in Seattle. He has good receiving weapons and new HC Nathaniel Hackett is known as a sharp offensive mind. … Albert Okwuegbunam got the biggest bump of the Denver receiving corps since Fant was moved as part of the trade and Okwuegbunam has shown serious receiving chops in limited duty thus far. "Albert O" is 6'5", 258 lbs, and has 4.49 speed. Breakout season incoming. … Jerry Jeudy, Courtland Sutton, and Tim Patrick also stand to benefit from Wilson's arrival, though it remains to be seen if Patrick will continue to outproduce Jeudy and Sutton as he has the last couple of seasons. Patrick seems to be the best value in early drafts and Javonte Williams should benefit from playing in a better offense with Wilson at the helm, especially if Melvin Gordon moves on.

Losers: DK Metcalf and Tyler Lockett are currently faced with the prospect of catching passes from Drew Lock instead of Wilson, so the quality of their targets is very likely to decrease significantly. The Seahawks may also lean into their run-heavy tendencies since they no longer have Wilson to generate yards through the air.
Tyreek Hill

to the

Dolphins

;

JuJu Smith-Schuster

&

Marquez Valdes-Scantling

to the

Chiefs

Winners: Tua Tagovailoa is the big winner here since he has an explosive new weapon to throw to in the speedy Hill. The Dolphins have also upgraded the offensive line and the running game, which should further help Tagovailoa's chances for success.

Smith-Schuster and Valdes-Scantling join a Chiefs offense that will need them to produce alongside Travis Kelce, though the team is still actively looking for WR help.

Losers: Hill is still a fantasy WR1, but it's a downgrade from his old role as the Chiefs' WR1 with Patrick Mahomes to the Dolphins' WR1 with Tagovailoa throwing him the ball. Jaylen Waddle, DeVante Parker, Mike Gesicki, and Cedrick Wilson are all knocked down a peg on the depth chart with Hill's arrival.

Mahomes loses Hill and gains Smith-Schuster and Valdes-Scantling—that's a net loss for him, as it stands.
Davante Adams

to the

Raiders

Winners: The biggest winner in this trade is Derek Carr, who now gets to throw to (arguably) the league's best receiver. He has quietly finished as a top 15 fantasy quarterback in three straight seasons and now has Adams (along with Hunter Renfrow and Darren Waller) to throw to. I don't expect Green Bay to go into the season with Allen Lazard as its WR1, but there is a scenario where he's the team's clear-cut WR2, which could mean 90+ targets and fantasy-starter appeal.

Losers: The Packers still have moves to make at receiver, but unless they land someone like Justin Jefferson in the draft, the loss of both Adams and Valdes-Scantling is a serious downgrade for Aaron Rodgers. The Packers now have four picks in the first two rounds and I expect that they'll use two to shore up the receiving corps.

Adams will see a quarterback downgrade from the reigning back-to-back MVP to Derek Carr, though his collegiate history with Carr should offset that downgrade a bit. Adams' arrival knocks Darren Waller and Hunter Renfrow down a peg in the targets department.
DeShaun Watson to the
Browns
Given the uncertainty of a potential suspension for Watson, the degree to which players are "winners" or "losers" will ultimately depend on how many games, if any, Watson misses due to the many allegations that have been made against him. At this point, I'm guessing that he'll be suspended for 4-6 games.
Winners: Amari Cooper, Donovan Peoples-Jones, and David Njoku are the primary beneficiaries of Watson's arrival in Cleveland since he's clearly been better from a fantasy standpoint than Baker Mayfield. Nick Chubb would benefit from an offense that should be more productive from a real-world standpoint since he should have more red zone opportunities.
The writing has been on the wall for months, but Davis Mills benefits by no longer having Watson's shadow looming over the franchise. Mills didn't win many games last year, but he played pretty well given his inexperience and relative lack of receiving weapons. In his 11 starts, he averaged 229 yards, 1.36 touchdowns, and 0.8 interceptions, with 6.95 yards per attempt. In his final six starts, he averaged 261 yards (7.51 YPA), 1.83 touchdowns, and 0.5 interceptions.
Losers: Mayfield is looking for a new home and a starting job is not guaranteed at this point.
Allen Robinson

to the

Rams

;

Robert Woods

to the

Titans

Winners: Darnell Mooney had already moved into the WR1 role last season, out-targeting Robinson by a margin of 7.8-to-5.5 targets per game in the 12 games that both players were active. With Robinson gone, Mooney is now Chicago's unquestioned WR1 barring a major move by the Bears in the draft or via trade.

Ryan Tannehill should benefit from another good receiving weapon and will now have Woods, A.J. Brown, and Austin Hooper to throw to.

Robinson's situation has improved since he's now playing in a much more productive offense with a better quarterback. He may serve as the Rams' WR2 all season since (free agent) Odell Beckham is recovering from another torn ACL that he suffered in the Super Bowl. Even if Beckham is re-signed there's no guarantee that he'll be available in the regular season.

Losers: Adding Robinson and losing Woods is probably a wash for Matthew Stafford, but Woods has been better than Robinson recently so it might be a slight downgrade. If Sean McVay can resurrect early-career Robinson, it would be an upgrade for Stafford, who could potentially have two alpha WR1-types to throw to in Robinson and Cooper Kupp.
Chase Edmonds

&

Raheem Mostert

to the

Dolphins

Winners: At this point, James Conner is the biggest beneficiary with Edmonds out of the way. The Cardinals will likely shore up the position via the draft or with a cheap free agent signing, but the team looks committed to Conner after he signed a three-year deal worth $21 million. He averaged 20.8 touches in the five games that Edmonds missed in 2021.

Losers: It's tough to call Edmonds or Mostert "losers" here since neither player was likely to see bellcow (or even lead back) touches in 2022. The Dolphins are actively upgrading their offensive line and now have a sharp offensive mind, Mike McDaniel, running the show. Mostert might lead the backfield in carries while Edmonds handles most of the passing-down work, which will create a frustrating situation for fantasy managers.

Other Winners
Other Losers
Taysom Hill wasn't likely to be the Saints' starter this year, but his chances went down once Winston re-signed and now the Saints are saying that he's going to focus on playing the tight end position.

Antonio Gibson briefly shot into the top 10 when J.D. McKissic appeared to sign with the Bills, but McKissic backtracked and re-signed with the Commanders. Last season, Gibson averaged 4.4 targets per game in the five games without McKissic versus 2.7 targets per game in 11 games with McKissic in the lineup.