2022 NFL Divisional Winner Odds, Bets, and Predictions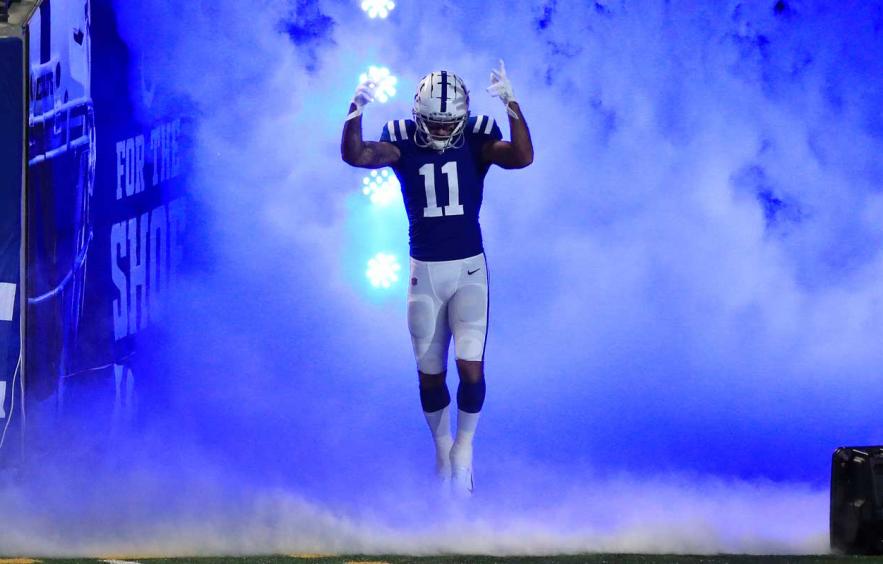 Andy Lyons/Getty Images
While hitting longshots on an MVP, Super Bowl Winner, or Rookie of the Year is fun, it can be much more profitable to try and attack a smaller field like betting on division winners. There are only four possible winners instead of 32+ like the aforementioned markets.
Make sure to shop around for odds when betting on a team to win a division. Sportsbooks will offer different numbers and odds for nearly every team and there is rarely a clear consensus.
---
More 2022 Odds Tables & Picks: MVP | Super Bowl | Win Totals | OROY
---
2022 NFL Division Winner Odds
After crushing the books for +40.76 units on the NFL Draft, we have already started betting on futures. Join us and start winning for as low as $10 with a deposit and wager at BetMGM.
2022 AFC East Winner Odds
Buffalo
Bills

Odds to Win the AFC East: -180 (FanDuel)

The Bills are division favorites for a reason after their strong 2021 season and retaining a good chunk of their roster. Their overtime loss to the Chiefs in overtime of the AFC Divisional Round was one of the most memorable games in NFL history last year. This year they bring back almost their entire roster and upgraded slot wideouts from Cole Beasley to Jamison Crowder. They shored up their secondary early in the draft by adding CB Kaiir Elam in the first round and then finally got the pass-catching running back they desperately wanted in James Cook with their second-round pick. I would be more excited about betting on the Bills as favorites but both the Dolphins and Jets have made significant additions in the offseason and could be frisky if things pan out for them.
Miami
Dolphins

Odds to Win the AFC East: +450 (DraftKings)

The Dolphins made a splash this offseason by trading for elite speedster Tyreek Hill. The Dolphins also bolstered their offensive line, leaving few excuses for third-year quarterback Tua Tagovailoa. The Dolphins would be a very sneaky Super Bowl team if they didn't play in the super-tough AFC. They are a solid step behind the Bills in terms of roster makeup, but if their offense hits their ceiling, they could make a run at an AFC East title.
New England
Patriots

Odds to Win the AFC East: +500 (DraftKings)

Gone are the days of the Patriots playing five-wide and throwing it 50 times a game. With DeVante Parker, Kendrick Bourne, Jakobi Meyers, and Tyquan Thornton as their top four wideouts, it would be surprising for them to do anything but run the ball as much as possible and try to dominate in the trenches. When teams like the Dolphins and Bills score quick and early, how do the Patriots respond? That's the biggest question for this team to answer and could determine their whole season.
New York
Jets

Odds to Win the AFC East: +2200 (DraftKings)

The Jets had one of the best drafts in the league, drafting cornerback Ahmad Gardner fourth overall, wide receiver Garrett Wilson 10th overall, and defensive end Jermaine Johnson II 26th overall. All three play positions of need and should make an immediate impact for them. The only thing that could hold them back from making a jump is QB Zach Wilson. With weapons around him, he has a lot of pressure to perform this season.
2022 AFC West Division Winner Odds
Kansas City
Chiefs

Odds to Win the AFC West: +175 (DraftKings)

The Chiefs are coming off a disappointing loss in the AFC Championship to the Bengals where they blew a massive first-half lead. They head into 2022 with some different pieces on offense after trading away Tyreek Hill while adding Marquez Valdes-Scantling and JuJu Smith-Schuster. With the addition of Russell Wilson to the Broncos, and the Chargers remaining a threat, the AFC West is easily the toughest division in the whole NFL. The Chiefs are also slated to play by far the toughest schedule in the NFL.
Los Angeles
Chargers

Odds to Win the AFC West: +250 (BetMGM)

The Chargers have a great roster on paper and could be poised to make a run with a promising young quarterback in Justin Herbert leading the way. They added OL Zion Johnson in the draft and are in a great position to be an offensive juggernaut. I would much rather bet on the Chargers at +250 than the Chiefs at +175 when considering the value.
Denver
Broncos

Odds to Win the AFC West: +260 (BetMGM)

The Broncos arguably made the biggest improvement to their team in the league this offseason by trading for Russell Wilson. With an above-average defense and unproven but exciting offensive weapons, the Broncos would likely be a Super Bowl favorite in the NFC but have to make it through the gauntlet that is the AFC to make a run. At +260 to win the division, they are very much in play and are my favorite bet among the top three teams in the AFC West.
Las Vegas
Raiders

Odds to Win AFC West: +700 (FanDuel)

The Raiders added Davante Adams to what is now a stacked pass-catching group already consisting of Darren Waller and Hunter Renfrow. The Raiders are currently slotted to finish as the worst team in the AFC West by most sportsbooks, yet sport a win total of 8.5. The AFC West is projected to be historically good this upcoming season. Despite getting better with a new coaching staff, it's tough to be too excited about the Raiders' chances of winning the division.
2022 AFC North Division Winner Odds


Baltimore
Ravens

Odds to Win the AFC North: +210 (DraftKings)

The Ravens' top three running backs all suffered season-ending injuries while their offensive line had multiple players rotating through the starting lineup. For a team that likes to dominate in the trenches and run the ball a lot that spelled bad news. With both of those issues likely fixed the Ravens are in a good spot to make a run at winning the division this year and the odds reflect that. They are co-favorites along with the Bengals. With Deshaun Watson's suspension being longer than most originally anticipated, both the Ravens and Bengals are solid bets to win the division at more than 2/1.
Cincinnati
Bengals

Odds to Win the AFC North: +210 (Caesars)

The reigning AFC champs will have an absolute battle to return to the Super Bowl, let alone win their division. The Ravens are healthy after a down season in 2021, while the Browns traded for Deshaun Watson. As I mentioned previously, Watson's suspension could hold him out for half the season or longer, meaning the Bengals will be clawing it out for the division title with the Ravens. The Bengals also made some great moves in the offseason themselves, solidifying their offensive line in free agency and adding help to the secondary through the draft.
Cleveland
Browns

Odds to Win the AFC North: +230 (FanDuel)

The Browns made big headlines, trading for Deshaun Watson and fully guaranteeing a massive extension without knowing his punishment. He's likely to be suspended for some period of time this season, which means you should not be betting on the Browns in any capacity. Sportsbooks likely won't post a win total for the Browns until Deshaun Watson's suspension is finalized.
Pittsburgh
Steelers

Odds to Win the AFC North: +1100 (DraftKings)

With Ben Roethlisberger retiring, the Steelers signed Mitch Trubisky and then drafted Pittsburgh QB Kenny Pickett with the 20th pick in the first round. Most reports believe it will be an open competition entering camp, giving Pickett the opportunity to start immediately as a rookie. The Steelers still have some good pieces on their roster but with the quarterback situation in flux and a tough division it's hard to imagine them finishing in the top half of the division.
2022 AFC South Divisional Winner Odds
Indianapolis
Colts

Odds to Win the AFC South: -105 (FanDuel)

The Colts to win the division is still one of our favorite offseason bets, and we believe they are a clear value. The Colts rid themselves of reported locker room poison in Carson Wentz and upgraded by bringing in Matt Ryan. With a strong offensive line, running game, and intriguing weapons, the Colts' offense has a good chance to be revitalized. The Colts also added Stephon Gilmore to bolster their secondary. The Colts are a team we shouldn't get caught sleeping on.
Tennessee
Titans

Odds to Win the AFC South: +170 (DraftKings)

The Titans made a splash in the offseason but not in a way most would consider good. They traded away alpha No. 1 wideout A.J. Brown and drafted rookie Treylon Burks out of Arkansas. They also replaced Julio Jones with former Rams wide receiver Robert Woods, who is coming off a torn ACL entering his age-30 season. Burks profiles like A.J. Brown in a lot of ways but is no guarantee to be the same player. This was a massive risk by the Titans and one that could ultimately be their downfall should the passing game not perform how they need.
Jacksonville
Jaguars

Odds to Win the AFC South: +750 (Caesars)

The Jaguars bolstered their offensive line throughout the offseason and then focused on drafting defenders in the NFL Draft. They picked a high-upside prospect at No. 1 overall in Travon Walker and then traded up for LB Nakobe Dean. If you want a long shot to win the division, you could do worse than the Jaguars, who should bounce back after their cleansing of the Urban Meyer disaster.
Houston
Texans

Odds to Win the AFC South: +4500 (Caesars)

The Texans and Davis Mills showed some life down the stretch last season despite possessing a completely talent-deficient roster. They added cornerback Derek Stingley Jr. at No. 3 overall and offensive guard Kenyon Green with their 15th overall pick. That's not enough to make much of a difference but the Texans finally seem to be heading in the right direction at the very least. They are favored in zero games heading into 2022 and even at 45/1 odds, they don't have a shot to win the division, let alone be above .500.
2022 NFC South Divisional Winner Odds
Tampa Bay
Buccaneers

Odds to Win the NFC South: -300 (DraftKings)

After a short period of time sitting at home making Tik Toks, Tom Brady got bored and decided to try and run it back. They still have a strong roster top-to-bottom and now have their leader back at the helm. As soon as he returned, the Bucs' odds to win the division shot up from +120 all the way to -300. It still might be a bit too short barring an injury to Brady.
New Orleans
Saints

Odds to Win the NFC South: +380 (FanDuel)

The Saints will roll with Jameis Winston as their starter at quarterback and added some valuable offensive pieces through the draft as well. Ohio State WR Chris Olave should be an immediate impact player and Trevor Penning is a mean offensive lineman who can help the Saints dominate up front. The Saints' range of outcomes this year as a team are pretty wide.
Carolina
Panthers

Odds to Win the NFC South: +1300 (FanDuel)

The Panthers drafted Ikem Ekwonu with the sixth overall pick and then traded up to select QB Matt Corrall, who fell all the way to the third round. Their quarterback situation remains a disaster with Sam Darnold penciled in as their starter and Corrall likely the backup. They also fired OC Joe Brady for passing too much and should be expected to go run-heavy this season.
Atlanta
Falcons

Odds to Win the NFC South: +2500 (DraftKings)

The Falcons traded away long-time quarterback Matt Ryan and signed Marcus Mariota to replace him. They also lost WR Calvin Ridley for all of next season to a parlay-induced suspension. They drafted wide receiver Drake London to try and add more firepower to the pass-catchers but there are still serious questions surrounding this offense. They have one of the worst rosters in the league.
2022 NFC North Division Winner odds
Green Bay
Packers

Odds to Win the NFC North: -170 (FanDuel)

The Packers' quarterback drama seemingly ended when they re-signed Aaron Rodgers to a massive extension but then went on to trade away wideout Davante Adams to the Raiders. Rather than trying to trade up in the draft to replace him, they drafted two defenders and then settled for North Dakota State wideout Christian Watson in the early second round. Their defense will likely be better but it's fair to have serious questions about this passing game heading into Aaron Rodgers' age-39 season.
Minnesota
Vikings

Odds to Win NFC South: +280 (FanDuel)

The Vikings traded back in the first round and grabbed safety Lewis Cine rather than standing pat at 12 and taking their top choice there. The Vikings are very much in play to win the NFC North with just the Packers standing in the way as their top obstacle.
Detroit
Lions

Odds to Win NFC South: +1000 (DraftKings)

The Lions are trending upward. They picked defensive end Aidan Hutchinson second overall and then traded up for wideout Jameson Williams at pick No. 12. The Lions now have a reasonable supporting cast for Jared Goff and their defense has some extra help rushing the passer. It wouldn't surprise me to see a 7-to-8 win season for the Lions. I'm not sure they are ready to compete for the division, though, and I wouldn't bet them at the moment.
Chicago
Bears

Odds to Win NFC South: +1100 (PointsBet)

The Bears did nothing to support their second-year quarterback, Justin Fields. They currently have a bottom-three offensive line and Darnell Mooney is far-and-away their best pass-catcher. They have first-time play-caller Luke Getsy as their offensive coordinator and their defense lost Khalil Mack while Robert Quinn wants out. David Montgomery is a solid running back but he will have little-to-no opportunity to excel behind his offensive line. It's tough to imagine the Bears having much success this season.
2022 NFC West Division Winner Odds
Los Angeles
Rams

Odds to Win the NFC West: +140 (BetMGM)

The reigning Super Bowl champions are looking to run it back and will do so without a few of their key defenders. They also swapped Allen Robinson in for Robert Woods. They should remain one of the top offensive teams in the league.
San Francisco
49ers

Odds to Win the NFC West: +190 (BetMGM)

We don't even know whether Jimmy Garoppolo or Trey Lance will be starting at quarterback but the 49ers are still amongst the favorites to win the NFC. Lance has much more upside as a quarterback but was not particularly good in last year's outings. Offseason rumors of Jimmy Garoppolo being traded away haven't stopped. He will likely be sent packing once his recovery time from his offseason shoulder surgery becomes clear.
Arizona
Cardinals

Odds to Win the NFC West: +400 (DraftKings)

The Cardinals traded for Marquise Brown with the 23rd pick in the first round, a move that had many scratching their heads. That is until the NFL announced star-wideout DeAndre Hopkins' suspension for the use of performance-enhancing drugs (PEDs). They are a team that has had the pieces to succeed but never gotten over the hump. Odds of +400 are a fair price for a team in a strong division.
Seattle
Seahawks

Odds to Win the NFC West: +1600 (Caesars)

The Seahawks shipped Russell Wilson to Denver and doubled down on the running game in the draft. They selected OL Charles Cross at No. 9 overall and then added Michigan State RB Ken Walker in the second round. They will likely place a big emphasis on running the ball early and often in 2022. They could be +2500 to win the division and I still wouldn't consider betting on them.
2022 NFC East Division Winner Odds

Dallas
Cowboys

Odds to Win NFC East: +130 (DraftKings)

Despite Jerry Jones accidentally flashing the media the Cowboys' draft board, they added some good pieces to their team. They kicked off Day 1 by adding OT Tyler Smith, trying to once again make their offensive line a strength after struggling at times last season. They lost wideout Amari Cooper in the offseason but still have both CeeDee Lamb and Micheal Gallup available to make plays. They also drafted Jalen Tolbert and signed James Washington to fill Cooper's departure.
Philadelphia
Eagles

Odds to Win NFC East: +210 (FanDuel)

The Eagles are set to have a strong season after bolstering their defensive line in the draft and trading for a true No. 1 wideout in A.J. Brown. We bet on the Eagles to win the division at +250 as one of our favorite offseason bets.
Washington
Commanders

Odds to Win NFC East: +500 (BetMGM)

Washington still has plenty of strong pieces in place defensively but may struggle offensively. They will now be quarterbacked by recent journeyman Carson Wentz who was reportedly a bad fit for the Colts' locker room. The Commanders also added Penn State wideout Jahan Dotson to their pass-catching group that already consisted of Terry McLaurin and Logan Thomas.
New York
Giants

Odds to Win the NFC East: +1000 (DraftKings)

Out goes Dave Gettleman and Joe Judge, in comes Joe Schoen and Brian Daboll. They are making some changes for the better but still may be a year or two away from competing for the NFC East crown. Despite Brian Daboll's previous offensive success in Buffalo, it's tough to have much faith in Daniel Jones' consistency after what we have seen during his time as the starter.