2020 NFL Draft: Live Fantasy Recap (Rounds 4-7)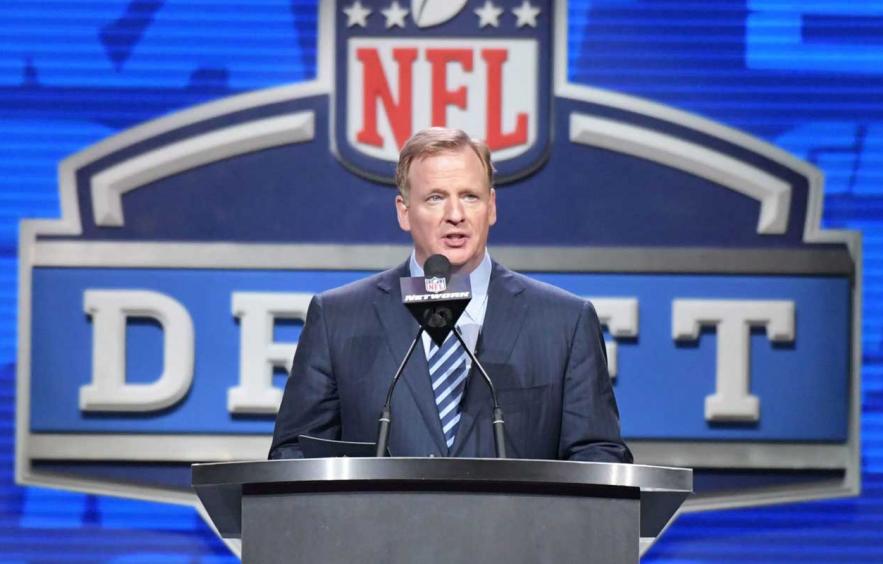 The third and final day of the 2020 NFL Draft (Rounds 4-7) begins Saturday at 12 p.m. ET.
Here at 4for4, I am taking the baton from John Paulsen, who covered Round 1 on Thursday and Rounds 2-3 on Friday. I will be updating this page with analysis of the fantasy implications of each skill position pick. Since opportunity is crucial for a rookie, we assign a grade for each, given the player's opportunity for playing time in 2020.
Don't get too excited about this crop of mid- to late-round rookies. While there may be a couple of players selected today who will beat the odds and prove valuable in 2020 fantasy football leagues, the odds are stacked heavily against them. Still, every year there seem to be a few late-round picks that find a way to contribute, so it's worthwhile to pay attention to the third day of the draft.
Ends April 30: Get any subscription for $5 →
4.06 -
Chargers

- RB

Joshua Kelley

, UCLA

Kelley looked like a fringe prospect heading into the offseason, but he looked fluid at the Senior Bowl and fast at the combine, making him worth a second look. Kelley ran a 4.49-second 40-yard-dash to go with his prototype size, 5-foot-11, 212 lbs. He also led all running backs with a 6.95-second three-cone-drill. After transferring from UC-Davis, he started for the Bruins the last two years, compiling 2,303 yards and 24 touchdowns on the ground during that span. He also caught 27 balls for 193 yards as a junior, demonstrating natural hands. He dominated teams like Arizona State and Colorado, while struggling against Oklahoma. His tape against Washington State showed excellent ball adjustment in the flat, so some third-down ability is there. Kelley looks like a north-south runner who can effectively make one cut and go, but he has just enough shimmy and speed to give him some long-term upside. If he lands in a spot with opportunity, he has the talent to take advantage of it, particularly if he winds up in a zone scheme.

Athletic Comp: Lamar Miller

Opportunity: C+

Kelley is a nice complement to Austin Ekeler. While Ekeler should continue to be the primary option in the run game and in the receiving game, Expect Kelley to take over from Justin Jackson as the change-of-pace and inside runner. It's a good spot for Kelley to get playing time, but not for earning a starting job.
4.09 -
Browns

- TE

Harrison Bryant

, FAU

Bryant had a nice combine catching the ball and ran a 4.73-second 40-yard-dash, turning some heads in the process. While productive at Florida Atlantic, catching 65 balls for 1,004 yards and seven touchdowns last year, his stiff route-running made him a questionable option as a receiving option translating to the NFL. However, after great work during the pre-draft process and further dissection of his tape, his reliable hands and ability to keep working back to the quarterback show up pretty strongly. What really pops out is his blocking though, and that's what's going to get him on the field early. He attacks opposing defenders with a nasty streak normally reserved for mauling right tackles. Bryant may not catch a ton of balls early in his career as he continues to refine that part of his game, but he has the athleticism to become a viable fantasy option, and his blocking should buy him time to develop.

Athletic Comp: Jace Sternberger

Opportunity: D

The Browns just signed Austin Hooper, so this isn't the best spot for Bryant to land as far as a clear path to starting. His ability to block might push David Njoku out of the lineup however, so anyone was still hanging on to Njoku hope in Cleveland can probably let that go.
4.12 -
Broncos

- TE

Albert Okwuegbunam

, Missouri

Okwuegbunam ran a 4.49-second 40-yard-dash at the combine and measured in at 6-foot-5, 258 lbs. On tape, he stretches the seam and does an excellent job attacking the ball in the air and finding it at it's highest point. He uses his body to wall off defenders and could be a phenomenal red zone target at the next level. He has consistent hands as well. The problem with the player affectionately known as "Chucks" in the locker room is his repeated shoulder injuries and his lack of route-running or blocking. He looks lethargic in and out of breaks and doesn't seem to have any initial explosiveness off the line. His blocking is disinterested at best, and smart defenders will be able to read which direction the play is going by watching his intensity. If he can put forth a more consistent effort and stay healthy, he has the upside to become a dynamic receiving option, but those drawbacks will make him a colossal bust if he struggles to improve.

Athletic Comp: Austin Seferian-Jenkins

Opportunity: D

Pure potential here, but with Noah Fant showing flashes of being a top-tier TE long-term, it's hard to imagine Okwuegbunam gets a chance. As a rookie, he may struggle to even beat out Nick Vannett for the TE2 job.
4.14 -
Jets

- RB LaMical Perine, Florida

Perine did a little of everything at Florida, helping on special teams, leading the team in rushing, and finishing third with 40 receptions last season. He's a quicker-than-fast runner with natural instincts and an uncanny ability to break tackles. He keeps his legs churning and uses lunges and short cuts to eke out extra yardage on every play. Perine's big enough to handle a full workload, even though he wasn't used in that capacity often in college. He had only 132 carries last season, though he tore up Auburn and Virginia with over 130 yards in each game. Perine lacks elite speed and didn't have a great combine, but his natural running ability and consistent hands should make him a valuable weapon at the next level with high upside.

Athletic Comp: Josh Jacobs

Opportunity: B

This is a great spot for Perine, who flashes three-down ability, but is ready to contribute immediately as a change-of-pace back. With LeVeon Bell looking rough last year and another year older, Perine should at least get committee opportunities early. If Bell gets hurt, Perine could put up good numbers in an offense that added two tackles this offseason. He should win the backup job as a rookie, which could be fruitful behind Bell.
4.16 -
Colts

- QB

Jacob Eason

, Washington

Running 4.89 seconds in the 40-yard-dash at the combine was a nice boost for Eason, whose primary red flags revolve around mobility and pocket presence. A transfer from Georgia, Eason led the Huskies to a convincing win over Boise State in the Las Vegas Bowl in his sole season as a starter. He's huge at 6-foot-6, 231 lbs, and he has a rocket arm. He can make every throw and is accurate at all levels of the field. He'll need to work his eye discipline at the next level however, and his pocket awareness has a long way to go. The latter is a difficult trait to acquire, and that might make him susceptible to big hits as a pro. He was beaten up in a loss to Colorado in November, throwing for 206 yards, a touchdown, a pick and getting sacked five times. However, if he gets protection, he can pick a defense apart.

Athletic Comp: DeShone Kizer

Opportunity: C+

This is a great landing spot for Eason if you're looking to 2021, but it's unlikely he wins even the backup job this year with Philip Rivers and Jacoby Brissett firmly entrenched on the roster. Eason will have a full season to convince the Colts not to draft a QB next year.
4.18 -
Steelers

- RB

Anthony McFarland

, Maryland

McFarland is a compact runner at 5-foot-8 and 208 lbs, but he has more speed than he demonstrated last season, running a 4.44-second 40-yard-dash at the combine. McFarland had some splash plays in 2018, including 298 yards and a pair of touchdowns against Ohio State. An ankle injury slowed him for much of last season, but he finished the season with a 63-yard run against Michigan State. McFarland catches the ball fluidly and can make defenders miss after the catch. He doesn't always pick the best path to the next level, but he can stack cuts and runs with natural ability. He'll need to find some power if he's ever going to be more than a complementary back, as he gets bottled up inside, despite a low center of gravity. He gets stood up and lacks initial burst after losing momentum. McFarland has the ability to be a three-down starter, but he'll need to be a little more patient and focus on adding strength in his lower body if he's going to get there.

Athletic Comp: Ray Rice

Opportunity: B

James Conner is the starter in Pittsburgh, but he's coming off a rough season where he was nicked up and ineffective. McFarland should immediately push Jaylen Samuels and Benny Snell. Don't expect him to take Conner's job early on, but if injuries continue, McFarland has the talent to produce. He'll be worth a flyer if he wins the backup job, which I expect he will.
4.19 -
Jets

- QB

James Morgan

, FIU

Morgan is going to draw some fans in an NFL training camp. He has a great arm and demonstrates elite velocity. He throws a fantastic deep out and could really speed up his delivery if he held the ball higher in his dropback. Morgan is gutsy as well, hanging in the pocket to deliver strikes. His accuracy wanes on short and intermediate throws and he struggles to take steam off the ball in those zones. Morgan had a nice combine, has great size at 6-foot-4, 229 lbs, and has the physical gifts to succeed at the next level. His production at Conference USA wasn't great, and the fourth quarter of the Camellia Bowl against Arkansas State showed all the best and worst aspects of his gun slinging mentality, but there are things to like if he can work on his problem areas.

Athletic Comp: Matt Ryan

Opportunity: D+

Sam Darnold is entrenched as the starter in New York, so Morgan will likely be fighting for the backup spot. That being said, he has a great chance of winning the backup job, with David Fales the biggest competition.
4.22 -
Bills

- WR

Gabriel Davis

, UCF

Davis was super productive in his final year for the Knights, catching 72 balls for 1,241 yards and 12 touchdowns. He's a physical threat on the outside at 6-foot-2, 216 lbs. He tracks the ball well, has an excellent double move and seems to find an extra gear when the ball is in the air. He's ultra-competitive fighting for positioning and he has a nose for the end zone. Davis will need to expand his route-running at the next level, as he wasn't asked to do much outside of run deep and block in the run game at UCF. He doesn't look like he has the kind of shimmy to get separation, and though he looks like he has adequate speed, most corners in the NFL will be able to keep up with him. He'll also need stop telegraphing plays, as his effort level seems to drop when the play isn't going to his side. He'll make some nice catches and fight for the ball, and he has consistent hands, but separation will be the key for him if he's going to develop into a starter. He's a bit of a project, but his size and deep-ball skills give him upside as a playmaker.

Athletic Comp: Michael Floyd

Opportunity: D

The Bills traded for Stefon Diggs to pair with John Brown and Cole Beasley, making it hard to imagine Davis climbs higher than fourth on the depth chart for the forseeable future. Good to see the Bills adding offensive talent around their young QB, but it's unlikely Davis makes a fantasy impact with such a crowded depth chart.
4.27 -
Seahawks

- TE

Colby Parkinson

, Stanford

Parkinson is super tall at 6-foot-7, 252 lbs with a lean frame and projects solely as a receiving tight end at the next level. He gets stood up at the point of attack and lacks leverage to drive defenders in the run game. Parkinson lined up all over the place for the Cardinals, but was basically used as a large wide receiver, which is how he'll fit best in the NFL. He scored seven touchdowns as a sophomore, but was held to just one last year, though he did catch 48 balls for 589 yards. Parkinson has some advanced route-running ability, despite looking stiff and leggy when trying to cut. He engages and disengages well to work the middle of the field against tight coverage, and he has enough speed to run a nice deep post or a wheel route down the sideline. Parkinson will need to be more fiery when fighting for jump balls, as he seems passive when up against pesky defenders, but all the traits are there for him to be a seam-stretcher and a red zone menace. If Parkinson lands in a pass-happy offense with a good blocking tight end already on the roster, he has some long-term fantasy upside.

Athletic Comp: Kevin Boss

Opportunity: C+

He'll likely start third on the depth chart, but with injuries affecting Will Dissly and Greg Olsen both over the past couple seasons, Parkinson could wind up playing more than expected as a rookie. In re-draft leagues, he'll have very little value, but deep, dynasty drafters with taxi squad options might stash him. He's a big target for Russell Wilson in the red zone and down the seam.
4.30 -
Rams

- TE

Brycen Hopkins

, Purdue

Hopkins was productive in his final year for the Boilermakers, catching 61 balls for 830 yards and seven touchdowns. Hopkins is a good blocker when he can seek out a target, coming out of the slot or pulling across the formation. His collisions are heavy, and he uses every bit of his 6-foot-4, 245 lbs frame to punish defenders. However, he's too upright in his release when lined up inside and can get bowled over too easily by defensive linemen. Hopkins ran a 4.66-second 40-yard-dash at the combine and shows promise stretching the seam and making short and intermediate cuts. He can get a little leggy, but really uses his athleticism to work all areas of the field. Hopkins has the chance to develop into a nice pass-catching tight end if he can work on his hand consistency and use his body a little better downfield, both things that can be coached up.

Athletic Comp: Jake Butt

Opportunity: D+

Tyler Higbee seems to have developed into the main guy for the Rams, so the best Hopkins can do is push Gerald Everett for the TE2 spot on the roster. He might win that job long-term, but he's unlikely to push Higbee at this point and will be an afterthought in fantasy circles this year, despite his considerable upside as a developmental prospect.
4.36 - Redskins - WR
Antonio Gandy-Golden

, Liberty

Gandy-Golden is an outside receiver prospect who put up big numbers at Liberty the last two years, with 10 touchdowns and over 1,000 yards each of his two seasons as part of the Flames. Last year, he was far more consistent with his hands than in 2018, and he has impressive size at 6-foot-4, 220 lbs. Gandy-Golden ran a 4.6-second 40-yard-dash at the combine, better than expected given how slow he looks on film, but still confirmed his lack of deep speed. He's an improving route-runner, but basically, he's not going to be able to separate consistently in the NFL. What he does exceptionally well is use his body to win contested catches, and he runs very well after the catch. He has an array of stiff-arms, some surprising jump cuts, and excellent balance. Gandy-Golden will need a quarterback who trusts him to get the ball in man coverage, because he's rarely going to be open, particularly on shorter routes, but in the right situation with a good supporting cast, he could have a big impact as a physical downfield threat.

Athletic Comp: Michael Floyd

Opportunity: B

Gandy-Golden might not be better than Kelvin Harmon, but he'll have every opportunity to beat him out for the WR2 spot opposite Terry McLaurin. This is a great landing spot for a big, physical receiver like Gandy-Golden, since Washington is currently riddled with undersized speedsters outside of Harmon.
4.38 -
Seahawks

- RB

DeeJay Dallas

, Miami

Dallas is a converted quarterback from high school and receiver early in his career at Miami, so he's still learning the position, but he demonstrates some excellent traits as a runner. He runs hard, and can plow through arm tackles. He shows extra burst when he sees daylight and has deceptive long speed when he finds a crease. His vision is a work in progress and he runs eager in a way that doesn't always propel him to the right spot, but he can take a hit and has the potential to be a versatile threat. Dallas has a long way to go before he contributes heavily on third downs, but he was a productive return specialist and has a powerful 5-foot-10, 217 lbs frame. He ran a 4.58-second 40-yard-dash at the combine, and he has the raw talent to develop into a solid player in the right situation.

Athletic Comp: Chris Thompson

Opportunity: C+

Dallas heads to a crowded running back room in Seattle, but Chris Carson and Rashaad Penny are both coming off injuries, and his versatility should earn him a role. Dallas is likely to challenge as the primary kick returner and get some change-of-pace work, but he has some upside if the current backs struggle to come back from serious injuries.
5.05 -
Chargers

- WR

Joe Reed

, Virginia

Reed has a compact build and plays with significant strength with the ball in his hands. He was an excellent kick returner all four years at Virginia, returning five touchdowns over that span, including two last year. A running back in high school, Reed runs with vision and can stack cuts. He projects as a slot receiver with versatility, who will be counted on to move the chains and turn short passes into broken tackles and big gains. Reed measured 6-foot-0 and 224 lbs at the combine and ran an impressive 4.47-second 40-yard-dash, making him interesting as a speed and power prospect. Reed seems to slow down on fly routes, which may be an indicator of struggling to track the ball in the air. He also needs to be crisper in his slants if he's going to get separation in the short and intermediate game against twitchy corners. Reed looks like a low-ceiling, high-floor prospect, as he's likely to win a roster spot in the return game and as a slot or sub-package receiver, but unlikely to develop into a WR1.

Athletic Comp: A.J. Brown

Opportunity: C+

Reed landed in a great spot for a mid-round pick, as he projects as a slot receiver who can help in the return game, and that's exactly what the Chargers need. Expect him to push for the WR3 job as a rookie and might see 50 targets in that role.
5.13 -
Patriots

- K

Justin Rohrwasser

, Marshall

Rohrwasser is tall and thick for a kicker at 6-foot-3, 230 lbs and he had a nice finish to his Marshall career. He made 85.7% of his field goal attempts and was 2-for-2 from over 50 yards last season. He missed just five extra point attempts in four years. Rohrwasser has enough leg strength to give him a solid chance at a roster spot in the NFL.

Athletic Comp: Daniel Carlson

Opportunity: A-

Great opportunity to win the job as the Patriots didn't have a kicker under contract heading into the draft. The question will be whether the Patriots' offense can give him enough opportunities to kick field goals in a post-Tom Brady era.
5.15 -
Buccaneers

- WR

Tyler Johnson

, Minnesota

Johnson is a classic overachiever who uses competitiveness, physicality and excellent hands and body control to overcome average measurables. He has sufficient size at 6-foot-1, 206 lbs, but there isn't much explosiveness in his routes, or off the line. He lacks the agility and long speed to create separation athletically. However, he has tremendous hands and his tape against high-end competition is impressive. He rocked Auburn in the Outback Bowl to the tune of 12 catches, 204 yards, and two touchdowns, and his tape against Penn State is impressive as well. Johnson will outwork other players to earn a spot on a roster and projects as a tweener between the Z and Y receiver spots. Overachievers can often find their kryptonite at the pro level where everyone is a better athlete, but sometimes the competitive fire wins out. Ignore the measurables, watch the tape and don't bet against Johnson. He should at least make it as a quality slot receiver.

Athletic Comp: Corey Davis

Opportunity: C

This is a great spot for Johnson to win a slot receiver job in a pass-happy offense, but there are only going to be so many targets to go around in Tampa Bay with Chris Godwin, Mike Evans and Rob Gronkowski around. Johnson is exactly the kind of guy who Tom Brady will love as he gets open and works from whistle to whistle, but with two studs entrenched at the WR1 and WR2 spots, it's hard to get too excited about Johnson's fantasy chances.
5.19 -
Jaguars

- WR

Collin Johnson

, Texas

Johnson is a huge receiver at 6-foot-6, 222 lbs, but he was limited by a hamstring issue last season and only played in seven games. Johnson was productive in his limited appearances though, especially closing out the season against quality opponents TCU, Kansas, and against Utah in the Alamo Bowl. He combined for 17 catches, 273 yards and two touchdowns over those final three games, and was able to find separation against Utah, even when they switched larger defenders on him. Johnson struggled against LSU early in the season however and he'll need to show he can get separation if he's going to succeed as an outside threat in the NFL. He has pretty good hands and catches the ball at its highest point. He's going to bully smaller defenders and may find a role as a red-zone option. Johnson exhibits quality blocking already, which might give him earlier opportunities as a WR2 for a run-based offense. Johnson lacks explosiveness and will struggle to get off the line against press coverage, but the pieces are there for him to be an outside possession receiver if he can develop as a route-runner.

Athletic Comp: Eric Decker

Opportunity: C+

Johnson will be at least the fourth WR in the room for the Jags after they selected Laviska Shenault in the second round, but Johnson's size and outside ability give him a unique skillset for the team. With Dede Westbrook and Shenault both projected for slot work, there might be an opportunity for Johnson to play early outside. Targets might be limited, but this is a better spot and better prospect than you'd typically see in the fifth round and watch the pre-season battle on the depth chart for some upside.
5.20 -
Lions

- WR

Quintez Cephus

, Wisconsin

Cephus missed the 2018 season due to a domestic violence accusation he was ultimately acquitted of, and then returned last year to catch 59 balls for 901 yards and seven touchdowns. At 6-foot-1, 202 lbs, he has adequate size and plays with intensity, using his strength and physicality to bully defenders at all levels of the field. He has excellent body control and he attacks the ball with his hands. Cephus lacks the straight-line speed to outrun defenders and he isn't fluid in his breaks, making separation a likely issue for him heading to the pros. Cephus has the determination and ball skills to become a starter, but he'll need to make his intermediate routes cleaner and work on using his hops to win jump balls. He'll win hand fights with corners downfield, but doesn't always climb the ladder, despite a 38.5-inch vertical. He ran the slowest 40-yard-dash among wide receivers at the combine at 4.73 seconds, which won't quell concerns about his separation skills. He may be tried out in the slot, but might be a better fit fighting along the sideline against press coverage on the outside.

Athletic Comp: Rishard Matthews

Opportunity: C

Marvin Jones has struggled with injuries, as has Danny Amendola, so there may be an opportunity for Cephus to win a job early on. If there weren't character and speed concerns, he might've gone on Day 2, so there's upside. Still, with Jones and Amendola healthy, it's hard to imagine an early impact for Cephus.
5.21 -
Bills

- QB

Jake Fromm

, Georgia

Jake Fromm needed a good combine to lay to rest some of the concerns about his athletic limitations, but he ran slow and didn't throw particularly well in drills, solidifying his status as a classic overachiever. Fromm appears to be a good leader, he makes good decisions with the football, and he is mostly accurate. However, his arm strength and general technique is subpar, exacerbated by inefficient footwork. He's a gamer and will likely have a few good NFL moments, but it's more likely to come as a premier backup using his high football IQ to hold a clipboard rather than experience prolonged time behind center.

Athletic Comp: Jarrett Stidham

Opportunity: F

Fromm projects as a backup and he'll probably win that job in Buffalo. It makes sense he landed in a spot needing a backup QB with an entrenched starter, and not in a place where they have questions about the position. Barring injury to Josh Allen, I don't expect to see Fromm during the regular season.
5.22 -
Eagles

- WR

John Hightower

, Boise State

Hightower is an athletic prospect with a 6-foot-1, 189 lbs frame. He ran a 4.43-second 40-yard-dash at the combine and had a vertical jump of 38.5 inches. Hightower was a Junior College transfer and was part of a trio of talented receivers for the Broncos. He led the team with 943 yards and eight touchdowns, averaging 18.5 yards per catch. Hightower has a nice stutter-step, and he actually ran the ball effectively on jet sweeps, with 16 carries and 154 yards rushing last year. He stacks cuts on cuts, despite a leggy running style, which should make him valuable as a yards-after-catch option in the short passing game. He also returned 26 kicks for 639 yards and a touchdown last season. Hightower is versatile and could wind up in the slot at the next level, due to his ability to run with the ball in his hands, but he'll need to work on catching the ball with more consistency. He lets the ball into his body way too frequently and will short-arm throws over the middle. He can get open, but lacks the ball skills and body awareness to be a true outside threat. His tape against quality competition is rough, as Washington and Florida State were both able to contain him effectively. He'll be productive if he can move around the formation and get the ball in space, but he's ultimately a project at this point in his development.

Athletic Comp: Darius Slayton

Opportunity: B

The Eagles are looking for help at WR, and if they move on from Alshon Jeffery, then Hightower has a great chance to win a WR2 job across from fellow rookie Jalen Reagor. Hightower should be used at least in the slot, even if Jeffery stays on the roster, giving him more upside than most Day 3 prospects. It's a testament to the depth of this class that the fifth round is still bringout out quality, albeit flawed, option at WR.
5.25 -
Texans

- WR

Isaiah Coulter

, Rhode Island

Coulter broke out last season with 72 catches, 1,039 yards and eight touchdowns. He's 6-foot-2, 198 lbs and ran a 4.45-second 40-yard-dash at the combine, making him an interesting size/speed option for teams looking for upside. Coulter will need to show he can produce against NFL caliber defenders after beating up on teams like William & Mary and Brown in college, but he exhibits all the traits you look for in an NFL receiver. He tracks the ball well downfield and makes subtle adjustments late in the throw that help him gain an edge on the defender when making the catch. He wasn't asked to do a lot outside of going deep in college, so he'll need to be developed if he's going to be more than a field-stretcher. He also doesn't fight hard on every play for contested balls, something that will be an issue when the windows are tighter. Coulter projects as a developmental prospect with starter potential, and a high WR1 ceiling if it all comes together for him.

Athletic Comp: Allen Hurns

Opportunity: C+

Coulter won't win a job over the other guys on the Houston roster, but all the Houston receivers have injury issues lately, making Coulter an interesting and sneaky fantasy prospect as a rookie. The Texans throw the ball well and throw the ball deep, and Coulter could get an opportunity quickly if Brandin Cooks, Will Fuller, Keke Coutee and Randall Cobb continue to struggle to stay on the field.
5.26 -
Lions

- RB

Jason Huntley

, New Mexico State

Huntley was productive for the Aggies in his senior year, gaining 1,090 yards and nine touchdowns on 154 carries. He made an impact in the passing game as well, with 126 receptions over his past three years including 40 a season ago. Huntley is a slim 5-foot-9, 193 lbs who is quicker than fast and will make an NFL roster in the return game. He was an effective kick returner, with five kickoff returns for touchdowns over his college career. Huntley split time in college and will fight for change-of-pace work as a pro as well, but he has the shiftiness to make a roster in the right situation.

Athletic Comp: Phillip Lindsay

Opportunity: D

The Lions clearly wanted to add playmaking in the passing game to their running back corps, but it's unlikely Huntley beats out second-round pick DAndre Swift for playing time, let alone Kerryon Johnson. Huntley will be in play as the kick returner, but he's unlikely to make a difference on offense.
5.27 -
Bears

- WR

Darnell Mooney

, Tulane

Mooney led Tulane with 48 catches, 713 yards and five touchdowns last season after scoring eight touchdowns as a junior. He's a burner, running a 4.38-second 40-yard-dash at the combine, but he has a slight frame at 5-foot-10, 176 lbs and may struggle against press coverage at the next level. He put up just nine reps on the bench press and could use some added strength. He's explosive, but doesn't show route discipline and doesn't downshift to create separation, instead relying on his raw speed to outrun defenders. He high-points the ball well and has some exceptional potential as a deep threat, but will need to develop every other aspect of his game. He's a project.

Athletic Comp: Greg Ward

Opportunity: C

The Bears need help opposite Allen Robinson, but Mooney is unlikely to beat out Anthony Miller and Taylor Gabriel is still hanging around as well. Mooney didn't really do anything on special teams in college, so that's not an avenue toward a roster spot for him. As a result, he's a long-shot to climb the depth chart and his pre-season performances will be critical.
5.30 -
Vikings

- WR

K.J. Osborn

, Miami

After transferring from Buffalo, Osborn caught 50 balls for 547 yards and five touchdowns for the Hurricanes last season. Osborn led the team in receiving and demonstrated solid route-running playing mostly out of the slot. Osborn ran a 4.48-second 40-yard-dash, which was surprising because the straight-line speed rarely shows up on tape. If he can develop that part of his game, he has the potential to develop into a starter, but right now, he looks like he'll fit best in the slot or as a WR4 in large packages. At 5-foot-11, 203 lbs, he has enough size to work the middle of the field and has potential after-the-catch ability. He was a successful returner and might rely on that ability to make an NFL roster.

Athletic Comp: Golden Tate

Opportunity: C

The Vikings are collecting slot receivers it seems, as first-round pick Justin Jefferson projects well to the slot. Osborn has a chance to beat out Tajae Sharpe and Chad Beebe for the WR3 job and he could push Ameer Abdullah off the roster if he can be the primary return specialist. Expect him to make the roster based on his special teams contribution.
6.08 -
Browns

- WR

Donovan Peoples-Jones

, Michigan

Peoples-Jones struggled to translate huge high school expectations into college success, but he blew up the combine, finishing first among all prospects in the vertical and broad jumps, while running a 4.48-second 40-yard-dash. He's a long-strider who showed good hands and body adjustment in drills. At 6-foot-2, 212 lbs, he has intriguing upside athletically. Peoples-Jones is easily shadowed by press coverage however and can be knocked off his route deep downfield against an aggressive corner. The explosive athleticism also doesn't show up on the tape, as his routes look slow as he builds into his breaks. His hands are inconsistent as well. He may find himself unable to battle effectively on the outside, and unable to consistently separate from the slot, which could cause him to struggle to find a role at the next level. He should be considered a project with upside, but he has a ways to go before he challenges for a starting spot.

Athletic Comp: Chris Conley

Opportunity: C+

This is a good spot for Peoples-Jones as he projects as a potential outside receiver on a team with excellent slot receivers. He's a developmental prospect who hasn't made his athleticism translate into production yet, but he will get every opportunity to win the WR3 job in Cleveland and could potentially be an outside threat for the offense with Jarvis Landry fitting best in the slot.
6.09 -
Bills

- K

Tyler Bass

, Georgia Southern

Bass struggled outside 40 yards last season but he only missed two extra points throughout his college career. He demonstrates a strong leg on kickoffs. Bass will fight for a job at the next level, but he'll need to kick indoors because the loft on his kicks are heavily affected by inclement weather. Bass is a fringe prospect.

Athletic Comp: Michael Badgley

Opportunity: D

Steven Hauschka is still in Buffalo right now so Bass isn't walking into a job. I feel like the bad weather in Buffalo will make it an uphill climb for Bass to win out. This will be a camp battle.
6.10 -
Jaguars

- QB

Jake Luton

, Oregon State

Luton has had an interesting path through college. He transferred to Junior College after struggling to see the field at Idaho, and then came to Oregon State in 2017, where he was the starting job before a serious spinal injury. He returned late in 2018, and then started 11 games last year as a senior. Luton has an NFL arm and he's 6-foot-6, though he could add some muscle to the lower half of his 224 lbs frame. Luton is a pocket passer who throws with accuracy, but the ball will hang on him a bit. He'd do well to use some of the velocity he has on intermediate throws to the sideline. He's careful with the football, only three interceptions last year, but he'll need to be more consistent. He tore up Arizona and Arizona State, while teams like Washington and Utah handled him well last year. That being said, the Beavers will miss Luton, as offense wasn't really their problem last year. Luton projects as a development prospect with some long-term potential as a backup pocket-passer.

Athletic Comp: Josh Rosen

Opportunity: C+

Luton is unlikely to win the job over fan-favorite Gardner Minshew, but if you're a late-round rookie QB, this isn't a bad place to land. Josh Dobbs is the only competition for the backup spot and if Minshew struggles, Luton has a chance to come in and play. There are good weapons in Jacksonville to work with.
6.11 -
49ers

- TE

Charlie Woerner

, Georgia

Woerner is a pretty good athlete, running a 4.78-second 40-yard-dash at 6-foot-5, 244 lbs. Woerner was primarily a blocker for the Bulldogs and plays with intensity. He seeks out second-level blocks and was often used in the backfield to pave the way for Dandre Swift. Woerner can break effectively and is very good at exploding into the flat after chip blocks, but always seems delayed when the ball is in the air and doesn't attack it like someone his size should. He caught just nine passes last year, with his sole touchdown coming against Georgia Tech. He projects as an inline blocker at the next level with low-end potential as a red zone threat.

Athletic Comp: Brent Celek

Opportunity: D

Woerner has a good opportunity to play in big sets, but he's unlikely to be more than a blocker for the 49ers in the run game. He has no chance of usurping George Kittle and was likely brought in just to block.
6.21 -
Eagles

- WR

Quez Watkins

, Southern Mississippi

Watkins was second among receivers at the combine with a 4.35-second 40-yard-dash. The speed shows up on tape as well, and he averaged 18.4 yards per catch last year as the Golden Eagles' leading receiver. While straight-line speed isn't a problem, he needs to develop in virtually every other part of his game. He was adept at turning slant routes into long gains and he has sufficient size at 6-foot-0, 185 lbs to be a starter on the outside. However, he was heavily exposed against Alabama early in the season, and he'll need to work hard to overcome press coverage at the next level. Physical defenders will knock him off his route fairly easily, and his lateral agility doesn't match his deep speed. He posted the fifth-worst three-cone-drill time – 7.28 seconds – among receivers at the combine. Watkins projects as a WR4 who can play on passing downs and take the top off a defense as long as he can get a clean release.

Athletic Comp: Jeremy Maclin

Opportunity: D+

This is a good spot for a WR because Philly needs new blood, but Watkins is a one-trick pony and is the third WR drafted by the Eagles. He's a bit of a lottery ticket for the team and he'll likely be vying for WR4 work with a large group of also-rans.
6.22 -
Ravens

- WR

James Proche

, SMU

Proche was fantastic for the Mustangs the last two seasons, with a total of 204 catches, 2,424 yards and 27 touchdowns during that span. He was also the primary punt returner, and returned kicks his freshman and junior years. Proche has adequate size at 5-foot-11, 201 lbs and is super competitive after the catch. He fights hard for contested balls. He has some of the best hands in this draft class and comes down with highlight reel catches on a regular basis. Proche doesn't have enough suddenness in his cuts to think he'll be a demon in the slot, but in the right situation, his hands and toughness should land him a starting job somewhere at the next level. Get him in camp, and he's bound to fight until he's on the field, and it wouldn't be surprising to see him find a role early if he lands in a good spot. Proche's tape against Memphis showed he can produce against press coverage and that he has just enough route savvy to gain separation, despite not being a speedster. He's more than the sum of his parts, and will become a fan favorite with his style of play.

Athletic Comp: Golden Tate

Opportunity: C+

This is the second WR the Ravens have drafted, but Proche has great hands and can get open, which are two traits they need in that offense. Proche is a long-shot to put up big numbers as a rookie, largely based on the offense Baltimore runs, but he has a good chance to play a lot of snaps and he could push last year's rookie Miles Boykin for playing time. Proche is talented, so watch his camp battle. Baltimore fans are going to love him.
6.27 -
Jaguars

- TE

Tyler Davis

, Georgia Tech

Davis caught 17 balls for 148 yards and a touchdown last year after transferring from UConn. Davis was primarily used as a blocker, but he flashes the ability to leak out and win jump balls in the red zone if he can improve his release. He's 6-foot-4 and 250 lbs and plays with a competitive fire. He wants to improve and if he is given time to develop, he could become a complete tight end. Early on, he's likely to be a blocker on run downs in large sub-package formations.

Athletic Comp: Vance McDonald

Opportunity: C+

Davis may just be a blocker, but he'll have an opportunity in Jacksonville. The team has been looking for a top tight end since Mercedes Lewis was in his prime, and the Geoff Swaim experiment failed last year. The most likely scenario is Davis winds up the TE2 opposite Josh Oliver, but there's definitely opportunity here if he can develop quickly. Dynasty stash opportunity here.
6.28 -
Bills

- WR

Isaiah Hodgins

, Oregon State

Hodgins is a big receiver at 6-foot-4, 210 lbs with excellent hands who will struggle to get open at the next level. He runs a 4.61-second 40-yard-dash, and doesn't explode off the line or even when positioning to make a catch. He uses body control and ball skills to make contested catches rather than agility and route-running. Some technical precision and athletic training to limit wasted movements would help him. If he can get a clean release, he can build enough speed to be a downfield threat, but he'll struggle against press coverage if he lines up outside. His quarterback will need to trust him to win 50-50 balls. Hodgins is best suited as a WR2 possession type, with red zone potential.

Athletic Comp: Mack Hollins

Opportunity: D+

Hodgins brings some much-needed size to the Bills' receiving corps, but with three guys already entrenched and Gabriel Davis drafted in the fourth round, it's hard to imagine Hodgins cracks the lineup early on.
6.33 -
Colts

- WR

Dezmon Patmon

, Washington State

Patmon scored eight touchdowns as a senior for the Cougars last season, second on the team, and averaged 13.1 yards per catch as a downfield 50-50 guy. He's an interesting size-speed prospect with a 4.48-second 40-yard-dash at 6-foot-4, 225 lbs. Patmon plays passive, running routes almost as if the defender isn't there rather than trying to beat coverage. With his size, if he can play a little more aggressively, he has WR1 upside. He lacks explosiveness and is slow and plodding in his routes. He doesn't seem to identify soft spots and fails to work back to the quarterback when plays break down. When the ball is in his hands though, he has the size to break tackles. He's also a willing blocker in the run game and shows back-shoulder ability and adjusts well to the ball. He's a high upside, low floor prospect.

Athletic Comp: Zach Pascal

Opportunity: D+

The Colts clearly wanted to add size to their receiving corps with Michael Pittman in the second round and now Patmon. Patmon may be a candidate for the practice squad as he develops, but the WR depth chart looks pretty crowded right now and Patmon will struggle to find the field early.
6.35 -
Seahawks

- WR

Freddie Swain

, Florida

Swain was the other side of the receiving tandem at Florida across from Van Jefferson, and they were essentially polar opposites. While Jefferson was like a surgeon on his routes, Swain was like a jazz musician, ebbing and flowing in any way the music took him. He has a knack for finding the soft spot in zones and projects as a potentially functional slot receiver who, if he makes a roster, will make it due to his contributions in the return game. He was the primary punt returner in 2018. Swain has some speed and boasts adequate size at 6-foot-0 and 197 lbs, but he's a basket catcher who remains unrefined in his game. He has a long way to go before he can contribute in any meaningful way on offense.

Athletic Comp: Kenny Stills

Opportunity: D

Swain is probably expected to compete for the punt returner spot as the Seahawks continue to try to find a solution in the return game that doesn't involve Tyler Lockett. He has no chance of finishing higher than third on the WR depth chart behind Lockett and DK Metcalf, so the best he can hope for is beating out Phillip Dorsett and David Moore for the WR3 job. He's most likely a fringe roster spot guy in the mix for the punt return job in camp.
7.03 -
49ers

- WR

Jauan Jennings

, Tennessee

Jennings ended up playing five years at Tennessee, largely because a wrist injury wiped out much of his 2017 season, which culminated in him blasting the coaching staff on social media and being dismissed from the team. The new coaching staff brought him back, however, and he ended up with eight receiving touchdowns last season to go with 59 catches and 969 yards. Jennings is a big, physical receiver at 6-foot-3, 215 lbs, but he has very little functional speed. He ran the second-slowest 40-yard-dash at the combine at 4.72 seconds, and he's stiff off the line and throughout his routes. Jennings has glaring issues in his game from an athleticism perspective, but he has huge upside as well. He has strong hands and attack the ball. He seems unfazed by a crowd and is willing to work the middle of the field. He's aggressive seeking out second-level blocks on bubble screens and in the run game. He runs hard after the catch and is difficult to bring down. If he can get a clean release, he can use his physicality to punish defenders. Jennings projects as a slot receiver who can move chains and win jump balls, and if he can get any separation against NFL defenders, his upside is considerable.

Athletic Comp: Laquon Treadwell

Opportunity: C

The 49ers have a crowded depth chart at WR, but there's a chance for Jennings to win the WR3 job behind Deebo Samuel and first-round pick Brandon Aiyuk. The 49ers are collecting receivers who run hard with the ball in their hands.
7.06 -
Chargers

- WR

KJ Hill

, Ohio State

Hill only gained 636 yards last year for the Buckeyes, but he caught 10 touchdowns and showed excellent body awareness and second-level burst after the catch. Hill has build-up speed, but runs good routes and uses his hands effectively. He plays tough and will fight to get open and create space, even against press coverage. Hill projects as a quality slot receiver at the next level, where teams can use his steady hands to move the chains and capitalize on his vision once he sees space down the sideline. Good safeties won't have a hard time finding the right angle on him, but he knows where to be and uses savvy and subtle moves to find space. Hill is unlikely to be a force as a pro, but he could carve out a productive career as a WR3 in the right offense.

Athletic Comp: Daesean Hamilton

Opportunity: D+

This pick would be more exciting if the Chargers didn't already take Joe Reed in the fifth round. While Hill has talent and I had a fourth-round grade on him, I think Reed is the better player and I'd be surprised if Hill climbs higher than fourth on the depth chart.
7.08 -
Cardinals

- RB

Eno Benjamin

, Arizona State

Benjamin is an ankle-breaker who can put together strings of cuts and is explosive in the open field. His legs don't always look to be moving in the same direction at the same time, which helps him evade would-be tacklers. He's going to make some NFL linebackers look silly. Benjamin's compact frame and ability to catch the ball give him three-down potential at the next level, but he'll need to learn to take what the defense gives him from time-to-time if he's going to avoid being part of a committee. He's often quick to bounce it outside, sometimes running into trouble. Benjamin is an exciting and explosive athlete with elite short-area quickness and agility, and he'll find a spot somewhere, even if it's in a complementary role.

Athletic Comp: Marlon Mack

Opportunity: C-

Benjamin stays close to home and will have a really good chance of supplanting Chase Edmonds as the backup behind Kenyan Drake. If Drake stays healthy, Benjamin is unlikely to do much as a rookie, but he has the potential to be a good handcuff option if he can beat Edmonds. Benjamin can do more than Edmonds can and many people had him labeled as a Day 2 pick based on talent.
7.10 -
Titans

- QB

Cole McDonald

, Hawaii

McDonald is the latest in a long line of super productive passers to come out of Hawaii's run-and-shoot offense. He threw for 4,135 yards and 33 touchdowns last year in his second year as a starter, though he also threw 14 interceptions. McDonald has sufficient NFL size at 6-foot-3, 215 lbs, and he added muscle for his junior year. He also had a pretty good combine, running a 4.58-second 40-yard-dash, despite looking heavy footed in the pocket on game tape. McDonald is a willing runner and a fearless passer, but his ball placement is inconsistent and he lacks the zip to make all the throws needed at the next level. He shows a bit of a gamer mentality but struggled against better competition, including throwing for four touchdowns and four interceptions combined in three games against ranked teams last season. McDonald has enough skill to compete in training camp but will need to work hard to shed the system-quarterback label that comes with playing in the Hawaii offense.

Athletic Comp: Josh Johnson

Opportunity: D+

McDonald will fight for the backup role behind Ryan Tannehill. There's some potential here because Logan Woodside is the only other QB on the roster, so winning that job is possible. Tannehill isn't exactly known for his durability, so it's possible we see McDonald under center. However, he doesn't project as a starter and has virtually no chance of supplanting Tannehill.
7.17 -
Cowboys

- QB

Ben DiNucci

, James Madison

DiNucci blossomed at the FCS level after transferring from Pittsburgh following the 2017 season. He led the Dukes to a championship game loss last year against North Dakota State, finishing with 3,441 yards, 29 touchdowns and just six interceptions. He completed 70.9% of his passes and added 569 yards and seven touchdowns on the ground. He has good vision and demonstrates an above-average ability to make reads for a young quarterback. DiNucci will need to show he can make NFL throws against higher-caliber defenses and he projects as a gutsy backup who could will a team to victory for a game or two in relief.

Athletic Comp: Chase Daniel

Opportunity: D

DiNucci has a chance to win the backup job in Dallas, but he's likely the developmental QB3 destined for the practice squad.
7.26 -
Saints

- QB

Tommy Stevens

, Mississippi State

At 6-foot-4, 237 lbs, Stevens has prototype size for the position and exceptional athleticism. When he was at Penn State, they used him in a wildcat role and a creative coach might find a way to use him in a similar capacity. In 2017, he threw 14 passes, ran 27 times and caught 12 receptions. He could have a Taysom Hill type of role at the next level. Stevens split duties with Garrett Shrader after transferring to Mississippi State last year and threw for 1,155 yards and 11 touchdowns. He's not a natural passer but has some zip on the ball and shows some functional accuracy when he gets time. Right now, he's quick to duck and run with it and will need to develop if he's going to become more than a slash player.

Athletic Comp: Blaine Gabbert

Opportunity: F

It's ironic Stevens wound up on the same team as Taysom Hill. Sean Payton may be doubling down on his recent appracoh to the backup QB position, which should make for some interesting offensive formations if Stevens makes the final roster. That being said, a few dazzling plays seem more likely than actual fantasy potential.
7.30 -
Vikings

- QB

Nate Stanley

, Iowa

A three-year starter, Stanley won three straight bowl games for the Hawkeyes, including a convincing victory over USC in the Holiday Bowl last year. Stanley has a great arm and can sling it deep with accuracy. Every game, there's at least one deep throw he makes that elicits a "wow" response. However, his short and intermediate throws lack consistency in placement, and far too many of his throws wind up headed into the turf or laid out for defenders to make a play. He struggled heavily against Penn State last year, and the Michigan tape made him look like just another guy. He threw three interceptions and failed to convert a game-tying drive at the end, despite penalties giving him multiple chances. He ran the ball effectively at times in college, but he doesn't have NFL mobility and he struggled heavily against pressure at the college level. Those problems aren't going away. Stanley's arm and size – 6-foot-4, 235 lbs – will help him compete, but the flaws in his game and his inability to play game-manager might land him as a long-term backup at best.

Athletic Comp: Drew Stanton

Opportunity: D

Stanley will battle with Sean Mannion for the backup job, with Jake Browning still hanging around as well. I expect Stanley to make the roster over Browning, but he has virtually no chance at challenging Kirk Cousins for the starting role.
7.31 -
Buccaneers

- RB

Raymond Calais

, Louisiana-Lafayette

Calais was the scat back in a crowded backfield the last couple of years, rushing for 886 yards and six touchdown on 117 carries as a senior. He has a deadly jump cut and excellent straight-line speed, running a 4.42-second 40-yard-dash. He's 5-foot-8, 188 lbs and dances too much to be a true inside runner at the next level, but he's a playmaker who should make a roster as a kick returner and potential change-of-pace back. He wasn't asked to do much in the passing game in college and that will be a point of development for him. Calais projects as a developmental speed guy who will need to contribute on special teams to stick around in the league.

Athletic Comp: Steve Slaton

Opportunity: C+

The Bucs are adding talent at the running back position and may not be sold on Ronald Jones, so that gives Calais an opportunity to impress the team in camp. He is unlikely to beat out third-round pick Ke'Shawn Vaughn, but could make the roster on special teams. If he learns to run routes and catch the ball, there could be a place for him in the Tampa Bay offense.
7.32 -
Dolphins

- RB/WR

Malcolm Perry

, Navy

Perry will likely play receiver at the next level, but he did everything for Navy. He even played some quarterback last year, throwing 86 passes. He was highly productive running the ball with 295 carries for 2,017 yards and 21 touchdowns. He caught 13 balls for 303 yards in 2017 and returned some kicks early on as well, but he projects as a slash type of player at the NFL level who may line up in the backfield or in the slot. His 4.63-second 40-yard-dash time was disappointing and he doesn't have an NFL frame at 5-foot-9, 186 lbs, but is a high-effort player with the potential to develop into a sub-package option at the next level. He'll be on the roster bubble, but a creative play-caller will find use for him.

Athletic Comp: Diontae Johnson

Opportunity: D

This is a position change for Perry, and with Jakeem Grant on the roster, it seems unlikely he's going to make the team as a return specialist. Perry might get some slash usage and he'll be fun to watch if he can earn a role, but he's unlikely to produce fantasy numbers with any kind of consistency and may wind up on the practice squad or on waivers by the team the season begins.
7.34 -
Rams

- K

Sam Sloman

, Miami-Ohio

Sloman had questions about his leg strength going into his senior year after going 0-5 from beyond 50 in his first three years. Then he made 4-of-5 last year. That kind of improvement has him on the radar of NFL teams. He missed only three kicks all year and only two extra points in his entire college career. If he can continue his improvements and get a little more reliable on kickoffs, he could win a job at the next level.

Athletic Comp: Austin Seibert

Opportunity: A

With Greg Zuerlein in Dallas, the job is open. The Rams offense has been productive under Sean McVay, so if the Rams don't bring anyone else in, Sloman should have opportunities to put up points.
7.37 -
Seahawks

- TE

Stephen Sullivan

, LSU

Sullivan is an interesting size-speed prospect after running a 4.66-second 40-yard dash at 6-foot-5, 248 lbs. Sullivan was largely used as a move tight end and move blocker by the Tigers, and he lacks the leverage to be a true inline player. He will seek out blocks at the second level and can dominate when he pulls ahead of runners or gets out in space ahead of a screen pass. His future is as a receiving option, but the production is limited and he isn't a natural pass catcher. He caught just 56 passes throughout his three years at LSU, with only three touchdowns. Sullivan is a project who could develop into a dynamic receiving option, but he has a long way to go.

Athletic Comp: Clive Walford

Opportunity: D+

This is the second TE the Seahawks have drafted and they still have Will Dissly, Jacob Hollister and Greg Olsen on the roster. While they're clearl looking for a long-term option after Dissly suffered his second serious injury in as many seasons, Sullivan is a long way from contributing and is likely to wind up on the practice squad as a rookie.
7.38 -
Broncos

- WR

Tyrie Cleveland

, Florida

Cleveland is an interesting size-speed prospect after running a 4.46-second 40-yard-dash at 6-foot-2, 209 lbs. He was a highly touted prospect coming out of high school, but failed to produce in college, scoring just eight touchdowns over his four years and never catching more than 25 balls in a season. Cleveland plucks the ball out of the air and demonstrates NFL-caliber hands and physicality, but doesn't show any precision in his routes, rounding off cuts and making predictable moves. If Cleveland can improve his agility and suddenness, he has a chance to develop, but he looks like a player who will struggle to get open at the next level.

Athletic Comp: Miles Austin

Opportunity: D

I really like the development chances of Cleveland, but the Broncos drafted two other WRs in the first and second rounds and still have Courtland Sutton on the roster. Cleveland will be battling for a roster spot his rookie year, but his considerable upside might allow him to turn into something down the road. For now, he has very little chance of making a fantasy impact.