2020 NFL Draft: Live Fantasy Recap (Round 1)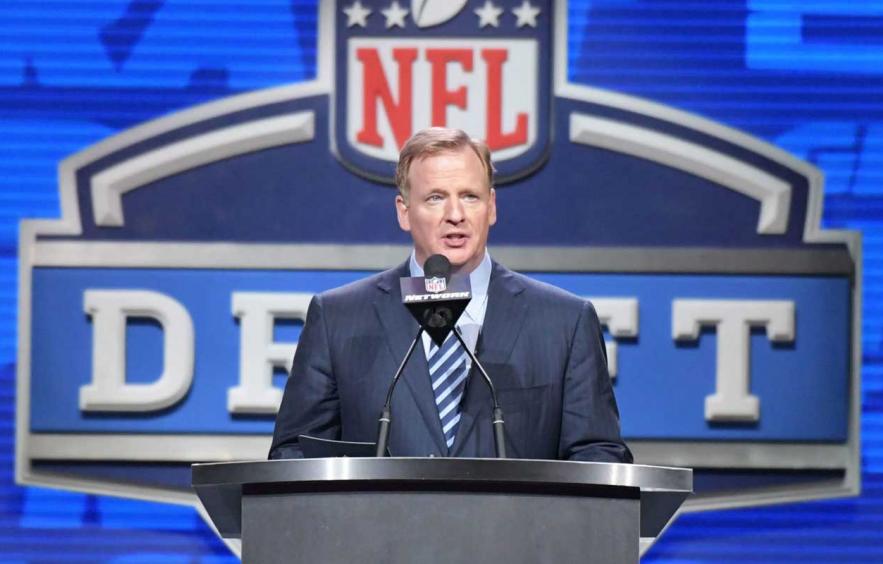 Getty Images
The 2020 NFL Draft begins at 8 p.m. ET on Thursday, April 23rd with the first round. The second and third rounds will be held on Friday (beginning at 7:00 p.m. ET), while the remainder of the draft will finish up on Saturday (12 p.m. ET). The Draft can be streamed on the WatchESPN app or the NFL Mobile app, or on ESPN.com or NFL.com.
Throughout the first round, I'll be updating this page with player evaluation from our very own Brandon Niles, along with my take on the player's opportunity and potential fantasy impact in 2020. Brandon has also provided athletic comparables from Mockdraftable. Be sure to check back tomorrow for the second and third rounds. Brandon will be taking over on Saturday to summarize the mid- to late-round picks.
Ends April 30: Get any subscription for $5 →
1.01 -
Bengals

- QB

Joe Burrow

, LSU

Joe Burrow's meteoric rise over the last year has been impressive, considering he was just sniffing draft consideration after an up-and-down 2018 season that culminated in a solid performance against UCF in the Fiesta Bowl. A fringe prospect heading into 2019, Burrow threw for a stunning 60 touchdowns and only six interceptions in an undefeated season, blowing away draft analysts and capping it off with a 463-yard, five-touchdown performance over Clemson to earn LSU the National Title. What Burrow lacks in elite arm strength, he more than makes up for with decisiveness and accuracy. Burrow has good size at 6-foot-3, 221 lbs, and he plays with a competitive fire that is infectious. His mobility is above average, especially within the pocket, and he scored 12 touchdowns on the ground over his two years at LSU. He will need to work on expanding his throwing range on deep outs and flies against NFL–caliber cornerbacks, but he has all the makings of an impact player at the position.

Athletic Comp: Jameis Winston

Opportunity: A

It's not a bad landing spot for a rookie quarterback since the Bengals have some talent at receiver (A.J. Green, Tyler Boyd, Auden Tate) and Joe Mixon at running back. The offensive line wasn't great in 2019, but they signed guard Xavier Su'a-Filo, who had a good year with the Cowboys, and they'll be getting first-round tackle Jonah Williams back from injury. Burrow fared very will in the regression model that I developed to get a statistical starting point for rookie quarterbacks, coming in with the highest-projected completion percentage, the second-best projected touchdown percentage and the fourth-best projected YPA and interception percentage of the 55-player sample. Keep in mind that the Bengals played at the seventh-fastest pace last year, so with Green and Williams back and Burrow under center, this offense has a chance to get a lot better in 2020, especially if the team picks up another good tackle in this year's draft.
1.05 -
Dolphins

- QB

Tua Tagovailoa

, Alabama

Had Tua Tagovailoa not dislocated his hip during last season, he'd likely be the consensus number one pick in this draft. Tagovailoa's only real issue is durability, with a history of injuries including ankle issues prior to the hip. He's also a little undersized at 6-foot-0, but he has every other attribute you want in an elite quarterback. He has a low release, but it's lightning-fast and deadly accurate. He has excellent pocket mobility and can make plays with his legs when the protection breaks down. While he struggled in the title game against Clemson as a sophomore, he put up 418 yards, four touchdowns, and a pick in a close loss to LSU before getting hurt last year. Tagovailoa shows rare eye discipline for a young quarterback and throws as great a deep ball as anyone in this class. If he stays on the field, he's going to be special.

Athletic Comp: Baker Mayfield

Opportunity: A-

Tagovailoa will start eventually, though there are some who believe that he's going to have a redshirt year after suffering a hip injury at Alabama. The Dolphins have a couple of solid receivers in DeVante Parker and Preston Williams and an up-and-coming tight end in Mike Gesicki. His 2020 value is very up in the air. Unlike Burrow, Tagovailoa isn't expected to start Week 1. Like Burrow, Tagovailoa fared very well in my rookie QB model, finishing first in projected touchdown percentage and third in projected YPA. The pick is great for the dynasty values of the aforementioned Miami receivers.
1.06 -
Chargers

- QB

Justin Herbert

, Oregon

Justin Herbert has prototype size at 6-foot-6, 236 lbs for a traditional dropback quarterback, and he's athletic enough to make plays with his legs. He was super productive at Oregon, throwing 32 touchdowns last season as a senior, with only six interceptions. Herbert has one of the better arms in this draft. He can sling it deep and make every throw at the NFL level. His ball placement is inconsistent, however, and his footwork wanes under pressure. If Herbert can work on getting more consistency, he demonstrates a natural feel for reading defenses and going through progressions. He looked very pedestrian against better competition as a senior, however, and while his upside is off the charts, he has a higher bust factor than other top-ranked quarterbacks in this year's class.

Athletic Comp: Josh Allen

Opportunity: A

This is a great landing spot for a quarterback after the Chargers let Philip Rivers walk in free agency. Tyrod Taylor is penciled in as the starter, so the team could bring Herbert along slowly, especially this season with preseason workouts very much up in the air. If he does eventually start, he'll have one of the better receiving corps in the league (Keenan Allen, Mike Williams, Hunter Henry and Austin Ekeler), so he'll be in a good spot to produce fantasy points as a potential streamer.
1.12 -
Raiders

- WR

Henry Ruggs

, Alabama

Ruggs is the fastest player in this draft, and that speed showed up both on tape and at the combine, where he ran a 4.27-second 40-yard-dash. Ruggs is more than a speed demon however, exhibiting great hands and decent route-running. He can stop-and-start on a dime and is experienced going against top corners, due to opposing defenses choosing to play more man against Ruggs, while double-teaming Jerry Jeudy. Ruggs doesn't use his slight frame well enough to wall off defenders, often just blowing by instead, which could be a problem for him if he wants to elevate his game to WR1 status at the next level. However, his speed, playmaking and ability to contribute in the return game should make him a high-upside option wherever he lands.

Athletic Comp: Santonio Holmes, Marquise Goodwin

Opportunity: B+

Ruggs can fly and the Raiders don't have a ton of talent at the receiver position, so this is a pretty good spot from a targets standpoint. Derek Carr was 33rd out of 42 quarterbacks in deep ball rate last year but was 10th in on-target percentage, so this is an indicator that Jon Gruden wants more chunk plays in 2020. According to Kevin Zatloukal's WR Success Model, Ruggs has a 32% chance of a top 36 finish in his first three seasons. Updated Raiders set: WR Ruggs, WR Tyrell Williams, WR Hunter Renfrow and TE Darren Waller.
1.15 -
Broncos

- WR

Jerry Jeudy

, Alabama

Jeudy is the best offensive player in this draft class. He had a few drops at Alabama and doesn't always look natural tracking the ball deep, but both of those things can be worked on at the next level, and there simply isn't anything else he doesn't do at a high or elite level. Jeudy was extremely productive the last two seasons, with 1,315 yards and 14 touchdowns in 2018, and 1,163 yards and 10 touchdowns last year. He ran a 4.45-second 40-yard-dash at the combine, and his tape is outstanding. Opposing defenses tried to throw everything at him, which is apparent in the Alabama victory over Michigan in the Citrus Bowl. Jeudy was successful when the Wolverines ran their top corner, Lavert Hill, against him, and he thrived especially when they moved Hill over to Henry Ruggs and tried to use a zone defense against him. LSU rarely put their top corner, Kristian Fulton, on him, instead using almost exclusively a zone. Jeudy is an elite route-runner with exceptional body control, who can get separation with even minimal movement. He's excellent after the catch and uses his frame well to win contested balls. There are some rumors about knee issues, but as long as his health checks out, he's an elite prospect and should be a starter on day one.

Athletic Comp: Adam Thielen

Opportunity: B

Jeudy joins Courtland Sutton (124 targets) and Noah Fant (66 targets) in the Broncos' run-oriented offense, though this is a sign that the franchise wants to open up the offense for QB Drew Lock. It's not a great landing spot given some of the other possibilities in this range given the presence of Sutton and team makeup, though Jeudy certainly has the talent to surpass Sutton and become Denver's WR1. According to Kevin Zatloukal's WR Success Model, Jeudy has a 45% chance of a top 36 finish in his first three seasons.
1.17 -
Cowboys

- WR

CeeDee Lamb

, Oklahoma

Lamb was super productive in the Oklahoma spread offense, catching 127 balls for 2,485 yards and 25 touchdowns over his final two seasons. He also worked as a punt returner and was tremendous making plays after the catch. Lamb's physical style of running allows him to run through light tackles from skittish corners and he has enough wiggle to make defenders miss on bubble screens. A good coach will try to get the ball in his hands as often as possible. Lamb doesn't have long speed, but he can get up for long balls and fights with ruggedness downfield. Lamb is an unpolished route-runner but he fights hard for positioning and to get open and had a fantastic back shoulder fade relationship with quarterback Jalen Hurts last season. Lamb isn't a perfect prospect, but his excellent hands, above-average body control and tremendous feel with the ball in his hands make him an elite prospect who should contribute right away. He also provides punt return ability.

Athletic Comp: Justin Blackmon

Opportunity: B

This pick is good for Dak Prescott and not great for the other Dallas receivers or Lamb himself. Lamb, Amari Cooper, Michael Gallup and Blake Jarwin are going to be fighting for targets in the Dallas offense. It's certainly a potent passing attack that could withstand an injury, which is why Prescott looks like the big winner here. Kevin Zatloukal's WR Success Model gives Lamb a 44% chance of finishing in the top 36 in his first three seasons.
1.21 -
Eagles

- WR

Jalen Reagor

, TCU

Reagor hasn't had a great year in regard to his draft stock. After a breakout sophomore season where he caught 72 balls for 1,061 yards and nine touchdowns, he regressed to only 611 yards and five touchdowns on 43 receptions last year. Then he struggled at the combine. Expected to blaze the 40, he ended up with a solid 4.47-second time and he struggled in the three-cone. He did finish second in the vertical and broad jump categories but ultimately didn't make the splash expected. Still, Reagor is talented enough to be considered a high-upside option for teams needing a versatile threat who can line up anywhere on the field. From a playing style perspective, Reagor is reminiscent of Percy Harvin, someone who would fit best as a move option in the passing game, and with the ability to even line up in the backfield. Reagor was also a dynamic punt returner, returning two for touchdowns last season. Depending on where he lands, Reagor might be the type of prospect who makes a bigger football impact than fantasy impact, and his raw technique might cause him to need some time developing before he winds up a legit WR2 in the NFL. There is an extremely high upside for Reagor, but landing spot and coaching staff are going to be huge factors for him.

Athletic Comp: Corey Coleman

Opportunity: A

The Eagles were widely expected to draft a receiver and they nabbed Reagor in the first round. DeSean Jackson has had trouble staying healthy, as has Alshon Jeffery (who is reportedly on the trading block), and J.J. Arcega-Whiteside had a poor rookie season, so the door is open for Reagor to establish himself as a 50- to 60-target player as a rookie. Kevin Zatloukal's WR Success Model likes Reagor and gives him a 61% chance of finishing in the top 36 in his first three seasons.
1.22 -
Vikings

- WR

Justin Jefferson

, LSU

Jefferson is an interesting prospect to scout. He has all the classic traits of an overrated prospect. He has some rough tape against good teams like Auburn and Alabama where he looks out of place at times. He looks slow and lumbering on tape, even when he's clearly getting away from defenders. His production was likely inflated by the offense last year, and he benefited from lining up against second-tier defenders while Ja'Marr Chase took a great deal of the attention. However, Jefferson also has some great tape. He tore up Oklahoma in the playoffs, demonstrating elite body control and deep-ball tracking. He plays bigger than the 6-foot-1 frame he was measured at the combine – LSU listed him at 6-foot-3 – and he ran a 4.43-second 40-yard dash. Jefferson lined up all over the place last year, but he projects best as a Z receiver who can use his deep ability to take pressure off the defense. He'll benefit from playing across from a bona fide WR1.

Athletic Comp: DeVante Parker

Opportunity: A-

This is a good landing spot from an opportunity/quarterback standpoint, though the Vikings were very run-heavy last year, and Adam Thielen is a target-magnet (when healthy), so one wonders how many targets will be headed Jefferson's way in 2020. At offensive coordinator, the Vikings did replace noted run enthusiast Kevin Stefanski with Gary Kubiak, who has been pretty run/pass balanced late in his career. Kevin Zatloukal's WR Success Model gives Jefferson a 66% chance to finish in the top 36 in his first three seasons.
1.25 -
49ers

- WR

Brandon Aiyuk

, Arizona State

Aiyuk was an explosive returner in college after transferring from the Junior College ranks in 2018. He took over as the primary target for the Sun Devils last year after N'Keal Harry was drafted, answering with 65 receptions, 1,192 yards and eight touchdowns. He added another touchdown on a punt return and averaged 29.7 yards on 15 kick returns. Aiyuk's big asset is his playmaking ability after the catch. He has functional long-speed, but cuts on a dime and is exceptional at finding ways to get open on short and intermediate routes. Fast, physical corners will bother him when he tries to get deep and could push him out of plays on the sideline, but the right coaches will get him the ball in space and allow him to make plays. He's a natural hands-catcher and isn't afraid to get hit and might work best in the slot. Recent surgery on a core muscle is not expected to affect his readiness for his rookie season.

Athletic Comp: Chris Moore, Victor Cruz

Opportunity: A-

Emmanuel Sanders signed with the Saints, the team is talking about trading Marquise Goodwin and Dante Pettis is on the outs, so the 49ers filled a need by adding Aiyuk. We'll pencil him in as the starter opposite Deebo Samuel, but it will be interesting to see how his targets shake out with both Samuel and George Kittle gobbling up targets. Still, it's a great landing spot in a productive offense given the 49ers' needs at the position. Kevin Zatloukal's WR Success Model gives Aiyuk a 56% chance for a top 36 finish in his first three seasons.
1.26 -
Packers

- QB

Jordan Love

, Utah State

Jordan Love started getting draft buzz a year ago after throwing for 32 touchdowns and only six interceptions as a sophomore and crushing North Texas in the New Mexico Bowl. With a tougher schedule last year, Love's numbers were less impressive, with 20 touchdowns and an eye-popping 17 interceptions. Love looked lost against LSU and against BYU, combined for six interceptions in those two games and his tendency to stare down his receivers was evident against more sophisticated defenses. Love had a great combine though, and if he can add some muscle to his 6-foot-4 frame without sacrificing elusiveness, he could be the prototype modern quarterback. He's likely to be drafted more on potential than polish however and has high bust potential if expected to start early on.

Athletic Comp: Dak Prescott

Opportunity: F-

After losing twice to the 49ers by a combined score of 74-28, Brian Gutekunst, in his infinite wisdom, determined that he was just a backup QB away from the Super Bowl. As a Packer fan, I have no idea why the team would trade up to draft Aaron Rodgers' replacement when Rodgers is on the backend of his career, but not talking retirement. The window is closing, fellas. Get A-Rod some help.
1.32 -
Chiefs

- RB

Clyde Edwards-Helaire

, LSU

Edwards-Helaire is a short, 5-foot-8, compact runner with stunning balance and soft hands. He has a devastating spin move (just ask likely first-round safety from Alabama, Xavier McKinney) and makes plays after the catch. He ran a 4.6-second 40-yard-dash at the combine and offers very little in pass protection at this stage in the game, but he's an instinctive runner who had 1,414 yards and 16 touchdowns on the ground last year, while catching 55 passes. Edwards-Helaire may have benefitted from facing defenses focused on stopping Joe Burrow, but he flashes ability. He was productive against tough fronts in Alabama and Auburn last season and ran for 110 yards against Clemson in the National Championship. He has three-down potential, or he could be a key part of a one-two punch due to his ability to catch the ball effectively.

Athletic Comp: Bryce Love, Chase Edmonds

Opportunity: A

Damien Williams has played very well to close the last two seasons, but it wasn't enough to convince the Chiefs to look elsewhere late in the first round. Edwards-Helaire is a versatile back who will push Williams for snaps immediately. Williams' stock takes a hit while Edwards-Helaire looks like he'll be a contributor early in the 2020 season. Kevin Zatloukal's RB Success Model gives Edwards-Helaire a 57% chance of finishing in the top 24 in his first three seasons.