2020 NFL Draft: Live Fantasy Recap (Rounds 2-3)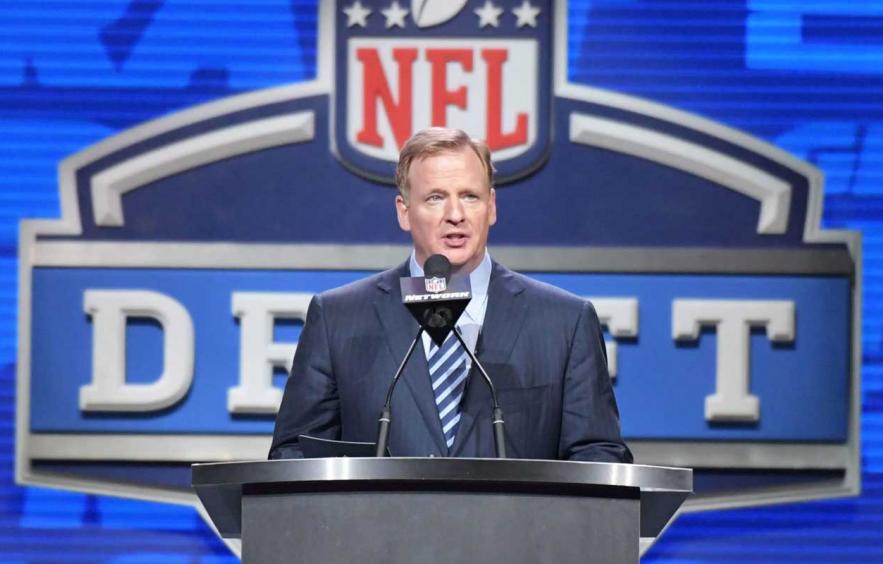 The second round of the 2020 NFL Draft begins at 7:00 p.m. ET, while the remainder of the draft will finish up tomorrow (12 p.m. ET). The Draft can be streamed on the WatchESPN app or the NFL Mobile app, or on ESPN.com or NFL.com.
Throughout the second and third rounds, I'll be updating this page with player evaluation from our very own Brandon Niles, along with my take on the player's opportunity and potential fantasy impact in 2020. Brandon has also provided athletic comparables from Mockdraftable. Be sure to check back tomorrow, Brandon will be taking over on Saturday to summarize the mid- to late-round picks.
Ends April 30: Get any subscription for $5 →
2.01 -
Bengals

- WR

Tee Higgins

, Clemson

Higgins was a touchdown machine in his last two seasons for the Tigers, with 13 last year and 12 in 2018. Higgins is a big receiver at 6-foot-4, who uses his body as well as anyone in this draft class to gain leverage on smaller defensive backs. He has exceptional hands and attacks the ball when it's in the air. Higgins lined up at all receiver spots in college and uses craftiness to find space. He's a rare player that can beat tough press coverage, while also using subtle moves in his breaks to create and find gaps against zone. Higgins didn't do a lot of complex route-running in college and he lacks suddenness in his movements, which hurt him against LSU in the championship game. LSU's athletic secondary was able to bully him downfield while playing him off the line. While those are things that could limit Higgins' upside and he would benefit from putting on a little more muscle, ultimately, a player with his hands and body control should be able to carve a nice role at the next level and make an immediate impact.

Athletic Comp: Mike Williams

Opportunity: C (A, if the Bengals trade A.J. Green)

The Bengals waste no time getting new QB Joe Burrow weapons to throw to. Already well-stocked at receiver with Green, Tyler Boyd, Auden Tate and John Ross, Higgins may find snaps and targets tough to come by if Green and Boyd remain healthy. (They only have 4.1 vacated targets per game and Green didn't play.) Green's situation is one to monitor closely. He has indicated that he wants a long term deal yet the Bengals have slapped him with the franchise tag. If the team elects to move Green, then Higgins' 2020 outlook would improve dramatically. Kevin Zatloukal's WR Success Model says there's a 32% chance that Higgins has a top 36 finish in his first three seasons. The pick is good news for Burrow, obviously.
2.02 -
Colts

- WR

Michael Pittman

Jr., USC

Pittman caught 101 balls for 1,275 yards and 11 touchdowns as the primary target for freshman quarterback Kedon Slovis last season. He's huge at 6-foot-4, 223 lbs and he ran a 4.52-second 40-yard-dash at the combine, with a 6.96-second three-cone, fourth amongst receivers. That kind of short-area agility should help him use his large frame effectively off the line at the next level, where bigger receivers often struggle if they're slow-footed. Still, the tape doesn't always back that up, with physical corners often delaying his routes and effectively re-directing him away from space. Pittman has just enough long-speed to be a playmaker while showing excellent ability after the catch. He'll be effective running slants and fly routes on the next level, though he ran a full route tree in college. He contests catches well, and his willingness to block on the outside should help him see the field early. He has WR1 upside, but also some bust potential.

Athletic Comp: Corey Davis

Opportunity: A-

The Colts are looking to improve the passing game after signing Philip Rivers. Pittman should be penciled in as the starter opposite T.Y. Hilton, though Zach Pascal and/or Parris Campbell will have something to say about that. This is a good short-term landing spot for the talented rookie given the addition of Rivers and the 9.2 vacated targets per game that are up for grabs in Indy. Kevin Zatloukal's WR Success Model says there's a 30% chance that Pittman has a top 36 finish in his first three seasons.
2.03 -
Lions

- RB D'Andre Swift, Georgia

Following in the footsteps of Todd Gurley, Sony Michel, and Nick Chubb, D'Andre Swift looks poised to be yet another Georgia running back to excel at the NFL level. Aptly named, Swift ran a 4.48 40-yard-dash at the combine and his agility on tape jumps off the screen. While only 5-foot-8, he runs with a thick trunk and a low center of gravity, with his legs constantly churning. His ability to catch the ball and his route-running ability will make him a weapon in the passing game and his elite vision will make him a three-down back at the next level. Swift needs to work on ball security and has a long way to go in pass protection, but as an offensive weapon, he'll make a building block for any offense. While writing this paragraph, Swift just made three effortless cuts that left me spinning in my chair. He's going to make a lot of NFL defenders look silly.

Athletic Comp: Duke Johnson

Opportunity: B+

Swift was the second back off the board. This pick probably spells the end for Kerryon Johnson's grip on the lead back role. Swift is a three-down back who should immediately juice the Lions' substandard running game. Consider him a fantasy RB2 for now. Kevin Zatlouka's RB Success Model gives Swift a 61% chance of finishing in the top 24 in his first three seasons.
2.09 -
Colts

- RB

Jonathan Taylor

, Wisconsin

At 5-foot-10, 226 lbs, Taylor has prototype size for an NFL running back and he blew away the combine by running 4.39 seconds in the 40-yard-dash. He also looked smooth and natural in receiving drills, building on the progress he made catching the ball during his junior year. Taylor does everything well. He runs with power and excellent pad level and has suddenness in and out of his breaks. His burst is crushing and he's demonstrated uncanny breakaway speed for such a bruising runner. He was extremely productive in his three years at Wisconsin, averaging 2,058 rushing yards and 18.3 touchdowns per season, including 26 last year. Taylor has ball security issues and 926 carries logged on his body, but he has all the traits you look for in an every-down back, and he has the talent to make an immediate impact.

Athletic Comp: Ezekiel Elliott

Opportunity: A

R.I.P. Marlon Mack's fantasy stock. Taylor should immediately slide in as the Colts' bell-cow back and holds high-end fantasy RB2 value in that role. Kevin Zatloukal's RB Success Model gives Taylor a stellar 79% chance of finishing in the top 24 within his first three seasons.
2.10 -
Jaguars

- WR

Laviska Shenault

Jr., Colorado

Shenault had a disappointing combine, but was apparently dealing with a core injury that may have contributed to his 4.58-second 40-yard-dash time. On tape, he looks like an explosive playmaker with size, 6-foot-1, 227 lbs, and excellent hands. Shenault attacks the ball and uses his body effectively to position himself well for contested balls. He uses excellent agility and stop-and-go ability to gain separation, although he's unpolished as a route-runner. He hugs the sideline on fly routes and can get pushed off early breaks by press corners. Shenault lined up all over the field for the Buffaloes and brings versatility as a runner and receiver who can play the slot, out of the backfield or outside. There's no limit to his potential, though he'll need to learn to take less punishment once the ball is in his hands if he's going to avoid the same nagging durability issues that plagued him in college.

Athletic Comp: A.J. Brown, Rishard Matthews

Opportunity: B+

The Jaguars don't have a great passing attack, and the quarterback situation feels unsettled, but Shenault will only have to beat out Chris Conley and Dede Westbrook to earn starter's snaps opposite 2019 breakout D.J. Chark. The pick is good news for Gardner Minshew, currently slated to start for the Jags. Kevin Zatloukal's WR Success Model gives Shenault a 43% chance of finishing in the top 36 at least once in his first three seasons.
2.11 -
Bears

- TE

Cole Kmet

, Notre Dame

Kmet missed the first two games last year with a broken collarbone, but he wound up with 43 catches, 515 yards and six touchdowns in his first season as a primary weapon for quarterback Ian Book. He was second on the team only to Chase Claypool in receptions, yards and receiving touchdowns and showed off the kind of mismatch ability NFL teams covet in a receiving tight end. Kmet has some work to do when it comes to route-running. He lumbers off the line when standing up, but he's not a good enough blocker and doesn't play with enough leverage to consistently separate when he's inline. So physical safeties and linebackers can bog him down before he gets into his routes. However, he ran a 4.7-second 40-yard-dash at the combine and has excellent elevation, so he can be a headache as a seam-stretcher. His 6-foot-6, 262 lbs frame will make him an interesting red-zone option and his high upside should land him a shot at being a fantasy stud long-term. He offers very little as a blocker at this point, though he's aggressive once he gets downfield or pulling.

Athletic Comp: Dion Sims, Vance McDonald

Opportunity: B

Kmet probably isn't going to start after the Bears gave a hefty contract to TE Jimmy Graham, but after a year or two he should earn a starting role. Trey Burton is no longer on the roster.
2.14 -
Broncos

- WR

K.J. Hamler

, Penn State

Hamler is a redshirt sophomore who averaged 16.9 yards per catch in his two years at Penn State. Hamler is just 5-foot-9 and 178 lbs, making him a durability risk, although he hasn't struggled with injuries since an ACL tear forced him to redshirt. Hamler opted out of the 40-yard-dash at the combine, but he was expected to wow everyone with his speed. He's explosive on tape and can blow by defenders. He uses his hands well to get an early release, despite his diminutive size. Hamler is going to get open at the next level, but the question will be whether or not he can win in tighter windows and become more of a hands-catcher. The ball nearly always hits his body and his speed leaves him wide open on many of his highlight plays. Hamler was used on gadget plays and was a steady return specialist for the Nittany Lions, and he'll likely offer support in both roles at the next level as well. If he plays as well against press coverage in the NFL as he did against Ohio State last year, he'll be able to line up as the Y or Z receiver as a versatile big-play threat.

Athletic Comp: Dede Westbrook, Scott Miller

Opportunity: C

Hamler figures to feature in the return game and in the slot on three-receiver sets behind Jerry Jeudy and Courtland Sutton, catching passes from Drew Lock. It's not a great fantasy situation for the speedster unless this passing attack takes a huge step forward. Kevin Zatloukal's WR Success Model gives Hamler a 46% chance of having a top 36 season within three years.
2.17 -
Steelers

- WR

Chase Claypool

, Notre Dame

Claypool may end up playing move tight end in the NFL, as his large, 6-foot-4, 238 lbs frame and wide catch-radius make him a threat to stretch the seam, win contested balls in the red zone and move the chains underneath. Claypool uses his physicality well against smaller corners and he could thrive with a quarterback who trusts him to beat blanket coverage on 50-50 balls. He also ran a 4.42-second 40-yard-dash at the combine, showing off surprising straight-line speed that doesn't always appear on tape. He may be a tweener, however, as his blocks are more forceful than precise at this point and he lacks suddenness in his route-running. He has functional hands, but doesn't attack the ball like you'd hope a big receiver would. He projects as a quality possession receiver who can line up in the slot or outside, but will need the right situation and quarterback to help him reach his potential.

Athletic Comp: Allen Lazard, Dorial Green-Beckham

Opportunity: B

Given the Steelers' ability to mine the draft for receivers, Pittsburgh is never a bad landing spot for a pass-catcher. He'll likely start behind JuJu Smith-Schuster, Diontae Johnson and James Washington on the depth chart, but could work his way up during the season. Kevin Zatloukal's WR Success Model gives Claypool a 26% chance of a top 36 season inside three years.
2.20 -
Rams

- RB

Cam Akers

, Florida State

Florida State struggled last season but it wasn't the fault of Cam Akers, who had 1,144 yards and 14 touchdowns on the ground, while adding 225 yards and four scores on 30 receptions. Akers is a do-all back with elite vision and patience. He bides his time as he wades behind the line, almost looking lackadaisical in his approach before exploding through the hole when he sees it. Akers runs a bit upright and his 5-foot-11 frame could take a beating because he doesn't shy away from contact, but he lowers his shoulder when confronting defenders and can change directions without losing momentum. Akers struggled against Clemson last season behind a subpar offensive line, but he's a natural runner who could absolutely thrive in a zone-blocking scheme.

Athletic Comp: Joseph Addai, Marlon Mack

Opportunity: A

So much for Darrell Henderson walking into the RB1 role for the Rams. Akers played behind a bad O-line at FSU but made the most of it. He'll fight for snaps with Henderson, whom the Rams took in the third round of last year's draft. (The implication being that the value Akers more after seeing Henderson for a year. My money is on Akers in the lead role by midseason.) Kevin Zatloukal's RB Success Model gives Akers a 73% chance of a top 24 finish within three years.
2.21 -
Eagles

- QB

Jalen Hurts

, Oklahoma

Hurts is a divisive prospect because while his arm looks great and he completed 71.8% of his passes last year, he struggled to throw the ball against the high-caliber LSU defense in the Chick-Fil-A Peach Bowl. Hurts is an amazing dual-threat player who accounted for 50 touchdowns last season, including 18 on the ground. He gets compared to Tim Tebow a lot due to his versatility and his character, but the truth is he has much more arm talent than Tebow did. Hurts can put a ton of velocity on the ball and he's accurate, especially considering how often he throws on the run. Hurts will take off when he doesn't need to at times, and will hold the ball too long. That can be coached up or around, and the talent is there for him to be an impact player. If he lands a job as a starter, the sky's the limit for his fantasy production.

Athletic Comp: Deshaun Watson

Opportunity: F

Carson Wentz is the starter so Hurts will hold a clipboard and learn for a while.
2.23 -
Ravens

- RB

J.K. Dobbins

, Ohio State

Dobbins is coming off a very productive three-year career at Ohio State, capped off with 2,003 yards and 21 touchdowns on the ground last season. Dobbins has soft hands, with at least 20 receptions each year, and his route running is impressive at this stage in his development. He finds coverage gaps and uses subtle moves to gain separation. He catches the ball in stride and has enough wiggle to rack up yards after the catch. As a runner, Dobbins runs low with excellent vision, picking his spots and bouncing off defenders with excellent balance. He doesn't shy away from contact, but will sometimes plod through the line instead of finding a hole and hitting it. Dobbins showed out against some of the best teams in the country. His last four games of his college career, he averaged 178.5 yards and two touchdowns against Penn State, Michigan, Wisconsin and Clemson. Dobbins should have no trouble transitioning to the NFL.

Athletic Comp: Devonta Freeman

Opportunity: C (long-term, A)

Mark Ingram is still in the fold, but the Ravens are probably preparing for a feature back handoff after this season. Dobbins should be the backup this year and potentially the starter in 2021. Justice Hill's fantasy stock just took a big hit. Kevin Zatloukal's RB Success Model gives Dobbins a 73% chance of a top 24 season inside of three years.
2.25 -
Rams

- WR

Van Jefferson

, Florida

Florida's offense left something to be desired last year as they struggled at quarterback and with protection up front, but none of that was the fault of Van Jefferson. Jefferson is the son of former NFL receiver Shawn Jefferson, and he looks like he's been running routes since he was in the womb. Jefferson has subtle shakes and hand movements that help him gain separation at every level of the defense, despite lacking long speed. Jefferson also positions his body well to make catches and his anticipation helps him win contested balls that he normally shouldn't. That may not translate against better completion. His reliable hands and short-area quickness combined with his elite route-running should make him a quality impact player right away, though his role in the NFL is likely as a chain-moving slot receiver. He has good size at 6-foot-1, 200 lbs that should enable him to work the middle of the field and allow offenses to take advantage of his skillset.

Athletic Comp: Reggie Wayne

Opportunity: B-

Brandin Cooks is out of the way, but the Rams still have Robert Woods and Cooper Kupp, and just expressed confidence in Josh Reynolds, so Jefferson's targets may be tough to come by at the get-go. Kevin Zatloukal's WR Model gives Jefferson a 19% chance of a top 36 finish inside of three seasons.
2.27 -
Jets

- WR

Denzel Mims

, Baylor

No one helped themselves more at the combine than the 6-foot-3, 207 lbs Denzel Mims after he ran a 4.38-second 40-yard-dash and demonstrated elite hands in receiving drills. He also led receivers with a 6.66-second three-cone time and was fourth in the broad jump. It shouldn't have been a surprise, however, as Mims shows all of those traits on tape. He's a long-strider with serious deep speed and has an astounding catch radius. The sky is the limit for Mims based on talent and athleticism alone. He was also productive at Baylor, with 12 touchdowns and 1,020 yards on 66 receptions as a senior. The problem with Mims is his inconsistency when it comes to intensity. Sometimes he uses his physicality to get off the line, and sometimes he looks lackadaisical. Sometimes he fights for positioning, and sometimes he looks disinterested in gaining separation. If Mims can be consistent, he has the traits to be an elite WR1 at the next level. It'll be up to a good coaching staff to bring that out of him and keep him from fading into the background.

Athletic Comp: D.J. Chark

Opportunity: B+

Jamison Crowder and Breshad Perriman stand in the way, but this is a good landing spot for a young receiver given the presence of Sam Darnold and the lack of talent on the depth chart. Kevin Zatloukal's WR Success Model gives him a 45% chance of a top 36 finish in the next three years.
2.30 -
Packers

- RB

A.J. Dillon

, Boston College

Dillon is a big, 6-foot-0 and 247 lbs, powerful bruiser who put up 4,382 yards and 40 touchdowns in three years as a starter for the Eagles. He looks slow and plodding on tape, but he ran a surprising 4.53-second 40-yard-dash at the combine. Dillon shows excellent balance and has build-up speed. His legs are always churning, allowing him to get those extra couple yards on every play. He struggled against better defenses in Notre Dame and Clemson last season, but much of that could be the Eagles' offensive struggles, since defenses keyed in on Dillon. He has a lot of mileage on him, which could be a problem due to his bruising style. He also did very little in the passing game at the college level and didn't look natural catching passes out of the backfield. Dillon can be productive in the right scheme and he makes good decisions as his blocking sets up, but he may be limited to a short-yardage role at the next level.

Athletic Comp: Nick Chubb

Opportunity: D

I have no idea what the Packers are doing with this draft. They were blown out twice by the 49ers and apparently have decided that their primary needs were at backup quarterback and backup running back. Dillon could form a committee with Aaron Jones, though Jones has earned the right to see the lion's share of the touches.
3.02 - Washington - WR
Antonio Gibson

, Memphis

Gibson is a Junior College transfer who struggled to get on the field in his first year at Memphis before exploding with 13 touchdowns as a senior. He played running back, slot receiver, was the primary kick returner for the Tigers, and made explosive play after explosive play. He averaged 11.2 yards per carry on his 33 rushing attempts and he caught 38 balls for 735 yards and eight touchdowns as a receiver. Gibson may play receiver at the next level, but he has the size to play running back as well. At 6-foot-0 and 228 lbs, he ran a stunning 4.39-second 40-yard-dash at the combine, giving him a rare blend of power and speed. Gibson is still unrefined in his technique, doesn't show patience setting up blocks, and he looks out of control often when he's running. However, the results are impressive as a playmaker, and a creative offensive coordinator will find ways to get Gibson the ball. He's one of the most unique and exciting players available in the draft after Day 1.

Athletic Comp: Joe Mixon

Opportunity: B

Gibson will probably play receiver for Washington and there's plenty of opportunity in the team's depth chart after Terry McLaurin. The quarterback situation isn't good. Kevin Zatloukal's WR Success Model gives Gibson a 17% chance for a top 36 finish in the next three years.
3.12 -
Buccaneers

- RB Ke'Shawn Vaughn, Vanderbilt

Vaughn was a productive rusher at Vanderbilt with over 1,000 yards in each of his last two seasons after transferring over from Illinois. He also caught 29 balls last season and shows natural ability with his hands. He makes good choices in pass protection and will likely earn a role on third down. However, he may not have enough juice and wiggle as a route-runner to become a true pass-catching threat in the vein of a James White. Vaughn makes his way by breaking tackles and using build-up speed to break away from trailing defenders. If he struggles to translate that skill against NFL competition, he may not earn consistent snaps. Vaughn's tape against LSU looks good, but he really struggled against Florida last year, the 12th-ranked run defense in college football. He's a risky option early on but should carve a supplemental role in the right offense.

Athletic Comp: Spencer Ware

Opportunity: A

Bruce Arians inherited Ronald Jones, so Vaughn is "his guy," and that might get him the benefit of the doubt as Jones and Vaughn vie for the Bucs' RB1 job. It's going to be a valuable role with the departure of Peyton Barber and the arrival of Tom Brady. Kevin Zatloukal's RB Success Model gives Vaughn a 45% chance of a top 24 finish inside of three seasons.
3.16 -
Raiders

- RB/WR

Lynn Bowden

Jr., Kentucky

There might not be a more versatile player in the draft than Bowden, who was forced to start his final eight games last year at quarterback. Bowden ran mostly RPO's as signal-caller, showing off his ability to run the ball. He finished last season with 1,468 rushing yards and 13 touchdowns on the ground. He was also a prominent return specialist two seasons ago, running back two punts for touchdowns. Bowden projects as a slot receiver in the NFL, with the potential to help out on gadget plays and jet sweeps. He's highly competitive with the ball in his hand, always moving forward and running with a punishing style that plays bigger than his 5-foot-11, 204 lbs frame. Bowden can get open, but his route-running is still unpolished. He has a nice stutter-step however, and does an excellent job baiting corners on go-routes before cutting off at the stem. He's not afraid to roam the middle of the field, and he secures the ball quickly on slant routes before turning upfield. He'll need a creative playcaller at the next level, but has the potential to be exciting.

Athletic Comp: Leonte Carroo

Opportunity: C+

Josh Jacobs has a stranglehold on touches in the Oakland backfield, but Jon Gruden might have some plays up his sleeve to take advantage of Bowden's versatility and Bowden could usurp Hunter Renfrow in the slot.
3.17 -
Raiders

- WR

Bryan Edwards

, South Carolina

Edwards is a highlight machine with impressive acrobatic catches throughout his tape. He's big and physical at 6-foot-3 and 212 lbs. He also has some focus drops and allows the ball into his body on anything he catches in stride. This causes some unnecessary bounces on slants, and he could get his quarterback in trouble trying to turn upfield before securing the ball. He didn't run in the combine due to a broken foot, but he's now out of the boot and moving around well, per Ian Rapoport earlier this month. Edwards looks fast on tape for his size, but what stands out most is his body conditioning and his ability to make contested catches. He attacks the ball at its highest point and walls off defenders well, particularly when he sniffs the end zone. He had six touchdowns and 816 yards on 71 receptions last year, despite missing the final two games with a knee injury. Edwards runs well after the catch and could do some damage on the next level if he cleans up his drops and can avoid any further medical issues. He's an upside prospect with the potential to develop into a WR1, but he's just as likely to never climb higher than fourth on a pro depth chart.

Athletic Comp: Corey Davis

Opportunity: B

Edwards' 2020 upside depends on the status of Tyrell Williams and his troublesome foot. He is also recovering from his own foot injury so it might take some time for him to work into the receiver rotation, especially with what's likely to be an abbreviated offseason.
3.22 -
Bills

- RB

Zack Moss

, Utah

Moss was super productive in his last three seasons as the Utes' starter. He rushed for over 1,000 yards each year, and finished strong, with 1,416 rushing yards, another 388 yards on 28 receptions, and a total of 17 touchdowns. Moss had strong games against Oregon, Arizona State and Washington last year, showing the ability to produce against quality competition. Moss isn't a burner, but he runs with excellent pad level and seeks to inflict punishment with every broken tackle. Not just a plodder, Moss has just enough wiggle to make defenders miss and he runs with patience and vision as he seeks out the open seam. The game seems to slow down for him. He would thrive in a one-cut system where he can read the defense, make a decision and commit. He's a capable receiver out of the backfield, but won't be drafted for his third-down abilities. He's likely a two-down player at the next level as part of a committee.

Athletic Comp: Travis Henry

Opportunity: C

Moss is likely to back up Devin Singletary now that Frank Gore is out of the way. Moss is good enough to earn a consistent role so he may create headaches for Singletary owners. Kevin Zatloukal's RB Success Model gives Moss a 49% chance to finish in the top 24 within his first three season.
3.27 -
Patriots

- TE

Devin Asiasi

, UCLA

Asiasi was largely an afterthought after transferring from Michigan in his first year with the Bruins. He caught just six balls, though he did score a touchdown. It wasn't until last season that he emerged as a primary part of the UCLA offense, catching 44 passes for 641 yards and four touchdowns, including 141 yards and a touchdown against USC in a losing effort. Asiasi separates well into the seam and has quick movements at the stem of his routes, particularly for being 6-foot-3 and 279 lbs. He has some wasted movements off the line, however, and he doesn't look natural catching the ball. He invites the ball more than attacks it, and will often sit on a route instead of tracking back to the pass. He's a willing blocker, but his technique needs work, as his arms tend to slip outside and force him to lose leverage. He's a developmental prospect.

Athletic Comp: Randy McMichael

Opportunity: B

I'm not sure how good this offense is going to be in the post-Brady era, but the TE depth chart is wide open with only Matt LaCosse and Ryan Izzo on the roster. Rookie tight ends rarely make much of a fantasy impact, so don't get too excited about this pick.
3.28 -
Ravens

- WR

Devin Duvernay

, Texas

Duvernay was very productive as a senior after three underwhelming seasons for the Longhorns. He led the team with 106 catches for 1,386 yards and nine touchdowns, including a touchdown to seal a victory in the Alamo Bowl over Utah. Duvernay has long speed, running a 4.39-second 40-yard-dash at the combine, but isn't a particularly good route-runner. He rounds his cuts and plays with inconsistent burst off the line. His 5-foot-10, 200 lbs frame is durable and compact, and he looks like a running back once he has the ball in his hands. Duvernay has exceptional hands and projects as a slot receiver if he can work on his agility and route-running. Getting him the ball and letting him make plays after the catch will help him find a role at the next level. He was a steady kick returner throughout his college career and that may be the best place for him to make a name for himself early as a pro.

Athletic Comp: Golden Tate

Opportunity: B

This is a good landing spot for a young receiver, playing in an efficient quarterback with a fairly wide-open depth chart. Marquise Brown figures to lead the Baltimore receivers in targets, but he had trouble staying healthy as did Miles Boykin.
3.29 -
Titans

- RB

Darrynton Evans

, Appalachian State

I love this kid. Evans has a quick-cut to his game with burst once he makes a decision. He's patient enough to wait for the right spot, and then has the balance and agility to take advantage. He breaks tackles, runs low and catches the ball fluidly out of the backfield. His tape against South Carolina last year shows he can play against NFL-caliber defenders. Evans got better each year for the Mountaineers, including 1,480 yards and 18 touchdowns on the ground in 2019. He can also return kicks, with three touchdowns on kick returns over his three college seasons. Evans doesn't push the pile, but he has the vision and talent to excel in a three-down role if he can win a job. At worst, he looks like a return specialist with change-of-pace upside.

Athletic Comp: Justice Hill

Opportunity: C

Evans is unlikely to carve out a big role as a rookie with Derrick Henry on the roster. He has some upside as a late-round attrition play given the productivity of the Tennessee running game.
3.30 -
Packers

- TE

Josiah Deguara

, Cincinnati

Deguara might end up playing kind of an H-Back, old school role as a pro. He seeks out blocks, but is better when he can collide with defenders on the second level than trying to stop an inline rusher. He also doesn't drive through defenders, causing running lanes to close faster than if he could remain engaged. He was productive for the Bearcats last season, catching 39 balls for 504 yards and seven touchdowns, and he has fluid hips for his 6-foot-2, 242 lbs frame. Deguara will find space at the next level, but may need to be schemed a bit in order to keep him from being bogged down by physical defenders. He can be knocked out of a play when he tries to chip bigger players and struggles to beat press coverage out of the slot. He's more of a football player than a traditional tight end.

Athletic Comp: Lance Kendricks

Opportunity: A

The Packers are hurtin' for certain at the tight end position, with one-target Jace Sternberger sitting atop a depth chart that also features journeyman Marcedes Lewis and Robert Tonyan Jr. I know some Packer fans are excited about Sternberger, but the Packers used third-round picks on both Sternberger and Deguara, so anything could happen.
3.37 -
Patriots

- TE

Dalton Keene

, Virginia Tech

Keene only caught 21 balls last year, but he scored five touchdowns and his production was limited largely by the Hokies' offense. Keene is 6-foot-4, 253 lbs with deceptive quickness. He was third among tight ends in the three-cone-drill at 7.07 seconds. Keene did a little of everything in college, lining up in line and in the slot, while also logging time in the backfield. He had 11 carries and 33 yards last season and played some fullback. He was a running back in high school and you can see the vision when he runs after the catch. He did some damage on screens in college. Keene will likely be a versatile option in the pros as well, but with less in line work. He's more likely to be productive lining up in the slot and picking up blitzers in the backfield than mauling linebackers in the run game. Keene projects as a quality TE2 with some upside due to his run-after-the-catch ability, but his receiving skills still look a bit raw and he'll need to develop.

Athletic Comp: Ian Thomas

Opportunity: B

Keene is the second tight end that the Patriots took in the third round. The depth chart is wide open but the QB situation is unsettled.
3.41 -
Saints

- TE

Adam Trautman

, Dayton

Trautman came into his own as a senior last year, catching 70 balls for 916 yards and 14 touchdowns, leading the Flyers in all three categories. He ran a 4.8-second 40-yard-dash at the combine and measured in at 6-foot-5 and 255 lbs, along with an incredible 6.78 seconds in the 3 Cone Drill – third among all participants this year. Trautman checks all the boxes of an elite tight end prospect. He moves well, has sticky hands, runs hard after the catch and can high-point the ball in tight coverage. His biggest issue will be adjusting from the competition level at Dayton to the NFL. His blocking technique will need to improve against better defenders, as he doesn't always use his bulk with good leverage and his hand-fighting makes him seem more like a street fighter than an inline threat. However, he's a willing blocker and does an excellent job identifying targets when he pulls and when he gets to the next level as a run blocker. Trautman is a high-upside player with the chance to develop into something special if he's up to the higher level of competition.

Athletic Comp: Dawson Knox

Opportunity: B

Trautman's 2020 outlook isn't great, but Jared Cook won't be around much longer so Trautman should be the Saints' tight end of the future.