Week 5 NFL Fantasy Football Rankings: Another Big Week for Running Backs on Tap?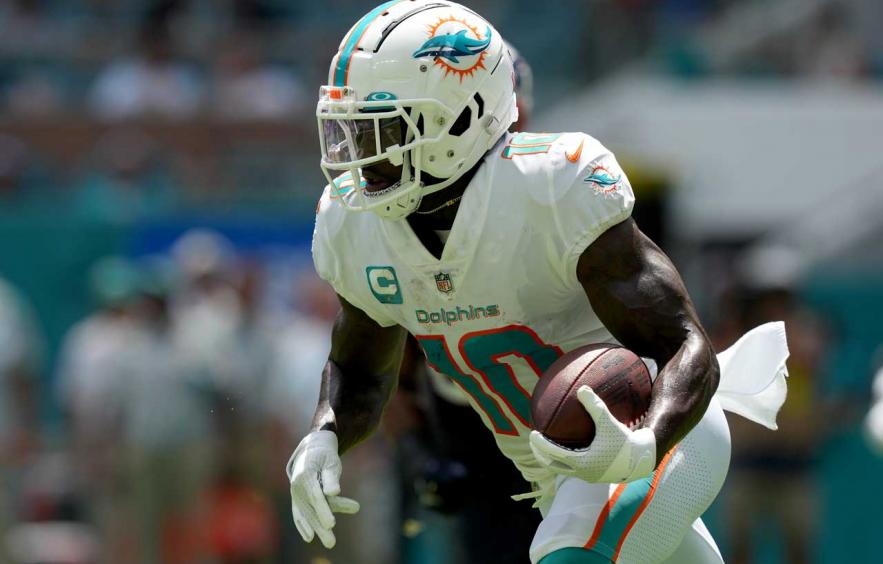 Eric Espada/Getty Images
Injuries are popping up and there is no better time to check out John Daigle's Week 5 Waiver Wire Watch. Week 4 was mired by awful weather on the east coast (it has been raining for five days straight and I am simply begging to see the sun again) which luckily will not be the case this weekend. We saw running back scoring up in Week 4 and based on the matchups a lot of the second-tier backs have we could see another high-scoring week from ground games. Although, it could just be a high-scoring week in general. Let's dive into it.
*NOTE: all projections are courtesy of 4for4's half-point PPR weekly projections, found here.
What Stands Out: It's tough to not pick Josh Allen's projection every week. He's so clearly QB1 and it took a hurricane to really hold him down.
Analysis: A solid matchup for Allen after Zach Wilson was able to throw all over the Steelers in the second half. The second tier of Lamar Jackson, Jalen Hurts, and Patrick Mahomes separate from the rest of the top 10, and while Jackson is in a tough matchup against the Bengals, he still has insane upside on a given week. Hurts and Mahomes are in prime matchups in Week 5 and have huge ceilings this weekend. Joe Burrow gets the Baltimore defense in what should be a huge matchup for the Cincinnati passing offense. Tom Brady couldn't get the win over Mahomes, but he did have his best outing of the year. Could he be in store for another big week? Looking outside of the top 10, Washington is turning into a major pass funnel and Ryan Tannehill faces the Commanders this weekend.
* Check out the full QB Rankings here.
What Stands Out: Christian McCaffrey tumbles down the rankings with a matchup against the 49ers on tap.
Analysis: The normal top tier of running backs are all in tough matchups this week, but Saquon Barkley and Derrick Henry sit at the top of the rankings regardless. McCaffrey, on the other hand, tumbles down to sixth in a very difficult matchup against the 49ers. Through four games, the 49ers defense is allowing the lowest yards per play since the 2008 Ravens. A nightmare matchup. That said, Nick Chubb, Austin Ekeler, and Dalvin Cook all see great matchups and project well. Aaron Jones projects well against the Giants but still has to deal with splitting the backfield with A.J. Dillon. Khalil Herbert remains a top-10 option against a Vikings team that let Latavius Murray come off the practice squad and average 5.2 yards per carry. Outside of the top 10, James Robinson gets the ideal matchup against the Texans this week.
* Check out the full RB Rankings here.
What Stands Out: Teddy Bridgewater fed Tyreek Hill on Thursday night, and his projection sees no drop-off.
Analysis: Cooper Kupp, WR1. We know the deal with him. Stefon Diggs should rebound in a matchup against the Steelers with no hurricane to slow the passing attack down. Hill sees a healthy projection even with Bridgewater in and seemed to be the preferred target. Mike Evans continues to be a touchdown machine and gets a nice matchup against Atlanta this weekend. CeeDee Lamb is proving to be a true No. 1 receiver even with Dak Prescott out. Another week of Cooper Rush is on tap and the two have been improving since the Week 1 dud. Ja'Marr Chase and Tee Higgins rank ninth and 11th in the projections this week and I'm not sure you can go wrong with either against Baltimore. Outside of the top 10, Christian Kirk and the Jaguars passing offense should rebound this week. For his sake, hopefully, Zay Jones is back so he can operate out of the slot instead of Jamal Agnew.
*Check out the full WR Rankings here.
What Stands Out: Kyle Pitts, welcome to the bad place.
Analysis: Travis Kelce and Mark Andrews are clear atop the projections again. This week they flip-flop back to Kelce on top. T.J. Hockenson won't replicate his performance against Seattle, but he is in another solid matchup against New England. Tyler Higbee is leading the league in targets by a tight end. I said it last week, and I'll say it again. George Kittle is going to have to pass block more with Trent Williams out which makes it difficult to trust him despite the draft capital invested in him. Dallas Goedert gets a great matchup against the Cardinals and projects accordingly. Kyle Pitts projects 10th this week at tight end. It's stunning but also deserved as Arthur Smith is proving week-in and week-out that he doesn't coach with fantasy football players in mind. Outside of the top 10, Tyler Conklin is still seventh in tight end targets and has a great matchup against the Dolphins this week.