Week 3 NFL Fantasy Football Rankings: Jalen Hurts is Ascending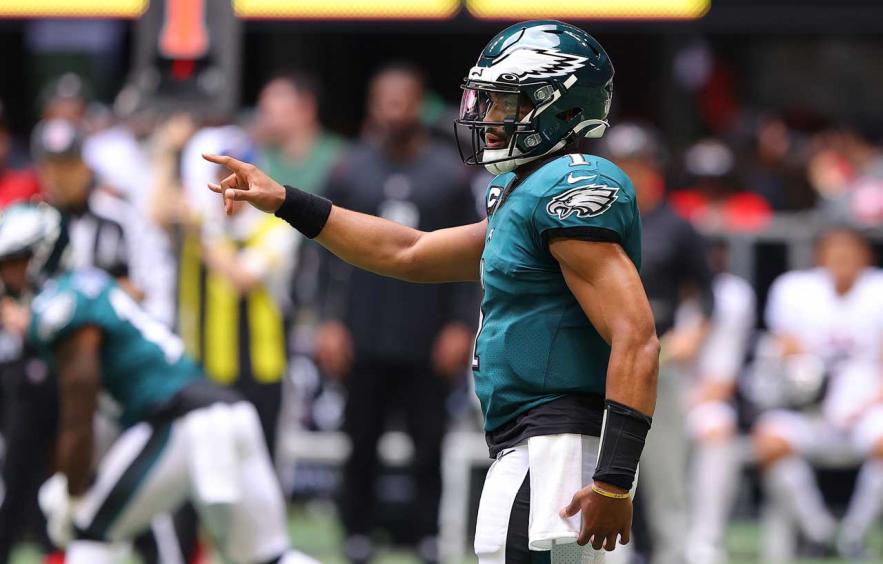 Kevin C. Cox/Getty Images
Week 3 is upon us and tough decisions are here. Some of our stars may be injured, some may be underperforming. So do you continue to start your stars or do you look to the bench? We'll go through the top of the 4for4 projections for each position to help your decision-making process.
*NOTE: All Rankings are courtesy of 4for4's Week 3 Half-PPR Rankings.
What Stands Out: Who isn't in the top 10 versus who is in it? Tom Brady, Russell Wilson, Aaron Rodgers, and Tua Tagovailoa all fall outside of the top 10 this week.
Analysis: Another thing that stands out is the matchups the top 10 quarterbacks have this week as only Josh Allen and Lamar Jackson are in difficult matchups. Jalen Hurts looks set to explode (again) against Washington this week after they were carved up by Jared Goff last week. Justin Herbert will be one of the biggest injury situations to monitor this week. Kirk Cousins gets the benefit of not playing on Monday Night Football this week and should be back to his stat-compiling ways. Joe Burrow has a solid matchup against the Jets, but will his offensive line allow him to have a monster game this week? Looking outside of the top 10, Jared Goff is in an interesting spot against the Vikings. The Lions are going to keep playing in shootouts thanks to their defense.
*Check out the full QB rankings here.
What Stands Out: A lot of the elite running backs were duds last week, but as you can see looking at the matchups more than a few are in elite matchups this week. Will they rebound?
Analysis: I don't know about you, but I'm counting on Jonathan Taylor getting more than 10 touches this week. Christian McCaffrey wasn't a dud, but he also didn't have a massive game against the Giants. He gets a tough matchup this week against the Saints in which he's struggled on the ground in the past. He'll need to get back to his previous seasons' level of targets to pay off big this week. Tennessee's offense has been abysmal so far this season and without leads it's tough for Derrick Henry to pay off, this week should be competitive though against Las Vegas. Leonard Fournette is getting all of the work in Tampa Bay and if Mike Evans' suspension is upheld, he could be in line for passing work. One guy outside of the top 10 to keep an eye on is Clyde Edwards-Helaire. It isn't a great matchup on the ground, but he's looked better so far this season.
*Check out the full RB rankings here.
What Stands Out: Cooper Kupp against Arizona has the projection you'd expect.
Analysis: Kupp stands out above the rest, but Justin Jefferson also is head-and-shoulders ahead of the pack. A.J. Brown and Davante Adams are both in elite matchups this week. As we saw with Jalen Hurts' projection against Washington, Brown follows suit. Adams surely can't be out-targeted by Mack Hollins in back-to-back weeks! With running backs falling by the wayside in San Francisco, could Deebo Samuel be in line for more rushing work this week? Amon-Ra St. Brown is running as hot as the sun right now, and with a matchup against Minnesota, the sun running should continue. One name to keep an eye on outside of the top 10 is Gabriel Davis. Will he be healthy this week? And if so, a potentially high-scoring affair against Miami is on tap.
*Check out the full WR rankings here.
What Stands Out: Dallas Goedert joins the top two as the only other player projected for double-digit points.
Analysis: Travis Kelce and Mark Andrews are again at the top of the rankings and will likely remain there all season. If George Kittle is finally healthy this week, he's projecting well even in a difficult matchup against Denver. Zach Ertz has quietly been ok at a position where not a lot of options have even been ok. Pat Freiermuth is third in targets per game at the tight end position and gets an average matchup against Cleveland this week. Kyle Pitts has seen just 10 targets in two games and his coach is already tired of hearing about saying "this isn't fantasy football," and buddy you're right because there is no way a fantasy football manager would let the #4 pick in the draft not get more targets. Tyler Higbee is 10th this week in the rankings, but he's first in targets at 10.0 per game. One guy outside of the top 10 to keep an eye on is Logan Thomas. Carson Wentz has a lot of options, including 11 guys on the other team to throw to, but the combination of a good matchup and consistent usage could be another nice outing this week.