69 Stats You Should Know Before Your Fantasy Draft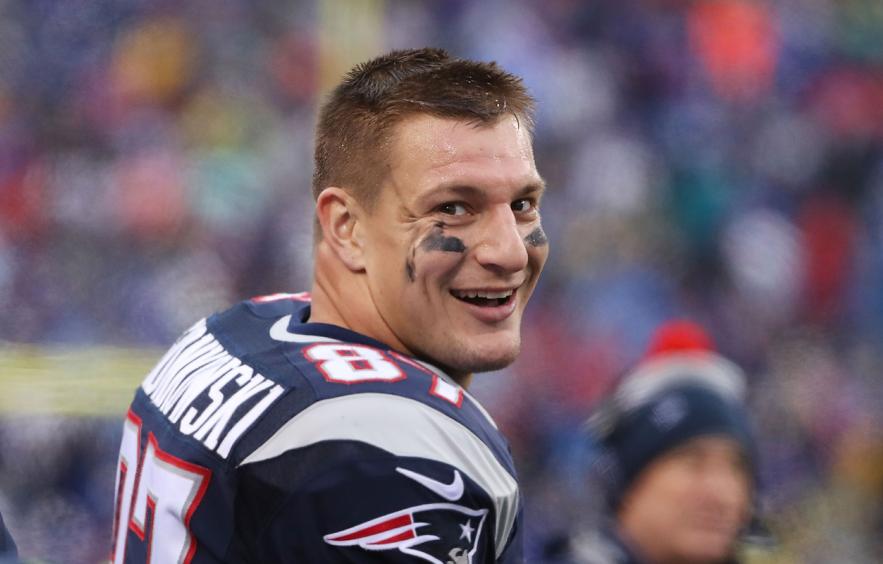 Tom Szczerbowski / Stringer
When our fearless marketer, Luis Escalante, asked me to write an "X Stats You Should Know" article, I reluctantly accepted, knowing that I would have to write an introduction. I don't like writing introductions.
But here I am writing an introduction. One reason I agreed to write this article is to have the opportunity to give 4for4 Contributor and data scientist Kevin Zatloukal (Twitter: @kczat) a well-deserved shout out. He's been working on a splits app—working title: The Market Share App—which is really, really cool. We're ironing out a few bugs, but I can't wait to share it with our subscribers. Who knows, maybe we'll make it free for this year so everyone can get as addicted to it as I am.
Anyway, many of the stats that I'm about to share came from the time I've spent playing around with the app. Without further ado, here are 69 Stats You Should Know Before Your 2019 Fantasy Draft. (Why 69? Rob Gronkowski retired and since it's his favorite number, I thought we should do something nice to honor his great career.)
Tyler Boyd

was really good with

A.J. Green

in 2018.

Boyd is the 30th receiver off the board even though he finished No. 17 last season. Drafters are presumably worried about the return of A.J. Green. They shouldn't be. [1] In nine games with a relatively healthy Green, he averaged 6.1 receptions (on a 22% target share) for 80 yards and 0.56 touchdowns per game. Those are low-end WR1 numbers. He looks like a very nice value in the sixth round of 12-team drafts.
Joe Mixon

is a bellcow back and should be drafted as such.

From a workload standpoint, Mixon is one of the few obvious bellcow backs in the league. In 14 games last season, [2] he averaged 20.0 touches for 104.5 yards and 0.64 touchdowns per game, giving him the No. 9 per game average in half-PPR formats.
All the
Cowboys

benefited from the

Amari Cooper

trade.

Dak Prescott's ADP has been creeping up over the last month or two as drafters have presumably realized that they need to separate pre-trade Prescott from post-trade Prescott. [3] When the playoffs are included, post-trade Prescott played at a 4305-yard, 32-touchdown pace (including rushing touchdowns), averaging 19.9 fantasy points in 11 games with Cooper. Those are top six numbers. Prescott is one of my primary targets in the double-digit rounds and a great late-round quarterback candidate.

Now, let's talk about Cooper—[4] in 11 games with the Cowboys, he averaged 6.0 catches for 81.5 yards and 0.64 touchdowns (a 96-1304-10.2 pace) on 8.5 targets per game. I was very skeptical about his rest-of-season outlook after a midseason trade, but his post-trade production was impressive and I think it bodes well for 2019. He should be treated as a bona fide fantasy WR1.

As for Ezekiel Elliott, in 10 games after the Cooper trade, [5] Elliott averaged 27.6 touches for 144.2 total yards and 0.7 touchdowns. His per-game production only trailed Todd Gurley's.
Early returns for
Vikings

OC Kevin Stefanski? He wants to establish the run.

Despite a good per game average and two great receiving options, Kirk Cousins' value is depressed thanks to Minnesota's run-heavy attack late in the season under Stefanski. [6] The team's pace slowed by 6.4 plays per game and had an almost-even run/pass split in three games under Stefanski. Yikes. As a result, Cousins' per-game production dropped to 15.8 PPG in that span.

[7] Adam Thielen's production dropped from 7.9-95-0.69 in his first 13 games to 3.3-46-0.0 in his last three games under Stefanski. His targets dropped from 11.0 to 4.0 per game. Owners shouldn't panic since he's too good to produce at those lower levels, but he's no longer a no-brainer fantasy WR1 with Stefanski calling the plays.

Stefon Diggs' volume also suffered under Stefanski. [8] His targets dropped from 10.4 per game for the first 12 weeks to 7.7 per game for the final three weeks. In fact, he averaged almost as many receptions for the first 13 weeks (7.3 per game) as he did targets in the final three. He did catch a touchdown in each game, but only averaged 35 yards under Stefanski.

What's bad for the passing game is good for Dalvin Cook. In four games under Stefanski last year, [9] Cook averaged 18.0 touches for 103.5 yards and 0.75 touchdowns per game. The resulting 16.5 points per game is more than what Joe Mixon scored as the No. 9 running back last year. If he can stay healthy, he's very likely to finish as a fantasy RB1.
Freddie Kitchens was great for
Baker Mayfield

. For

Jarvis Landry

and

David Njoku

? Not so much.

[10] Mayfield averaged 19.0 PPG from Week 9 on, after Kitchens took over as the play-caller. He had the No. 10 per game average in that span, and then the Browns added Odell Beckham (who's not bad), so consider Mayfield a midrange QB1.

Prior to Kitchens' promotion, Landry was averaging 11.6 targets per game. [11] Under Kitchens, he turned 6.9 targets into 4.0 catches, 56 yards and 0.25 touchdowns. His per-target production increased, but the drop in usage is alarming, and now Landry is playing second-fiddle to Beckham.

Njoku should be primed for a breakout, but his splits under Kitchens weren't pretty. [12] He averaged 3.1-43-0.25 on 4.6 targets with Kitchens as the OC and 4.4-42-0.29 on 7.4 targets prior to Kitchens' promotion. The overall production was about the same, but the drop in targets is concerning and, like Landry, he has to deal with Beckham.
Nick Chubb

has already produced at RB1 levels.

In the final 10 games of last season, [13] Chubb averaged 19.5 touches for 97 yards and 0.80 touchdowns. That works out to 15.5 points per game (half-PPR formats) which would have been good enough for the No. 10 per game average at his position. Kareem Hunt's return is a mild concern, but he's not able to play until Week 10 and by then Chubb should be entrenched as the team's bellcow.
Jon Gruden tends to ride his RB1.
The Raiders used a first round pick on Josh Jacobs, so presumably, they're going to use him. But how much? [14] From 1998-2007, Jon Gruden's lead backs handled 266.1 touches on an average of 14.7 games played, which works out to 18.1 touches per game for Gruden's top back. Assuming Jacobs can keep Jalen Richard at bay on passing downs, he should see 250-280 touches.
Is
Antonio Brown

going to see a massive downgrade at QB? Not so fast.

Over the past two seasons, Ben Roethlisberger has averaged 0.63 fantasy points per pass attempt directed at Brown. He has averaged 0.46 fantasy points per pass attempt (FP/PA) to all other Pittsburgh wide receivers. Conversely, Derek Carr averaged 0.44 FP/PA to all of his wide receivers in 2018, including Amari Cooper. (I only looked at 2018 for Carr since it was his first and only season in Jon Gruden's offense.) [15] Effectively, Carr was almost as productive on a per attempt basis as Roethlisberger was when Big Ben was throwing to any receiver not named Antonio Brown.

Brown's presence in Pittsburgh served to raise Roethlisberger's FP/PA by 10.2%, so if Brown sees a similar target share and posts similar per-target production in Oakland, then Carr's per-attempt production should rise by about the same amount. Assuming the same volume as last year, [16] that sort of rise would have made Carr the No. 15 QB instead of the No. 18 QB in 2018, so a QB1-type season is within reach if Carr exceeds expectations and/or Gruden cranks up his volume.
Don't forget about
Tyrell Williams

. (The

Chargers

did.)

Williams is a good player, but he was something of a forgotten man for the Chargers the last two seasons after catching 69 passes for 1,059 yards and seven touchdowns as a second-year player in 2016. Unfortunately, he didn't crack 70 targets in either 2017 or 2018. The good news is that after Antonio Brown and Williams, there isn't a whole lot of receiving talent on the roster. [17] The team lost Jared Cook (101 targets), Jordy Nelson (88), Seth Roberts (64) and Amari Cooper (31) from last year's team, so there's room for Williams to get 90+ targets even if Brown sees a monster target share.
Keep an eye on
Darren Waller

.

The Raiders let Jared Cook (68-896-6) walk without even offering him a contract, and have basically handed the keys to Waller to see what he can do. [18] Waller is a converted 6'6" receiver with ridiculous measurables now that he's moved to the TE position: 4.46 40-yard dash, a 99th percentile speed score, an 89th-percentile burst score, an 82nd-percentile agility score and a 96th-percentile catch radius per Player Profiler. The coaching staff has raved about him this offseason and he's stepping into a ready-made role in the offense.
In Pittsburgh,
JuJu Smith-Schuster

can handle the promotion.

In the three games that Brown missed over the past two seasons, [19] Smith-Schuster posted receiving lines of 6-75-1 (7 targets), 9-143-1 (10) and 5-37-1 (10). Draft JuJu with confidence. He could see close to 200 targets this season.
Vance McDonald

is going to outperform his ADP, provided he can stay healthy.

Brown has vacated 168 targets and McDonald is capable of absorbing some of that usage. He caught a solid 50 balls (on 73 targets) for 610 yards and four touchdowns, and he even missed Week 1. He finished as the No. 10 tight end in PPR formats and should see a significant increase in playing time now that Jesse James is out of the way. [20] McDonald played on 55% of the snaps last season while James played 50%, so unless the Steelers decide to directly replace James with another player, McDonald's playing time should surpass 70%.
Ben Roethlisberger

may struggle without

Antonio Brown

.

Over the past two seasons, [21] Roethlisberger has averaged 0.63 fantasy points per pass attempt directed at Brown, but just 0.46 fantasy points per pass attempt (FP/PA) to all other Pittsburgh wide receivers. In the two games that Brown missed, Roethlisberger's passing yards dropped by 13%, his YPA dropped by 9%, his touchdowns dropped by 27% and his fantasy points per game dropped by 18%.
Patrick Mahomes

is bound to regress. But he can still be great.

All Mahomes did in his first season as the starter was post the greatest fantasy season by a quarterback in the history of the league. Sure, he's bound to regress some, but he has room to regress and still be the fantasy QB1 in 2019. Other than Mahomes, [22] there have been 15 seasons since 2000 where a quarterback has averaged 8.5+ yards per attempt on a minimum of 300 attempts. Collectively, those quarterbacks averaged 8.87 YPA. In the following season, they averaged 7.69 YPA, a 13.4% drop. Every single quarterback experienced regression, though some were more drastic than others. Mahomes' situation (surrounding talent, coaching staff) hasn't changed, so he has a good chance to post another great fantasy season. It just may not be historic.
Speaking of regression, let's look at
Russell Wilson

's touchdown rate.

Wilson's 8.2% touchdown rate was the seventh-highest since 2000. Patrick Mahomes was one of the seven, so excluding him, [23] the other five quarterbacks who posted at least an 8.0% touchdown rate experienced a drop of 34.7% the following year, which would put Wilson at 5.3%, well below his career average of 6.0%. I still feel comfortable penciling in Wilson for another 29-30 passing touchdowns, but unless the Seahawks increase his passing volume (unlikely, from the sound of it) or he runs more frequently, he's going to have a tough time posting Top 5 numbers. Thanks a lot, Pete Carroll.
Chris Godwin

has been really productive when called upon.

Godwin is a popular breakout candidate heading into 2019 and his splits without DeSean Jackson in the lineup are pretty eye-popping. [24] In the six games over the last two seasons which D-Jax missed, Godwin turned 7.7 targets into 3.7 receptions for 73 yards and 0.67 touchdowns. That works out to a full-season pace of 59-1168-10.7, or low-end WR1 numbers. For a bigger split, let's look at Godwin's production in the 11 games in which he's played at least 45 snaps—Mike Evans' minimum snap count from 2018. In those games, Godwin has averaged 4.0-65-0.45 on 7.3 targets per game, a 64-1040-7.2 pace (solid fantasy WR2 numbers).
Bruce Arians should be very good for
Jameis Winston

.

In the 20 games over the past two seasons in which Winston attempted at least 25 passes—a way of filtering out a few of those games where Winston either did not start or was benched during the game—he has averaged 19.4 PPG. [25] In 11 such games in 2018, he averaged 20.0 PPG. Those are top eight numbers. Arians' history with Carson Palmer—20.8 PPG playing for Arians in 38 games from 2015-17—makes this look like a great pairing.
Jared Goff

played lights out with a healthy

Cooper Kupp

in 2018.

Goff is currently the 12th passer off the board and is a great late-ish round quarterback target. [26] In the eight games that he played with a healthy Kupp, he averaged 330 yards and 2.1 touchdowns, posting 21.1 fantasy points per game. Only Patrick Mahomes and Matt Ryan had a higher per game average last year. If we include 2017, he has averaged 280 yards and 2.0 touchdowns in 23 games with Kupp. The resulting 18.4 points per game would have been good enough for a No. 10 finish in 2018.

Speaking of Kupp, in the seven games where he played at least half the snaps, [27] Kupp averaged 5.7 catches for 81 yards and 0.86 touchdowns on 7.9 targets. That's a 91-1294-13.7 pace. Fantasy-wise, that's about what Adam Thielen scored as last year's No. 7 receiver. Since entering the league, he has played at a high-end WR2 pace. Is his knee ready to go?
For a big-play receiver,
Brandin Cooks

has been extremely consistent.

[28] In his last four seasons, Cooks has racked up at least 65 passes, 1,082 yards and five touchdowns. That production would be good enough for low-end WR2 numbers, and Cooks is currently the No. 17 receiver off the board, so he's being drafted just above his floor. I had my reservations about Cooks last year, but not now. He's a very solid pick in the fourth.
Keep an eye on the third-round "Trade-Up" RBs—
Darrell Henderson

and

David Montgomery

.

HC Sean McVay reportedly thought that Darrell Henderson was the most dangerous offensive player in the draft. When I studied "Trade-Up" running backs this offseason, I discovered that since 2008, [29] when teams traded up for a back in the third round, they produced 54.1% more fantasy points than their "No Trade-Up" third round counterparts. This bodes well for Henderson (and David Montgomery, for that matter).
Damien Williams

should thrive as the

Chiefs

' RB1.

Williams took over for Kareem Hunt in mid-December and definitely looked the part. [30] He averaged 19.4 touches for 114 yards and 1.6 touchdowns in five games (23.4 PPG in half-PPR formats), including the postseason. He averaged 5.60 YPC in that span and showed dual-threat ability, playing well enough to earn a two-year extension from the Chiefs. I have no problem with Williams' second-round ADP.
The
Lions

are likely to feed

Kerryon Johnson

.

In his final eight games, [31] Johnson racked up an average of 94 total yards (5.53 YPC) and 0.5 touchdowns on 16.1 touches per game. Some owners are worried about the C.J. Anderson signing, but HC Matt Patricia probably just wanted more bodies at the position since he wants to run the ball more.
Is
Kenny Golladay

really the WR1 in Detroit?

[32] In nine games where both Golladay and Marvin Jones played in 2018, Jones out-targeted Golladay 6.9 to 6.8 per game. Golladay likely ascends to the WR1 role since he's the younger, up-and-coming player, but there's a non-zero chance that Jones leads this receiving corps in fantasy points. He looks like an excellent value in the later rounds.
D.J. Moore

is in some good company, historically-speaking.

Since 2000, Moore was the 13th rookie receiver who posted at least 700 receiving yards at 21-years-old. [33] The other 12 receivers saw an average per game increase of 30% in targets, a 33% increase in receptions, a 28% increase in yards and a 19% increase in touchdowns in their sophomore seasons. When these increases are applied to Moore's rookie numbers, he's looking at a 73-catch, 1004-yard, 2.4-touchdown season as a sophomore. That's about what he averaged in the final 10 games from a fantasy points standpoint, so he probably has some room to grow from there, especially if his touchdowns regress positively to the mean for someone getting his sort of usage. If he's able to score 7-8 touchdowns and keep up that production, he's looking at a midrange WR2 season.
Curtis Samuel

could break out, too.

Samuel started getting regular work in Week 11. [34] In his final seven games, he averaged 3.9 catches for 53 yards and 0.43 touchdowns, which equates to a 62-846-7 pace over a 16-game season. He basically matched the production of D.J. Moore in that span.
Philip Rivers

is a model of consistency.

[35] Rivers has thrown at least 28 touchdowns and posted at least 4,286 yards in six straight seasons. Rivers per game production has only cracked the top 15 once in the last four years but since he always plays a full season, he has three top 12 finishes in the same span. He has posted top 12 (QB1) numbers in 10 of the last 12 seasons. He does have a tendency to throw interceptions, but he has only thrown 22 total picks in the last two seasons, so he's taking better care of the ball. He represents great value as the 18th QB off the board.
Drew Brees

is no longer a no-brainer QB1, though he's still elite at home.

After 11-straight finishes in the top six at his position from 2006 to 2016, Brees has finished No. 10 and No. 8 in the last two seasons, thanks in large part in a drop in volume as the Saints have gone more run-heavy offensively. [36] From 2006 to 2016, the Saints averaged 641.5 pass attempts per season. Over the last two seasons, they have averaged 527.5 pass attempts. Brees' increase in efficiency has offset some of this loss in volume, but he's no longer a no-brainer QB1. However, [37] he is still elite at home--he averaged 322 yards and 3.0 pass touchdowns in eight home games last season.
Aaron Jones

is likely to break out in 2019.

Through his first two seasons, [38] in the 12 games where he has garnered at least 10 carries, Jones has averaged 95 total yards and 1.0 touchdown on 16.5 touches per game. He was also getting more involved as a receiver as the 2018 season wore on, catching 18 passes in his final five full games. That's a 58-catch full-season pace, and he showed major improvement in pass protection as well.
The
Packers

' WR2 camp battle is one to watch.

Geronimo Allison started the season strong, posting receiving lines of 5-69-1 (8 targets), 6-64 (6), 2-76-1 (4) and 6-80 (11) in the first four games. [39] That put him on a 76-catch, 1156-yard, eight-touchdown pace over a full season. But Aaron Rodgers singled out Marquez Valdes-Scantling during spring practices, describing him as capable of being an every-down player. [40] MVS had a great stretch from Week 5 to Week 10, where he posted fantasy lines of 7-68-1, 3-108, 2-45-1, 3-101 and 6-44, which works out to a 67-1155-6.4 pace over a full 16-game season.
Latavius Murray

could turn in RB2 numbers with a healthy

Alvin Kamara

.

Mark Ingram averaged 13.3 touches per game last season and 18.0 touches per game the year before, so the role he's vacating is sizable. Alvin Kamara will be the clear leader in backfield touches, but [41] if Murray sees Ingram's 2018 rushing workload (11.5 per game) at his career 4.1 YPC, he's looking at around 48 yards per game just as a runner. Throw in a half touchdown per game and half of Ingram's receiving production and Murray could post a low-end fantasy RB2 season, and he'd have RB1 upside if anything were to happen to Kamara.
Kyler Murray

projects to have immediate success as a rookie.

I use a regression model to generate a starting point for rookie quarterbacks and [42] Murray comes in with the highest projected touchdown percentage, the highest projected yards per attempt, the third-highest projected rushing yards per game and the fourth-highest projected rushing touchdowns in the 42-player sample. Whew. His passing numbers (in the same system at Oklahoma) were eerily similar to Baker Mayfield's and Murray is a much better runner. Keep this fact in mind—since 2011, the four top-scoring rookie quarterbacks were Cam Newton (706 rushing yards, 14 touchdowns), Robert Griffin III (815 yards, 7 touchdowns), Dak Prescott (282 yards, 6 touchdowns) and Russell Wilson (489 yards, 4 touchdowns), so being able to run will really help Murray's chances to find fantasy success as a rookie. If the offensive line improves, Murray will have a great shot at QB1 numbers.
Christian Kirk

is poised for a breakout season.

[43] Kirk was on pace for a 57-787-4 season in 12 games played before a broken foot knocked him out for the remainder of the season. Those numbers would have made him a low-end WR3, which is where he's currently being drafted. He's now fully healthy, and is likely to see a big QB upgrade from Josh Rosen to Kyler Murray. The offense will also play at a faster pace, potentially boosting his targets.
There's still water in the
Larry Fitzgerald

well. Go back one more time (at least).

Fitzgerald's ADP is laughable. [44] Arizona's pass attempts dropped by 17.2% from 2017 to 2018 and he still finished as the No. 26 receiver in PPR formats. In all likelihood, he's getting a massive quarterback upgrade, and the offense should be much more pass-friendly under new head coach Kliff Kingsbury. Fitzgerald is capable of having a Jerry Rice-like finish to his career.
When
Kenyan Drake

gets work, he produces.

Drake has an opportunity to earn a more consistent role under a new coaching regime in Miami. If they feed him, he will produce. [45] In the 12 games over the last two seasons where Drake has seen at least nine carries, he has averaged 96 total yards and 0.5 touchdowns on 17.9 touches, including a 4.65 YPC. The resulting 13.9 points per game in half-PPR formats would have made him the No. 9 running back in 2018, assuming a full 16-game season.
Carson Wentz

should finish as a QB1.

Since the beginning of the 2017 season, Wentz has averaged 20.1 fantasy points per game, which is solid QB1 production. His 2018 production is considered a disappointment, but if we ignore his three-interception debacle in New Orleans, he averaged 19.0 fantasy points in his other 10 games, which is about what Philip Rivers scored as 2018's No. 13 fantasy quarterback.

The arrival of DeSean Jackson is going to help Wentz's bottom line. [46] Throughout his career, Jackson has averaged 9.70 yards per target. Over the last two years, it was 8.79 yards per target, which is still significantly higher than last year's league average of 7.36 yards per target.
A healthy
Keke Coutee

is not great for

DeAndre Hopkins

, but it's very bad for

Will Fuller

.

DeAndre Hopkins' target share in the 10 games that Keke Coutee missed was significantly higher than the target share in the six games in which Coutee played (34.8% vs. 27.7%). [47] This resulted in a 13% drop in Hopkins' points per game when Coutee was on the field. With Coutee last year, he was more of a midrange WR1 than the No. 1 fantasy receiver in football.

Fuller fared far worse with Coutee on the field. [48] In four games with Coutee, Fuller averaged 3.5-41-0.25; in three games without Coutee, he averaged 6.0-113-1.0. This is a small yet alarming sample.
Duke Johnson

is fully capable of being a three-down back.

Guess who's the career rushing leader at the University of Miami. It's not Edgerrin James, Clinton Portis, Willis McGahee or Frank Gore. It's Johnson, who rushed 526 times for 3,519 yards and 26 touchdowns in three seasons at Miami. At 5'9" and 210 lbs, Johnson is heavier than Christian McCaffrey and Phillip Lindsay, and is listed as the same weight as Marlon Mack and LeSean McCoy. He's been pigeonholed as a pass-catching specialist because he has really, really good hands, but he can run the ball as well. In the nine career games where he received at least eight carries, he averaged 14.0 touches for 74 yards (4.67 YPC) and 0.11 touchdowns (12.4 PPR PPG). [49] In the 14 career games where he received at least 12 touches, he averaged 13.6 touches for 75 yards (4.36 YPC) and 0.29 touchdowns (14.5 PPR PPG). Those are midrange RB2 numbers and low-end RB1 numbers, respectively.
Eric Ebron

scored more fantasy points with

Jack Doyle

in the lineup, but I wouldn't count on that happening again.

Ebron scored 13.3 fantasy points (half-PPR) in six games with Doyle, and 10.9 fantasy points in 10 games with Doyle sidelined, but much of that production was a result of the seven touchdowns he scored in those six games with Doyle. [50] Since 2000, there have been 25 seasons where a TE has caught 10+ touchdowns. On average, those players followed up a 10+ touchdown season with 5.0 fewer touchdowns the following season. With Doyle back and Devin Funchess signed to provide a big red zone threat at receiver, Ebron's red zone looks are likely to decrease.
Dante Pettis

was a high-end WR2 down the stretch.

[51] Pettis played at a 64-989-11 pace (and on a 99-target pace) over his final six games. That was with a healthy George Kittle in the lineup and Nick Mullens throwing the ball.
Hunter Henry

is my TE4 for a reason.

Hunter Henry's career per game average immediately places him in the top 10, and his production in three games without Antonio Gates is higher than all but Travis Kelce, Zach Ertz, George Kittle and Eric Ebron last season. Three games is an extremely small sample, so another way to ballpark Henry's projection is to apply his career fantasy points per target (half-PPR = 1.90) to an expected number of targets. [52] A not-in-his-prime Antonio Gates saw 6.9 targets per game from 2014-16, so if Henry maintains his per-target production with that sort of usage, he's looking at 13.1 PPG, which is basically what Kittle averaged last year.
Mitch Trubisky

's production was all over the place in 2018.

He started the season with three sub-14.5-point games before his six-touchdown outburst in Week 4 that started a streak of four consecutive games with 21.9 points or more. Then, [53] he scored 12.1 points or less in five of his final seven games. I definitely don't want you to tweet at Bears superfan and Yahoo writer @andybehrens and make him aware of this alarming statistic.
Is
Trey Burton

a post-hype sleeper?

Burton finished as the No. 8 tight end last season, but was on pace to finish No. 6 in the 14 games where Mitch Trubisky was active. [54] Burton played at a 57-618-7 pace with a healthy Trubisky.
Evan Engram

produces with

Odell Beckham

sidelined and

Sterling Shepard

healthy.

There is reason to be optimistic about Engram's upside in 2019. Odell Beckham has been traded away, and Engram has played at a 76-945-6.0 pace in the 15 games over the last two seasons when Beckham has been sidelined. [55] That pace jumps to 82-1043-5.8 when the four games that Sterling Shepard missed are excluded. In other words, he was more efficient with Shepard in the lineup than without him, which bodes well for 2019. What doesn't bode well is the Giants' quarterback situation.
Lamar Jackson

likes

Mark Andrews

. He really likes him.

Once Lamar Jackson took over at quarterback, [56] Andrews led the team in receiving yards (339) accounting for 26.0% of Jackson's passing yards. He did that on just a 14.0% target share, so clearly Jackson and Andrews had a good thing going.
John Brown

is a good receiver. Should we bet on talent in a bad pass offense?

Brown found a new home in Baltimore, [57] and was on pace for a 61-1,068-7.0 season (midrange WR2 numbers) through nine games, before Jackson took over as quarterback. [58] Josh Allen's deep ball accuracy on passes 20+ yards downfield was better than Joe Flacco's last year, and Allen attempted 59 such passes, the 12th-most in the league, despite only playing in 12 games as a rookie. (Data from Sports Info Solutions.) In other words, Brown's speed and skillset is a good match for where Allen wants to throw the ball.
If
Emmanuel Sanders

can get healthy, he'll be a screaming value.

Sanders is recovering from an Achilles injury, but he avoided the PUP list to start camp, which is a great sign for his potential availability for Week 1. [59] Over the past two seasons, Sanders has played at a 78-949-4 pace, which are low-end WR2 numbers. But he was expected to score twice as many touchdowns given the opportunities he had, so he has upside from there. Considering he's the 50th receiver off the board, there's quite a bit of upside here.
I have one concern about
Zach Ertz

.

Ertz is great, but what about the number of mouths to feed in Philly? [60] His targets dropped from 11.0 per game without Alshon Jeffery to 9.5 per game in the 13 games that Jeffery played, and now DeSean Jackson joins the fray. There's only one ball.
There may be some value to be had with aging stars at the tight end position.
Delanie Walker, Greg Olsen, Jimmy Graham and Jordan Reed are all past their respective primes, but they all offer value at their relative ADPs. Walker is the first off the board, and he had [61] 74 catches for 807 yards and three scores in his last full season with the Titans, which made him the. No. 6 fantasy tight end in 2017. Given the arrival of Adam Humphries and A.J. Brown, I'm not expecting that sort of production, but Walker should be able to post starter numbers if he can stay healthy.
Olsen has struggled with injuries in recent years, [62] but in his last 16 games (including one playoff game), he has caught 50 passes for 571 yards and six touchdowns. That stat line would have been good enough for a No. 8 finish last year in half-PPR formats.
Graham finished with 55 catches for 636 yards and two scores in his first season with the Packers. [63] Kevin Zatloukal's xTD stat for Graham is 0.37 per game, so he should have caught 5-6 touchdowns instead of two. Had he caught five, he would have finished as 2018's No. 7 fantasy tight end.
Finally, there's the oft-injured Reed, who is the youngest of the bunch at 29-years-old. [64] In his last 16 games he has 67 catches for 664 yards and four touchdowns. Those numbers would have beat out Kyle Rudolph as the No. 7 fantasy tight end last season.
Robbie Gould

is once again my favorite value kicker.

Since landing in San Francisco in 2017, [65] Gould has attempted the second-most field goals and he has scored the sixth-most points at his position. He has also made 96.0% of his kicks, which is the highest rate in that span. As the eighth to 12th kicker off the board, he's my primary target at the position.
Ka'imi Fairbairn is near-elite when
Deshaun Watson

is active.

In 23 games over the past two seasons [66] with a healthy Watson, Fairbairn has scored 8.83 fantasy points per game, which would make him the seventh-highest scoring kicker in the past two seasons, just below Robbie Gould.
What's a good way to pick a fantasy defense?
When evaluating team defense strength of schedule, I simply look at my projected sacks and projected interceptions for each of the quarterbacks in the league and see which defenses have a favorable schedule. [67] The No. 1 defensive schedule belongs to the New England Patriots, so they are my top target at the position once several defenses have already been drafted. The Redskins, Eagles, Bills, Ravens, Saints, Browns and Rams are intriguing fantasy defenses that also checked in inside the top 10.
Julian Edelman

is likely to outperform his ADP.

In 13 games (including the playoffs), Edelman played at a 102-catch, 1232-yard, 7.4-touchdown pace. [68] In the 11 games since 2016 with Gronkowski sidelined, Edelman has averaged 6.9 catches for 84 yards and 0.27 touchdowns per game. Those are solid WR1 numbers in PPR and half-PPR formats, yet Edelman is going off the board as a mid-range WR2.
Tom Brady

is going to miss his B.F.F.

Rob Gronkowski

.

Since 2016, Brady's numbers have suffered with Gronk sidelined. [69] Brady's yardage (-5.4%), touchdowns (-12.9%), YPA (-8.6%) and fantasy production (-9.8%) have all suffered in the 11 games that Gronk was sidelined.

That about does it. Enjoy your retirement while it lasts, Rob.