Fantasy Football: Post NFL Draft ADP Risers & Fallers
Carmen Mandato/Getty Images
With Best Ball Mania and Puppy lobbies in full swing on Underdog and other sites also filling best ball drafts more frequently, the bi-monthly ADP risers and fallers article is back. The NFL Draft ended just over a week ago so most if not all changes in draft value are courtesy of rookies landing spots.
Let's take a look at the biggest risers and fallers at each position over the last week in Underdog drafts, by comparing players' ADP from May 1st to May 8th. I'll go position by position to tease out any relevant players' spikes or slides over the past week.
*All ADP is courtesy of 4for4's Underdog ADP tool.
Quarterback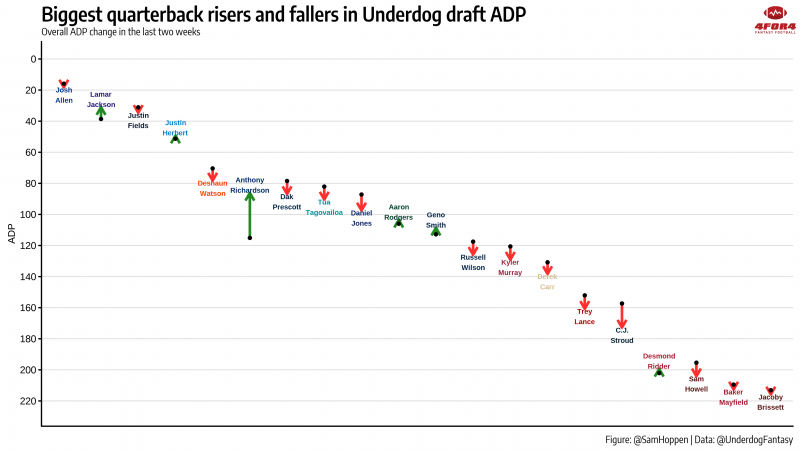 QB Risers
Anthony Richardson

,

Colts

(ADP: 86.2,+28.9)

No QB has made a bigger jump in ADP since the NFL Draft than rookie Anthony Richardson. Despite only being a one-year starter at Florida, Richardson dazzled at the NFL Combine and shot up league draft boards to the No. 4 overall pick.

Colts owner Jim Irsay said the rookie will start this season but it's still TBD just how many games. Richardson's draft stock has climbed close to 2.5 rounds in just a week and as the hype machine rolls on, it will be interesting to see how high he'll be drafted by August. For more on his fit with the Colts, check out Ryan Noonan's profile on Richardson.
Lamar Jackson

,

Ravens

(ADP: 31, +7.6)

The Ravens signed Lamar Jackson to a $260M five-year extension with $185M guaranteed on April 27th, allowing fantasy managers to finally be all in on the QB for the 2023 season.

Since May 1st, Jackson's ADP has climbed from the 4.03 spot up to 3.07 with drafters seeking out his dual-threat ability. Baltimore also drafted WR Zay Flowers which added to the spike, as the rookie offers another weapon in the middle of the field for the 26-year-old.
Geno Smith

,

Seahawks

(ADP: 108.6, +4.2)

Seattle drafted arguably the best WR in this year's draft class, likely elevating Geno Smith's draft capital close to half of a round. Jaxon Smith-Njiba gives the 10-year veteran another solid pass-catching option along with DK Metcalf and Tyler Lockett, and if he plays similarly to 2022, is still being undervalued even with this hike.

Smith is currently the QB16 off Underdog boards but has fantasy QB1 potential this season.
QB Fallers
C.J. Stroud

,

Texans

(ADP: 172.8, -15.5)

After speculation ad nauseam on the landing spot for C.J. Stroud, he was drafted by Houston with the second overall pick. It's difficult to rely on many pieces of the Texans for fantasy production going into 2023 with their new-look offense. 4for4's Pranav Rajaram lays out exactly why the rookie's fantasy value is uncertain in his first professional season and it appears Underdog drafters agree.

Stroud slid over one full round over the past week and is down to QB26 which seems about right. The rookie shouldn't be selected in redraft leagues but still makes for a later-round stab in best ball formats as a QB2/3.
Trey Lance

,

49ers

(ADP: 160.7, -8.6)

Insert some sort of Days of Our Lives or other assorted Soap Opera reference here. It's been an offseason of rumors and speculation regarding Trey Lance's time in San Francisco, yet there's still nothing substantial to report. For now, the sophomore QB is still on the 49ers roster, along with Brock Purdy, Sam Darnold, and Brandon Allen.

It appears that they'll go with a combination of Darnold and Lance for first-team reps once training camps open and starts are still up for grabs if Brock Purdy is not ready to go for Week 1. Of course, they can always decide to trade Lance if Purdy is cleared during the preseason. As of now, Lance's ADP is QB23 at 14.05.

Other QB Fallers: Daniel Jones, Giants (ADP: 97.4, -10.2), Sam Howell, Commanders (ADP: 204.1, -8.7)
Running Backs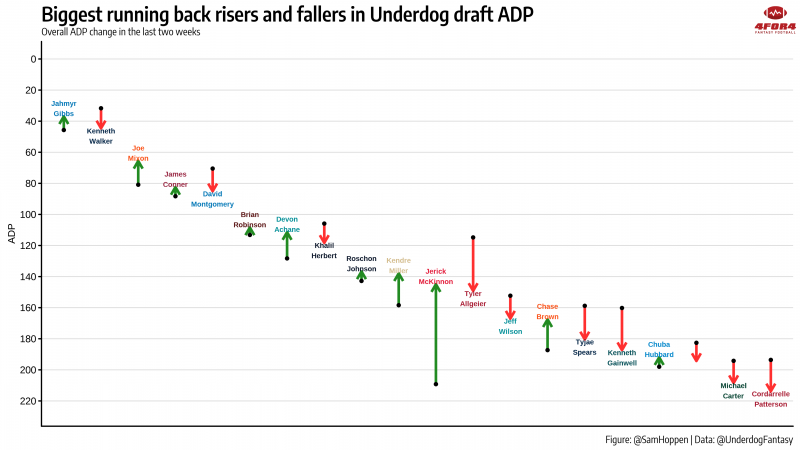 RB Risers
Jerick McKinnon

,

Chiefs

(ADP: 144.9, +64.3)

By re-signing with the Chiefs on May 2nd, Jerick McKinnon raised his Underdog ADP from 18.09 to 13.01. Kansas City did not add any stiff RB competition during the NFL Draft, leaving Isaiah Pacheco as the presumed starter with McKinnon handling the passing-down work.

The 31-year-old ended 2022 as RB21 in total half-PPR points, and RB30 in half-PPR points per contest, thanks in part to 10 total touchdowns. Nine of those came through the air which was the most by any RB last season. While we can't expect that same production this year, McKinnon boasts plenty of fantasy upside and is still very affordable in the 13th round.
Kendre Miller

,

Saints

(ADP: 137.9, +20.5)

Landing in New Orleans is presumably the cause of a near 21 spot rise in draft stock for rookie Kendre Miller. When asked about the 20-year-old, GM Jeff Ireland offered plenty of praise, stating to Jeff Duncan of the Times-Picayune "It all goes back to height, weight and speed. Loved his running style. He's a down-hill runner, runs with great pad level. He's got explosive breakaway speed in the open field. He's creative. He makes people miss ... And we just felt like, man, this is too good to be true,".

With Alvin Kamara likely to miss time due to a possible suspension in 2023, Miller's path to fantasy relevancy could be a reality sooner rather than later in his rookie season. At 12.06, Miller makes for a nice pick as a team's RB4 with RB3 upside.
Chase Brown

,

Bengals

(ADP: 167.5, +19.8)

Like Miller above, Chase Brown landed on a roster with the lead back dealing with off-field legal issues. Brown is a speedy back with pass-catching chops and on one of the highest-scoring offenses in the NFL, could find himself in the fantasy conversation earlier than other rookie RBs.

Brown jumped from 16.07 as a later-draft stab to the end of the 14th round as RB53 off the board. His stock should continue to climb this summer, especially if he turns some heads during Cincy's training camp.
Devon Achane

,

Dolphins

(ADP: 111.4, +16.9)

This rookie's landing spot may not seem as sexy as the others above, but any RB in a Mike McDaniel offense is one to look at for fantasy purposes. Devon Achane is not a big guy at 5'9", 185 lbs but he's lethally fast and fearless between the tackles.

Achane will have Raheem Mostert and Jeff Wilson to contend with for touches, but neither of them is known for their durability. He's creeping close to single-digit territory at 10.03, but as RB35, the rookie is still draftable at his ADP and projects as an RB4 with RB3 potential due to attrition.

Other RB Risers: Joe Mixon, Bengals (ADP: 65.6, +15.3), Jahmyr Gibbs, Lions (ADP: 36.9, +8.8)
RB Fallers
Tyler Allgeier

,

Falcons

(ADP: 149.2, - 34.4)

The selection of rookie Bijan Robinson by Atlanta with the eighth overall pick sent Tyler Allgeier's draft stock into a tailspin, falling nearly three full rounds to 13.05. The 23-year-old lands in fantasy RB3 territory at best, but if called upon can produce.
Kenneth Gainwell

,

Eagles

(ADP: 187.3, -27.1)

The Eagles traded for RB D'Andre Swift during the NFL Draft, smashing the hearts of Gainwell fans and his ADP along the way. The 24-year-old fell just over two rounds from the mid-14th down to the mid-16th round with fellow pass-catching back Swift's arrival.

Swift and Rashaad Penny are ahead of Gainwell in the RB pecking order, but both will need to stay healthy which has been a tall ask in their NFL careers. Gainwell makes for a nice late flier in best ball drafts and is dirt cheap now as RB56.
Tyjae Spears

,

Titans

(ADP: 180.4, -21.6)

Second-fiddles at RB (particularly rookies) in the Tennessee offense are rarely fantasy relevant, despite what fantasy managers want. In 2022 and 2020 when Derrick Henry was healthy all season, Hassan Haskins and Darrynton Evans ended as RB125 and RB101 respectively in half-PPR points per game. In 2021 when Henry missed half of the season, D'Onta Foreman and Dontre Hilliard put up fantasy RB4 numbers in his absence, posting 9.9 and 9.0 half-PPR points per game, respectively.

Spears likely takes on the pass-catching work in the Titans backfield, but expectations should be lowered for any legitimate fantasy value in 2023.

Other RB Fallers: Cordarrelle Patterson, Falcons (ADP: 213.8, -20.2), Jeff Wilson, Dolphins (ADP: 167, -14.7), David Montgomery, Lions (ADP: 85.1, -14.6)
Wide Receivers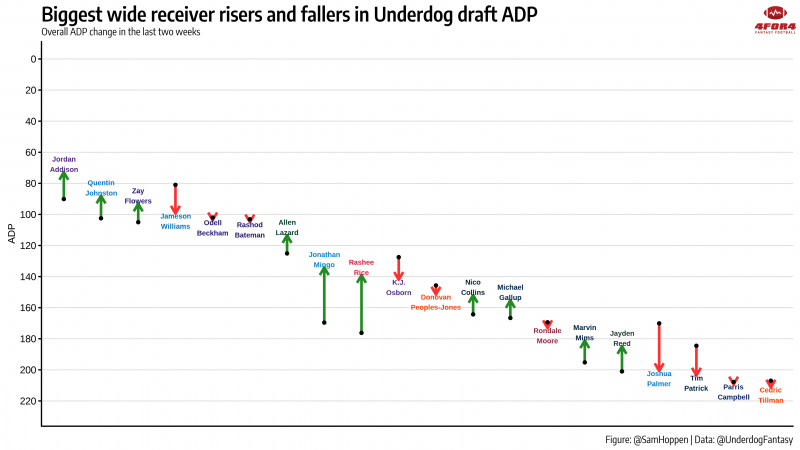 WR Risers
Rashee Rice

,

Chiefs

(ADP: 139.1, +37.1)

Kansas City traded up to get Rashee Rice in the NFL Draft and fantasy managers are responding to his potential in this high-octane offense. The Chiefs are in need of pass-catching playmakers after Travis Kelce, so add Rice to the pile that consists of Marquez Valdes-Scantling, Skyy Moore, Kadarius Toney, and Justin Watson.

Rice's ADP has spiked over three full rounds since becoming a member of the defending Super Bowl champs, but he's not a sure thing as we've seen before for rookies in KC. Right now Rice is a mid-12th round selection in Underdog drafts as WR61. TJ Hernandez outlines more of Rice's fit with the Chiefs here.
Jonathan Mingo

,

Panthers

(ADP: 134.1, +35.5)

Given his landing spot in Carolina, Jonathan Mingo should see the field right away. His ADP jumped three rounds over the last seven days, as his main competition for volume in the Panthers WR room consists of Adam Thielen, D.J. Chark, and Terrace Marshall. Mingo has the potential to emerge as Bryce Young's favorite target but his fantasy production could be wildly inconsistent with a rookie QB under center. Our own Connor Allen lays out Mingo's potential this season in this rookie profile.

Currently a 12th-rounder, the 22-year-old is leaving boards as WR59, with the possibility of WR4 outcome.
Jordan Addison

,

Vikings

(ADP: 72.8, +17.3)

Landing in arguably the best spot for rookie WR production in 2023, Jordan Addison has seen over a round and a half rise in ADP since the NFL Draft. He should slide in as the Vikings WR2 and third option in the passing game after Justin Jefferson and T.J. Hockenson.

Since joining the Minnesota offense, the rookie jumped from fantasy WR4/5 territory up to a WR3 as the 35th drafted at his position.

Other WR Risers: Jayden Reed, Packers (ADP: 184.8, +16.2), Quentin Johnston, Chargers (ADP: 88, +14.5), Marvin Mims, Broncos (ADP: 181.1, +14.5)
WR Fallers
Josh Palmer

,

Chargers

(ADP: 200.7, -30.6)

LA took Quentin Johnston in the first round of this year's draft, likely relegating Josh Palmer to WR4 status behind Keenan Allen, Mike Williams, and the rookie. Palmer posted a few decent fantasy performances last season while Allen and Williams were sidelined, but now returns to nothing more than a dart throw with Johnston in town.
Tim Patrick

,

Broncos

(ADP: 203.6, -19.1)

The Denver offense was not the easiest to navigate for fantasy purposes before the NFL Draft and got even more cloudy when they drafted Marvin Mims in the second round. Sadly, Tim Patrick is getting pushed aside and has fallen to the late-17th round as WR86. Despite coming off an ACL tear from last August, he's still a decent option as a late-round stab though, since he's a large end zone threat in a Sean Payton offense.
Jameson Williams

,

Lions

(ADP: 99.4, -18.4)

The second-year WR received a six-game suspension for violating the league's gambling policy a few days before the NFL Draft, but his ADP is still taking a hit. Jameson Williams has slid a round and a half since May 1st from the late-seventh round down to 9.03.

With only 11 possible contests for a guy with one NFL reception thus far, Williams is considered a fantasy WR4/5 and is being drafted as the WR47 currently. When on the field, his potential as the Lions WR2 is solid for those spike weeks we seek in best ball formats.

Other WR Fallers: K.J. Osborn, Vikings (ADP: 142, -14.5)
Tight Ends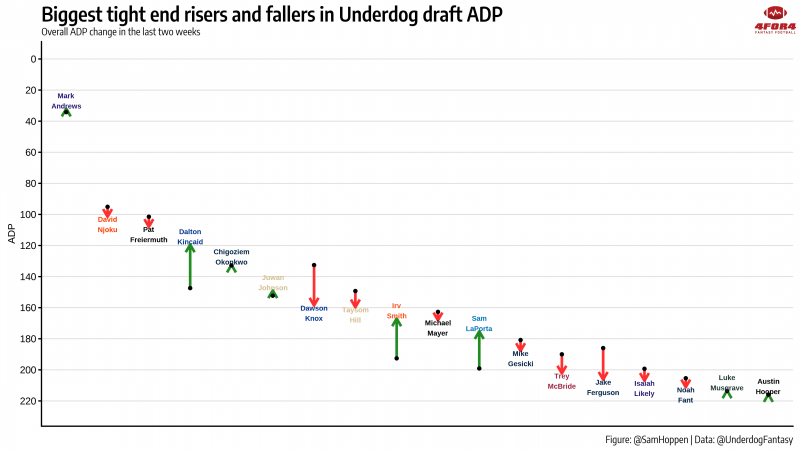 TE Risers
Dalton Kincaid

,

Bills

(ADP: 119.4, +28)

As the first rookie TE off the NFL Draft boards, Dalton Kincaid landed in a really sweet spot for possible fantasy production, despite rookies rarely panning out in their first season. I outlined his path to fantasy TE2 status with the potential to sneak into starting territory in this profile right after he became a Bill.

Kincaid is now the TE11 in Underdog drafts which is likely his ceiling so proceed with caution if the rookie climbs any further.
Irv Smith Jr.

,

Bengals

(ADP: 167, +25.6)

By not selecting a TE this season, the Bengals caused over a two-round elevation in Irv Smith Jr.'s draft stock heading into the summer. With Hayden Hurst in Carolina and Drew Sample, well, Drew Sample, Smith is now entrenched as the starting TE in one of the most productive offenses in the NFL.

Hurst saw the 15th most targets per game last year in Cincy (5.3) and their offense has 86 available targets at the position from last year which is the fourth most.

As the current TE20 in Underdog leagues, Smith has the potential for post-hype sleeper status with Joe Burrow at the helm, but he'll need to stay healthy as he's only seen the field 21 times over the last three NFL seasons.

Other TE Risers: Sam LaPorta, Lions (ADP: 175.2, +23.9)
TE Fallers
Dawson Knox

,

Bills

(ADP: 158.6, -26)

Kincaid's arrival caused a two-plus round dip in Dawson Knox's ADP. He's now TE17 as a 14th-round pick and could be relegated to more of a blocking role if the rookie takes to the NFL right away.
Jake Ferguson

,

Cowboys

(ADP: 206.3, -20.3)

Dallas drafted Luke Schoonmaker with the 58th overall pick, sending Jake Ferguson's fantasy value to the basement. It's tough to tell how the rookie will fit in not only in the NFL but with the Cowboys, so taking a flier on Ferguson with your last pick in best ball formats is still in play. For now, the sophomore is the 28th TE being selected.

Other TE Fallers: Trey McBride, Cardinals (ADP: 202.3, -12.3), Taysom Hill, Saints (ADP: 159.7, -10.4)