Fantasy Football: Anthony Richardson Can Be A League Winner in 2023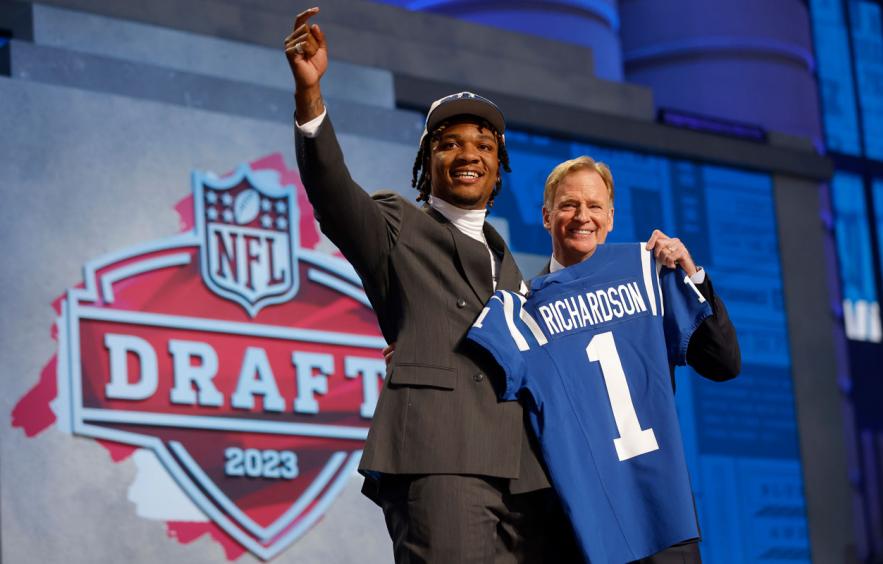 David Eulitt/Getty Images
The stunning retirement of Andrew Luck just prior to the start of the 2019 season started an annual quarterback merry-go-round in Indianapolis. Jacoby Brissett got the first crack at it, followed by one-year stints from Philip Rivers, Carson Wentz, and Matt Ryan, with sprinkles of Brian Hoyer, Nick Foles, and Sam Ehlinger for good measure. Now don't get me wrong, it's difficult to feel bad for a franchise that spent nearly 20 years with either Peyton Manning or Luck under center, but the recent turmoil at the position has come to a halt with the Colts' selection of Florida quarterback Anthony Richardson with the fourth overall pick in the 2023 NFL Draft.
---
Click here for more 2023 Player Profiles!
---
Anthony Richardson

as a Prospect

At 20 years old with just 13 games to his name as a starter, I am confident that Anthony Richardson's best football is ahead of him. With that said, I struggle to understand why Richardson isn't lauded as a future star and a home run selection by the Colts. Reciting his poor accuracy stats as the end-all-be-all and classifying him simply as a project at the next level misses the mark. Yes, Richardson completed just 53.8% of his attempts last season at Florida, an incredibly low mark for any first-round prospect entering the league. But his athletic traits are off the charts, which is a term that's often used but is applicable here. Richardson's relative athletic score, courtesy of ras.football, ranks first out of 916 quarterbacks tested dating back to 1987. He's a one-of-one.

The project label is one he'll have to shake on his own, but the fact of the matter is he comes into the league as a bigger and faster version of Cam Newtown or Josh Allen. He's also a better natural thrower than both Newton and Allen were. His throwing motion is more fluid, his footwork is cleaner, and his arm strength can compete with both Allen and Uncle Rico. His size, speed, and strength are evident when you watch him play, but his ability to feel pressure and navigate a collapsing pocket stands out to me.
Anthony Richardson navigates the pocket very well here, while still going through his progressions.



Then finds the open WR downfield, who breaks a tackle and then runs through someone for a TD. pic.twitter.com/B0tPQ0A2xq

— Nick Penticoff (@NickPenticoff) March 30, 2023
He's not just brute force and speed. His tape shows a true understanding of how to work in the pocket. Despite his abilities as a ball carrier, there are numerous examples of him extending plays with his legs while keeping his eyes downfield on his receivers.
Anthony Richardson no matter what pic.twitter.com/gYQ1sxbAgY

— Austin Gayle (@austingayle_) April 27, 2023
Richardson wasn't just a workout warrior who showed up and surprised people at the combine. His tape is full of runs that show off his freak-like abilities, both in terms of breakaway speed and move-the-pile strength. In this age of NFL football, the ability to force teams to play 11-on-11 is the true skeleton key.
— Nick Penticoff (@NickPenticoff) January 22, 2023
The path toward a top-tier career arch for a traditional pocket passer is so thin these days. I understand why Bryce Young was selected first overall. He's incredibly accurate, processes well pre and post-snap, and has in-the-pocket mobility to extend plays, though likely not as a runner. While we knock Richardson for his inaccuracy, let's look at the stark contrast between how Young and Richardson were asked to play while also remembering the quality of receivers at Alabama far exceeded what Richardson had at Florida in 2023. First, Bryce Young.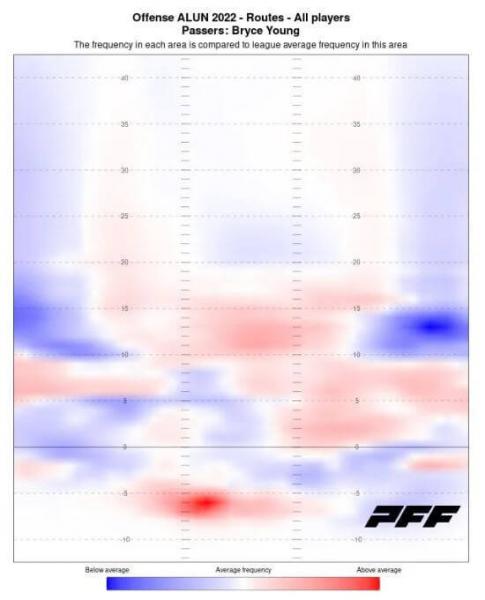 Next is Anthony Richardson.
These heat maps, courtesy of PFF, show that Bryce Young was asked to operate in the short-to-intermediate part of the field, primarily over the middle and to his right. Anthony Richardson's heat map in that area is bright blue, meaning he's well below average in the number of attempts he made in the range versus the average college quarterback in 2022. It's red down the seams from 10-20 yards and beyond. I'm not breaking news here when I say throws deep down the field are not conducive to a high completion percentage. I just think it's citing his completion percentage as a drop-the-mic analysis of the player is lazy, and I've heard it a lot over the past few months.
What To Expect From
Anthony Richardson

in 2023

The first question is how much will he play. The Colts signed Gardner Minshew earlier this offseason, and his familiarity with new head coach Shane Steichen's offense helps alleviate the need to rush Richardson into the starting lineup in Week 1. But Steichen's comments post-draft are very clear. Richardson is going to play sooner than later. In his post-draft press conference, Steichen said, "I think the development of players comes with more experience... I think when you play more, that's how you develop... practice reps, game reps, I think that's how you develop."

The low-hanging fruit here in projecting Richardson's early-career development is Steichen's success in developing Jalen Hurts. Hurts is not nearly the athlete that Richardson is, and he had limitations as a passer, both in terms of arm strength and accuracy, during his time at Alabama. Hurts finished 2022 as the QB1 in fantasy on a per-game basis, due in large part to his rushing ability and goal-line role in Philadelphia's offense. Justin Fields, who threw for just 2,242 yards with a 60.4% completion percentage, finished as the QB5 in fantasy last season.

The quarterback landscape, particularly in fantasy, is heading this way. It's increasingly difficult to fail at quarterback as a fantasy asset if you can make plays with your legs. Richardson comes into the league with no athletic peers. Just think about that for a moment. The Ringer's Rodger Sherman said it best: "Richardson is as fast as Justin Jefferson and the same size as T.J. Watt." The Colts added wide receiver Josh Downs, who fits incredibly well in the slot with the big-bodies duo of Michael Pittman and Alec Pierce along the outside. Downs was a target hog in college due to his elite ability to separate, hauling in 195 balls for 2,364 yards and 19 scores as a sophomore and junior at UNC.

With his young and improved supporting cast and a coaching staff equipped to maximize his potential, Anthony Richardson is set up to prove that he's much more than a project in his rookie year. Based on the quotes coming out of Indianapolis post-draft, we should expect to see Richardson making September starts. If that's the case, Richardson has a legitimate path to being a top-10 fantasy quarterback in 2023. In shallow one-quarterback leagues, I don't often advise drafting two quarterbacks, but if you miss out on the top tier, I'm ok with being the last one in your league to draft a September starter while using your last pick on Richardson, who has league-winner upside from the jump. Of course, due to the coverage of Richardson during the pre-draft process, your league mates will likely disagree with this assessment, which will help keep the cost down.

The Bottom Line