Jonathan Mingo: Carolina's New Top Wide Receiver?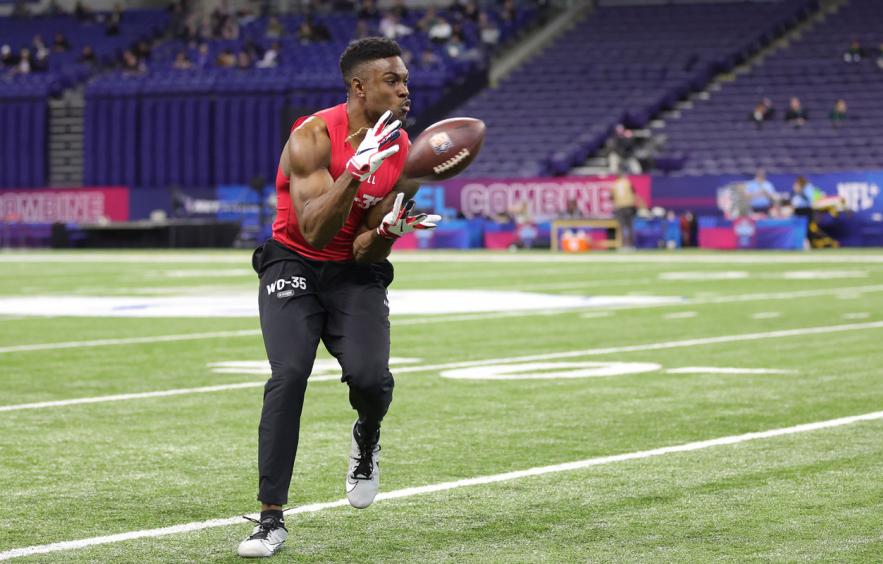 Stacy Revere/Getty Images
Ole Miss WR Jonathan Mingo was selected 39th overall by the Carolina Panthers in the 2023 NFL Draft. He was the fifth wide receiver selected in the draft and went higher than anticipated. Given the current depth chart, Mingo has a chance to be the top target for the Panthers and Bryce Young immediately.
---
Click here for more 2023 Player Profiles!
---
Jonathan Mingo

Prospect Profile

Mingo was a four-star recruit coming out of high school and committed to Ole Miss. He wasn't very productive in his first three seasons with just 172, 379, and 346 receiving yards. In 2022 he had his breakout season with 861 yards and five touchdowns on 51 receptions. This includes a massive game against Vanderbilt where he racked up 247 receiving yards, nine receptions, and two touchdowns.

Mingo's draft stock climbed dramatically after his athletic testing came in. At 6'2, 220 pounds he ran a 4.46-second 40-yard dash, putting him in the 96th percentile of speed score which adjusts speed for size. He looks the part and has the athleticism to be an alpha wide receiver in the NFL. His ability to rack up yards after the catch and be a physical presence are both strong. The questions surrounding Mingo are his route-running and why he didn't break out before his final season at Ole Miss. Looking at Matt Harmon's reception perception can help illuminate some of the questions.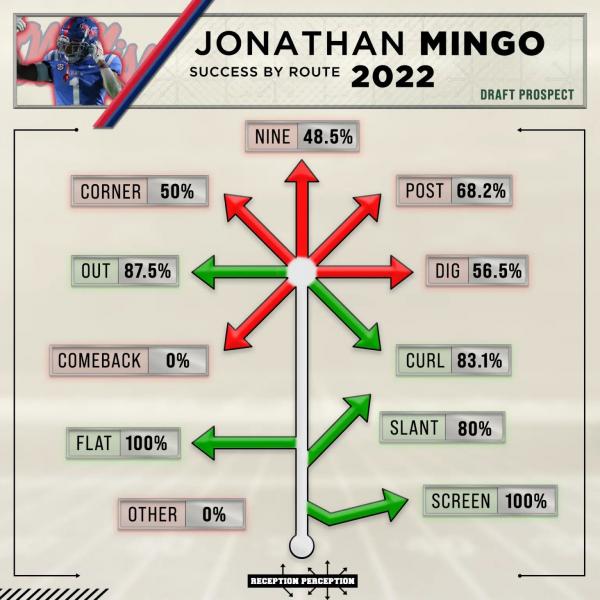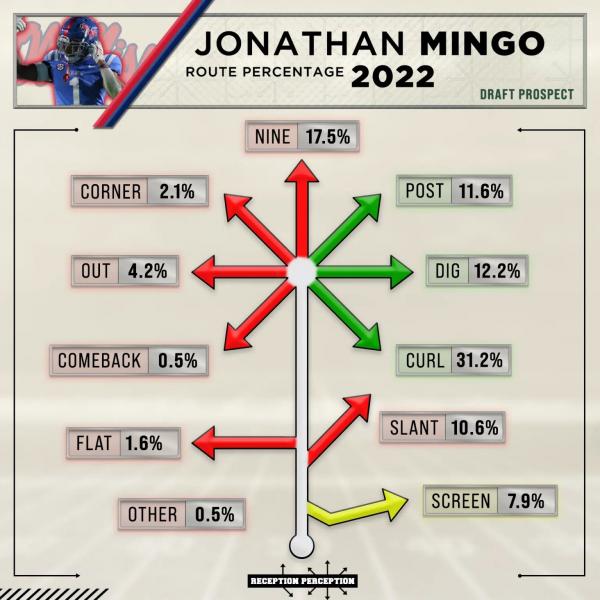 Mingo was great at running outs, curls, slants, and flats but he wasn't as successful as most other routes. Of the 14 rookie wide receivers, Matt charted this offseason, Mingo ranks eighth in success rate against zone and 11th in success rate against man. Neither are overly encouraging numbers but as Matt notes, his profile looks like one who may be best off moving to the inside, similar to Amon Ra St. Brown.
There are questions about his profile but with any big, athletic, pass-catcher selected in the top 50 picks, he is someone worth paying attention to.
Jonathan Mingo

's Fit With the

Panthers

The Panthers traded away top wide receiver D.J. Moore to the Bears in order to secure the No. 1 overall pick and Bryce Young. There is a ton of opportunity in Carolina heading into this season with the second-highest rate of vacated targets (49.6%), and vacated air yards (62.8%).

The Panthers signed an entourage of veteran options for Young including Adam Thielen, D.J. Chark, and Hayden Hurst to try and fill the void left by Moore and others. While the current options are significantly better than what the Panthers had after trading away D.J. Moore, I'm not sure it's as much target competition for Mingo as it looks like.

Jonathan Mingo's target competition in Carolina looks crowded but...



DJ Chark

-370th/390 in success rate vs man last year in @MattHarmon_BYB 's ENTIRE database.

-387th/390 against zone



Adam Thielen

-1.16 Yards per route run last season (76th/84 WRs

w 50+ targets).

-0.80…

— Connor Allen (@ConnorAllenNFL) May 3, 2023
Thielen is very clearly on the wrong side of his career while Chark is essentially only a downfield threat with no ability to separate. Terrace Marshall was getting a lot of buzz from the Panthers prior to all of their offseason additions and to be fair he played better in 2022. That may not be saying a whole lot though considering Marshall ranked 389th/390 players in Matt Harmon's reception perception sample against man coverage and 375th against zone.
It's very possible that Mingo could start in three wide receiver sets as soon as Week 1. Before getting fired last season, Frank Reich and the Colts had three wide receivers on the field 74.7% of the time, a top-10 rate. If Mingo's receiving chops are coming along, he will absolutely play in two wide receiver sets as well because he is a strong blocker. Paying attention to training camp news and preseason usage will be extremely important as Mingo's fantasy value will fluctuate dramatically depending on his playing time.
Jonathan Mingo

's Fantasy Value

Mingo's current average draft position is 154.5 and WR65. This is an absolute steal given that Mingo has the upside to be a true breakout rookie wide receiver. With just a few overrated players currently ahead of him on the depth chart, he could easily find himself in a massive role as soon as Week 1. If he is able to secure a big role, the ceiling is massive while catching passes from hyper-accurate No. 1 overall pick, Bryce Young. With that being said, his floor is extremely low. If his skillset doesn't translate immediately or he gets a slow start, he will find himself at fourth or fifth in the pecking order for targets.

Despite the low floor, Mingo is an absolutely perfect pick outside the top 100. When drafting players in the later rounds, I prefer to swing for the fences and not worry about their floors. If Mingo hits, you are looking at an every-week fantasy football starter and potential WR2.

Bottom Line
The Carolina Panthers invested significant draft capital (39th overall pick and 5th wideout off the board) into Jonathan Mingo.
Mingo wasn't a massive collegiate producer but tested well and has the physical attributes to succeed in the NFL.
The Panthers added multiple pass-catchers in free agency but none of them are shoo-ins to be the No. 1 wide receiver.
Mingo will have a massive opportunity to climb the depth chart and earn playing time early in his career.
He is a perfect target outside the top-100 picks in fantasy football (ADP:154.5) given his upside to be the top target in an offense led by Bryce Young.