Week 14 Fantasy Football Rankings: Josh Jacobs Sits Atop the Rankings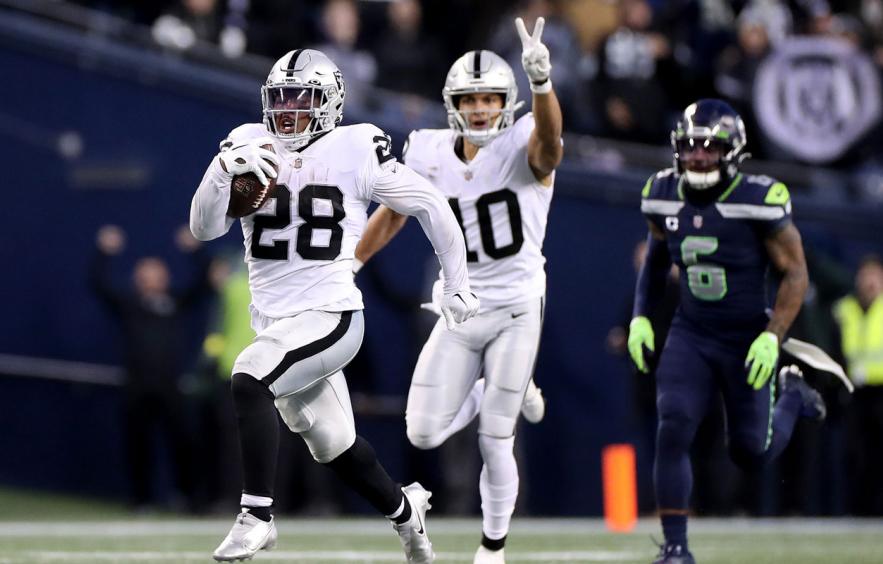 Steph Chambers/Getty Images)
Here we are in the final week of the regular season in most leagues. What a wild ride it was. Oh, and your gift for making it this far is six teams on bye in a make-or-break week! Gotta love the NFL. With Byemageddon upon us, it's more important than ever to be ready on waivers. Check out John Daigle's waiver wire watch. With a lot of the top passing offenses in difficult matchups again this week, it looks like it could be a solid week for the running backs. As always, the projections and rankings are courtesy of 4for4's half-point PPR rankings.
What Stands Out: When six quarterback options are on bye, I guess it makes sense that Jared Goff in a great matchup cracks the top 10.
Analysis: Josh Allen is at the top and nearly two points clear even against the Jets. The power of Josh Allen in fantasy football is amazing. Jalen Hurts is coming off a huge week against the Titans and seeing a matchup against the Giants isn't that daunting. The Bengals get the Browns this weekend and teams have been running all over them, even still the Bengals are rolling and Joe Burrow is as well. Patrick Mahomes and Dak Prescott are both in difficult matchups, but both have the upside to not worry about the matchups. Tua Tagovailoa and Justin Herbert face off against each other in a game full of narratives. Kirk Cousins and Jared Goff go against each other and their pathetic defenses in what should be a shootout. Outside of the top 10, Trevor Lawrence - assuming he's fully healthy - gets the Titans pass funnel this week.
What Stands Out: Josh Jacobs and Rhamondre Stevenson stand above the rest of the pack.
Analysis: Jacobs and Stevenson are two points clear of the rest of the running backs this week, including pass-catching backs like Austin Ekeler and Christian McCaffrey. Speaking of Ekeler, he gets a solid game environment against Miami in what should be a high-scoring game. Derrick Henry crushes the Jaguars. The Jaguars defense has fallen off since early in the season. I dunno, just don't overthink it. Samaje Perine is getting it done on the ground and through the air and if he gets another start this week should be able to overperform this projection. Christian McCaffrey was back to the workhorse back we've known and loved. Will the efficiency stay with Brock Purdy or Josh Johnson under center for the fantasy playoffs? Hopefully so!
Dalvin Cook is another back in a great game environment. That said, the three backs behind him in the rankings could all outperform him. Tony Pollard has been taking over the workhorse role in Dallas, but even still Zeke factors in heavily. Nick Chubb was a dud last week in a great matchup against the Texans, and he gets another favorable one against the Bengals. The Eagles can be had on the ground and Saquon Barkley is a back that can hit big plays. Outside of the top 10, Ezekiel Elliott has been the 1B in Dallas, but can still put up a top 10 day against the Texans.
What Stands Out: Tough matchups across the board for most of the top options.
Analysis: Justin Jefferson is atop the mountain this week in a great matchup against Detroit. Davante Adams continues to put up monster numbers and a "tough" matchup against a Rams defense probably won't slow him down. Tyreek Hill is matchup-proof in this Mike McDaniel offense and as long as Tua Tagovailoa is healthy. Teams don't need to throw against Houston, but they can if they have to and CeeDee Lamb can shine even in a low-volume day. Stefon Diggs is another alpha in a difficult matchup. Sauce Gardner has been one of the best corners in the league this season as a rookie. Ja"Marr Chase almost had 100 yards in his return. Amon-Ra St. Brown is a target magnet and gets a great matchup. Sign me up! A.J. Brown smashed his former team and now gets a less-than-daunting divisional matchup against the Giants. Outside of the top 10, Christian Kirk gets the Titans pass funnel.
What Stands Out: Mark Andrews falls behind T.J. Hockenson without Lamar Jackson.
Analysis: New week, same #1 with Travis Kelce. Hockenson in the matchup against Detroit moves ahead of Mark Andrews. Tyler Huntley looked at Mark Andrews a lot when he filled in for Lamar Jackson last year and the hope is he does the same again this year. Dalton Schultz didn't have a great game against the Colts but gets a solid matchup against the Texans. Greg Dulcich should benefit if Courtland Sutton misses time. George Kittle is a tough rank and projection right now with Brock Purdy under center. I'd probably want to wait a week on Kittle, but it's not exactly like there are a ton of great options out there. Gerald Everett and Evan Engram stand out in great matchups. Outside of the top 10, Dawson Knox is a touchdown dependent option, but the options are rough.