Week 17 Fantasy Football Rankings: Championship Weekend is Here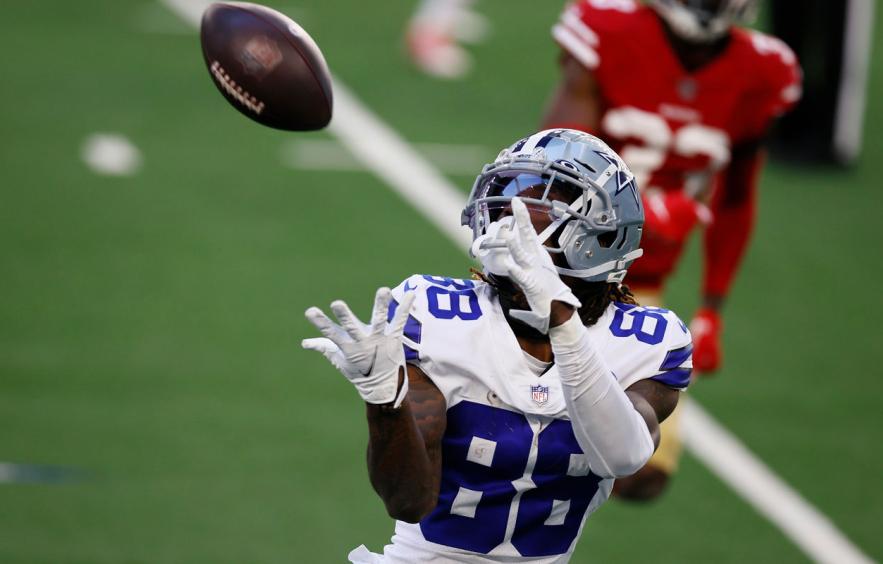 Tom Pennington/Getty Images
Well, if you're still here reading you've made it to the Championship Game. I wish I could count myself among you, but I finished 0-for-3 in regular season titles in my season-long leagues. I made the playoffs in two though and managed to swing a great trade in a keeper league that will have me happy in August, at least. In Best Ball, I had a 38% advance rate between multiple sites and I feel pretty great about that but unfortunately couldn't sneak any of my teams through to the championship round. All-in-all I feel really good about how this fantasy season went. I appreciate everyone reading my rambling thoughts on our projections and rankings here at 4for4 and look forward to whatever the offseason may bring. If you're still alive, it's vital to check out John Daigle's Waiver Wire Watch to improve your roster for Championship weekend.
What Stands Out: Outside of the Detroit-Chicago matchup, most of the top 10 are in subpar matchups.
Analysis: Patrick Mahomes sits atop the projections this week despite a tough matchup against Denver, but as we've seen all year despite none of his receivers really standing out, Mahomes is matchup-proof. Josh Allen is in the fantasy championship shootout against Cincinnati on Monday night and will need to score points. As mentioned earlier, Justin Fields is in a great matchup against Detroit, but will he get back to using his legs this week? It's not like Detroit is anywhere near Buffalo's defense. Joe Burrow and the Bengals are hitting their pass-game stride just in time and they'll need to be at their best to beat Buffalo. Justin Herbert makes some throws, man. That said, he feels like he's been a bit of a fantasy disappointment this year as the offense sputters in solid matchups. Trevor Lawrence keeps chugging along in difficult matchups and difficult weather conditions, so there's no reason to stop starting him on account of a Texans run funnel. As we saw with Patrick Mahomes, just because teams chose to run on the Texans doesn't mean they can't throw on them at will, either.
Jared Goff and Dak Prescott are two quarterbacks in great matchups this weekend, but I'd argue Prescott's ceiling is a bit higher than Goff's. That said, if I had Goff and didn't have any of the options above him I'd feel pretty good about starting him in a championship game. Daniel Jones rounds out the top 10 against Indianapolis. I don't feel great about him, but I haven't felt great about him all year and he just kinda keeps getting there despite dreadful offensive weapons outside of Saquon Barkley. Outside of the top 10, Tom Brady? Aaron Rodgers? Deshaun Watson? No, how about Gardner Minshew if Jalen Hurts sits again? Minshew lit up the Dallas defense and while the Saints aren't a cakewalk either, the weapons are just so good in Philly.
What Stands Out: Christian McCaffrey is just so far ahead of everyone else this week.
Analysis: There's not much to say, except when McCaffrey gets a solid matchup he can destroy the rest of the RB pack. Last week against Washington was a tough matchup on the ground and they were controlling things so easily that they didn't need him to catch a ton of passes. Saquon Barkley could easily pull off a similar game or better than Austin Ekeler had against the Colts this past week as they are no longer that imposing of a defense. Speaking of Ekeler, he has the Battle of LA this weekend and a Rams defense that held the Broncos in check and got their coach fired. Something tells me the Chargers put up more of a fight than Latavius Murray did. Rhamondre Stevenson had a dud this past weekend and will look to rebound against Miami, but that offense is just brutal at this point. We still have to start him, I'm just lowering my expectations. James Conner's role is incredible, but you definitely have to hope that Colt McCoy is starting. Dalvin Cook and Travis Etienne are both in great matchups, but both have been lacking targets at times this year. Nick Chubb in a matchup against Washington with the Browns' offense sputtering is not something I'd want to count on, but if you've made it this far and still have Chubb I guess you have to. Alvin Kamara is getting the touches (45 in the past two weeks), but he just isn't doing anything with them. Outside of the top 10, Tyler Allgeier, a name I definitely expected to be fantasy relevant come Week 17 is popping in projections.
What Stands Out: CeeDee Lamb ascends to the second spot this week.
Analysis: Justin Jefferson is 3.5 points clear of Lamb, but Lamb has been on fire lately and in a great matchup against Tennessee could pace Jefferson for the top score of the week. Tyreek Hill can still thrive with Teddy Bridgewater in at quarterback, but the ceiling is slightly lower this week. Amon-Ra St. Brown is in a fantastic spot against Chicago. Davante Adams should always be in a great spot but has had a few duds lately. Is San Francisco a place where he gets right? I'm not so sure I wouldn't want to bet on Ja'Marr Chase or Stefon Diggs outscoring him. Both Chase and Diggs are in the Monday night matchup that should provide fantasy fireworks. A.J. Brown and DK Metcalf are both in tougher matchups, but both have done well in tough spots before. Outside of the top 10, Jerry Jeudy is the only thing working in the Denver offense right now and a matchup against the Chiefs should be good for fantasy.
What Stands Out: George Kittle closing in on Travis Kelce.
Analysis: Not really, but it is the closest anyone has been to Kelce in a while. Kittle has had two blow-up weeks out of the last four and a matchup against Las Vegas isn't too tough. T.J. Hockenson had another monster weekend and gets an easy matchup against Green Bay this weekend. Evan Engram has been a top-five fantasy tight end this season which is not something I would have bet on before the season. Dallas Goedert has a really difficult matchup, but who else are you going to start? Mark Andrews has an easy matchup, but who knows what kind of volume he'll see. Darren Waller and Pat Freiermuth both have difficult matchups, but again, what other options could you have? Outside of the top 10, the only one I'm really looking at is Cole Kmet in a great fantasy matchup against Detroit.