NFL Draft Prospect Best Fits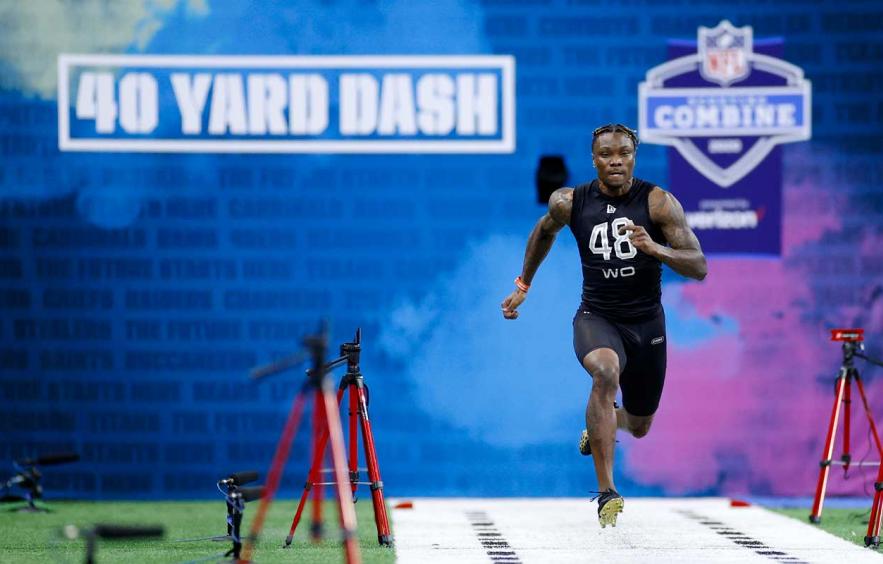 Joe Robbins/Getty Images
Remember when every wide receiver prospect was seen as a good fit in New England because of Tom Brady? How about the idea that every running back would fit well in Dallas due to their stellar offensive line? Or waiting to see which quarterback the Green Bay Packers took in a draft as Brett Favre's eventual successor?
The idea of fit and landing spot is arguably the second most influential factor in a prospect's long-term success behind their actual draft slot. However, the short-term may lean more in the other direction as an opening on a team can lead to opportunity even for a lesser drafted player right away. Players like Preston Williams, Gardner Minshew, and Terry McLaurin saw this occur last year in the later rounds, while A.J. Brown, Marquise Brown, and Josh Jacobs all found success in the early rounds with a good situation.
To assess the best fits, I will use a few criteria. First, does the team have a true need for the position? Second, does the player fit the scheme and personnel that the team currently has? Third, does the team have the draft capital, either in their current slot or via trade up (or down), to acquire the player? Each player will have three potential fits with the third being more of a dark horse option.
Quarterback
Joe Burrow

:

Bengals

There's no reason to speculate otherwise. This is a good fit for the likely top overall pick and it seems like a longshot that the Bengals don't select him.
Tua Tagovailoa

:

Dolphins

,

Chargers

,

Patriots

All three teams are desperate for a franchise quarterback, with the Dolphins and Chargers selecting in the top six. Miami and LA finished outside the top half of the league in quarterback fantasy points per game last year but were operating with below-average options. Both have good targets in the passing game as both had a wide receiver finish in the top 10 for fantasy. As for the Patriots, Tagovailoa would be a great post-Brady option but the overall team is a mess. They would likely need to move up, barring a Tagovailoa slide, which would inhibit their ability to improve the wide receiver and tight end options. Still, he'd have an easy path to start and a coach who has done well with cerebral quarterbacks in the past.
Justin Herbert

:

Chargers

,

Panthers

,

Saints

I could have added the Saints for Tagovailoa but I think Herbert needs them more. He needs a creative coach like Sean Payton to succeed and could really learn from Drew Brees. It doesn't hurt to walk into a situation with Michael Thomas and Alvin Kamara while placing an athletic quarterback like Herbert on turf. He ran a 4.68 forty-yard dash at 236 pounds and could provide significant fantasy value with his feet. The Panthers signed Teddy Bridgewater, but he is frustrating, to say the least. With the addition of Robby Anderson to D.J. Moore and Curtis Samuel along with Matt Rhule entering the picture, Herbert would add another element of speed and vertical passing.
Jordan Love

:

Chargers

,

Colts

,

49ers

Yes, the Chargers are in a good position to add a quarterback and can either start one quickly or let Tyrod Taylor be the man for a season. The Colts and 49ers both have good quarterback coaches who could help smooth out the rough edges on Jordan Love. He has struggled with accuracy in the past, Love completed just 61% of his collegiate passes at under eight yards per attempt, but has a huge arm and was hindered by a lack of weapons. The Colts and 49ers have good receivers and have invested recent capital in wide receivers to help a young quarterback grow. The 49ers are a longshot given their current situation and ability to win now.
Jalen Hurts

:

Patriots

,

Saints

,

Titans

Hurts was a solid quarterback at both Alabama and Oklahoma, but I would be hesitant to give him the keys right away and certainly would avoid putting the team on his shoulders. These options all have good defenses that would allow Hurts to be more of a manager than a risk-taker. It also gives him time to grow into the position and work on his over-willingness to break the pocket and run. The Titans would be an intriguing option as they have no backup, but they have a great offensive line, a familiar face in Derrick Henry, and young receivers like Brown and Jonnu Smith. In 10 starts, Ryan Tannehill threw over 30 times in a game just three times. Tannehill's new deal means he is in town for at least three years so there is risk, but Hurts could use an Aaron Rodgers type of timeline.
Running Back
Jonathan Taylor

:

Colts

,

Steelers

,

49ers

It's hard not to like Taylor. He's capable of being a game-changer, as much as a running back can be one, for an NFL offense. The Colts provide Taylor with a team determined to run the ball, as they finished fifth in attempts in 2019. The Steelers also want to run the ball, and share a similarity with the Colts in that they have a pass-catching back who can ease the burden for Taylor. The 49ers were second in rush attempts and eighth in yards per carry, but no runner exceeded 800 rushing yards. If Kyle Shanahan's past is any indication, he loves funneling work to one option in the run game. Taylor would be a great choice for him if he pivots in that direction.
DeAndre Swift:
Chiefs

,

Buccaneers

,

Jets

Swift and Taylor are different running backs. I see Swift as a better candidate to play all three downs but I wouldn't bet on him having more total touches if a team wants to maximize his impact. The Chiefs re-signed Damien Williams but that was for just one year and could use a more dynamic option to pair with their offensive personnel. The Buccaneers were the top passing offense last year but it's doubtful they want to throw 630 times with Tom Brady, making a running back upgrade a priority. The Jets have a running back but LeVeon Bell may not last in New York much longer. They averaged just 3.3 yards per rush attempt, tied for last, and need to provide Sam Darnold more firepower.
J.K. Dobbins

:

Falcons

,

Chiefs

,

Bills

Dobbins has a great all-around game and even without Combine numbers, shouldn't see too much of a fall. The Falcons have a short-term solution in Todd Gurley but could benefit from a Plan B immediately with a succession plan in a post-Gurley world. The Chiefs had the sixth-fewest rush attempts in 2019 but that was largely due to a lack of a consistent run option. The Bills are in the market for a complement to Devin Singletary and Dobbins has the type of skill set that would excel in a Giovanni Bernard role to Singletary's Rudi Johnson. Not sure if the Bills will be in the market to spend a top 64 pick, though.
Cam Akers

:

Steelers

,

Texans

,

Ravens

I love the idea of Akers in Pittsburgh. He can be a violent runner that the fans appreciate with the explosiveness to operate in a spread offense and create his own yards. The Texans are similar in terms of their personnel and Akers would be a massive upgrade to Carlos Hyde and would have David Johnson to learn from in the short-term. The Ravens as my wild card is tied to personnel. Imagine Akers, a former high school quarterback, running a few trick plays with Lamar Jackson and Mark Andrews. The Ravens ran 596 times last year and have Justice Hill as the primary backup to Mark Ingram. Maybe this isn't so crazy.
Clyde Edwards-Helaire

:

Dolphins

,

Rams

,

Lions

CEH, as he's affectionately known, would be best served in a 1A/1B situation. The Dolphins signed Jordan Howard, a player who has run the ball over 250 times in three of his four career seasons but has never reached 30 receptions. The Rams have made it clear that they don't want to leverage too heavily in one running back after the Todd Gurley years, and Edwards-Helaire would be a nice ying to Darrell Henderson's yang. As for the Lions, Kerryon Johnson hasn't stayed healthy and the team finished with the third-fewest rushing touchdowns (seven) in 2019. CEH can help on multiple fronts and provide the team with key depth and another receiving option for Matthew Stafford.
Wide Receiver
Jerry Jeudy

:

Raiders

,

Broncos

,

Patriots

Jeudy is so scheme versatile and has few flaws in my analysis. Essentially, he would fit anywhere. That said, the Raiders need help at the position and it would allow Jeudy to move all over the field. I'm betting against Derek Carr repeating his career-high 7.9 yards per attempt, however. The Broncos also have a clear need, but at least they have Courtland Sutton. Jeudy caught 27% of his 2019 receptions for 20-plus yards so he could help the Broncos stretch the field. As for the Patriots, Jeudy has a little Julian Edelman savvy and would help Jarrett Stidham, or whoever starts in 2020, be successful.
CeeDee Lamb

:

Jets

,

Raiders

,

Vikings

Lamb is an excellent prospect who should contribute immediately. The Jets could sure use immediate production and he would be a true outside receiver for a team lacking many options there. He would certainly help raise their league-worst 4.6 yards per play from 2019. The Raiders were mentioned before and they would be ecstatic with Lamb. The Vikings lost Stefon Diggs, a player who led the team with 94 targets and finished as the WR21 in 0.5 PPR leagues. We call that opportunity.
Henry Ruggs

:

Broncos

,

Eagles

,

Packers

The Broncos have felt like the de facto landing spot, but Ruggs may not even last that long. They could sure use a field stretcher who opens up the middle for Noah Fant and Sutton. The Eagles tried the DeSean Jackson experiment and failed. The Eagles averaged just 6.6 yards per attempt, eighth lowest in the NFL, and their top fantasy scorer at wide receiver was Alshon Jeffery who missed six games last year. The Packers pick at the end of the first so a trade-up would be necessary. If it happened, they could funnel some of the 163 targets thrown to Geronimo Allison, Marques Valdez-Scantling, and Allen Lazard towards a more explosive option.
Justin Jefferson

:

Eagles

,

Saints

,

Dolphins

We talked about the Eagles and Jefferson would be a great set of hands (over 80% catch rate in 2019 at LSU) for Carson Wentz. The Saints also need some wide receiver depth and learning behind Emmanuel Sanders and Michael Thomas isn't a bad thing. Neither is playing for a team that completed a league-high 71.9% of their passes last year. The Dolphins certainly have the draft capital but would need to prioritize wide receiver. They do have a slot receiver need, which the 6-foot-3 Jefferson could do well in, but the team has plenty of other needs too. But a pairing with Tua or Herbert would make this a great offensive foundation for years to come.
Laviska Shenault

:

Packers

,

Bengals

,

Colts

A very different player from Ruggs, the Packers could use Shenault as a slot option who can really create after the catch. With a slew of outside wide receiver options, Shenault would be more of a complement than a replacement. The Bengals would be looking to pair Joe Burrow with a young wide receiver and Shenault would provide an intriguing addition to A.J. Green, Tyler Boyd, and John Ross. They certainly wouldn't want Alex Erickson to see another 78 targets again. The Colts still need wide receiver help even after the Parris Campbell selection last year. Shenault is less of a burner like Campbell but would provide another option for the team alongside TY Hilton.
Denzel Mims

:

Packers

,

49ers

,

Seahawks

Another wide receiver who could fit the Packers in the late first, Mims would be an outside receiver option for a team who can't seem to find one since Jordy Nelson left. The 49ers need (yet another) wide receiver and their late first-round pick would be perfect to select Mims. Their wide receiver group lacks size, Kendrick Bourne was their highest targeted option (44 targets) who was over six feet tall, and Mims could be the perfect option for those vertical routes. The Seahawks need to repair that offensive line but they could really embrace the passing game with the addition of Mims opposite DK Metcalf. Russell Wilson has three straight seasons of 30-plus touchdown passes and 25 of his 31 in 2019 came inside the red zone. It'd be nice to add another large wide receiver for those situations.
Jalen Reagor

:

Packers

,

Eagles

,

Lions

Yes, another wide receiver with the Packers. Like Ruggs, Reagor has the vertical ability to stretch defenses and that plays well for the Eagles. His versatility as an outside or slot receiver is helpful too. That's why I see him as a potential good fit with the Lions. He could operate alongside Kenny Golladay and Marvin Jones until the latter retires or leaves. It would set Matthew Stafford up with a player who can get open and create with the ball in his hands.
Brandon Aiyuk

:

Broncos

,

Patriots

,

Ravens

A personal favorite, Aiyuk is the best at accumulating those yards after the catch. He's an elite return man who could provide a quarterback the safety valve they need with upside to score on any touch. The Broncos could use that with Drew Lock to round out his receiving group. The Patriots have shown success with these players (Edelman, Wes Welker) and Aiyuk has a 40-inch vertical that showcases his explosiveness. The Ravens are the wildcard as they have a downfield threat (Marquise Brown) and an intermediate threat (Mark Andrews) with a quarterback who causes defensive coverages to collapse. Aiyuk would be an ideal option underneath who could earn Lamar Jackson's trust quickly.
Tee Higgins

:

49ers

,

Vikings

,

Texans

What I mentioned for Mims regarding the 49ers applies to Higgins as well. The Vikings need to add a starting-caliber wide receiver and Higgins could allow Adam Thielen to play inside more often and work the middle of the field. The Texans are the intriguing team as they have an elite quarterback in Deshaun Watson but need a wide receiver who isn't strictly a vertical threat. Higgins is a poor man's DeAndre Hopkins who caught six red-zone touchdowns last year at Clemson on just eight targets. He was also third in the draft class at 13.4 yards per target in 2019 behind just CeeDee Lamb and Henry Ruggs so Higgins is both efficient and capable downfield when called upon.
Tight End
Cole Kmet

:

Packers

, Redskins,

Titans

There are a handful of really tight end needy teams and I consider Kmet the best of an average positional class. The Packers don't require significant blocking responsibilities from a tight end, as evidenced by Jimmy Graham, and they could certainly leverage the 60 targets from Graham better with an intermediate option like Kmet. The Redskins need any receivers they can get and again would let Kmet develop as a blocker while he shines as a pass-catcher. The Titans are an odd one but he could develop behind Jonnu Smith and eventually be an upgrade.
Adam Trautman

:

Colts

,

Falcons

,

Patriots

Trautman needs plenty of polish but he has all the tools to be the best tight end from this class. The fits behind Jack Doyle and Hayden Hurst allow Trautman to be eased into a lineup but have the upside of a progressive passing offense. We've seen the upside of these offenses with past performances from Eric Ebron and Austin Hooper. As for the Patriots, they have a definite need and Trautman has the blocking acumen and seam breaking ability to be a Rob Gronkowski type of game-changer, albeit at a lower level.
Brycen Hopkins

:

Colts

,

Panthers

,

Cardinals

The ideal spot would see Hopkins given the ability to move around a formation, think of an Evan Engram type of role. The Colts have shown that willingness in the past while the Panthers have a less traditional offense that should let Hopkins help spread the field. The Cardinals are the longshot here as Kliff Kingsbury hasn't had a real weapon at the position yet but has shown creativity. Hopkins could be a complement to someone like Maxx Williams.
Hunter Bryant

: Redskins,

Cowboys

,

Raiders

Like Hopkins, Bryant would benefit from a role that moves him around the field. I could have copied and pasted the Hopkins recommendations but I would rather expand the field. The Redskins have done this with Jordan Reed for years but he is gone now. The Cowboys need a real slot option and Bryant could play in two tight end sets with Blake Jarwin. The Raiders had great success with Darren Waller last year but he's nearly 28 already and the team could use more receiving options regardless of their position.

There are plenty of other players in this class where the right fit can make them short-term viable. However, these players all have the ability to be long-term successes and a good fit will start them on that path even sooner.