Week 13 Fantasy Football Rankings: Elite Matchups For The Top RB's This Week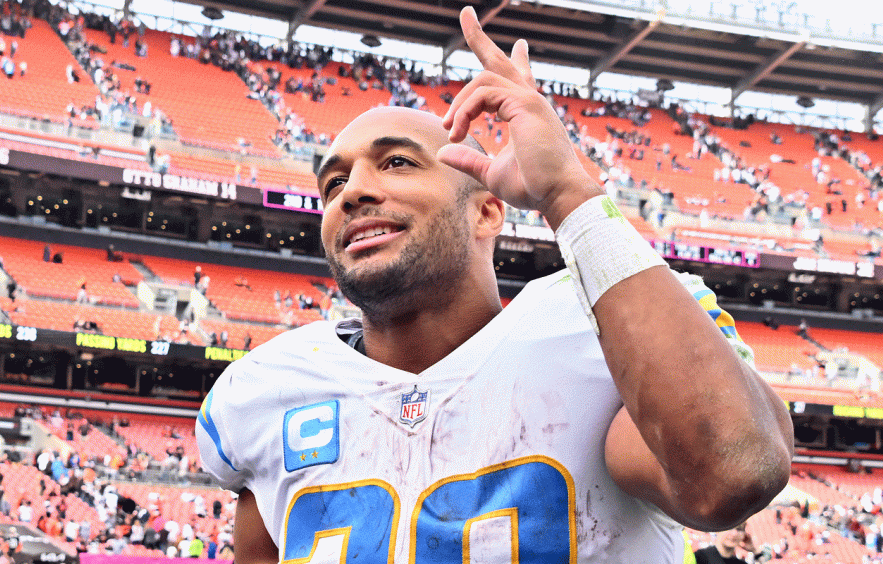 Jason Miller/Getty Images
We've almost reached the fantasy playoffs and things are getting nervy every single week. Maybe it's the stomach bug going around my house or maybe it's just a few weeks left of fantasy football, it's tough to say. Waivers are as important as ever and John Daigle's Waiver Wire Watch is essential reading this week with all the injuries.
As always, the projections and rankings are courtesy of 4for4's half-point PPR rankings!
What Stands Out: The leveling out of QB scoring this week.
Analysis: We're used to seeing Josh Allen several points ahead of any competitors, but this week he's back with the pack but still on top. Patrick Mahomes gets a somewhat difficult matchup against the Bengals, but that game has shootout potential written all over it. Tennessee is one of the top pass funnel defenses in the league and while Jalen Hurts does a lot of damage with his legs he's capable of big passing outings. Joe Burrow, Justin Herbert, and Trevor Lawrence all benefit from elite matchups and game environments this week. It's also a rare sighting for Lawrence in the top 10, but with as well as he's been playing and the matchup against Detroit he's a guy that could overperform this week. Cleveland's QB rounds out the top 10, but coming off a lengthy suspension I'd be hesitant to use him this week. Outside of the top 10, Jimmy Garoppolo has a great matchup against Miami in what should be a great game this weekend.
What Stands Out: Elite matchups for most of the top running backs this week.
Analysis: At the top, we get a matchup of 1 vs. 2 as Josh Jacobs and Austin Ekeler meet this weekend. Jacobs is fresh off a 300-plus yard day while Ekeler continues to reel in a bunch of catches out of the backfield. Nick Chubb gets the Houston defense this week that is giving up big fantasy days to just about every running back. The same could be said for Derrick Henry who gets a revamped Philly front line, but not enough to slow The Big Dog down. Ken Walker will avoid Aaron Donald this week as it sounds like he's got a high ankle sprain and has been seeing a ton of work in Seattle's backfield. Another matchup at the bottom of the top 10 comes as Aaron Jones and David Montgomery will meet on Sunday. I'd be hesitant of Montgomery if Fields sits, but Aaron Jones seems safe even if Jordan Love starts for Green Bay. Outside of the top 10, is Dameon Pierce safe? He gets a great matchup against Cleveland, but that offense has just been so, so bad.
What Stands Out: Chris Godwin looks like the new alpha in Tampa Bay.
Analysis: Davante Adams has a tough matchup on paper, but he's matchup-proof in most circumstances. Tyreek Hill isn't slowing down anytime soon unless he sits for the final 17 minutes of a game again. Justin Jefferson and CeeDee Lamb get the two toughest matchups on the board, but both are just so good it doesn't even matter. Chris Godwin sees a big projection increase over his teammate Mike Evans this week and the bump looks totally justified as the Tampa Bay offensive line can't seem to protect Tom Brady enough for Mike Evans spike weeks. A.J. Brown gets a big revenge game this weekend and given the way he's been trolling Tennessee receivers I hope he puts on a show. Garrett Wilson was DFS chalk last week that even in the worst weather game smashed the slate. He'll look to do so again in the easiest matchup of the week. Outside of the top 10, Ja'Marr Chase is back. What will his target share look like in his return against Kansas City? We'll find out, but he's projecting very well.
What Stands Out: Do you have Travis Kelce? If yes, skip the next part. If not, good luck!
Analysis: Kelce is just so far out ahead of the rest of the pack both positionally and in the pecking order on his own team as Patrick Mahomes continues to spread it around between all the receiving options behind the star tight end. Mark Andrews always has a high ceiling, but between injuries and the Baltimore passing game slowing down, we haven't seen the spiked weeks. This feels like a George Kittle spot. He'll be needed to make some plays in a potential back-and-forth affair against Miami. David Njoku was playing behind Harrison Bryant in Week 11, but the roles reversed in Week 12. Cole Kmet requires Justin Fields at quarterback to unlock his ceiling. Outside of the top 10 is a bit of a mess, but Evan Engram against a soft matchup in Detroit sounds appealing like all Jaguars this week.