Dynasty Start-Up Mock: Superflex PPR TE Premium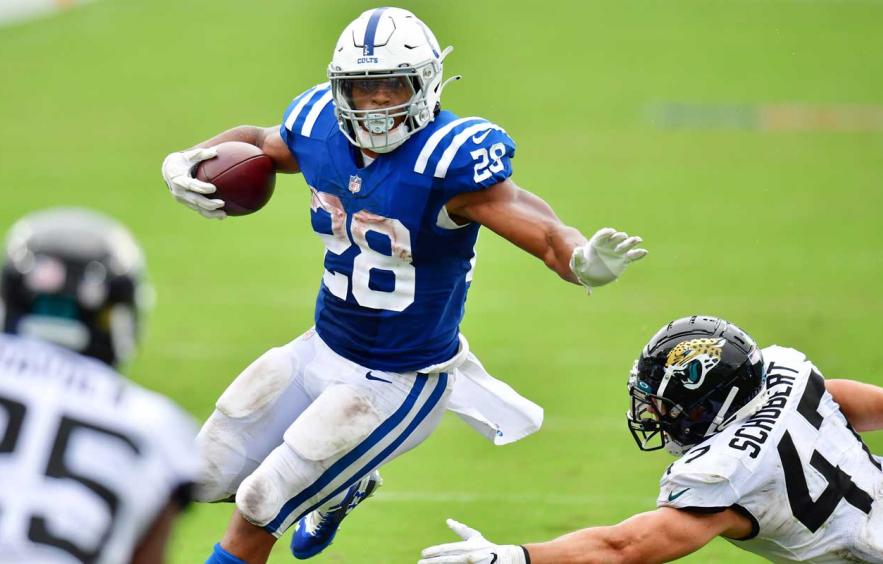 Julio Aguilar/Getty Images
Recently, as an introduction for fantasy owners who haven't dipped their toes in dynasty leagues before, I completed a rookie mock draft for 4for4.com using DLF's new Mock Draft Simulator. In this second installment of this series, I will run a start-up mock draft. Then, I'll give you a breakdown of each of my picks and walk you through my thought process on each selection.
Regarding the setup this time, I went with what I think to be the most common league settings; a 12-team league, a 20-round draft, with superflex rosters with point-per-reception (PPR) and tight end premium (TEP) scoring. I was randomly assigned the eighth pick. With those parameters in place, let the drafting begin!
Rounds 1-4
As you'll often find in superflex drafts, the quarterbacks started flying off the board early and often. I find that there are always values to be found later in drafts, so I will typically zig while everyone else zags. With the seven picks ahead of me and seven quarterbacks taken, I stuck to my strategy coming in, and I avoided quarterback, selecting Colts running back Jonathan Taylor. I briefly thought of taking Ja'Marr Chase, but due to positional scarcity at running back, Taylor was screaming out to me here in the first.
In the second round, with eight quarterbacks gone, I figured I should get my hands on someone with high-end QB1 upside. I rolled the dice on the Browns' Deshaun Watson. As you'll see later, I ended up regretting this decision, and it impacted multiple selections I made as we got deeper into the draft. Other options I had considered here: Trevor Lawrence, Matthew Stafford, and Jalen Hurts. I think Stafford might have been a better pick as things played out in the later rounds.
In Round 3, I double-dipped at quarterback, selecting Aaron Rodgers. This pick was my first reaction to selecting Watson in Round 2. With the uncertainty surrounding Watson and his availability in 2022, I needed to ensure I had a top-tier starting quarterback at the beginning of the season. Rodgers will turn 39 in-season, and as much as I don't like taking an older QB this early, he did just sign an extension with the Packers, and he is under contract until 2026, so I feel a little better knowing that. Justin Fields and Tua Tagovailoa were options, but I felt like there was just way too much uncertainty with both of them. Had I not taken Watson in Round 2, I would've gone in another direction here.
I didn't love the wide receivers that were available at the top of the board with my pick in Round 4. So, as a result, I went back to running back, selecting Dalvin Cook. He's 26, but with Taylor and Cook as my top running backs, I have a legitimate shot at two top-five players at the position and feel good through four rounds.
What Could Have Been?
Everything is easier with the gift of hindsight, and this seems to always be the case looking back at fantasy drafts. I regret drafting Watson in the second as it significantly impacted the remainder of my draft, and not in a good way. At the time, I liked the RB-QB-QB-RB start, but I probably should have gone in a different direction as things played out in later rounds.

Rounds 5-8
Looking at my RB-QB-QB-RB start, I backed myself into a corner and had to take a receiver in Round 5. Luckily, I love the Steelers' Diontae Johnson, and I'm thrilled to lock him in as my WR1. This was my easiest pick so far.
Round 6 presented my first genuinely difficult decision. There were a few players I liked here, and if this were a real draft, I would have tried to pull a trade and move back a few spots. However, since that wasn't an option for me, I had to make a selection, and I went with Aaron Jones. Looking at the Packers' receiving corps, there is a chance that we see Jones catch 70+ balls this year, making him a PPR must-have. I also get the Rodgers-Jones stack, and I like stacking if I can. I'm hoping Courtland Sutton or Terry McLaurin fall back to me with my next pick.
Whelp, Sutton and McLaurin did not fall back to me. I'm miserable, and I hate my team at this point. I probably shouldn't have gone running back three times through six rounds. I also shouldn't have taken a quarterback in Round 2 who may miss somewhere between one and 17 games. Alas, nothing can be done about any of that at this point, and I'm again feeling like I'm forced into selecting a wide receiver. I'm looking at DeVonta Smith, but I have questions about his role with A.J. Brown now in Philadelphia and if Jalen Hurts can support two fantasy-viable receivers. There are plenty of questions around veterans Michael Thomas, DeAndre Hopkins, and JuJu Smith-Schuster, and I'm not a big Amon-Ra St. Brown guy. This leaves me with Darnell Mooney. I like Mooney, and he is clearly the Bears' top receiver. Add in the fact that the Bears should be terrible and will be trailing in games often- and throwing more as a result- Mooney has some sneaky upside in 2022.
In Round 8, the Watson decision rears its ugly head again. I want to take Kenny Pickett here; however, it's probable that he isn't the Steelers' starter early in the season. Having both Watson and Pickett sitting on my bench, eating two roster spots for several weeks to start the year isn't a direction I want to go in a superflex league. A quarter of my picks through eight rounds unavailable to me for maybe half a season is less than ideal, so I'm going to have to pivot. I went with Matt Ryan of the Colts. Matty Ice still has a little something left in the tank and should have a couple of productive years in Indianapolis. This choice also points me in a direction that I didn't plan on heading into the draft. I believe I'm building a win-now team. I often don't draft rookies in start-ups, and I think I will have to focus on winning in 2022 and 2023 after this pick.
What Could Have Been?
Again, the Watson pick forced me to grab a third quarterback earlier than I would've liked. Fading receivers through Round 4 also forced me to draft at least two among this quartet of picks. I probably should have taken three, but the Aaron Jones stack with Aaron Rodgers was too good for me to pass up. I don't love my roster construction through eight rounds, but I don't hate the team either.

Rounds 9-12
A case can be made for Brandin Cooks to be one of fantasy football's most underrated wide receivers. He's clearly his team's top option in the passing game entering the 2022 season, and in a draft where I missed out on the top-end talent at the position, getting a lousy team's No.1 receiver as my third option ain't too shabby. Looking at Cook's career per-game averages and extrapolating that out over 17 games, he'd finish WR20 with approximately 230 points. I'll take it.
I've never been a huge Christian Kirk fan, but judging by the monster contract he got from the Jaguars, they like him, so who cares what I think. I'm starting to sense a theme with my receiving corps through 12 rounds: No.1 receivers on teams with low projected win totals. You could do a lot worse than chasing garbage time production. My receivers may be relatively weak, but I still managed to snag four teams' top receivers, so I'm ok with that.
I'll almost never take tight ends before Round 10 in a draft. There is so much value late in drafts, and if you really want to kick the can down the road, I've had success using my final four-ish picks on tight ends and attacking waivers in season, and streaming the position based on matchups. Nevertheless, I dipped my toe in the TE waters here and selected the Broncos' Albert Okwuegbunam. Hyper athletic but raw, The Broncos traded away Noah Fant, clearing the deck for Albert O. Yeah, different system, different players, etc. Still, over Russell Wilson's career, his TE1 has averaged a 40/449/4.2 stat line. Those are good enough for mid-to-low-end TE2 numbers, and that's good enough for me.
I double-dipped at the tight end position, taking another young, athletic player whose team has cleared the deck for him with the Browns' David Njoku. Njoku has shown flashes of why he was a first-round pick in the stacked 2017 draft class. I also get another stack with Njoku and Watson, so if they both "hit," my team should be much better for it.
What Could Have Been?
At this point in drafts, you start hoping for players to fall to you with your next pick. When I took Kirk, I had hoped Hunter Renfrow or Dalton Schultz fell back to me in the 11th, but they didn't. I also liked Chase Edmonds as a value pick in this range, but he didn't make it back to me either. No matter, I couldn't justify another RB after sinking so much early draft capital into the position while I still had needs at receiver.

Rounds 13-16
Things are starting to get gross. I always seem to end up with Jakobi Meyers in every draft, and I don't hate it. As my WR5, acting as a bye week fill-in player, I could do a lot worse than last year's WR29. The lack of touchdowns is a concern, but I suspect he'll lead the team in receptions again this year.
A pure PPR pick, J.D. McKissic has 123 receptions in 27 games with Washington. Much like the Meyers selection, given the scoring format, I could do worse than plugging in McKissic during bye weeks as my RB4.
In Round 15, I figured a dart throw on Marcus Mariota wouldn't be so bad. He should be starting for the duration of Watson's potential early-season suspension. But, once again, even in Round 15, the Watson pick in the second still haunts everything I'm doing. If I had any idea this might have been a possibility earlier, I would've likely tried to draft Desmond Ridder earlier. Or, maybe I would have taken Pickett instead of Ryan and aimed for Trubisky later.
Who is the Packers' top returning weapon in the passing game? Allen Lazard, come on down? Another stack with Aaron Rodgers, Lazard could easily end up leading this team in receiving touchdowns. Lazard could be the steal of drafts in 2022, and I love this pick as a pure upside play.
What Could Have Been?
I was hoping Kenny Golladay would fall back to me in Round 13, and it stings a little that he didn't. These are the rounds where championship-caliber rosters are built. If you can hit on just one player going this late in drafts, it changes your team dramatically- especially in dynasty. Your acquisition cost for players here is essentially nothing, and if they come out of the gates hot, you can either flip them for valuable rookie picks next year or ride the hot hand and enjoy the points from an unexpected source.

Rounds 17-20
With Mariota in the 15th, Bryan Edwards seemed like a decent option as another WR-QB stack on my team. He's the Falcons' WR2 behind rookie Drake London and finds himself in a better spot than he was in with the Raiders. Much like Lazard above, he could easily be looking at a career year in 2022.
I finally got a rookie. More on that later, but Hassan Haskins seems like an intriguing dart throw at this point. If Derrick Henry breaks down again, Haskins looks to be in line for all the rushing game work in Tennessee. He's not nearly as talented as King Henry, but opportunity and volume are drivers of fantasy points, and if Henry were to miss a couple of games, Haskins could probably be in the RB8-16 range for a multiple-game stretch.
'Tis handcuff season. Christian McCaffrey has missed 23 games over the last two seasons. Knowing this, the Panthers brought in D'Onta Foreman, who looked good in small doses last year, with Tennessee filling in for the aforementioned Derrick Henry.
With my final pick, I guess I could swing for the fences. I knew I needed a third tight end. Looking at the remaining options, to me, Tommy Tremble has the highest upside as a dynasty stash. The Panthers' offense stinks, their quarterback- no matter who it is- stinks, but Tremble just turned 22 on June second and is a day-two NFL draft pick. He's dead to me in redraft, but with my final selection in a dyno start-up, Tremble has tons of potential once this team straightens out the problems at quarterback… and coach… and front office... and ownership.
What Could Have Been?
I didn't miss anyone here. Relative to draft slots, I surprisingly think I'm the happiest with this foursome compared to any of the groups above. There is plenty of potential upside with each of these players, and I'm glad to have them on my bench.
Draft Recap
Dynasty fantasy teams are largely built on the backs of rookies. If you look through my draft, you'll see I only drafted one rookie. Typically, that's more than I usually take in a start-up. Some owners pound rookies in start-ups, so there is no wrong way to do it, but I think most owners are blinded by rookie fever in start-up drafts, which drives veteran values down too far. If a rookie falls to a point where I think they become a value, I'll pull the trigger there, but give me the known commodities in a start-up; I'm not looking to roll the dice on an unknown when there are knowns on the board.
For example, Breece Hall went ahead of Barkley, Mixon, Chubb, Cook, Kamara, Henry, Montgomery, Akers, and Dobbins. Could he finish ahead of them? Sure. But that's a lot of draft capital to sink into a complete unknown while multiple established players at the position remain on the board. Likewise, Treylon Burks went ahead of Diggs and Diontae Johnson. Stop the insanity, people.
Overall, the draft went pretty normal compared to other mocks I've participated in, both with actual people and using DLF's Mock Draft Simulator. Looking back, I would have done many things differently, but that is the point of a mock draft. It's better to make your mistakes here, practicing, than in a real draft in a league for real money.