Dynasty Rookie Mock: Superflex PPR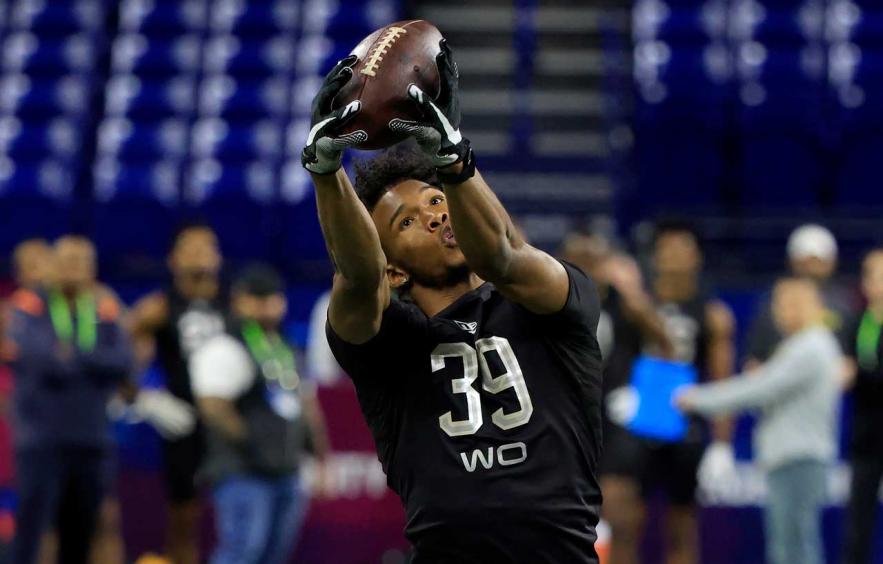 Justin Casterline/Getty Images
Are you a seasoned fantasy football player but new to dynasty leagues? Not sure where to begin? Obviously, keeping your roster forever is the most significant difference between redraft and dynasty leagues. However, most veteran dynasty owners will tell you the best part of playing dynasty is the annual rookie draft. Dynasty League Football recently launched a new Mock Draft Simulator to help people get a feel for how things might go during their upcoming rookie drafts.
In this series, I'll be using DLF's new Mock Draft Simulator to simulate both rookie and dynasty startup drafts and give you a breakdown of how the draft unfolded, my picks, players I missed out on, and more. In this edition, I set it up as a 12-team, four-round rookie draft, with superflex rosters and point-per-reception (PPR) scoring, without tight end premium (TEP). I was randomly assigned the fourth pick. With those templates in place, let the drafting begin!
Round 1
In what is perceived as a weak quarterback class, we are seeing quarterbacks fall in drafts this year. It's fairly common to see the top few quarterbacks in a given year go in the top half of the first round in rookie drafts. This year- that isn't the case.
I haven't been in a draft yet where Breece Hall hasn't been the 1.01, although I've seen some screenshots on Twitter where he's fallen in other leagues. Positional scarcity has driven running back prices higher and higher, so it was no surprise to see Kenneth Waker taken second. Treylon Burks went third, and now I was on the clock.
Honestly, in a real draft, I would be feverishly trying to work a trade. Drake London has a massive group of fanboys out there, and I'm not one of them, so I'd be thrilled any time I can move a pick with him on the board. That being said, I can't trade in the mock, so I've got to pull the trigger on someone. I selected the New York Jets' Garrett Wilson. The Jets made it clear all off-season that they wanted to bring in a receiver to be their new No.1 option in the passing attack; when trades failed to materialize, they addressed it via the draft. If I can't trade back, give me the player who was the top receiver on many dynasty rookie boards ahead of the draft.
Woulda, Coulda, Shoulda, Part 1
Had I been able to trade back, I would've been targeting George Pickens or Skyy Moore at the back-end of the first round. The only other option for me at 1.04 would have possibly been Kenny Pickett since this is superflex. Had Drake London been taken at 1.03, I would've selected Treylon Burks. Onto Round 2!

Round 2
If you're new to dynasty, this year probably isn't going to be one for the memory books. A lackluster class combined with some lackluster landing spots in the NFL draft gives this year's rookie group a bit of a stank to it. Usually, there is a fairly solid top 20 or top 24, then things start getting a little wonky after that, but this year, drafts start taking a nose-dive after pick 13.
Well, would you look at that, pick 14 is Malik Willis. Normally, you'd never see a third-round quarterback taken this early, so this really speaks to the perception of this class. For example, a year ago, Davis Mills was selected earlier than Willis was this year. Nobody was clamoring to pick Mills at the top of the second.
I selected Dameon Pierce, running back, Houston Texans, with my pick. In DLF's ADP, Pierce is looking at an ADP of 17.5, so using the 16th pick on him is right in line with the way things have gone with people drafting. However, I've seen several real drafts where Pierce snuck into the late first round, so in an actual draft, you might have to pull the trigger on him earlier than you were hoping to.
With only a-recently-returned-from-an-achilles-injury-and-averages-13-touches-per-game Marlon Mack and a-soon-to-be-32-and-averages-six-touches-per-game Rex Burkhead ahead of him on the depth chart, Dameon Pierce has one of the clearest paths to early touches among any of the backs in this draft class. I'm happy with this pick.
Woulda, Coulda, Shoulda, Part 2
There's not much I would do differently here. I like Pierce, I like his landing spot, and I think this is a good range for him. I suspect when camp starts, and he starts to pull away from the other Houston backs, his ADP will climb throughout the summer. If you're locked into filling an RB spot, I like Zamir White's upside; although I don't think he will get much work in 2022 as a rookie, he's in one of the better long-term situations.
Round 3
We've officially reached the cross your fingers and pinch your nose portion of the draft. Historically, most of these guys are going to bust, so you draft them and hope for the best. Much like Dameon Pierce above, I targeted a running back with a questionable, unsettled, elderly duo ahead of him. The Atlanta Falcons' Tyler Allgeier finds himself in one of the better landing spots in 2022. Cordarrelle Patterson is a 31-year-old journeyman wide receiver turned running back who broke out in his age 30 season. Damien Williams has been serviceable at points during his career, but the age 30 back is on his fourth team since 2017.
At some point, Allgeier should get a chance to show what he can do at the NFL level. If he pops for a few decent games, you can probably flip him for future picks in-season or stash him and hope he can be a productive part of your roster for the next few seasons.
Woulda, Coulda, Shoulda, Part 3
I was hoping Alex Pierce was going to fall to me. He was a tremendous value at 3.01, 25th overall. His current ADP is 19, and he's been selected as high as 13th overall in some mocks. Justyn Ross is intriguing in the mid-to-late third, and he would have been a target if I were to trade back a little bit. But remember, the hit rate of undrafted rookies is really low- everyone in this range has their warts. Hassan Haskins is starting to grow on me; if you believe the massive workload Derrick Henry is finally catching up to him, Haskins could end up being one of the biggest steals in this class.

Round 4
If you thought round three was gross, welcome to round four. You can talk yourself into whatever narrative you want to with many of these guys. I went with Keaontay Ingram. I suspect Eno Benjamin will be the Cardinals' change of pace back, and Ingram will be the backup to James Conner. In five years as a pro, Conner has never played an entire season, and I think Ingram will get a few starts because of it. That's about all you can hope for when selecting players in this range. Cross your fingers, hope your guy looks good when he finally gets a shot, and he can turn that into more touches as the season continues.
Woulda, Coulda, Shoulda, Part 4
Romeo Doubs is kind of interesting. He is linked to one of the best quarterbacks to ever play the game, so that's good. Isiah Pacheco is worth a dart throw here too. The running back in an Andy Reid offense has historically been fantasy gold until Clyde Edwards-Helaire ruined everything. Ronald Jones stinks, Derrick Gore is ok at best, so it's not like Pacheco would have a lot to overcome to secure himself some sort of role on this offense. If there is a tight end you like, these late picks are always a good spot to start throwing darts at them too.

Who's Left?
After your rookie draft is over, some leagues open waivers, and you can start blowing your FAAB on players you'll cut by Week 3. I'm joking, well, maybe. If you have a deep bench or a taxi squad, there are a couple of options remaining that might be worth a stash. In no particular order, I like Snoop Conner, Daniel Bellinger, Cade Otton, and Grant Calcaterra. They all offer some combination of a path to early-season work due to known injuries ahead of them or long-term stash potential with aging veterans or roster-clogging JAGs ahead of them.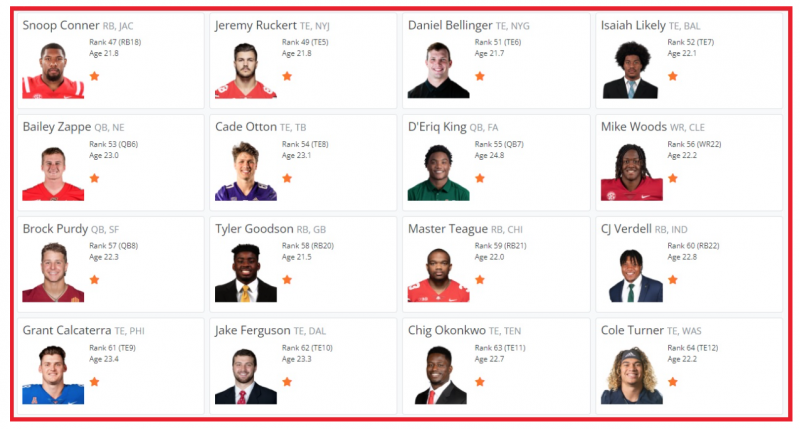 I hope you enjoyed this look at my recent rookie mock. Be sure to check out DLF's new Mock Draft Simulator and see how things shake out for you- no two drafts are ever the same. It's a great way to prepare for any of your real-life upcoming drafts and will give you some insight into which players you might have to overdraft if you want to get them on your dynasty rosters. I'll be taking a look at a startup draft next, so be sure to check back and see how that goes.