Never-Too-Early 2020 Rankings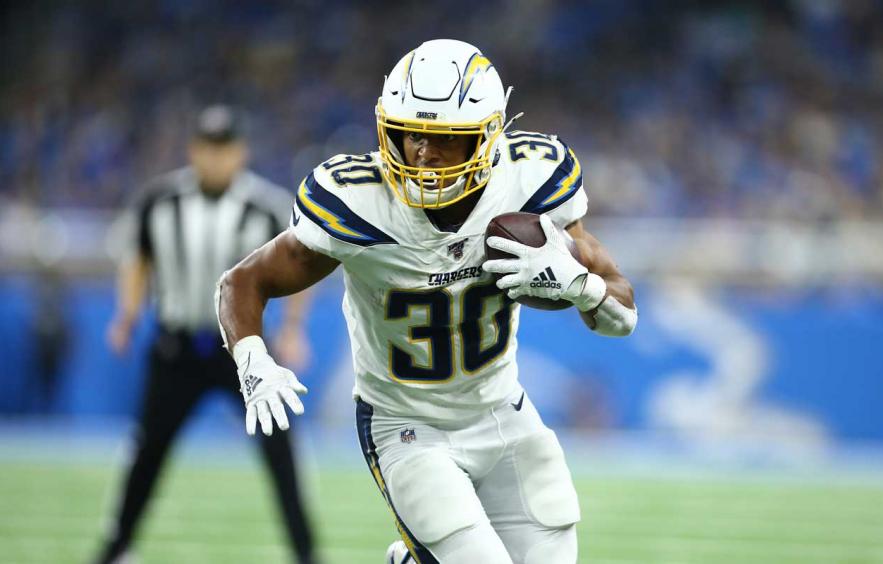 Ray Del Rio/Getty Images
My 2020 Never-Too-Early Rankings are available here. This year, we're using our Rest-of-Season rankings tool so I can easily shuffle players around as the offseason progresses. I'll discuss each position below.
We'll obviously know much more after free agency and the NFL Draft, but for now, this is where I'm at.
Note: The rankings are based on half-PPR scoring systems, so users should adjust for high-and low-volume pass-catchers where applicable.
Quarterbacks
The quarterback position continues to be loaded with productive players, so my usual approach won't change: It pays to wait on the position. In 2016, six quarterbacks were drafted outside of the top 12 and subsequently finished in the top 12 in total scoring. In 2017, four quarterbacks accomplished the same feat. In addition, Deshaun Watson was on pace to finish as the No. 2 quarterback prior to his injury in Week 8. In 2018, we added four more late-round quarterbacks to this list. Last year, five quarterbacks that finished in the top 12 were drafted outside the top 12, including two of the top three (Lamar Jackson and Dak Prescott).
So, over the last four years, 40% of the quarterbacks who finished in the top 12 were drafted outside the top 12.
One thing that jumped out to me when looking at the final numbers from 2019: Each of the top 10 quarterbacks rushed for at least 183 yards, so we need to be looking for rushing production when trying to identify upside at the position. Jackson, Josh Allen and Kyler Murray are great examples of this.
Looking ahead to the 2020 season, there are four quarterbacks that I can comfortably put ahead of the rest: Patrick Mahomes, Lamar Jackson, Deshaun Watson and Russell Wilson.
After that, it's a bit of a crapshoot. There isn't a whole lot separating my current QB5--Dak Prescott, who is dealing with a head coaching change and the potential loss of Amari Cooper--and my QB20, Ben Roethlisberger.
In early best ball drafts, my strategy would be to create a committee of 2-3 quarterbacks that are going in the double-digit rounds. According to Best Ball 10 ADP, 14 of my top 20 quarterbacks are going in the ninth round or later, starting with Josh Allen.
In regular redraft leagues, the two early-round passers that appear to be values are Watson and Wilson, who are currently going in the sixth round and seventh round, respectively. This is best ball ADP, which isn't exactly applicable in this case, but if the ADP holds in redraft leagues then owners who are squeamish about waiting too long at the position can find some value in those two players.
Who is the next Lamar Jackson? I would say that it's Kyler Murray, who is currently going slightly ahead (QB4) of Russell Wilson, so he's not the type of value that Jackson was last year. A much cheaper option is Daniel Jones, who averaged 21 yards rushing last year and had three games where he threw at least four touchdown passes. He may be a bit unreliable for regular leagues, but his weekly upside is attractive in best-ball formats.
One other player I'd like to mention is Matthew Stafford, who had the fourth-highest per game average through eight games played. He was on pace for 4,998 yards and 38 touchdowns, and was throwing the ball downfield early and often in 2019. He's currently going off the board as the QB15.
Running Backs
The certainty of situation/workload at the running back position extends through RB11 (Joe Mixon), assuming Derrick Henry re-signs with the Titans. Even if he doesn't, he's likely to land with a team willing to feed him the ball, so the first 11 players look really safe.
After Mixon, the questions begin. Will the Chargers let unrestricted free agent Melvin Gordon walk (probably) and commit to restricted free agent Austin Ekeler (maybe)? Where does the next generational running back Jonathan Taylor land? Can Chris Carson hold Rashaad Penny off for another season? Will the Cardinals re-sign personal favorite Kenyan Drake, who was outstanding in the final weeks of the season?
Another huge question mark hovers over the Kansas City backfield, where once again Damien Williams closed the season in incredible fashion, averaging 18.6 touches for 110 yards and 1.57 touchdowns in his final seven non-injury games. Over the past two seasons, Williams ranks third in fantasy points per touch among running backs with at least 300 touches, including the postseason. (Austin Ekeler is second in this metric, by the way.) If the Chiefs don't add a running back on the first two days of the draft, Williams--currently going in the middle of the fourth round of early best ball drafts--could be a steal in fantasy drafts after injuries and a crowded backfield submarined most of last season.
While the relative certainty stops at Mixon, the interesting players extend into the mid-30s where restricted free agent talent Kareem Hunt, late-bloomer Raheem Mostert, post-hype sleeper David Montgomery and up-and-coming types like Ronald Jones and Derrius Guice reside. These types of players will move around significantly as the offseason progresses.
Wide Receivers
Like the running back position, the receiver rankings look pretty solid through the first several players, though even Chris Godwin and Mike Evans may experience some uncomfortable change at the quarterback position as the Bucs appear to be moving on from Jameis "I just got LASIK" Winston.
WR9 (D.J. Moore) through WR21 (Robert Woods) looks like another big tier where players may move around depending on which way the wind is blowing. Amari Cooper (UFA) is easily the biggest name at his position in free agency and his landing spot will be key. If he leaves Dallas, Michael Gallup will get a sizable bump.
The "really interesting" tier currently runs through WR35, Jarvis Landry, who is only this low because he just had hip surgery and is questionable for Week 1. A.J. Green falls into this group as well. It sounds as if the Bengals may franchise tag him, and his return would impact Tyler Boyd, John Ross and Auden Tate, who currently look undervalued assuming Green leaves and the Bengals draft Joe Burrow.
John Brown finished his first season in Buffalo as the fantasy WR15, yet he's the WR34 in early best ball drafts. This disparity doesn't make a whole lot of sense considering not much has changed in Buffalo this offseason. I'll be targeting Smokey again this year even though he'll be going four or five rounds earlier.
DeVante Parker broke out with 1,202 yards and nine touchdowns, but prior to his injury, Preston Williams had more catches and yards than Parker. Parker is currently going seven rounds earlier than Williams, which looks like market inefficiency to me.
Tight Ends
Early best ball ADP has the tight end position sorting into a few tiers at the top, with Travis Kelce/George Kittle once again going in the second round, and Zach Ertz/Mark Andrews/Darren Waller going in the late-fourth/fifth. I have no problem with any of these ADPs and will likely be an early tight end aficionado again in 2020.
Austin Hooper (UFA) had a great year and it looks like Atlanta is going to let him walk, so his landing spot will be key. The Packers are reportedly going to make a run, and if they sign him, they'll use him, contrary to the popular belief that Green Bay is where tight ends go to die.
Hooper is in the next tier with Tyler Higbee, Evan Engram, Hunter Henry (UFA) and Jared Cook. Of this group, Higbee seems the riskiest, but he caught fire at the end of the year, racking up 43 catches for 522 yards (!!!) and two touchdowns in his final five games, garnering double-digit targets in his last four games. It's hard not to view him as a fantasy TE1 even with Gerald Everett back in the fold.
Every season, there are a few late-round tight ends who finish in the top 12. Last year, there were five. So if fantasy owners can successfully identify one or more of these players, they can pass on the position and add an upside tight end or two later in the draft and get good production.
I think T.J. Hockenson has that sort of upside, and he's going in the 10th round of early best ball drafts. But there may be even better value later on in the form of Jonnu Smith (12th round), Jack Doyle (13th) and Blake Jarwin (14th).
According to PFF, Smith averaged 1.80 yards per route run, which was the ninth-most at his position (among those tight ends with at least 26 targets) in 2019. He was 33rd in routes run, so his usage was relatively low, and Delanie Walker is still under contract, so Smith is not a sure bet for a breakout season. Even so, he's athletic and has a proven track record of production when he's involved in the passing game.
Doyle should benefit from the probable departure of Eric Ebron. He's a dad-runner but should absorb plenty of short targets and be especially good in PPR formats. He has a reputation for being injury-prone, but he played 15+ games in six of his last seven seasons and set a career-high in yards per catch (10.4) in 2019.
Perhaps the most intriguing late-round tight end is Blake Jarwin (RFA), assuming the Cowboys part ways with Jason Witten and don't make a big move at the position this offseason. Jarwin was eighth in PFF's yards per round run metric in 2019, and if he gets most of Witten's usage, he could surpass 800 routes in 2020. Maybe Amari Cooper leaves and he becomes Dak Prescott's No. 2 target in the passing game. If so, a TE1-type season will follow.
Ian Thomas, Eric Ebron and Chris Herndon are a few more late-round types that jump out at this point in the offseason.
That wraps it up for now. Be sure to listen to the latest episode of The Most Accurate Podcast for a recap of 2019 and more discussion about these Never-Too-Early Rankings for 2020. Free agency will impact these rankings in mid-March. Once the NFL Draft is complete, I'll begin to work on our official 2020 draft projections.