Running Back Handcuff Charts and Draft Targets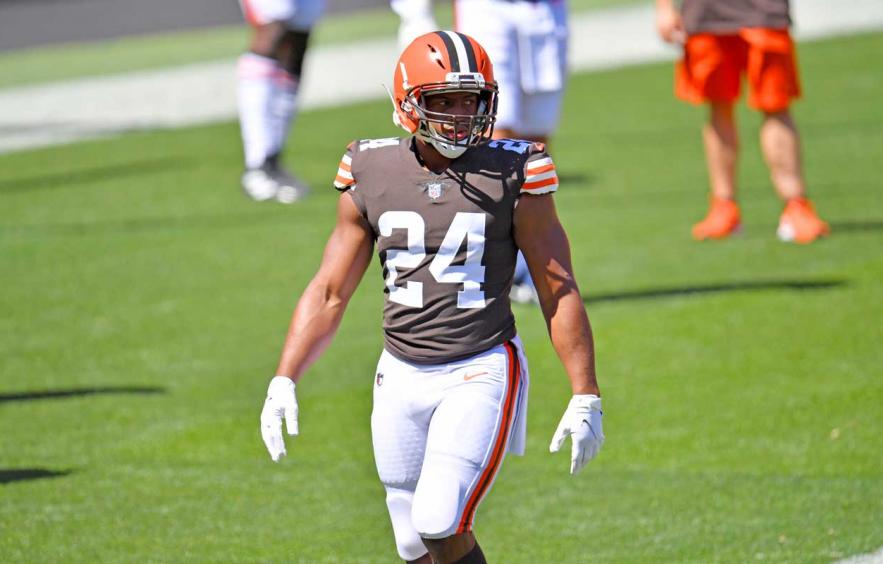 Jason Miller/Getty Images
Handcuffing in fantasy football has fallen in and back out of favor in previous seasons and there are very valid arguments to be made on both sides of the handcuff debate. Finding that your late-round pick can slide right into a full workload after an injury is a thing of beauty, but oftentimes we're not even sure if we're holding the actual handcuff on a specific team. Because of that uncertainty, we can be stuck holding the bag when we've wasted a roster spot on a player only to have his teammate take hold of the starting job after the man in front of them suffers an injury.
---
Other RB Articles & Rankings: RB Breakouts | Zero RB Targets & Implications | RB Rankings
---
Nonetheless, it's important to have a broad understanding of each team's depth chart —even if you're not planning on drafting the backup, or, hopeful handcuff. Knowing who is a likely handcuff in a good situation will give you a leg up when you're attacking the waiver wire, or even when you're looking for a bargain play in DFS.
Finding fruitful handcuffing situations is especially important if you have spent high draft capital on the running back position; since these running backs have such a high workload, running backs taken in the first five rounds of the draft tend to be the most injury-prone group of players amongst all fantasy positions.
I have separated possible handcuffing situations by three parameters; the first being entirely injury-dependent, followed by situations we should keep an eye on throughout training camp, and finally, back-ups with opportunities for immediate output and/or concerns with that team's perceived starter. Let's dig in.
Entirely Injury-Dependent
This is likely the grouping that most people think of when they think of a true handcuffing opportunity. These are the teams that we are all but certain will be riding their stud running back all season long, and it's why so many of these options are going in the first rounds of fantasy drafts. For a number of these backups to see the field more than a handful of snaps per game would require a devastating injury to a teammate.
There is no reason to believe that players like Christian McCaffrey, Derrick Henry, Dalvin Cook, Najee Harris, or Joe Mixon will be losing any significant time to players in his backfield. Obviously, injuries can change things in the blink of an eye.
Joshua Kelley has emerged as the number two back on the Chargers offense and will see time behind Austin Ekeler, who has never surpassed 135 carries in his four-year career. Ekeler missed six games with a hamstring strain last season, and I see nothing wrong with making sure you've got all of the backfield touches on an ascending offense.
Miami was supposed to spend a high draft pick on a running back but did not. They were then supposed to bring in some veteran free agent help, but they did not. As the dominoes fell throughout the Spring, it became apparent that the Dolphins are endorsing Myles Gaskin as their bell cow for 2021. He came out of nowhere to win the job last year, and no signs are pointing towards him losing it any time soon, but he still only has 178 rushing attempts in his career. At their current cost in drafts, you could pair Gaskin with his former college teammate Salvon Ahmed for the price of a sixth-round pick and an 18th-round pick, respectively, and corner the entire Dolphins backfield for cheap.

Worth Keeping an Eye On
When combing through training camp notes and watching preseason games throughout August, these are the situations we should be monitoring for movement. Either someone will solidify their position atop the depth chart, or we will have a true committee emerge.
The Texans' offense could be something awful to witness this season, but somebody has got to handle the ball and at severely discounted draft cost, it's worthwhile to throw some darts. While I would advise against selecting multiple pieces of this backfield, I have been targeting Phillip Lindsay when I need running back help deep in drafts. He has a chance to climb over veteran has-beens and some touchdown regression could spike his weekly scoring.
Philadelphia could go several different ways, with the most likely outcome being Miles Sanders handling around 50% of the backfield touches, Kenneth Gainwell and Boston Scott rotating in for another 35%, and Jordan Howard or Kerryon Johnson mixing in for the leftovers. As you can see the most likely scenario is also the worst-case scenario. There is a possibility that Gainwell shows out so well on special teams that the team feels comfortable releasing Boston Scott and they let Howard walk before camp breaks, leaving a better Sanders/Gainwell split for fantasy purposes.
In three seasons as the offensive coordinator of the Raiders, Greg Olson's offenses have finished 14th, fourth, and eighth in neutral rush rate (the percentage of runs called when within a single score of the opponent) after the Jaguars finished with the ninth-highest in his final year as Jacksonville's offensive coordinator. The Raiders will lean on the run regardless of who the back is, and that could mean fantasy viability for Kenyan Drake if he's able to force something like a 60/40 split with incumbent Josh Jacobs. Just as big of an obstacle as Jacobs will be the shakiness of the "revamped" offensive line. The three biggest assets along the line —Trent Brown, Gabe Jackson, and Rodney Hudson— are all playing for different teams in 2021, quite literally leaving holes along the trench. Drake may need to make the coaches believe Jalen Richard should stay off the field if more than one back is going to produce in any consistent manner.
Immediate Output and Starter Availability Concerns
Our last chart features backfields in which we believe the backup has either already proven that he should/will be involved in the offensive gameplan, or we are concerned about the possible availability of the starter.
Bottom Line
Handcuffing teammates will always be more viable in some formats than in others. For example, handcuffing a high-capital running back in a large field tournament is essentially a wasted pick. If your first-round running back goes down, other teams with an almost identical build as yours but without that player are instantly outscoring you.
For the reason mentioned above, handcuffing other teams' backs in later rounds essentially doubles down on your early-round selection. To put names to the theory, imagine you select Austin Ekeler over Saquon Barkley at the end of the first round because you believe Ekeler is going to reach his top-three potential. By taking a shot near the end of your draft on Devontae Booker, you're doubling down that whether because of injury or some other unforeseen event, you are fully fading Saquon Barkley in that given draft. This is, of course, only an example and can work with any early-round running back(s).
Handcuffing teammates, in general, is a practice much more suitable to your typical 12-team leagues where you only need to beat 11 other teams and can get by with imperfections here and there. Losing a piece of your team —regardless of what kind of draft capital you sunk into them— is nonetheless difficult, but with the aid of your handcuff and a waiver wire, you have a chance to keep your head above water.