Tony Pollard Could Be Arbitrage Kareem Hunt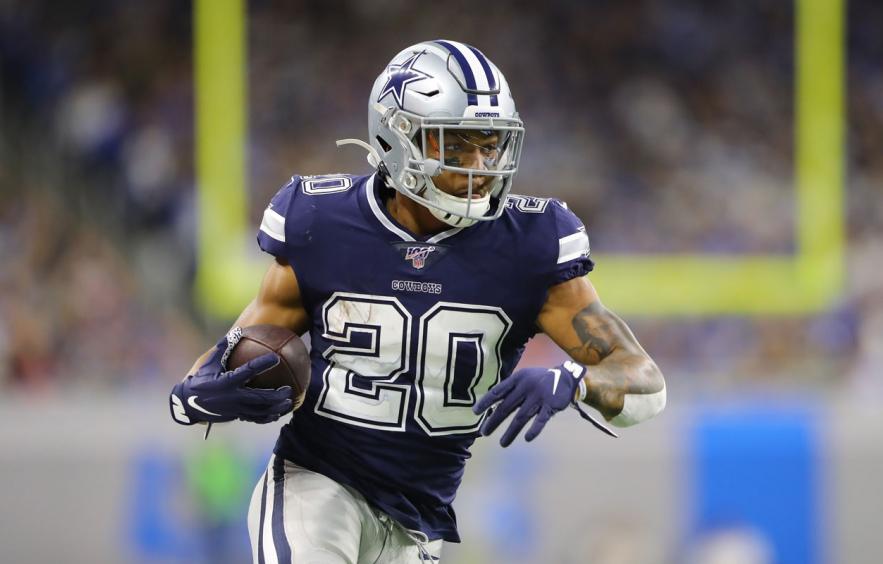 Rey Del Rio/Getty Images
High octane offense, high-value role, talent to smash if given more opportunity. These are all part of the case Jennifer Eakins makes for Kareem Hunt being more than just a typical handcuff. Those reasons are also contributing to his RB25 ADP on Underdog. Drafters evidently aren't viewing Tony Pollard the same way (RB41) but there are reasons to believe he could be an arbitrage play on Hunt. Ezekiel Elliott's potential signs of decline last season opened the door for Pollard to take on a much bigger role. Here's why that makes Pollard wildly undervalued this season.
---
Editor's Note: Read more player profiles from the 4for4 staff!
---
Benefits of an Elite Environment
Through the first month of the season, the Cowboys had the sixth-highest points per game and Elliott was averaging 19.2 half-PPR points per game. The offense was ravaged with injuries after that and Zeke averaged 11 fantasy points per game from Week 5 on. Despite his down season, drafters are going back to the well and selecting Elliott as a Top-5 pick. Essentially buying into the Cowboys offense more than buying into the player. It's noteworthy that in Pollard's lone start last season he dropped 28.2 half-PPR points on the 49ers. I won't use a one-game sample to make a case but it was in the same offensive situation Elliott struggled in. It's more of an example of the tantalizing upside Pollard possesses if given an opportunity in this reloaded offense.

He May be More Than Just a Handcuff
We may have not been the only ones that noticed a decline in Elliott's performance last season. The Cowboys started integrating Tony Pollard more than they ever have before. He barely saw the field through the first three games but then his snap share jumped to 28% for the six games before the bye week. After the bye, his snap share crept towards nearly an even split with Zeke (45%). That is inflated a bit because he started the game in week 15 but even if we remove that, it was near a 60/40.
Dallas Backfield Split, Weeks 11-17
Category
Mean
Share
Snaps
30
45.4%
Rush Attempts
7.7
29.8%
Rush Yards
32.7
29.1%
Rush TDs
0.43
60.0%
Rush xTDs
0.20
24.5%
Fumbles Lost
0.0
Yards Per Rush
4.5
Targets
3.0
8.8%
Receptions
2.1
9.1%
Receiving Yards
16.3
6.6%
Receiving Air Yards
1.0
0.4%
Receiving TDs
0.14
7.7%
Receiving xTDs
0.10
6.8%
Yards Per Reception
5.7
Fantasy Points (Std)
8.3
Fantasy Points (Half)
9.4
Fantasy Points (PPR)
10.5
Compare that to backfield split for the Browns, after their Week 9 bye. Hunt averaged around 46% of the snaps.
Browns

backfield Split, Weeks 10-17
Category
Mean
Share
Snaps
33
46.2%
Rush Attempts
9.1
29.6%
Rush Yards
29.7
22.1%
Rush TDs
0.43
25.0%
Rush xTDs
0.40
32.8%
Fumbles Lost
0.0
Yards Per Rush
3.5
Targets
3.1
10.3%
Receptions
2.4
11.2%
Receiving Yards
23.3
8.7%
Receiving Air Yards
8.0
2.9%
Receiving TDs
0.14
10.0%
Receiving xTDs
0.08
4.8%
Yards Per Reception
7.3
Fantasy Points (Std)
8.7
Fantasy Points (Half)
9.9
Fantasy Points (PPR)
11.2
The idea that Pollard would snatch big-time work away from Elliott sounds crazy because we have always viewed him as a workhorse. However, Hunt has been able to steal work from Nick Chubb and Chubb's is viewed around the league as one of the best rushers in the NFL. It shouldn't be surprising if the Cowboys go closer to the Browns approach after seeing Elliott struggle. Especially considering Pollard has been just as effective or even better when given the ball. Over the last two seasons, Pollard has averaged .73 fantasy points per touch while Zeke has averaged .66.
Bottom Line
The main appeal with Ezekiel Elliott is his high-value touches in an elite offense. If Pollard were thrust into that role he could be just as valuable. That alone makes him a potential league winner.
With Elliott struggling last season, the Cowboys turned to Pollard and started giving him more of a consistent role. Perhaps that doesn't carry over but would the team overwork Zeke after last season?
If Pollard can maintain his role from last season, he would be in a similar position to Kareem Hunt. Hunt is going 45 spots before him on Underdog at 70.7 as RB25, suggesting Pollard (ADP: 115.0, RB37) could be undervalued.