How Free Agency Impacted Best-Ball ADP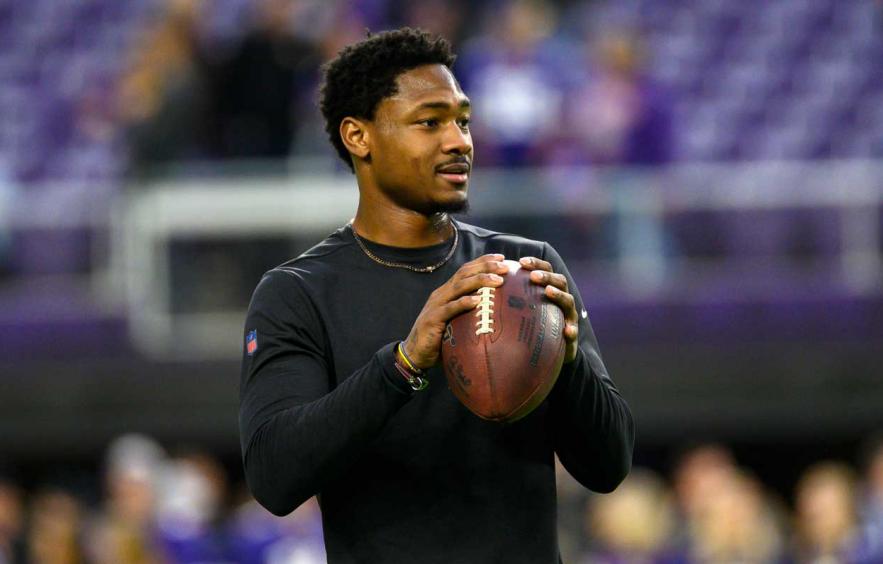 Stephen Maturen/Getty Images
Sports can grab our attention like few things in life can. Whether a Top-10 highlight, or a Schefter tweet, or even a player taking time to dunk on an unruly fan, we crave the banter. The constant flow of information that is Narrative Street. It's like Bourbon Street. The constant whispers from rumors and flashing lights with breaking news create a constant allure.
But Bourbon Street is empty.
Our stadiums, courts, and rinks are empty.
The pandemic put us in uncharted territory with our focus trained on the news. With the information looking darker by the hour, the NFL brought the fireworks to brighten up the day.
Texans are trading DeAndre Hopkins to Arizona, per source.

— Adam Schefter (@AdamSchefter) March 16, 2020
Free agency had already started, but this made everyone sit up in their seats. For the next few hours, the fallout and uproar dominated the internet. We were normal for a time. Reality re-infiltrated our senses, but the community was given something else to discuss over the next week. And, as always, it affected our perception of player values.
Best-ball ADP is one of the many data sets for determining market value. The market is reactive to NFL events like the NFL Draft, training camp, and preseason. Free agency is no different. While we still have (presumably) the entire offseason for changes in player situations, opening the free agency period had its own effect on opportunity cost. I took a look at some of the greatest impacts on ADP using best-ball ADP from Fanball and how we should approach each situation before the NFL Draft.
Quarterbacks
Quarterback value is contingent upon your status within the league. Being on an active roster and in line to start the 2020 season is the first step with their situation to be evaluated afterward (pass-catchers, historical output, etc.). In short, it's easy to trace why some players have risen or fallen in the ranks.
Bridgewater, Foles, Brady, and Rivers all signed with their respective new teams. Bridgewater's notable performances during Brees' recovery (and connection to the new offensive coordinator) likely secured his chance to become a starter once again. The rest were dominos waiting to fall. Rivers' departure boosted both he and Taylor's value, as speculation mounted on how the Chargers will approach the draft. The same happened with Foles and Minshew. Brady gets younger pass catchers in Chris Godwin and Mike Evans. All of these quarterbacks saw boosts in their cost, but their outlook during the first season on a new team gives me pause.
The broad takeaway is that quarterbacks are just as likely to see a decrease in points per game as they are to see a boost. But, we need more nuance here. Fitzpatrick went from established wide receiver talent (Evans, Godwin) to a worse situation the following year. Alex Smith went from Tyreek Hill and Travis Kelce to Jamison Crowder and Jordan Reed. Their situations had a heavy hand in their results. All of the 2020 quarterbacks switching teams enter quality situations, with personnel groups containing already-existing talent. The market reflects the expected output with news from training camp, and additions through the draft, to alter their value further as the offseason continues.
Losing your job as a starting quarterback and not signing with a new team hurts your value, it's that simple. As of this writing, Jacoby Brissett, Cam Newton, and Jameis Winston are all looking for teams. Their ambiguous situations and now a shortened offseason to get on track with their receivers will steadily decrease their value. Until they're signed, we can only look at their historical production and speculate what could be on a new team. But at least one quarterback lost value just from staying with his team.
Deshaun Watson with DeAndre Hopkins was a potent combination. Hopkins alone accounted for 32.3% of Watson's attempts in their 37 starts together. Nuk's move to Arizona leaves much to be desired in Houston's passing game with the oft-injured Will Fuller leading the charge with a slew of slot receivers behind him. Watson has complemented his passing game with an additional 5.6 points per game on the ground in 2019. His fall to QB6 presents a risk that has many drafters hoping the Texans add a wide receiver through the draft.
Tight Ends
Hayden Hurst, a former first-round pick, leaves the Ravens to fill the void left by Austin Hooper in Atlanta. His role quickly changed from backup to Mark Andrews, to the starter in an offense that targeted the tight-end position on 17.6% of its attempts. Atlanta passed at one of the highest rates in the league in 2019 (67.0%) lending credence to the idea that Hurst should be a viable late-round option in best-ball formats.
David Njoku is another former first-rounder, but is headed in the opposite direction in terms of value. He was placed on short-term IR in 2019 after suffering a concussion and wrist injury. He's had 11 TE1 finishes in the 36 games he's been active. He hasn't lived up to his draft cost and now Austin Hooper joins the mix. Head coach Kevin Stefanski has been known to use multiple tight ends during his time in Minnesota, but a free-agency signing like Hooper's doesn't help Njoku's value and should limit his target share in 2020.
Wide Receivers
Trading a 2020 first, fifth, and six-round pick along with a 2021 fourth-round pick for Stefon Diggs (and a 2020 seventh-round pick) shows how much ownership valued Diggs. If draft capital and dollars spent ($11.5M in 2020, 19th-highest in the league, $2M more than John Brown) tells us anything, Diggs is the WR1 on his team. Now, no wide receiver saw a target share north of 23%. Diggs himself only saw 20.9% back in Minnesota. But the move signals a change that's more than likely to take away from Smokey and Beasley. Their uncertainty has been the cause of their ADP drop with one of the best route runners in the league joining the squad.
Robby Anderson joins Curtis Samuel in a pass-friendly offense under Matt Rhule and Joe Brady. However, they have overlapping skill sets. Both have long speed, both play outside and both had aDOTs over 10 (14.6 and 15.3, respectively). But Teddy Bridgewater only attempted a deep pass on 12.2% of his attempts. The dot-connecting between these facts has dropped their value, but these receivers have another commonality.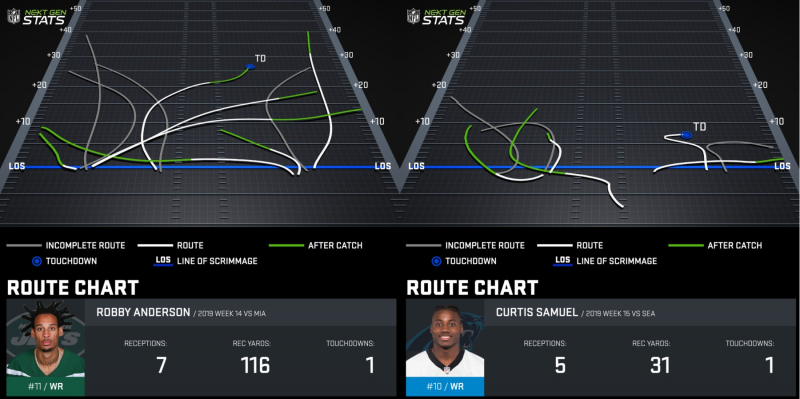 Both were used in the short area of the field. Their quickness and playmaking ability demanded the ball. They could be deployed in this manner giving them standalone value. However, until we see offseason camps begin, all we have is speculation.
Emmanuel Sanders' move from San Francisco to New Orleans was met with much hype. Drew Brees gets another playmaker. But is the hype warranted? Saints' target distribution in 2019 looked like this:
Thomas dominated the targets while an RB and TE came second and third in the passing depth chart. All three are back for the 2020 season with Tre'Quan Smith, Tommylee Lewis, and other ancillary players on the roster. The WR2 position in New Orleans has been continuously sought after by best-ball drafters, but the position is likely filled by Brees' other pass catchers on the field.
Adam Thielen becomes the WR1 in Minnesota with Diggs off to Buffalo. His 2018 campaign netted a 25.4% target share and a 69.5% slot rate. His slot usage dropped to 58.3% in 2019, but he missed a significant portion of the season due to injury. With the offseason to recover, Thielen will be entering his age-30 season with the most targets from his quarterback. He should be a target for all drafters given the likely volume he'll see in 2020.
Running Backs
Lindsay and Freeman became a bizarre duo in 2019 as the 190-lb UDFA led the team in carries and the 230-lb, third-rounder led the backfield in targets. Neither produced as the coaching staff intended, with Lindsay only cracking the century mark twice and Freeman's career yardage nearly matched Lindsay's 2019 season. To make matters worse, the team decided to sign Melvin Gordon. His two-year deal made him the ninth-highest paid running back for the 2020 season. Lindsay is likely to return to the COP role and Freeman becomes the odd man out. Gordon's value holds as he's projected to be the starter once the season begins.
Justin Jackson and Ronald Jones appear to be the winners of free agency. Jackson slides into the RB2 role behind Austin Ekeler where he had some standalone value in the first few weeks of the season. His injury and Gordon's return depleted any value, but Jackson finds himself in a better situation with Gordon's departure. And all the rumors about Tampa Bay signing a free agent running back never came to pass. Tom Brady joined the squad and the free agency rumors picked up speed as to who would lead the backfield in 2020. However, prior to the draft Ronald Jones sits atop the depth chart and Peyton Barber has left for Washington. But both Jones and Jackson could have their values torpedoed during the draft. A.J. Dillon has been mocked to the Chargers. Zack Moss to Tampa. Day 1 capital isn't likely given team needs, but a Day 2 pick would clutter up what looks to be a fruitful situation for both. Drafters take on a risk acquiring these players with their uncertainty prior to the NFL Draft.
Philip Rivers to LT. Rivers to Danny Woodhead. Rivers to Gordon or Ekeler. Philip Rivers has coveted the dual-threat ability in his running backs. The Chargers have been in the top three at targeting the RB position the past two seasons. Marlon Mack has seen his targets drop since he joined the team in 2017. Nyheim Hines averaged 29.9 receptions during college and has 139 targets in his first two seasons with the Colts. The projected workload has caused his value to soar in the PPR scoring inherent to best-ball formats with the enthusiasm to continue as the 2020 season approaches