DraftKings Reignmaker Core Strategy: Week 7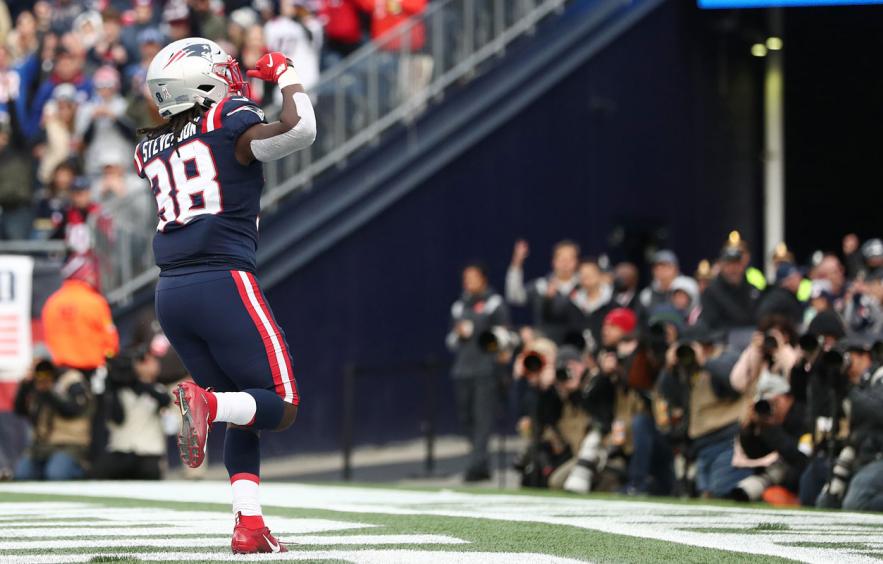 Adam Glanzman/Getty Images
This is the first in a weekly series looking at strategies for the Core tier of contests offered by DraftKings' Reignmakers Football. I'll be teaming up with Matt Price to put out a weekly strategy article focusing on Reignmakers contests, and a weekly video show - starting next Tuesday on our YouTube Channel - with pack opening and some early-week strategy. Reignmakers utilizes NFTs in the form of digital player cards, licensed by the NFLPA, that can be used to enter DFS-style contests. The contests are free to enter, so the cost for players is tied entirely to their investment in Reignmaker digital cards. These cards can be acquired via pack purchases, individually on the Draftkings marketplace, as rewards for certain account milestones such as owning certain cards, and as prizes for placing in contests. Every new player receives a "Starter Pack" that contains 6 Core cards, one guaranteed card for each position at QB, RB, WR, W/TE, FLEX, and Def/K.
---
More Reignmakers Strategy: Intro to NFTs | Elite Tier Strategy
---
Prior to the season's start, DraftKings designated 17 top players as "SuperStars," and only one SuperStar card is allowed in each contest lineup. They will be designating more SuperStar players at the conclusion of the NFL's Week 8 games, but for now, here is the whole list:
Core SuperStar Strategy
Week 7 is fairly brutal in terms team byes, with the Buffalo Bills, Los Angeles Rams, Minnesota Vikings, and Philadelphia Eagles all resting. Four Superstars are removed from the player pool: Josh Allen, Dalvin Cook, Cooper Kupp, and Justin Jefferson. So, you know, just hardly-drafted moon-shot flex options, NBD NBD. Looking at the Vegas betting lines, the obvious beneficiaries at QB are Justin Herbert and Lamar Jackson.
The Chargers own the highest implied team total on the entire slate as sizeable home favorites against a visiting Seahawks team averaging 24 points per game.You can't stack Herbert with fellow SuperStar Austin Ekeler, but you can stack him with Mike Williams, especially if Keenan Allen takes another week to heal through the team's Week 8 bye. Ekeler also stands to benefit handsomely from the matchup and game script if you're looking elsewhere at QB, but if you're targeting Dallas or Cincinnati, two of the other home favorites with the highest projected game scripts, choosing Ekeler prevents you from stacking Joe Burrow with SuperStar Ja'Marr Chase, or Dak Prescott with SuperStar CeeDee Lamb.
Lamar Jackson draws a Cleveland defense that just gave up 38 points to the Bailey-Zappe-led Patriots, and Jackson's rushing upside alone could make him a good bet as the week's QB1. 4for4's John Paulsen also has him ranked as the QB1 for the week, in case you still weren't sure. Jackson is harder to confidently stack with his wide receivers, but offers an obvious pairing with TE Mark Andrews, whose 19.1 PPR points per game ranks second among TEs and ahead of all but four wide receivers.
As mentioned earlier, both Ja'Marr Chase and CeeDee Lamb benefit from not having their quarterback designated as a SuperStar, allowing for a QB1/WR1 stack to go along with a number of non-SuperStar RB options the project to be in extremely positive game environments like Saquon Barkley, Rhamondre Stevenson, and Josh Jacobs.
Core Marketplace Values
No matter the size of the player pool in the contests you enter, there are values to be found on the Reignmakers marketplace. At quarterback, Justin Herbert is 4for4's QB2 for Week 7, and at the time of this writing, his Core card is available for $15 on the marketplace, several dollars lower than a number of other QBs projected below him. If you're playing in a larger-field contest and are looking to go contrarian at QB, Derek Carr is available for $10.95 as the QB8 in a home game against the Houston Texans, with a Raiders implied team total of 26.25 points.
Looking at running backs, D'Andre Swift appears set to return to action this week for Detroit, and carries a price tag of just $9.00 on the marketplace. The Lions visit Dallas as 7-point underdogs on the road, but carry an implied team total of 20.75. The Cowboy's 27.75 implied team total makes this game one of the highest-scoring projected matchups on Sunday, and Swift's usage as a receiver makes him less game-script dependant. Tony Pollard is a smart tournament play on the other side of this matchup, and you can get him for $5.00. As a larger-tournament Flex play, Kenyan Drake is a contrarian way to get involved in the attractive Browns/Ravens matchup, and he's just $4.00 on the marketplace.
Among wide recievers, Davante Adams stands as the fourth-ranked WR for Week 7, Las Vegas is at home favored by 6.5, and his Core card can be had for $10. Amari Cooper will be in on the projected high-scoring shenanigans in Baltimore, who have the 11th-highest Adjusted Fantasy Points Allowed (aFPA) to WRs, and Cooper is the PPR WR11 through six weeks, yet his $7.74 marketplace buy is hardly prohibitive. The Packers certainly aren't the high-flying offense we're used to with Aaron Rodgers at the helm, but they're about to face a Commanders team ranked dead-last in aFPA to wide recivers. Allen Lazard has earned the highest target share among Packers receivers, has a touchdown in four of five games played (and over 100 receiving yards in his one scoreless outing), and you only have to make it rain with five singles and two quarters on the marketplace to add him to your squad.
Week 7 Tournament Strategy
RMF Classic - CORE - $10K Single Entry Starter Pack Special
I'll be focusing on general tournament strategy that should apply to most of the larger-field contests, but I'll focus on the Core $10K Single Entry contest because it includes the entire slate of all 14 games. It's a great contest for those focusing on Core contests because it's single-entry, so you're not competing against players who've max-entered 150+ lineups, and the payout structure awards $1,000 to first place and a Core Plus pack all the way down to 4,595th place. There are currently just under 7,000 entries in this week's contest.
I should start any discussion of DFS strategy by directing you to 4for4's DFS Strategy hub. It brings together articles that cover the overall strategy of picking QB, RB, WR, TE, and DST, and while it's indispensable for players new to DFS, it's also an excellent resource for more experienced players as a great way to check in and ensure your process is as air-tight as it can be.
With player pools of this size, it's imperative you include projected drafted percentages in your strategy. Directly quoting 4for4's Pat James from his 2018 Article on Leveraging Ownership, "your objective is not to score as many points as possible, but rather to outscore as many opponents as possible." One of the most effective ways to zig when the rest of the field is zagging is with quarterback selection. You don't want to pay all the way down, as QBs with bargain-basement drafted percentages don't historically correlate well with winning, but because QB draft percentage is fairly well spread among the top options already, you can target the tier below the consensus top options and still retain an advantage.
In this contest, the QBs to top projected drafted percentage are Lamar Jackson, Geno Smith, and Joe Burrow. After that, Dak Prescott, Daniel Jones, Derek Carr, Justin Herbert, Patrick Mahomes, and Tom Brady all project to be drafted somewhere between 5% to 10.5% of the time. Out of the latter group, Justin Herbert, Dak Prescott, and Derek Carr are the most intriguing plays. All three quarterbacks are home favorites with implied team totals over 26 points, and while Justin Herbert's game situation is the most enticing, his status as a SuperStar player prevents using a skill position SuperStar card, and he's likely to be the most-drafted of the trio. As I mentioned earlier, a QB1/WR1 stack of Dak Prescott and SuperStar WR CeeDee Lamb is a great start to a tournament lineup, and Tony Pollard in the Flex would complete a team stack in a game with the second-highest projected point total on the slate.
At running back, Austin Ekeler is one of the easiest selections to make, claiming the highest touch rate among all RBs, but his SuperStar status and projected draft percentage above 20% complicate matters. One option would be to choose Joe Burrow at QB despite being drafted heavily, and then pair Burrow with Tee Higgins. The Bengals are favored by 6.5 at home facing a Falcons defense allowing 40.3 aFPA to wide receivers in PPR formats, the fourth-most. Sliding in Kyle Pitts at TE on the other side of this projected high-scoring matchup makes sense against a Bengals defense allowing the 8th fewest aFPA to wide receivers, but ranking just 17th in aFPA to tight ends. D'Andre Swift projects to be infrequently drafted coming off of a shoulder injury that cost him two games, but the Lions had a well-timed bye in Week 6, and Swift's receiving role should keep him on the field even if the Cowboys go ahead early. For this particular contest, Rhamondre Stevenson is one of the best Non-SuperStar options on a Patriots team with the second-highest EPA per rushing play, matching up with a Bears defense that ranks 22nd in aFPA to RBs.
Tyreek Hill is a cheat code at this point, lacking SuperStar designation but practically lapping the field with a 22.1% target rate and ranking 3rd among wide receivers in PPR fantasy points. Plus, now he gets Tua Tagovailoa throwing him the ball again, at home, with Miami as 7.5-point favorites against a Pittsburgh defense allowing the 10th-highest aFPA to wide receivers and a glaring weakness at slot cornerback. Jaylen Waddle is worth a look as well, ranking 7th for the week here at 4for4. Amon-Ra St. Brown returns to a matchup with Dallas at home, and if the expected shootout occurs, he's a great way to get access to it. He'd even fit nicely as a bring-back in the aforementioned Dak/Lamb/Pollard stack. Finally, Amari Cooper's projected draft percentage is far lower than it should be given his projected point total, and Baltimore's secondary is nothing to shy away from.
Week 7 Smaller-Field Strategy
RMF Showdown - CORE - $2K Bankroll Booster (CHI vs NE)
There's no such thing as a "Cash Game" among Reignmaker contests, but the closest equivalent is their Bankroll Boosters. These are showdown-style games, with a Captain spot earning 1.5x points along with four Flex spots. These contests consist of the two-team matchup for the "Island Games" not typically part of the main slate (Thursday Night Football, Sunday Night Football, and Monday Night Football, as well as any games played in London). The contest has a 3-entry max and offers a $2,000 prize pool, split evenly at $5 among the top 400 finishers. There are currently 303 entries in this contest.

Whether it's Bailey Zappe or Mac Jones at quarterback, the play at Captain here should be Rhamondre Stevenson. While Damien Harris' status just changed from questionable to healthy as I write this, his return shouldn't curtail Stevenson's workload significantly, since he's commanding most of the receiving work out of the backfield. The Patriots run the ball in the red zone at the 10th-highest clip, so if anything it might be worth considering using both running backs in a game that projects to be in the Patriots' favor. The Patriots have the lowest aFPA against running backs in the league, making Justin Fields the most intriguing Flex play on Chicago's side. Fields has 282 yards rushing through six games, while the Patriots have allowed the 11th-most rushing yards to QBs. Jakobi Meyers is the safest bet to lead the team in targets, but touchdown allergy is problematic. DeVante Parker is New England's primary outside receiver, but will draw the most coverage. For me, the most interesting play here is Tyquan Thornton. Thornton returned from a fractured collarbone in Week 5, and promptly out-targeted Meyers in Week 6, while scoring both a rushing and a receiving touchdown. Thornton may have absurd 4.28 speed, but he's also a savvy route runner and separator. With such a small field of players to choose from in a one-game contest, Thornton could help ensure all three of your entries cash if you've got the cards to spare.