Underdog Advance Rates: Tight Ends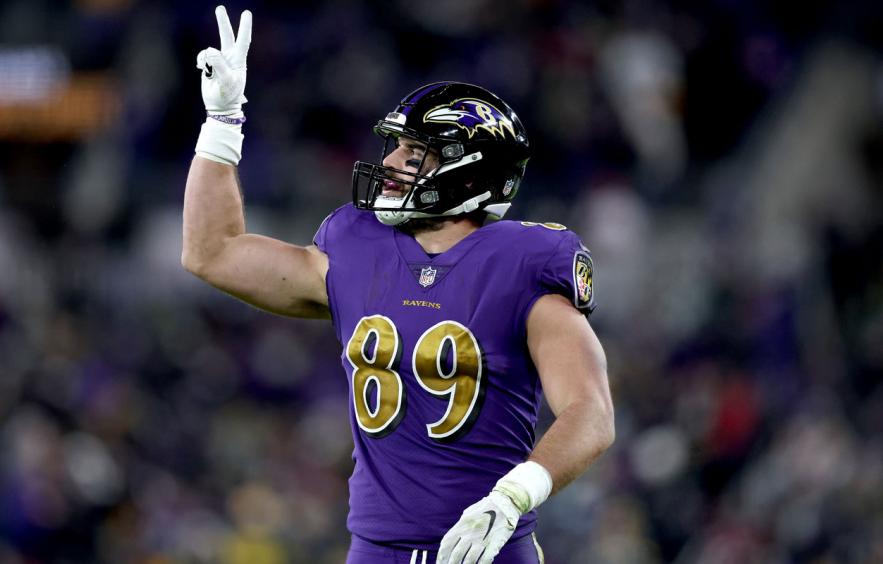 Patrick Smith/Getty Images
With such disparity between the elite tier and the rest of the pack, drafting the tight end position over the past few seasons has been collectively dreadful, like mopping the kitchen floor, visiting the dentist, or filing taxes.
I'm here to put some shine on the oft-hated onesie position, as grabbing the proper tight ends can be a difference-maker in best ball formats. This piece will explore the 12 tight ends with the highest advance rate percentages in the Underdog Best Ball Mania ll tournament from 2021, pointing out any patterns or trends we can utilize for drafting the position in 2022.
*4for4 Promo - For anyone new to Underdog, we have an amazing promo deal right now where you deposit $10 in a NEW underdog account and get a deposit bonus match (up to $100) + a 4FOR4 PRO subscription. Just enter 4FOR4 in the promo code box.
---
More Underdog Best Ball Content: BBMlll Roster Construction Guide | BBMlll Positional Draft Strategies | BBMlll Positional Allocation Guide | How to Approach 3-Team Contests | UD ADP Tool | UD Advance Rate Explorer Tool | UD Roster Construction Tool |
---
These drafts are half-PPR scoring with no premium for tight ends and are 18 rounds.
Highest TE Advance Rates
The first glaring point from 2021 is that it was not fruitful to pay up for TE last season. George Kittle was the sole representative from the first four rounds of the draft, and he was the last member of this list. Mark Andrews and T.J. Hockenson made the cut but were more affordable in the late-fifth and early-six rounds, respectively.
Looking at 4for4's roster construction tool, we found that early-round TE, plus one more in the middle of the draft, featured some of the lowest advance rates in last year's Underdog BBM2 tournament, with three TEs taken after Round 12 boasting the highest in advancement. The following graphic shows the varying strategies utilized, how often they were implemented, and the advance rates for each one.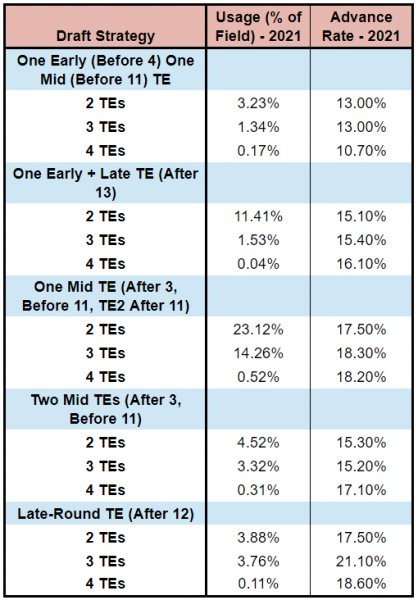 As you can see, selecting one mid-round TE paired with a later-round guy was by far the most popular strategy, as 23.12% of the field went that route and with decent results. Those teams advanced to the playoffs 17.50% of the time, which was the fifth-highest advance rate last year.
Volume remained king for another season, as seven of the 12 TEs with the highest advance rates were among the top-10 in targets per contest in 2021. Mark Andrews was TE1 with 9.0, Rob Gronkowski came in as TE4 with 7.4, T.J. Hockenson's 6.9 was TE5, George Kittle checked in with 6.7 as TE6, and Zach Ertz, Mike Gesicki, and Dalton Schultz were TE7, TE8, and TE10 with 6.6, 6.25 and 6.1 targets per game respectively.
Early-Rounds Review
The following section will delve into the tight ends with the highest advanced rate that were drafted in Rounds 1-4 last season.
Highest TE Advance Rates, Rounds 1-4

| Rank | Player | Playoff Adv Rate | ADP |
| --- | --- | --- | --- |
| 12 | George Kittle | 19.40% | 3.02 |
As I mentioned above, just one TE made this list from the first four rounds, and Kittle was the last guy on it as the TE with the 12th highest playoff advance rate. He did miss three contests with a calf issue and was very inconsistent down the stretch of the season, with two monster performances of 332 total yards and three touchdowns in Weeks 13 and 14, flanked by duds worth single-digit fantasy points.
Despite missing time, Kittle was still TE7 in total targets but saw the 47th highest number of balls last season across all positions. His 11.6 half-PPR points earned him the TE4 spot, which translated to 50th overall among non-QB fantasy players. Looking at opportunity cost, Kittle's 6.7 targets per game was lower than the WRs taken around him like Keenan Allen (9.8), CeeDee Lamb (7.5), and Terry McLaurin (7.6), and both Allen and Lamb outproduced his 11.6 half-PPR points per contest with 12.8 and 12.1, respectively. Even David Montgomery, who was selected five spots later than Kittle, put up close to two points more per game and 14 overall points more in just 13 games to Kittle's 14.
Paying up for TE didn't exactly pan out in 2021 for the first time in a few seasons. This year seems to be shaping up differently from the last few, with the top tier growing a bit. Presently there are five tight ends being selected in the first four rounds, with zero coming off boards in Round 1. You'll find Travis Kelce (2.02), Mark Andrews (2.08), Kyle Pitts (3.07), Darren Waller (4.03), and Kittle (4.04) all leaving UD draft boards between the second and fourth rounds. If these guys pan out at their current ADPs, you could be set up nicely to assemble a solid roster and let your later-round TEs pick up the slack.
Favorite 2022 Early-Round Targets: Mark Andrews (2.08), Kyle Pitts (3.07)
Mid-Rounds Review
Here we'll look at which tight ends drafted in Rounds 5-12 made the Top 12 in Underdog advance rate last season.
This has been where the meat of the TEs on winning teams has come from over the past few seasons, but only three of the 12 with the highest advance rates were drafted in these eight middle rounds in 2021.
It would seem like an optimal time to grab your first TE if you passed on the top tier but last year that was not the case. These rounds were perfect for fortifying other positions, and if we look at some of the players with the highest advance rates across all positions, many were taken in these rounds.
Mark Andrews was the obvious star of the middle rounds last season, but his ADP was largely deflated heading into 2021 due to recency bias after a poor 2020 from Lamar Jackson. The Baltimore TE led his position last year in everything measurable, including targets (138), half-PPR points per game (11.6), receptions (107), receiving yards (1,361), and touchdowns (9). He's set up for another monster season for the Ravens, but as discussed above, you'll have to pay a second-round tag for him in 2022.
There are currently 11 TEs who fall in this middle-round AP range, some with plenty of upside and others with their share of warts.
Guys like T.J. Hockenson, Dalton Schultz, and Zach Ertz stand out based on potential volume alone, and Dawson Knox is coming off career highs in every statistical category. He'll likely regress when it comes to touchdowns after an impressive 18.3% TD rate in 2021, but you can never count out a Josh Allen weapon.
Despite Gesicki's 10th highest advance rate from last season, he now has to fight with not only Jaylen Waddle for targets, but Tyreek Hill has joined the Dolphins and should see quite a bit of the volume that possibly went the TE's way in 2021. While, in theory Cole Kmet should be due for his breakout season, that offense isn't trustable enough for me right now.
Favorite 2022 Mid-Round Targets: Dalton Schultz (8.07), Zach Ertz (11.01), Pat Freiermuth (10.09), Dawson Knox (8.08)

Late-Round Review
Below you'll find the highest advance-rate tight ends from the latter part of drafts - Rounds 13-18.
Compared to 2020's numbers, where the only TEs to come from these rounds among the top 12 in advance rate were Eric Ebron, Irv Smith Jr., and Dallas Goedert, the bulk of this group came from Rounds 13-18 last season. Eight of the 12 TEs who were on the teams that advanced the most were drafted in the latter part of drafts, which is pretty telling.
All of these guys have been elevated to the tiers above in current Underdog drafts, with the exception of Jared Cook, who is perenially being put out to pasture and is presently a free agent, along with Tyler Conklin, who benefitted greatly from a pre-season injury to Irv Smith Jr. and is now in a murky situation in New York.
One common thread with six of the eight of last year's late-round targets is they were a part of varied passing offenses featuring top-12 quarterbacks. The uncertainty surrounding volume in a crowded offense drives their price tags down, creating value in these later rounds.
This year's end-of-draft crop boasts plenty of the type of TEs that proved fruitful last season, like Tyler Higbee, Irv Smith Jr., Gerald Everett, Hayden Hurst, and Austin Hooper. Robert Tonyan is on an offense with a top-12 QB but is in a nice spot to see higher volume with Davante Adams and Marques Valdez-Scantling out of town.
Favorite 2022 Late-Round Targets: Logan Thomas (14.08), Robert Tonyan (15.02), Gerald Everett (16.08), Hayden Hurst (17.11), Austin Hooper (18.07), Mo Alie-Cox (18.11)
Bottom Line
In 2021, early-round TE, plus one more in the middle of the draft, featured some of the lowest advance rates in last year's Underdog BBM2 tournament, with three TEs taken after Round 12 boasting the highest in advancement.
Chasing volume should continue to be a thing, as seven of the 12 TEs with the highest advance rates were among the top-10 in targets per contest in 2021.
The middle of the draft was a dud last year, with other surrounding positional players having much higher advance rates and total points.
There are some real gems in the last seven rounds of this year's draft, all attached to top-12 QBs with high-volume offenses. Use the price dip due to uncertainty of volume in these offenses to your advantage.