Underdog Advance Rates: Quarterbacks
Nic Antaya/Getty Images
Quarterbacks are the cornerstone of your roster. Missing an early-round quarterback can sting just as much as a mid-round option failing to materialize during the season. So, we need a process for finding the right spots to invest in passers, along with hints at profiles to target. Luckily, I've done this before.
But I focused on FFPC. It's a different platform with different settings and more rounds. But how we value passers doesn't change. Well, at least I don't think so. I interrogated our Underdog Advance Rate Explorer tool for playoff advance rate data from the last two seasons. I'll see if the markets behave similarly, analyze each phase, and then identify optimal targets for 2022.
*4for4 Promo - For anyone new to Underdog, we have an amazing promo deal right now where you deposit $10 in a NEW underdog account and get a deposit bonus match (up to $100) + a 4FOR4 PRO subscription. Just enter 4FOR4 in the promo code box.
---
More Underdog Best Ball Content: UD Advance Rates: TEs | BBM Roster Construction Guide | BBM Positional Draft Strategies | BBM Positional Allocation Guide | How to Approach 3-Team Contests | UD ADP Tool | UD Advance Rate Explorer Tool | UD Roster Construction Tool |
---
Highest QB Advance Rates
As I've said before, metrics like win rate or playoff advance rate have flaws. Playoff advance rate comes from past Best Ball Mania tournaments where draft strategies can change, and we covet unique rosters. Nevertheless, I needed a baseline. And from here, we can see where it's best to target quarterbacks.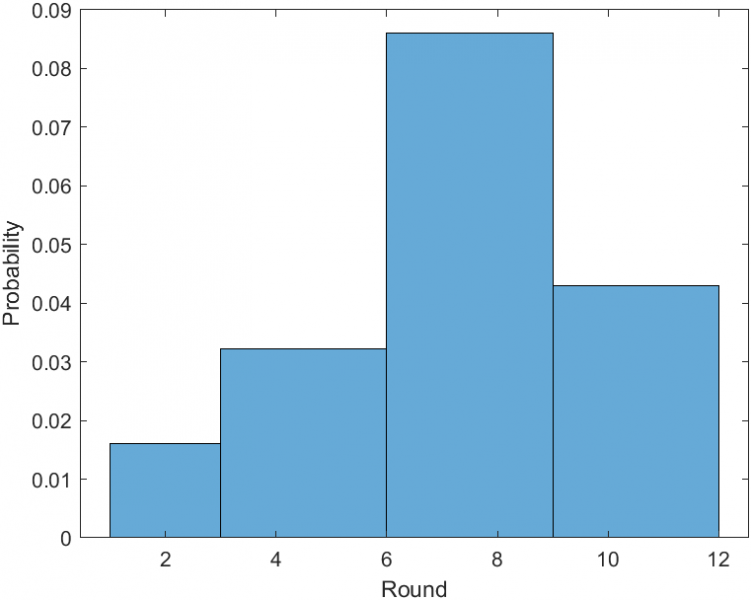 I isolated the quarterbacks with an advance rate above the baseline average (16.7%) to focus on the passers with a positive impact. As a result, we can see the middle rounds as a phase to pounce on our guys. It doesn't mean early or late-round options aren't worthwhile, but the probability of finding an above-average signal-caller reduces. Coincidentally, I've seen this trend before.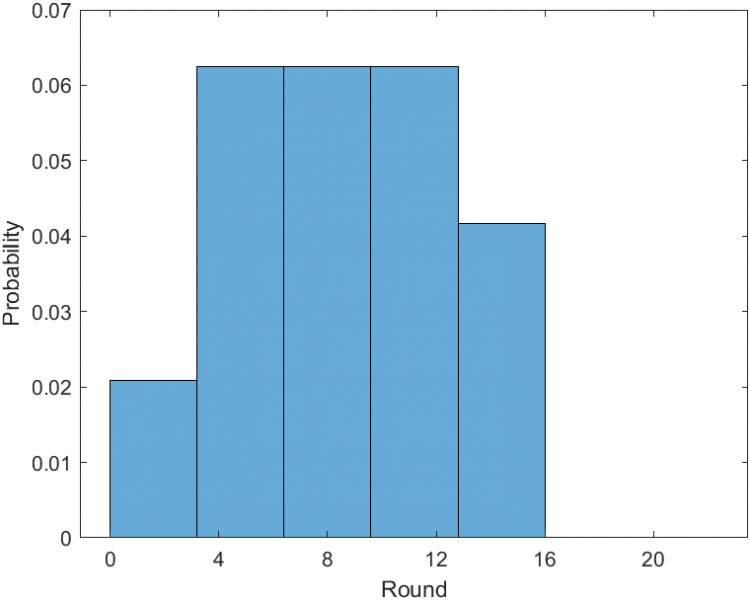 I define the middle rounds for FFPC drafts as 7-15. And still, we see a rise in win rate for mid-round quarterbacks. We can dive into each phase with a high-level connection between the platforms. The fantasy profiles will likely be the same, but opportunity cost will be different due to the change in scoring format. With that in mind, let's dive into the early rounds.
Early Rounds
The trait separating these quarterbacks from the rest isn't a secret. All three were Top 10 in rushing yards and Top 12 in touchdowns on the ground. But how their dual-threat talents translated to fantasy success (and its repeatability) is what'll help us out this year.
I used the last two years of advance rate data to emphasize my point. Passers above the baseline advance rate from the early rounds are the top options every week. Their upside isn't only a projection. It's required. Over the last two seasons, these five quarterbacks account for nearly a quarter (23.2%) of the top-3 finishers. Hitting on a player in this phase justifies their opportunity cost. But we're not done drafting quarterbacks.
Advance Rate for Early-Round QBs with QB2 Selected in Varying Middle Rounds, 2021

| QB2 in Round | Playoffs Adv. Rate |
| --- | --- |
| 7 | 20.1% |
| 8 | 21.0% |
| 9 | 21.3% |
| 10 | 17.0% |
| 11 | 14.7% |
We can't wait on quarterbacks like in years past. The ADP of this year's QB12 is 92.4. In 2021, it was 113.4. Consequently, holding off on picking your second quarterback isn't a viable strategy. Using advance rates from our Underdog Roster Construction tool, we can see our chances of making the playoffs dwindle towards the end of the middle rounds. So, if you do grab a quarterback early, adjust your mid-round strategy to accommodate another.
Favorite Early-Round Targets: Justin Herbert (ADP: 42.8), Lamar Jackson (43.2), Jalen Hurts (64.2)
Middle Rounds
We've got more options in the middle rounds. Not just in raw numbers but archetypes. Still, the change in sample size deserves a quick look.
I mentioned it before, but our thirst for quarterbacks is at an all-time high. And, at first, I was concerned. Gone are the days of finding late-round gems and building strong rosters at the core positions. However, clumping passers into this phase gives us some flexibility.
The need for a top-ranked quarterback drops off here. Just the same, the 11 passers listed here averaged six top-6 finishes throughout the season. Six weeks is roughly a third of the fantasy season. As a result, our focus should shift from 'elite' in the early rounds to 'very good' here. Plus, our draft strategy needs to be tweaked.
Advance Rate for Mid-Round QBs with QB2 Selected in Varying Middle Rounds, 2021

| Round | Playoffs Adv. Rate |
| --- | --- |
| 8 | 25.2% |
| 9 | 24.6% |
| 10 | 21.7% |
| 11 | 16.7% |
| 12 | 17.6% |
The early-round options have a greater chance of giving us number-one or top-3 results. Subsequently, we can delay drafting another. But, the middle rounds require more aggression. Drafters who took their QB1 after the sixth round and their QB2 in the eighth had a 25.2% advance rate. And the chance of making it to the playoffs diminishes with more picks. You'll need to balance the position with the running backs and wide receivers, but a double tap here will keep your roster on the right track.
Favorite Mid-Round Targets: Dak Prescott (ADP: 78.6), Kirk Cousins (115.2), and Tua Tagovailoa (123.8)
Late Rounds
Each phase indicated a decline in advance rate when pairing a quarterback with another at or near their ADP. So, we can assume any pairing with a late-round option would yield similar (or worse) results. But, here's where three-quarterback builds come into play. Their practicality is debatable, but I used the roster construction tool for a quick pass at the idea.
Advance Rates of Three-Quarterback Builds, 2021

| QB1 | QB2 | QB3 | Playoffs Adv. Rate |
| --- | --- | --- | --- |
| Early | Early | Late | 16.4% |
| Early | Mid | Late | 16.3% |
| Mid | Mid | Late | 15.0% |
| Mid | Late | Late | 16.2% |
| Late | Late | Late | 14.7% |
I doubt anyone drafting two quarterbacks before the seventh round would take a third, but you get the idea. As such, I'll be sticking to two quarterbacks. But, if the draft gets away from you, I found the profile to target.
The names give it away, but the ranks solidify the thought. We're looking for castaways. We want the players pushed down by offseason narratives. Nobody wanted an AFC West quarterback without the last name of Herbert or Mahomes. Ben Roethlisberger couldn't throw deep anymore. It's not to say the concerns weren't valid, but the market overreacts. As a result, top-12 options slide into the late rounds and can be a safety net for drafters with a keen eye.
Favorite Late-Round Targets: Matt Ryan (ADP: 156.8), Daniel Jones (170.2), and Carson Wentz (190)

Bottom Line
At a high level, draft strategies across best-ball platforms are similar. The middle rounds on Underdog had the highest probability of drafting a quarterback above the baseline advance rate.
Over the last two years, every early-round quarterback has been Top 10 in rushing yards, and all but one have been Top 12 in touchdowns on the ground.
Early-round passers above the baseline advance rate accounted for nearly a quarter (23.2%) of the top-3 finishers in 2020 and 2021.
The middle rounds give us some flexibility, but impactful quarterbacks drafted here averaged six top-6 finishes throughout the season.
Waiting to draft a mid-round quarterback requires a double-tap at the position in this phase. In 2021, playoff advance rate declined from 25.2% in the eighth round to 17.6% in the 12th when selecting your QB2.
Late-round options are typically castaways by the community but have had top-12 finishes in an average of six games.