21 Fantasy Football Predictions for 2021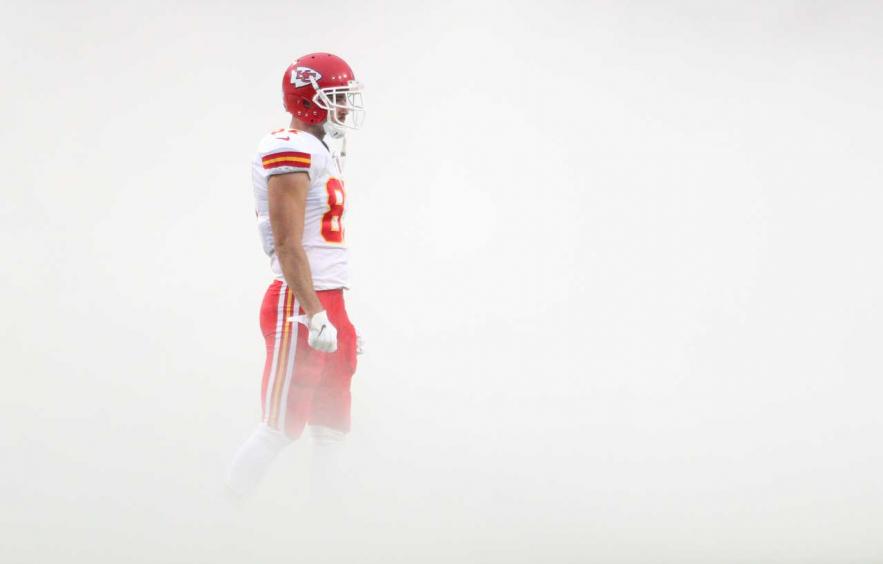 Bryan M. Bennett/Getty Images
Josh Allen was the overall fantasy QB1, James Robinson went from fantasy nobody to league-winner, Alex Smith returned from the dead and Justin Herbert needed a Dr. Nick medical accident to become fantasy relevant in 2020. It was a wild fantasy season. One we had no idea if it would even start, let alone finish, thanks to COVID. Yet, here we are, celebrating fantasy championships. With the 2020 fantasy season in the rearview mirror, the 4for4 Staff has come up with some way-too-early predictions for the 2021 fantasy football season—21 of them, in fact…
2021 Fantasy Football Predictions
1.
Trevor Lawrence

Will be a Top-10 Quarterback (George Kritikos)

Incoming rookie Trevor Lawrence will be the top overall pick, to the Jaguars, and he is set up well for early success. There are receiving options in D.J. Chark, Laviska Shenault and Collin Johnson, with the surprising James Robinson a legitimate threat in the passing game as well. This may hurt certain writers at 4for4, but Lawrence is an improvement over Gardner Minshew and could easily make up the four fantasy points per game difference between Minshew's 2020 points per game and the QB12 (Ben Roethlisberger) given his rushing ability (16 touchdowns the last two years) and accuracy (three straight years over 65% completion rate). Don't expect the Jaguars to slowplay Lawrence either, he's a generational talent and the team needs a spark.
2.
Travis Kelce

Will be a First-Round Draft Pick (Salvatore Stefanile)

Streaming the tight end position can yield desirable fantasy results, especially if you follow Jennifer Eakins's weekly tight end streaming recommendations—whose optimal streaming picks in 2020 equated to the overall fantasy TE3 numbers. However, it's hard to deny just how valuable of a fantasy asset Travis Kelce was this year—105 receptions for 1,416 receiving yards and 11 touchdowns through the first 16 weeks of the season. His 312.76 PPR points lapped the field, outscoring the TE2—Darren Waller—by over 60 points. If Kelce were a receiver, he would have finished fourth in receptions, second in yards, fifth in touchdowns and fourth in PPR points.

Kelce was already close to being a first-rounder last year—2.04 overall ADP in 12-team leagues. With the number of injuries torpedoing the fantasy value of early-first-round running backs (Christian McCaffrey, Saquon Barkley, Joe Mixon) in 2020, some drafters will flock to the safety and comfort of a bona fide fantasy asset such as Kelce in the first round, while also alleviating the need to stream the position in 2021.
---
Editor's Note: Not ready to stop playing fantasy this season? Sign up for our DFS plan for the rest of the season to access our premium content and tools for only $14! We also have Playoff Draft & Hold Rankings and Materials.
---
3. You Haven't Heard the Last of
Mitch Trubisky

(Brandon Niles)

Mitch Trubisky is much maligned, and he's not an incredible player by any means. Still, he's only 26 years old and a free agent upon the season's conclusion. He beat out Nick Foles for the starting quarterback job in the offseason, before losing it and then winning it back in-season. Trubisky rattled off 94.1 fantasy points in the key fantasy weeks (12 to 16), finishing ninth among quarterbacks—higher finishes than the likes of Kyler Murray and Tom Brady. Trubisky will likely head into next season in some other uniform, jockeying for a job again, but he still has tantalizing athleticism and upside. At his dynasty cost of free and his redraft cost of waiver wire, I'll be stashing Trubisky on most of my rosters, expecting him to find his way into a starting role, and post solid streaming numbers at some point during next season.
4.
Josh Allen

Will Have the Best Fantasy QB Season Ever (TJ Hernandez)

Josh Allen's 396.1 fantasy points in 2020 were the fifth-most ever by a quarterback. There's still more meat on the bone, though. The Bills still have John Brown under contract for one more year and Allen will be in his second year with Stefon Diggs and diamond-in-the-rough Gabriel Davis. Buffalo's quarterback threw a touchdown on 6.5% of passes in 2020, the lowest mark ever for a quarterback with at least 380 fantasy points. A season with a ceiling touchdown rate will be record-shattering.
5.
Christian McCaffrey

Finishes as a Top-2 Fantasy RB (Jeff Hicks)

I feel like this is a no-brainer as Christian McCaffrey was leading the league in fantasy points per game before he was injured. He did not tear an ACL or suffer a catastrophic injury, so an offseason will do him a lot of good.
6.
Justin Jefferson

Will be the Fantasy WR1 (C.D. Carter)

A second-year break out after a breakout rookie season? Yes, please. Justin Jefferson will dominate targets and get nonstop high-value targets in Minnesota's offense, finishing the year as the top receiver in fantasy.
7. Running Backs Won't Dominate First-Round ADP (Salvatore Stefanile)
The first four draft picks in 2020 leagues were running backs, with eight running backs in total selected in the first round. Alvin Kamara (RB4 ADP, RB1 Half-PPR finish), Dalvin Cook (RB5 ADP, RB2 Half-PPR finish) and Derrick Henry (RB6 ADP, RB3 Half-PPR finish) were the only three first-round backs to meet or exceed their ADP.
The overall underwhelming performances from first-round running backs (yes, mainly due to injuries, granted), will leave an impression on drafters when 2021 fantasy drafts roll around, leading to more pass-catchers selected in round one. Michael Thomas, Davante Adams and Tyreek Hill were the only pass-catchers with first-round ADPs last season—look for that number to increase. Adams, Hill, Travis Kelce and George Kittle seem like first-round locks, with the likes of Stefon Diggs, Calvin Ridley, DK Metcalf and DeAndre Hopkins possibly creeping into the first round of drafts.
8. Get Your Third-Year Tight End Now (Brandon Niles)
Tight ends take a little while to develop usually, and after some promising returns on the heralded draft class of 2019, 2021 could be the year T.J. Hockenson, Noah Fant and Irv Smith Jr. are catapulted into elite territory. Hockenson is nearly there already. Along those same lines, keep an eye on camp competitions for Dawson Knox (Bills), Drew Sample (Bengals), Josh Oliver (Jaguars) and Kahale Warring (Texans). Any of these tight ends could take a big leap into fantasy relevance if they end up starting next year. Sample and Knox have already shown flashes, while injuries have derailed Oliver and Warring.
9.
Jalen Hurts

Will be a Top-3 Fantasy QB (Josh Moore)

The Philadelphia Eagles won't be able to unload Carson Wentz and his mega-contract, so Wentz and Jalen Hurts enter camp in a competition for the starting quarterback job. As a result, Hurts is a massive value in the mid-to-late rounds of fantasy drafts, wins the job and finishes as a top-3 fantasy quarterback. Hurts was the fantasy QB3 over the last three weeks of the 2020 season when he was starting.
10.
Tee Higgins

Will be a Bona Fide WR2 with WR1 Upside (Justin Edwards)

Finishing with a top-five NFL Draft pick for the second season in a row, it's pretty obvious the Bengals had a bad 2020. One bright spot was the makings of the kind of tandem-growing rookie seasons Andy Dalton and A.J. Green enjoyed back in 2011 in the form of Joe Burrow and Tee Higgins. Higgins averaged over 16 PPR points per game during his rookie season when he wasn't forced to play with Ryan Finley as his quarterback. A healthy Burrow will propel Higgins into a top-15 finish in his sophomore season.
11.
James Robinson

Will be a First-Round Pick (Salvatore Stefanile)

James Robinson was a 2020 fantasy hero who came out of nowhere. An undrafted free agent out of Illinois State, Robinson won the starting running back job in Jacksonville and would go on to dominate the team's backfield touches. Prior to a season-ending injury that knocked him out the last two weeks of the regular season, Robinson logged 289 touches in Weeks 1-15, compared to 42 for all other Jacksonville backs. He was the fantasy RB4 in Half-PPR scoring at the time of his injury.

Unless the Jaguars truly commit to the running back position this offseason, be it an early-round draft pick or splashy free-agent signing, Robinson will find himself right back at the head of the running back room with Trevor Lawrence likely the team's new starting signal-caller. Thanks to his 2020 production, Robinson will wind up with a first-round ADP in 2021. Eight backs went off the board on average in 12-team leagues last season, so don't try to downplay Robinson's soon-to-be costly price tag.
12.
James Robinson

Doesn't Return Value at ADP (Jeff Hicks)

Trevor Lawrence is coming to town, instantly boosting the value of every receiver in Jacksonville. It was also amazing and unexpected seeing James Robinson get 240 of 251 carries in the games he played. I loved seeing Robinson have an amazing UDFA season, but I doubt he is on any of my teams in 2021.
13.
Matthew Stafford

Goes to San Francisco,

Brandon Aiyuk

Becomes a Top-12 WR (C.D Carter)

Matthew Stafford signs with the 49ers to make a Super Bowl run, bringing stability and upside to the offense (and its pass-catchers). Brandon Aiyuk, who was a borderline WR1 with Nick Mullens under center, becomes a set-it-and-forget-it WR1 in 12-team leagues.
14.
Matthew Stafford

Finishes as a Top-8 QB... if he Leaves Detroit (Jeff Hicks)

I want Matthew Stafford to have one playoff run and it will only happen once he leaves the Motor City. Kyle Shanahan, take the wheel.
15.
Davante Adams

Ascends to the 1.01 (Salvatore Stefanile)

The 1.01 pick last year boiled down to three serious contenders: Christian McCaffrey, Saquon Barkley and Ezekiel Elliott. Regardless of which running back you preferred, managers with the first overall pick in their fantasy leagues most likely left with a running back. All three of those backs failed to live up to expectations thanks to injuries. McCaffrey and Barkley suited up in just two and three games, respectively, while Elliott's nagging injuries saw him finish as the fantasy RB10 in PPR leagues. How the top-drafted backs performed will weigh heavily on the minds of drafters, especially in leagues where receptions are awarded fantasy points, and they will turn to a non-running back position for the first pick.

Enter Davante Adams. In only 13 games, Adams finished as the WR1 in PPR leagues and topped the league in touchdowns (17). The appeal of Adams is consistency—6+ catches in all but one game, seven games of 100+ yards, a touchdown in all but three games (with five games of multiple scores), and a PPR points per game average of 26.3 (excludes Week 17). Already a first-round pick last year (WR2, 1.08 overall ADP), Adams will be the top non-running back consideration of most drafters with the 1.01 pick.
16.
Ezekiel Elliott

Will Finish Outside of the RB1 Conversation (Justin Edwards)

Despite ranking fifth amongst all running backs in targets on the season, Ezekiel Elliott is 10th in Half-PPR scoring. The more elusive Tony Pollard has been eating up a large share of snaps as his versatility in the passing game adds yet another option to an already loaded Dallas receiving crew. Elliott's 1,600+ career touches could begin to catch up with him, as he's already missed time in 2020 with a hamstring issue. Heading into his sixth NFL season, his fantasy points per game averages have fallen from 19.5 in 2018 to 18.0 in 2019 to 13.7 in 2020.
17.
Cam Akers

Will be a Fantasy RB1 (Raju Byfield)

Cam Akers appears poised to take over as the unquestioned lead back for 2021, a role many expected Akers to earn early on in the 2020 campaign. It took much longer than expected, but from Week 12 to Week 14 (he got hurt in Week 15), Akers racked up 109 rushing yards per game and 15 receiving yards per contest. He was the RB6 in total fantasy points and the RB8 in fantasy points per game. His role in the passing game figures to continue to grow, giving Akers what should be a weekly floor of 16-18 touches. Akers's college experience playing behind patchwork offensive lines has done him well in the NFL as he is already adept at creating positive yardage when his blocking lets him down. Akers will be drafted as a middling RB2 in most draft rooms but has the talent and potential role to be an ADP MVP.
18. Mobile QBs Continue Dominance,
Joe Burrow

is the Next

Josh Allen

(Salvatore Stefanile)

If you're a quarterback streaming aficionado, you most likely don't give much thought to the quarterback position during your draft. You try to pick out a late-round quarterback with an appealing Week 1 matchup and take it from there. It's a strategy that has served us well over the years. However, if you take a look at the top fantasy quarterbacks this season, you will notice a trend—mobile mid-round passers dominated the position. Deshaun Watson, Russell Wilson, Kyler Murray and Josh Allen all went off the board between the late fourth-round to the end of the sixth-round of drafts. They finished the season as the QB5, QB6, QB2 and QB1, respectively.

While using a fourth-round draft pick on a quarterback might be too costly, a sixth- or seventh-round pick could yield a high return on investment in 2021 drafts. You don't want to pay the high cost of whatever Josh Allen's rising 2021 ADP will be, but rather, look for the potential 2021 version of Josh Allen, at 2020 Josh Allen costs. Joe Burrow, injured and forgotten, could be the next Josh Allen. Burrow, who rushed for 142 yards and three touchdowns prior to his season-ending injury, was the fantasy QB10 through the first eight weeks of the season. His injury should suppress his ADP, while his rushing potential could make him the type of bargain mobile quarterback worth targeting in 2021 drafts.
19.
Brandon Aiyuk

is the Sophomore WR to Own (Brandon Niles)

No disrespect to Justin Jefferson, Tee Higgins or CeeDee Lamb, but Brandon Aiyuk looked as good as anyone while healthy this year, and he did it with terrible quarterback play. The 49ers could very well end up with a new quarterback next season—a Matt Ryan reunion with Kyle Shanahan sounds perfect—and while Deebo Samuel is easily the chain-mover of the offense, Aiyuk is a target-hog in his own right. With Samuel in and out of the lineup during a five-game stretch from Weeks 8-14, Aiyuk averaged 12.4 targets per game. With a year under his belt and hopefully better quarterback play, Aiyuk could take a giant leap in 2021—and his cost should be lower than Jefferson, Higgins and Lamb.
20.
Ja'Marr Chase

Will be Better Than

Justin Jefferson

(Raju Byfield)

Justin Jefferson has had a sensational rookie season for the Minnesota Vikings. He landed in what turned out to be the perfect situation after the Vikings decided to let their rookie lead the team in slot snaps, pushing Adam Thielen to the outside. Jefferson was a first-rounder due to incredible numbers and tape at LSU but was outshined by his own teammate and eventual Fred Biletnikoff Award winner as the best receiver in the nation in Ja'Marr Chase. Jefferson was not even counted as a finalist, largely due to the heroics of Chase. Jefferson recorded a stunning 79 receptions for 1,267 receiving yards and seven touchdowns through the first 16 weeks of the season. He would go on to finish the season with 1,400 yards—breaking the rookie receiving yard record previously held by Anquan Boldin (1,377). Chase, providing he does not land with the Jets, can be even better.
21. Quarterback Streaming Will Die (TJ Hernandez)
This is a bit of hyperbole since supply and demand is still a thing but there are quarterbacks who are mobile and then there are quarterbacks who aren't worthy of being on fantasy rosters. The former will all be drafted in your fantasy league and whoever misses out will be left chasing outlier seasons or weeks. I still have a lot of math to work out on this so please wait before you tag @OldTakesExposed.
Bonus: There Will be Zero Regular Season COVID Scheduling Conflicts (Justin Edwards)
Am I an infectious disease specialist? No.
Do I want to put this out into the universe? Yes.
---
Thanks to George Kritikos, C.D. Carter, Jeff Hicks, Brandon Niles, TJ Hernandez, Raju Byfield, Justin Edwards, Josh Moore and Salvatore Stefanile for their contributions. Let's check back in early 2022 to see how right or very wrong we were. Follow us on Twitter and share your 2021 fantasy football with us.