2021 FFPC Main Event Running Diary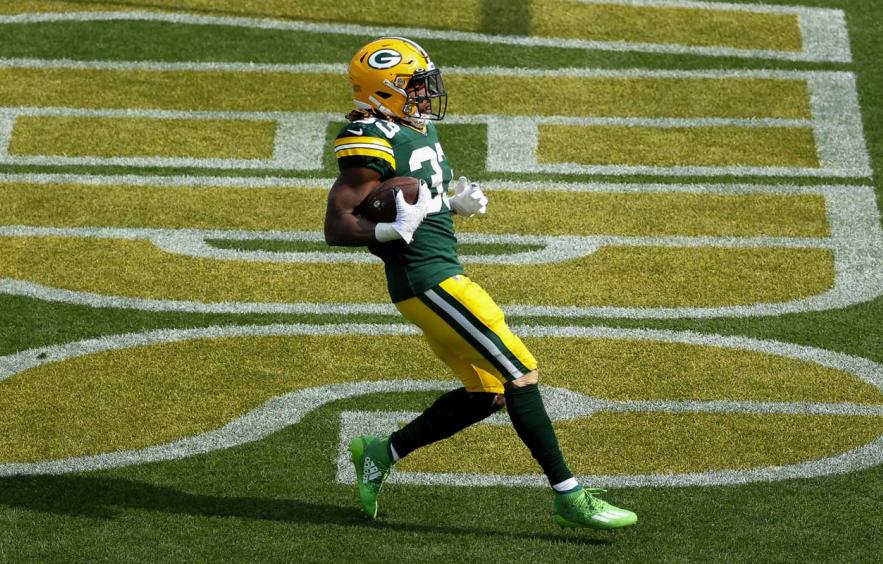 Dylan Buell/Getty Images
FFPC's Main Event is the gold standard in high-stakes tournaments, and I'm excited to be taking at least two stabs at it. I'll be drafting live in Las Vegas with Joe Paeno and just fired off a Main Event slow draft with Ryan Noonan (@RyNoonan) and John Daigle (@NotJDaigle). I wanted to go through some of the conversations we had surrounding our selections and our thought process behind the picks. I'll continue to update this piece throughout the draft.
---
More High-Stakes Content: Late-Round QB Targets | Late-Round RB Targets
---
The FFPC Main Event is a high-stakes fantasy league with a tournament-style ending. At its most basic core, it consists of 12 teams with PPR/TE-premium scoring. You can start 1 QB, 2 RBs 3 WRs, 2 FLEX players, 1 Kicker, and 1 D/ST. Visit their official site for more information about the rules and scoring.
2021 FFPC Main Event Draft Breakdown
First-Round Pick (12th Overall)/Second-Round Pick (13th Overall)
Packers

RB

Aaron Jones

/

Chargers

RB

Austin Ekeler

We drew the 12th pick overall in the draft and John Daigle immediately texted Ryan Noonan and me to tell us he wanted to start WR-WR or grab Darren Waller. We all agreed that would be interesting considering the tantalizing upside of snagging two pass-catchers from the group of Tyreek Hill, Davante Adams, Calvin Ridley, Stefon Diggs and Darren Waller. I'm not sure when Daigle converted into such a Zero RB zealot but when all four of those players went prior to our first-round pick he was unhappy, to say the least.
Connor will be threading our selections throughout the draft here. 12, as shown below, is the stone-worst slot to pick from: https://t.co/AeqjukNhzd

— John Daigle (@notJDaigle) August 19, 2021
After rage-tweeting about the 12th pick being the "stone-worst" and telling us the Austin Ekeler/Aaron Jones combo was the worst-case scenario, Daigle came around to, "Yeah, it's fine." On the other hand, I was happy with our first two picks while Noonan wasn't as stoked about Ekeler and has him in the same tier as Jonathan Taylor, Najee Harris and Antonio Gibson.
I tried to make a push for Saquon Barkley over Ekeler but was swiftly shut down by Daigle who responded to my suggestion with "absolutely not." I think most of the reporting around Saquon's injury is flimsy at best and there is no advantage for the Giants to come out and say Barkley is back to full health or anywhere close. I bet he plays Week 1 and maybe is slightly limited in Week 1 but I doubt it lasts long. Joe Judge is coaching for his job. Every snap that he plays Devontae Booker over a reasonably healthy Saquon Barkley is a fireable offense and is hurting his odds of winning. Daigle doesn't seem to care about the injury and more so thinks the offense sucks and the offensive line is bad. Those are all true but a lot of those same factors were also true in 2018 when Barkley erupted. I am willing to bet on talent, especially when he'll be heavily involved in the passing game and be utilized frequently in the red zone. Instead of taking Saquon Daigle and I locked in this bet:

Official fantasy bet with @notJDaigle (PPR scoring, fantasy points per game):



Barkley vs CEH



Barkley vs Gibson



I have Barkley in both scenarios. Who will win?

— Connor Allen (@ConnorAllenNFL) August 19, 2021
This is a team effort though so I rescinded my bid for Saquon and we all settled on Ekeler. I'm a bit higher on Ekeler due to his role in the passing game and the offense's possible ascension in year two with Justin Herbert, a fringe top-10 offensive line and an upgraded coaching staff. Daigle brought up a good point on the contrary that he very likely won't have a big role on the goal line. Justin Jackson, Larry Rountree and Joshua Kelley all linger and profile as bigger backs than Ekeler who could be used at the goal line. I've already placed a bet on Austin Ekeler under six touchdowns on the season and concur with Daigle's point. I do believe his role in the passing game should help him overcome that potential profile deficit and buoy his fantasy value.
We all are excited about Aaron Jones and Noonan actually has him ranked as his RB4 in PPR. Aaron Rodgers is officially back and I'm not sure ADP has corrected enough. The loss of Jamaal Williams should mean at the very minimum a slight bump in passing game usage and potentially an even bigger role depending on how A.J. Dillon pans out. When push comes to shove, we definitely didn't win the league with these two picks but also didn't lose it, an underrated aspect of draft considerations in the first and second round.
Third-Round Pick (36th overall)/Fourth-Round Pick (37th overall)
Ravens

TE

Mark Andrews

/

Panthers

WR

D.J. Moore

This was a fun one. After grabbing two running backs in the first two rounds, our tentative plan was to hammer wide receiver. The issue is, that seemed to also be everyone else's plan. Nine out of the 11 selections before our picks were either tight ends or wide receivers, leaving us with a group of intriguing-but-not-groundbreaking options.

We all liked Mark Andrews. He was a consensus pick among us and if Kyle Pitts was there he would have also been in the conversation. Everyone talks about how T.J. Hockenson has no target competition, but at this point, neither does Andrews. Rashod Bateman is out until at least Week 4 and likely won't hit the ground running when he does return. Marquise Brown and Sammy Watkins are both dealing with lingering injuries and have hardly practiced. The more I draft, the more I want to make sure I grab a top-six tight end. The drop-off and late-round options this year are slim pickings.

The other selection was a bit of a mess. Daigle kicked off his thoughts by saying D.J. Moore, Julio Jones or Tyler Lockett. I wanted Cooper Kupp but was fine with Jones or Lockett. Noonan responded with "I'm behind consensus on D.J. Moore. I don't hate the Tampa double dip as well." He then threw out an overarching comment on draft strategy: "ADP is just a human construct, we shouldn't be afraid to reach." As one of the forefathers of fantasy football constructionism and a well-known thought-leader in average draft position, he added, "We're splitting hairs between WR16-WR25 in raw projections."

I explained that I'm fine and more than happy to reach for a player we all really like but not at this point in the draft. I'm more apt to take a player who normally goes in the 10th round in the eighth or ninth, rather than taking a player going in the mid-late fifth at the late 3/4 turn.

So, how did we end up selecting Moore? Daigle's next text was "Moore would be my must pick. Others are up for debate."

Alright, Daigle. It was a bit of an aggressive approach from the NBC big wig but I appreciated the confidence. D.J. Moore is a pretty polarizing player in both mine and Noonan's minds. So I asked Daigle, "Why would they change his role from last year? Will he have a better rapport with Darnold than Robby?"

I think he is a good prospect and has been successful to date, but outside of a slight QB upgrade from Teddy Two Gloves to Sammy Sleeves, why else should we be excited to think he has enough upside to warrant over a selection in rounds 3/4 over Robby in rounds 5/6?

Daigle responded with his condensed reasoning for liking Moore so much: "Moore has quietly stacked the league's sixth-most receiving yards (2,368) from Cam Newton, Kyle Allen, Will Grier and Teddy Bridgewater the past two years but has failed to finish any higher than 15th in fantasy points per game due to his lack of touchdowns (8). Encouraging that he still led the team with 10 end-zone targets in 2020."

Daigle is essentially banking on Moore scoring more touchdowns and potentially being even more efficient than he has been in the past with better quarterback play. I'm still not 100% sold but I'm more on board than I was before our chat. So both Noonan and I decided we would trust Daigle's conviction play and pick D.J. Moore. Noonan added, "I love the profile, just not the price." If I had a strong opinion about one of the other players on the board I may have fought for them, but I really didn't.
Fifth-Round Pick (60th overall)/Sixth-Round Pick (61st overall)
Ravens

QB

Lamar Jackson

/

Browns

WR

Odell Beckham

Jr.

We had been eyeing a Lamar Jackson-Mark Andrews combo the moment we took Andrews. This could be a lethal stack given Lamar's rushing upside and Andrews being his primary target with Watkins, Bateman, and Brown all banged up. Both Noonan and Daigle are similarly high on Lamar's fantasy upside so the pick was a no-brainer after grabbing Andrews.

Picking Odell was a tough decision. We really, really wanted Chase Claypool or Tee Higgins at the 5/6 turn. Unfortunately, they went at 5.08 and 5.11, putting us in rankings purgatory. Both Ryan and I really like Robby Anderson but we already bent the knee to Daigle on D.J. Moore. Picking two wideouts supported by Sam Darnold seemed a bit too risky for our tastes so we wound up ruling him out. Barring an incredible season from Darnold or nearly all the targets going to those two the upside of taking both leaves a lot to be desired. Another option was Devonta Smith even though this would have been about around ahead of ADP. Daigle pointed out that Smith's floor is extremely low and that he doesn't like to draft wide receivers on bad offense with quarterbacks on a short leash. The counterargument can be made that it would take Hurts being dreadful for them to turn to Joe Flacco and that Smith should receive ample amount of targets. Daigle's point rang home though, the range of outcomes is a bit wide for the 5/6 turn.

I don't think any of us felt great about Odell but he has been playing injured the past two seasons and has received rave reviews at camp. This is also a massive discount on a player that's already shown he can perform at elite levels in the past. Another year of rapport with Baker Mayfield and the Kevin Stefanski offense can only help Odell's case as well. In Weeks 1-5 prior to his meltdown against the Steelers and season-ending injury against Cincy he didn't see fewer than 6 targets in a game and averaged 7.8.

It has pretty much been the theme of this draft so far. All of us have been content but not excited about the players we have picked so far.
Seventh-Round Pick (84th overall)/Eighth-Round Pick (85th overall)
Patriots

RB

Damien Harris

/

Dolphins

WR

Jaylen Waddle

This turn of picks came pretty close to destroying my friendship with Daigle. I nearly ran from my humble Chicago abode to the Silva Manor in order to fight him. I don't even care if he was there at the time or on one of his many nomad excursions but I was ready to throw hands.

This was a real exchange on the clock:

Daigle: "I don't know what to do with your opinions when I'm presenting facts."

Me: "Really, what facts have you presented other than your own opinions framed as facts?"

Our options weren't great but this exchange started over strategy. At this point, we have two wide receivers, two running backs, a quarterback, and tight end. We could have gone in a variety of directions but Daigle's primary argument was that we should "double-tap" running back with two of Damien Harris, Raheem Mostert, and A.J. Dillon. He believes that because "the draft left us running backs," that's who we should take. The issue is using Main Event ADP all of the running backs listed above are all going AFTER the 84th/85th pick on average. By my definition, ADP, didn't leave us anything.

My preference was that we take two of a group of wide receivers I really liked and that will almost certainly be gone prior to our next pick. I'm not going to list those wideouts because this will be published prior to our next picks.

Daigle listed Marquise Brown as a player we should target in the next back-to-back instead of the guys I listed. This put me over the edge as I'm fully out on Marquise Brown in redraft and I told him that. I'm going to paraphrase this for the kids reading at home and to avoid 4for4's HR department cracking the whip on any future Daigle/Allen/Noonan partnerships.

Daigle: "How are you out on Marquise Brown but in on Lamar?"

My take: Marquise Brown couldn't break out last year with target competition like Willie Snead, Dez Bryant, and Nick Boyle. Brown finished as the WR36 last year despite having positive touchdown luck and scoring eight touchdowns on just 58 receptions. He also didn't cross 100 yards after Week 1. Now you add an injury that's held him out for most of the preseason and at least competent target competition in Watkins with first-rounder Rashod Bateman set to return around Week 4. Another factor is that this is redraft. Brown's week-to-week volatility makes predicting his "splash weeks" near impossible. Even then, his biggest week was 21.2 PPR points. He scored fewer than 10 fantasy points in 7 games last year. In bestball, I can get behind it. In redraft, no thanks. When I'm drafting a wide receiver in this range, I want a guy that has the ability to be the team's alpha or a potentially dominant slot receiver in their range of outcomes. They have the upside to potentially start in our lineup without an injury to one of our starters. Players with that archetype are currently still on the board. Brown had that chance last year and didn't do much with it and there is little reason to think that scenario plays out this year.

Anyways, there were other salty words exchanged and theoretical arguments that Daigle and I disagreed on. This led to Daigle just telling me to pick whoever I wanted and ghosting Noonan and me for the rest of the night. 10 texts in a row, no response. 16 hours and counting, still no response to any of our picks

Dear John,

I wrote you but you still ain't calling. Please, answer the group text.

Your biggest fan,

Stan (Connor)

Noonan and I wound up deciding on a mixed approach with one wide receiver and one running back in Damien Harris and Jaylen Waddle. We have Waddle projected to be the WR38 in PPR leagues this year and I am extremely bullish on the Dolphins offense for a variety of reasons. Waddle and Tua have also shown great rapport in training camp and preseason. Waddle is the type of player who has a reasonably high floor and could wind up being an every-week WR2 if the Dolphins offense ascends how I expect. He also has the speed to make splash plays and have bigger weeks in addition to a relatively high floor from manufactured touches. He has upside to be a weekly starting option for us with upside, a type of player we should be targeting at this juncture.

We picked Harris prior to the Michel trade but didn't anticipate him being much of a factor regardless. With Mac Jones looking to have the inside track on winning the starting QB job for the Patriots, Damien Harris will be the primary back around the goal line and could be a bit more involved in the passing game. James White will still steal plenty of third-down work but his upside with Mac Jones under center is interesting, to say the least.

Even though Daigle and I were at different ends of the spectrum in terms of strategy and he surely hated it, I really liked how this turn panned out for us.
Ninth-Round Pick (108th overall)/10th-Round Pick (109th overall)
Colts

WR

Michael Pittman

Jr./

Cardinals

WR

Rondale Moore

Anytime you get into a heated argument with a friend or family member it's always a bit awkward to get back into the swing of things.

Daigle never directly responded again to us in our group chat but he was quite active in another chat of ours with Evan Silva and our degenerate friend Rahul. I knew there were still plenty of hard feelings being harbored by Daigle over my Marquise Brown takes and forcing Waddle over A.J. Dillon or Raheem Mostert.

After a day of zero texts in our Main Event group chat, I tried to break the ice.

"Hey Friends, we are on the clock. How are you feeling JD?"

Daigle responded "I know which two names I want. Let's hear yours."

My first thought was welp, here we go again.

I answered, "Daigle. Open up to me. This is not how this should work."

Daigle wasn't having any of it and just said "Tell me. I'm at pronghorn playing a Nicklaus course. You cannot get to me with bad taeks today."

Noonan at this point wasn't happy with how this was being handled either and bluntly said "Can we get to you with a dialogue around a few players or is that not an option? It's not even which position to address, you're locked in on players."

Noonan and I discussed a few players we really liked at that spot including Jamaal Williams, Gus Edwards, Michael Pittman Jr. and Jakobi Meyers.

Rather than adding to that productive conversation Daigle just said, "It should be two wide receivers now."

I can't even lie, this almost put me over the edge. If I wasn't driving I would have probably lost it and gave an ultimatum. After sitting there to think for a minute, I responded with "Daigle, cut the ******** attitude. We all do research and put in the time."

Daigle got off his Clydesdale and responded reasonably, "No attitude: Why would it be two backs now? You're then saying Jaylen Waddle is definitively better than the last round's group of receivers when I said they're all the same. I vote Rondale Moore and another WR. Moore should be a sixth-round pick who isn't. Basically, Deebo Samuel with a Brandon Aiyuk ceiling. If you didn't want two backs then, you don't want two backs now since they're all the same guys."

Even though I disagreed with some of what he was saying, this felt like a massive step forward. I also really liked his point on Rondale Moore.

I still tried to defend my process and answered, "I think Jaylen Waddle is significantly better than the guys left on the board now, yes. Waddle was in the last of the group of wide receivers I mentioned at the 7/8 turn because I thought all of them would be gone by the time we picked next. The only one left is Michael Pittman. To your point, there was a tier drop from Mostert/Dillon/Harris but I think Ryan and I also thought the same about the wide receiver position, whereas, you thought they were all the same. Not to mention we were actually more RB top-heavy at the time, so even in hindsight, I don't think it was a bad decision. There is also a tier-drop after Jamaal Williams and Gus Edwards now, too. Both have standalone value but upside for more if an injury happens to the starter." (Written prior to the J.K. Dobbins injury.)

We settled on Michael Pittman Jr. and Rondale Moore in this spot. We all thought Pittman was a tier ahead of some of the remaining guys and Noonan is one of the leaders of the Pittman fan club. After leading the league in Football Outsiders' YAC+ metric last year and marginal target competition heading into the year he couldn't be higher on him. I still think a case for either Williams or Edwards could have been made but I was trying to make reparations with Daigle and didn't have the emotional energy to argue anymore.
11th-Round Pick (132nd overall)/12th-Round Pick (133rd overall)
Bengals

RB

Giovani Bernard

/

Raiders

WR

Henry Ruggs

It only took 11 full rounds of drafting but we *finally* had our first unanimous decision…or so we thought.

Sitting at 11.11 right before our pick we all took a look at the board and decided that Terrace Marshall and Gio Bernard were our best options. Daigle noted that Marshall is a "great pick" but Gio is just "fine."

Gio is the clear pass-catching back for Tom Brady and the Bucs which gives him an underrated floor with access to a reasonable ceiling if he scores a touchdown. Terrace Marshall is an intriguing rookie that we were all excited about and figures to play a big role in a revamped Joe Brady offense.

After what felt like a war to make any pick prior, It felt wrong to make this pick easy. I tried to antagonize Daigle a bit and see if I could get him fired up. I mean at this point, what more could happen? I'm going to Las Vegas with this guy in two weeks. We'll get over it.

Daigle said "I mean, if (Terrace) Marshall isn't there, there isn't a good pick here."

I fired back with "I blame myself to be honest. The butterfly effect caused by our suboptimal decision-making at the 7/8 turn left us with nothing at the 11/12 turn. It truly all comes back to Waddle over Mostert/Dillon."

No dice. He maturely didn't respond and knew I was trying to get under his skin.

Of course, you guessed it, Marshall was picked at 11.11 by another team. After our previous run-in the past few days I was straight up worried about Daigle and his mental health after this latest break. It seemed like a real possibility he would spiral into another vicious cycle of anger. Luckily, it didn't seem to cut quite as deep as my Marquise Brown hate. We wound up debating over a bunch of receivers none of us truly liked.

Noonan's top-4 were Bryan Edwards, Devante Parker, Emmanuel Sanders, and Nelson Agholor. Daigle suggested Henry Ruggs and I agreed that he probably has the highest ceiling among those options. I'm a little concerned Ruggs straight up isn't a good football player but the opportunity will be there and his profile is interesting. Noonan disagreed big time adding, "If you guys both want Ruggs, I'm overruled. But taking him over Parker and Sanders especially feels like a reach."

I rebuked that Ruggs has plenty of upside and Noonan said, "Upside… that and $3 will get us a cup of coffee. Put that in your article and ****** smoke it."

I sighed, drafted Ruggs, and moved on with my day. Our draft in a cliché: You can't please everyone.
13th-Round Pick (156th overall)/14th-Round Pick (157th overall)
Bears

RB

Damien Williams

/

Bills

WR

Emmanuel Sanders

You guys might be sick of hearing about this, but Daigle still isn't backing down. This time he tried to bring Evan Silva into the argument surrounding our selections at the 7/8 turn. Daigle recently moved back into the Silva manor for the next few months and must have done a fantastic job convincing Silva, because he was sold. Silva started, "When Daigle explained to me the Waddle situation last night amid four fingers of pinot grigio, I sided with him. How do you take Waddle over Raheem Mostert?"

I have explained this multiple times but I'll rehash what I sent back….."You take him in the scenario when you went RB heavy (Jones-Ekeler), were going to face a massive tier WR drop after the 7/8 turn and none of the guys we liked would be there on the next wrap (it happened). Our wide receivers are bland and we also picked Damien Harris on that wrap. We needed to stack guys who could actually have a chance to give us upside at the WR position, not a fourth running back or waiting on a bum like Marquise Brown. In a vacuum, sure Mostert > Waddle. Situationally, it made sense for our team. I'm sure Daigle left out that context though because that's how Russian mind games work." (Silva is fairly convinced Daigle is involved in Russian espionage in some capacity).

Silva responded, "Yeah but apparently you guys celebrated the RB-RB start like you won the lottery and that got the ball rolling on Daigle's consternation. When in actuality it put you in a hole that you believed you could at least partly dig yourself out of by severely reaching for a rookie in a questionable passing game environment."

Silva… wasn't wrong. We thought there would be better wide receivers left at each consecutive turn after the first two but there wasn't.

For good measure, he added "I can tell you I'm never managing a team with Daigle or Connor. Too much to lose."

This turn wasn't all that eventful outside of us not knowing we were on the clock until we had 35 minutes left. We struggle to make decisions via text with 6 hours left on the clock let alone 35 minutes in the middle of the work day.

I was working my FT job on the southside of Chicago and just queued up Damien Williams and Emmanuel Sanders in case we weren't able to come to a consensus. Daigle suggested we take Tre'Quan Smith and noted, "Massive ADP dip when we just don't know his outcome in a Brees'less scenario. Too often the unknown is seen as a negative, but not always the case. Winston could be a life-saver for Smith."

Pretty sharp quip from Daigle. The only issue was I got busy and forgot to queue him in those ensuing 20 minutes. So we got auto-drafted both Damien Williams and Emmanuel Sanders. I swear, it wasn't malicious. I apologized and offered to try and fix it but Daigle didn't answer while Noonan said he "likes Manny and wants pieces of that passing game." With Cohen on the PUP list to start the season, Damien is a strong dart at this point as well.

I'm sure Daigle is fuming at this point and will very likely blow his lid when I see him next week at Planet Hollywood.
15th-Round Pick (180th overall)/16th-Round Pick (181st overall)
Jets

RB

Tevin Coleman

/

Saints

RB

Tony Jones

Just when I thought we were in the clear and had tied up most of our loose ends, we botched another round. For some reason, the FFPC emails saying we were on the clock weren't being delivered to me.

I get a text from Noonan in our group chat at 9:30 AM saying "We're OTC. Let's try and actually make these picks.

Me: "Already?!"

I log in on my phone and see we have 6 MINUTES to make a pick. We struggle to make a decision that all of us even feel remotely good about in 6 hours let alone 6 minutes. I knew we were in serious trouble.

Those 6 minutes were a blur as I furiously screenshotted the board to Noonan and Daigle (who was asleep). With 10 seconds left I decided to pull the trigger on Tevin Coleman myself because I got next to no useful input from anyone. That way we had 6 hours to make the next pick.

I think Coleman will get some run as the starter for the Jets and if he plays well I anticipate him having a reasonable role down the stretch. The Jets offense as a whole could be sneaky fun, or at least not embarrassingly bad. I expect there to be some fantasy viable options from that offense at the bare minimum.

Noonan wasn't thrilled and said, "Locked up Ty Johnson's backup. Now we have time."

An hour and a half after our first pick and still OTC for our second, Daigle chimed in, "Tony Jones if we haven't picked yet."

I was relieved that Daigle actually was providing input. After the last turn where I didn't queue up Trequan in time, there would be no arguments from me here even if I didn't think he was a great pick. At this point, I was ready to just move out of this round.

So I picked Tony Jones. Low and behold an hour after that we get a text from the Russian himself saying "Wait, I meant Ty'son Williams. I was still sleeping when I typed Tony Jones!!!"

You literally can't make this stuff up. Even with Daigle's sleeping picks, Williams had already been picked 3 rounds earlier so it didn't matter.

Daigle "I literally rolled over and thought I typed Ty'Son lmao. What an awful mistype and pick. It was a long night partying through streams."

*Insert Jennifer Lawrence giving sarcastic nodding and thumbs up gif*

We are now proudly rostering Tony Jones and Tevin Coleman. I think it's almost destiny for this team to do great things after the self-induced adversity we have gone through.
17th-Round Pick (204th overall)/18th-Round Pick (205th overall)
Vikings

TE

Chris Herndon

/

Cowboys

TE Dalton Shultz

We are seriously emotionally and mentally exhausted at this point. This draft has gone by slower than watching Orlando Brown run an ultra marathon.

Daigle set the queue and sent a picture of it to the group. Literally none of us replied.

Daigle texted us 6 hours later, "We were auto-picked Herndon and Shultz"

I was pumped. "Awesome, good teamwork, I'm fine with it."

Noonan "Not making picks has been better for your relationship to be honest."

Me: "Yep. Set the Queue, no arguments, get a bit more relationship juju heading into Vegas."

With barely any more talking amongst the three of us this will probably be the end. If you actually read through this whole thing, I appreciate you more than you know.

If you ever have any questions on how to build a team this great, feel free to hit Noonan or I on Twitter (you are probably best off avoiding Daigle because he is still mad about Rounds 7/8).