Daigle's 2023 NFC Draft Grades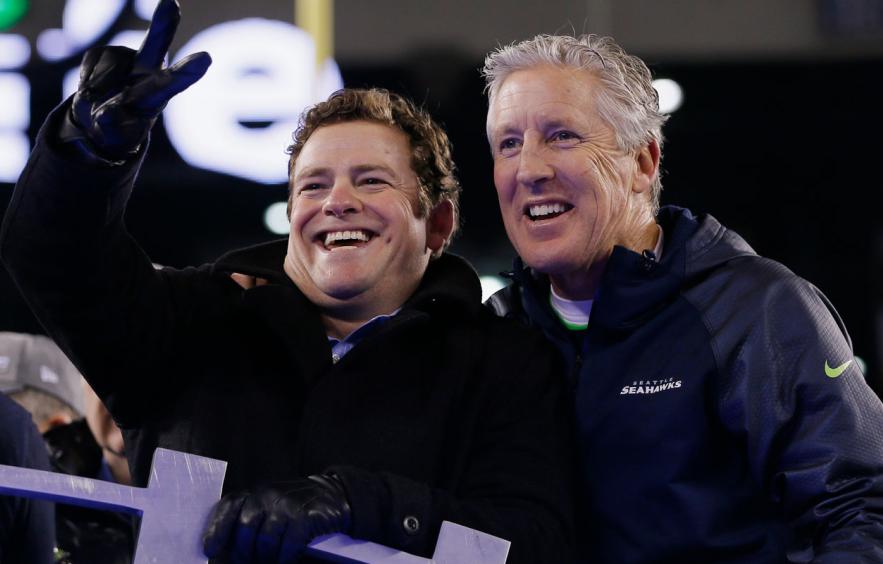 Kevin C. Cox/Getty Images
Below you'll find summaries and grades for all the NFC teams following the 2023 NFL Draft.
---
More NFL Draft-related Content: AFC Draft Grades | Winners & Losers Rounds 2-7 | 9 Impact Rookies | Round 1 Winners & Losers | Player Profiles | 18 Impact Rookies Past Round 1
---
Arizona
Cardinals
1 (6) - OT Paris Johnson Jr., Ohio State
2 (41) - EDGE BJ Ojulari, LSU
3 (72) - CB Garrett Williams, Syracuse
3 (94) - WR Michael Wilson, Stanford
4 (122) - G Jon Gaines II, UCLA
5 (139) - QB Clayton Tune, Houston
5 (168) - LB Owen Pappoe, Auburn
6 (180) - CB Kei'Trel Clark, Louisville
6 (213) - DI Dante Stills, West Virginia
Overview: It's not often an organization with a franchise quarterback can position itself to upgrade on said player, but new GM Monti Ossenfort began his tenure by collecting a league-high six picks in the first three rounds of 2024 including Houston's and the team's own selections on night one; Pro Football Focus' Timo Riske simulated this upcoming season 1,000 times and, unsurprisingly, the Cardinals and Texans finished a majority of reenactments as the league's two worst teams.
Not that Arizona is required to part with Kyler Murray after gifting him a five-year deal to match Kliff Kingsbury's extension (lol) through 2027. But all options are on the table with QB Caleb Williams (USC), WR Marvin Harrison Jr. (Ohio State), and TE Brock Bowers (Georgia) headlining next year's class. OT Paris Johnson, who played exclusively at RG (2021) and LT (2022) the past two years, will have his rookie season to develop before one (if not two) of that group arrive.
Grade: A
Atlanta
Falcons
1 (8) - RB Bijan Robinson, Texas
2 (38) - T Matthew Bergeron, Syracuse
3 (75) - EDGE Zach Harrison, Ohio State
4 (113) - CB Clark Phillips III, Utah
7 (224) - S DeMarcco Hellams, Alabama
7 (225) - OG Jovaughn Gwyn, South Carolina
Overview: Both Cordarrelle Patterson (50.4%, 1st) and Tyler Allgeier (45.6%, 8th) finished top eight in Next Gen Stats' Rushing Yards Over Expected rate (ROE%) — in short, Patterson out-performed the league's backs on identical plays and situations 50.4% of the time. Compare that to Aaron Jones and A.J. Dillon, who finished Nos. 3 and 4 in ROE% respectively, but are also earning the ninth-highest cap hit among running backs (Jones) or playing on second-round capital (Dillon). Patterson meanwhile is a 32-year-old veteran while Allgeier is fresh off 210-1,035-3 rushing as a fifth-round rookie. Adding Bijan to the mix, while sexy for fantasy football, is redundant. Atlanta will instead look to improve on last year's 31st pressure rate created with 37-year-old Calais Campbell and David Onyemata, the latter who ranks 11th among interior defenders in pressure rate (11.4%) since 2020. The fifth-rounder used to acquire CB Jeff Okudah is part of this haul but Atlanta won't re-sign him if he breaks out.
Grade: F
Carolina
Panthers
1 (1) - QB Bryce Young, Alabama

2 (39) - WR Jonathan Mingo, Ole Miss

3 (80) - EDGE DJ Johnson, Oregon

4 (114) - G Chandler Zavala, NC State

5 (145) - S Jammie Robinson, Florida State
Overview: The Panthers paid the equivalent of the recent market to have an opinion at quarterback, sending the Nos. 9 and 61 selections in this year's draft, a 2024 first-rounder, a second-round pick in 2025, and D.J. Moore (and his three-year, $52.3 million contract) to the Bears for Bryce Young. Unfortunately, even the best scouting departments are wrong roughly 50% of the time when evaluating Young's position. The former Heisman Trophy winner has to be a transcendent player in order for the Panthers to return value — an impossible outcome if Moore additionally turns out to be the best wide receiver in this class. Young will at least be plopped into the league's worst division with $45 million guaranteed doled out to four skill players (Miles Sanders, Adam Thielen, D.J. Chark, Hayden Hurst) on offense.
Grade: C
Chicago
Bears
1 (10) - T Darnell Wright, Tennessee
2 (53) - DI Gervon Dexter Sr., Florida
2 (56) - CB Tyrique Stevenson, Miami (FL)
3 (64) - DI Zacch Pickens, South Carolina
4 (115) - RB Roschon Johnson, Texas
4 (133) - WR Tyler Scott, Cincinnati
5 (148) - LB Noah Sewell, Oregon
5 (165) - CB Terell Smith, Minnesota
7 (218) - DI Travis Bell, Kennesaw State
7 (258) - S Kendall Williamson, Stanford
Overview: Ryan Poles clearly understands the volatility of the NFL draft, maneuvering the team for 21 picks in his two years as GM. With Justin Fields under contract for the next three seasons, Chicago essentially dealt Bryce Young for D.J. Moore, RT Darnell Wright, CB Tyrique Stevenson, a 2024 first-rounder, and a second-round pick in 2025. Poles also traded No. 103 to the Saints for Nos. 115 and 165, which Chicago turned into RB Roschon Johnson and CB Terrell Smith. Tyler Scott is a personal favorite, scorching Power Five competition with 5-77 (Arkansas) and 10-185-3 (Indiana) in his final year as an 185-pound athlete with 95th percentile burst (including an 11-foot broad jump) and 4.39 40-speed.
Grade: A
Dallas
Cowboys
1 (26) - DI Mazi Smith, Michigan
2 (58) - TE Luke Schoonmaker, Michigan
3 (90) - EDGE DeMarvion Overshown, Texas
4 (129) - EDGE Viliami Fehoko, San Jose State
5 (169) - OT Asim Richards, North Carolina
6 (178) - CB Eric Scott Jr., Southern Mississippi
6 (212) - RB Deuce Vaughn, Kansas State
7 (244) - WR Jalen Brooks, South Carolina
Overview: Dallas' first-round pick was decided in Week 10 when the Packers showed the league how to neutralize Micah Parsons with 39 carries for 5.3 yards per pop; the Cowboys averaged 2.3 sacks per game from that point forward compared to its league-high 4.0 per game through Week 9. Any capital to leap from No. 58 overall for rumored war-room favorite Michael Mayer was spent on DT Leonard Hankins (No. 204 overall), CB Stephon Gilmore (176), and WR Brandin Cooks (for a 2023 fifth-rounder and a sixth in 2024). Dallas' weekend haul admittedly lacks value but should include the veterans in place.
Grade: C+
Detroit
Lions
1 (12) - RB Jahmyr Gibbs, Alabama
1 (18) - LB Jack Campbell, Iowa
2 (34) - TE Sam LaPorta, Iowa
2 (45) - S Brian Branch, Alabama
3 (68) - QB Hendon Hooker, Tennessee
3 (96) - DI Brodric Martin, Western Kentucky
5 (152) - OT Colby Sorsdal, William & Mary
6 (219) - WR Antoine Green, North Carolina
Overview: Though I question what ultimately led to Detroit's decision to trade back from No. 6 — knowingly being locked into one specific player had something to do with it — moving Nos. 6 and 81 for Nos. 12, 34, and 168 should be commended. The praise stops there after the team added Gibbs and Campbell only one month after sinking a pair of three-year, $18 million contracts into those same positions (David Montgomery, Alex Anzalone) on the open market. From a micro standpoint, the Lions came away with the most top 50 players among Dane Brugler's rankings. But getting there entailed organizational malpractice, watering down their own market for any team willing to take on the final year of D'Andre Swift's contract (which Philadelphia happily did for a day-three pick). I cannot emphasize this enough: Gibbs' and Campbell's on-field performances do not matter in terms of foundational team-building.
Grade: D+
Green Bay
Packers
1 (13) - EDGE Lukas Van Ness, Iowa
2 (42) - TE Luke Musgrave, Oregon State
2 (50) - WR Jayden Reed, Michigan State
3 (78) - TE Tucker Kraft, South Dakota State
4 (116) - EDGE Colby Wooden, Auburn
5 (149) - QB Sean Clifford, Penn State
5 (159) - WR Dontayvion Wicks, Virginia Tech
6 (179) - DI Karl Brooks, Bowling Green
6 (207) - K Anders Carlson, Auburn
7 (232) - CB Carrington Valentine, Kentucky
7 (235) - RB Lew Nichols III, Central Michigan
7 (242) - S Anthony Johnson, Iowa State
7 (256) - WR Grant DuBose, Charlotte
Overview: Packers continued its longstanding tradition of avoiding any first-round receivers since 2002 (Javon Walker), but in doing so pad for Rashan Gary's unclear status following November's torn ACL. More importantly, the front office wheeled-and-dealed over the weekend until it came away with 13 picks (albeit four in Round 7). Three of four day-two picks were dedicated to evaluating Jordan Love. Kraft is a Greg Cosell favorite, being likened to Dallas Goedert following the former's 65-780-6 campaign as a 20-year-old junior with the Jackrabbits. For what it's worth, Sean Clifford sent No. 33 overall pick Will Levis to the bench with Penn State in 2020. No complaints.
Grade: B-
Los Angeles
Rams
2 (36) - G Steve Avila, TCU
3 (77) - EDGE Byron Young, Tennessee
3 (89) - DI Kobie Turner, Wake Forest
4 (128) - QB Stetson Bennett, Georgia
5 (174) - OT Warren McClendon, Georgia
5 (175) - TE Davis Allen, Clemson
5 (177) - WR Puka Nacua, BYU
5 (161) - EDGE Nick Hampton, App State
6 (182) - CB Tre'Vius Hodges-Tomlinson, TCU
6 (189) - EDGE Ochaun Mathis, Nebraska
6 (215) - RB Zach Evans, Ole Miss
7 (223) - P Ethan Evans, Wingate
7 (234) - S Jason Taylor II, Oklahoma
7 (259) - DI Desjuan Johnson, Toledo
Overview: The Rams hadn't made a first-round pick since Jared Goff in 2016 and, although that held true over the weekend, took the complete opposite approach in tirelessly dealing until the team walked away with 14 players (albeit 10 on day three). Avila received a handful of first-round grades for his versatility — career 1,010 snaps at LG, 1,063 at C, 88 at RG, and 113 at RT — with the Championship Game-bound Horned Frogs and will start in Week 1. Bennett, 26 in October, would not have been drafted if the 49ers didn't hit on Brock Purdy on the final day last year. Too little, too late for an organization that achieved its penultimate goal before Matthew Stafford, Aaron Donald, Sean McVay all sail off into the sunset.
Grade: D+

Minnesota
Vikings
1 (23) - WR Jordan Addison, USC
3 (102) - CB Mekhi Blackmon, USC
4 (134) - CB Jay Ward, LSU
5 (141) - DI Jaquelin Roy, LSU
5 (164) - QB Jaren Hall, BYU
7 (222) - RB DeWayne McBride, UAB
Overview: GM Kwesi Adofo-Mensah's 2023 haul includes T.J. Hockenson, who averaged 6.3-58.9-0.2 over his last 11 games, for a second-round pick. The Vikings were also scheduled to choose at No. 87 following the addition of Jordan Addison but instead collected a later third-round pick (No. 102), a fifth-rounder (No. 164), and No. 222 from the 49ers, securing 10 late-round darts beyond day two over KAM's two-year tenure. Minnesota's lone knock was its inability to add a standout athlete to the roster with 25-year-old QB Jaren Hall registering the highest Relative Athletic Score (7.96) of the group.
Grade: C+
New Orleans
Saints
1 (29) - DI Bryan Bresee, Clemson
2 (40) - EDGE Isaiah Foskey, Notre Dame
3 (71) - RB Kendre Miller, TCU
4 (103) - OT Nick Saldiveri, Old Dominion
4 (127) - QB Jake Haener, Fresno State
5 (146) - S Jordan Howden, Minnesota
6 (195) - WR A.T. Perry, Wake Forest
Overview: At 6-foot-6, 298 pounds, Bresee made too much sense for a Saints defense that had numerous holes to fill on the interior following David Onyemata's (Falcons) and Shy Tuttle's (Panthers) departures. A shadow of his former self on tape after dealing with a torn ACL and shoulder injury the last two years, Bresee exploded for a 4.86 40-time at the combine, pinning him in the 89th percentile of his size-speed profile. He only registered 22 reps of 225 pounds in Indy but has previously recorded a 435-pound bench press, 300-pound power-clean, and 585-pound deadlift. Mickey Loomis also dove into his usual bag of tricks, sending a fifth- and a seventh-round pick in 2023 and a 2024 fifth-rounder for Saldiveri and Haener, the latter who carved up Mountain West competition for a nice 69.3% completion rate at 6'0/207 the last two years. All of New Orleans' needs were addressed including the addition of Miller, who would have arguably landed a fringe first-round grade if he tested at the combine (following his right knee injury late in the year).
Grade: C
New York
Giants
1 (24) - CB Deonte Banks, Maryland
2 (57) - C John Michael Schmitz, Minnesota
3 (73) - WR Jalin Hyatt, Tennessee
5 (172) - RB Eric Gray, Oklahoma
6 (209) - CB Tre Hawkins III, Old Dominion
7 (243) - DT Jordan Riley, Oregon
7 (254) - S Gervarrius Owens, Houston
Overview: When the dust settled, Joe Schoen and the Giants had bundled No. 25, two third-rounders (Nos. 89, 100), and three selections on day three (Nos. 128, 160, 240) for Darren Waller, Deonte Banks, and Jalin Hyatt. Given Adoree' Jackson's expiring contract, Banks is undoubtedly envisioned as the team's CB1 as early as 2024. Hyatt is an intriguing addition not only because New York prioritized slot receivers (where he ran 89% of his career routes) all offseason but because he was a one-year wonder with an absurd 67-1,267-15 as the nation's Biletnikoff Award winner in his final season sans Cedric Tillman (Browns). No missteps here, which we've all become accustomed to in a post-Dave Gettleman world.
Grade: B
Philadelphia
Eagles
1 (9) - DI Jalen Carter, Georgia

1 (30) - EDGE Nolan Smith, Georgia

3 (65) - OT Tyler Steen, Alabama

3 (66) - S Sydney Brown, Illinois

4 (105) - CB Kelee Ringo, Georgia

6 (188) - QB Tanner McKee, Stanford

7 (249) - DI Moro Ojomo, Texas
Overview: NFL Network's Peter Schrager mentioned some executives around the league are "getting annoyed" about how much praise Howie Roseman is receiving, essentially acquiring Jordan Davis, A.J. Brown, Jalen Carter, and Nolan Smith, the latter who fell to No. 30 for October's season-ending torn pectoral, in the first round of the last two drafts. In fact, Philadelphia entered this weekend with six selections only to somehow exit with seven and D'Andre Swift, who will bring back a compensatory pick if he leaves the team in 2024. At 6-foot-2, 207-pounds, Ringo was universally considered a top-10 pick before committing eight penalties with multiple explosive plays allowed in his final year. In other words, executives could be annoyed for a while.
Grade: A
San Francisco
49ers
3 (87) - S Ji'Ayir Brown, Penn State
3 (99) - K Jake Moody, Michigan
3 (101) - TE Cameron Latu, Alabama
5 (155) - CB Darrell Luter Jr., South Alabama
5 (173) - EDGE Robert Beal Jr., Georgia
6 (216) - LB Dee Winters, TCU
7 (247) - TE Brayden Willis, Oklahoma
7 (253) - WR Ronnie Bell, Michigan
7 (255) - LB Jalen Graham, Purdue
Overview: Even with an NFL-high seven compensatory selections this year, the Niners allowed recency bias in stumbling into Alex Mack's heir, Jake Brendel, post-retirement to dictate how the team would handle Mike McGlinchey's absence, refusing to draft an OT and pin everything on Colton McKivitz. The team also has veteran Matt Pryor on the roster as insurance. But John Lynch had no issues flipping the team's limited capital in sending a third-round pick (No. 102) and two day-two options (164, 222) to the Vikings for Brown, or adding DraftKings O/U standout Jake Moody as the weekend's first kicker (egregiously on day two). The organization had its hands tied for their own doing given the Trey Lance and Christian McCaffrey deals but it's fair to question the impact this group will have in year one, if at all.
Grade: D+
Seattle
Seahawks
1 (5) - CB Devon Witherspoon, Illinois
1 (20) - WR Jaxon Smith-Njigba, Ohio State
2 (37) - EDGE Derick Hall, Auburn
2 (52) - RB Zach Charbonnet, UCLA
4 (108) - G Anthony Bradford, LSU
4 (123) - DI Cameron Young, Mississippi State
5 (151) - EDGE Mike Morris, Michigan
5 (154) - C Olusegun Oluwatimi, Michigan
6 (198) - S Jerrick Reed II, New Mexico
7 (237) - RB Kenny McIntosh, Georgia
Overview: The Seahawks were clearly aware opposing teams stopped throwing at Tariq Woolen in the second half of the season, averaging 3.1 targets per game in coverage from Week 12 on (compared to 4.8 per game through Week 10). It's no longer an issue with Witherspoon, who permitted an FBS-best 17.1 yards per game. Smith-Njigba will earn a heaping of snaps immediately given the team's negligent depth and interchangeable pieces in place, both D.K. Metcalf (16.8% slot rate last year) and 31-year-old Tyler Lockett (42.4%) being able to play out wide; JSN totaled five routes from the boundary in his final year. Charbonnet was quietly Jim Harbaugh's highest-ranked recruit on offense in 2019, leading Michigan in rushing as a true freshman. As NBC's Peter King poetically put it: in a draft where cornerbacks (36 picks) and wide receivers (33) were prioritized by the league, John Schneider and the Seahawks arguably left the weekend with the best player at both spots.
Grade: A
Tampa Bay
Buccaneers
1 (19) - DI Calijah Kancey, Pittsburgh
2 (48) - OT Cody Mauch, North Dakota State
3 (82) - EDGE YaYa Diaby, Louisville
5 (153) - LB SirVocea Dennis, Pittsburgh
6 (181) - CB Josh Hayes, Kansas State
5 (171) - TE Payne Durham, Purdue
6 (191) - WR Trey Palmer, Nebraska
6 (196) - EDGE Jose Ramirez, Eastern Michigan
7 (232) - CB Carrington Valentine, Kentucky
Overview: Moving RT Tristan Wirfs To LT where he has yet to log a single snap through three seasons allowed Tampa Bay to bolster its interior with undersized Calijah Kancey (6'1/281) alongside Vita Vea. Mauch only made 13 collegiate snaps at LG but projects better on the inside at 302 pounds with sub-32-inch arms. Whether the team's goal is to compete for Caleb Williams or Drake Maye is a moot point since it's still the long-term direction with Baker Mayfield and Kyle Trask entrenched in competition.
Grade: C+
Washington
Commanders
1 (16) - CB Emmanuel Forbes, Mississippi State
2 (47) - CB Jartavius Martin, Illinois
3 (97) - C Ricky Stromberg, Arkansas
4 (118) - T Braeden Daniels, Utah
5 (137) - EDGE K.J. Henry, Clemson
6 (193) - RB Chris Rodriguez Jr., Kentucky
7 (233) - LB Andre Jones, Louisiana
Overview: 166-pound DOG Forbes was selected over plummeting No. 17 overall pick Christian Gonzalez in a vacuum. If the Commanders hadn't totaled 11 or fewer interceptions for the second straight year, I wonder if Forbes, who totaled 30 INTs over the past six seasons — 16 in his final three years of high school and 14 across three years in college, per The Athletic's Dane Brugler —, would have actually been the choice. Pro Football Focus charted Martin with the sixth-most incompletions forced among Power Five corners. Henry (6'4/251) generated more pressures than teammate and No. 28 overall pick Myles Murphy in 2022 but will be 25 next year when EDGE rushers Chase Young, Montez Sweat, Efe Obada, James Smith-Williams, and Abdullah Anderson hit free agency. Jack Del Rio got some help at the expense of the team's tight ends and quarterbacks room.
Grade: C