Week 1 NFL Fantasy Football Rankings: Cooper Kupp Reigns Supreme at Wide Receiver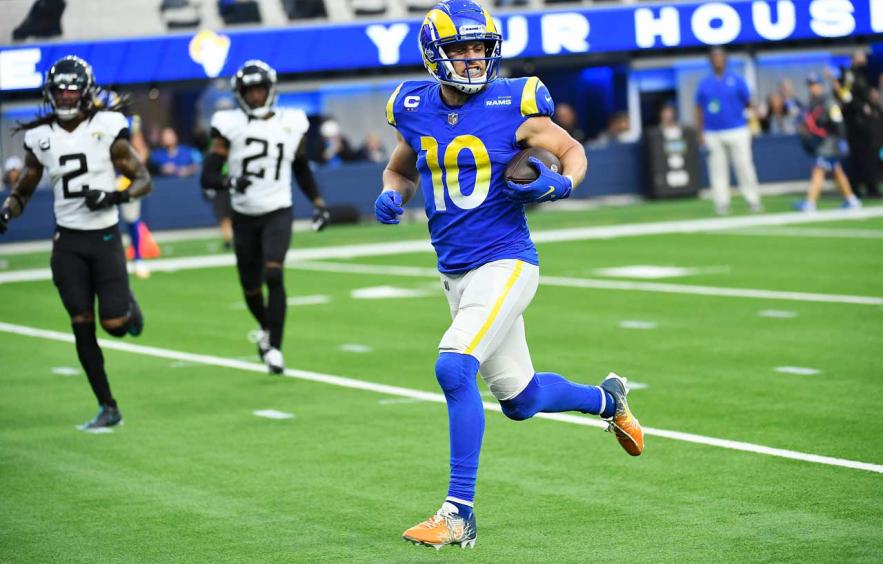 Kevork Djansezian/Getty Images
Week 1 is finally here and all the prep work that has gone into our drafts can finally start paying off. The hard work is done, the draft guides have been put away, and the focus shifts entirely onto who to start. It's an exciting time so every week I'll look over 4for4's top 10 rankings at each position and if anything noteworthy stands out.
*Note: All rankings are half-PPR and are courtesy of 4for4's Week 1 Rankings
What Stands Out: The obvious thing that stands out is how far out ahead the top five are compared to the rest of the quarterbacks. The difference between first to 10th (6.1 fantasy points) is the same as 10th to 32nd.
Analysis: The top guys are all plug-and-plays, but Josh Allen stands out in the Thursday night game against the Rams. It's a tough matchup against the defending Super Bowl Champions' defense, but I have absolutely zero doubt Josh Allen will get his. Lamar Jackson and Jalen Hurts both offer dual-threat upside in easy matchups, with Hurts having shootout potential against the revamped Lions offense. Patrick Mahomes and Kyler Murray also have big shootout potential in a game with the highest total on the board this week at 54 (on DK). Trey Lance is the guy in the back half of the top 10 that has the highest ceiling as he could have a big day overall against a weak Bears defense.
*Check out the full QB rankings here.
What Stands Out: The top five running backs all have ideal matchups and should reward you early on for using a top pick on them.
Analysis: With this being half-point PPR rankings, McCaffrey slips to third but he still has an enormous ceiling. Jonathan Taylor averages 115.5 yards per game on the ground and 1.25 touchdowns in games against the Texans. Derrick Henry is back and slated for the most rushing volume on the slate, but if he sees similar target volume as he saw in the first four weeks of 2021, he could outperform our projections. The back half of the top 10 sees workhorse backs in average to below-average matchups, but all have the receiving volume to have big weeks. Aaron Jones specifically stands out as someone who could be poised for a big week as we've seen how the offense looks under Matt LaFleur without WR Davante Adams and it is the Aaron Jones show. One player not in the top 10 to keep an eye on is Alvin Kamara - he has a great matchup against Atlanta.
*Check out the full RB rankings here.
What Stands Out: Cooper Kupp is in a class of his own, but the depth of receiver is incredible.
Analysis: Most of the top 10 are in average or difficult matchups this week, but that generally doesn't stop the elite tier of receivers from getting viable fantasy starting weeks. Are you benching any of these guys? Absolutely not. We see two pairs of receivers meeting up in what should be shoot-out games. Cooper Kupp vs. Stefon Diggs will be an intriguing duel in the top half of the rankings, while Mike Evans vs. CeeDee Lamb will carry the intrigue in the bottom half of the rankings. Given that we still don't know Chris Godwin's status for Week 1 or the role that Julio Jones will carve out in the Tampa Bay passing attack, Mike Evans looks like a guy in the back half of the top 10 who could outperform his projection and those ahead of him.
Baker Mayfield is probably the best quarterback D.J. Moore has had since his time in the NFL started and it will be interesting to see how he connects with the new signal caller. Michael Pittman is a guy I have been super high on all offseason and I love seeing him this high in the rankings. Outside of the top 10, one guy I have my eye on this week is Marquise Brown. The clock is ticking on him to get off to a hot start without DeAndre Hopkins and a matchup against the Chiefs in a high-scoring affair is a place to exploit.
*Check out the full WR rankings here.
What Stands Out: An elite top tier and then leveling off after that at the tight end position.
Analysis: Mark Andrews and Travis Kelce are both on high-powered offenses and both the focal point of those offenses, which makes sense that they are head-and-shoulders ahead of every other tight end. T.J. Hockenson was a surprise, personally, at third overall, but the matchup against Philly is certainly enticing, albeit a bit tougher than last year after the additions in the offseason. Dawson Knox and Darren Waller are both guys I like a lot this week in both their matchups and ability to outperform the projections due to the high totals in their games. Looking outside the top ten, Evan Engram is a guy that stands out as a potential guy who could be a TE1 this week. The matchup against Washington is very good and the Jaguars could be a surprise team this week in general.
*Check out the full TE rankings here.