Perfect Fantasy Football Draft: 1st in a 10-Team ESPN PPR League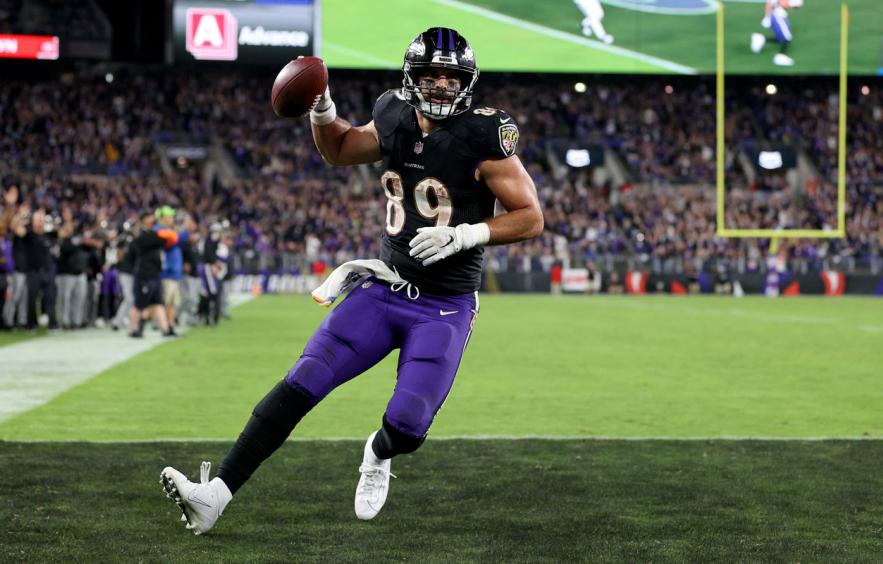 Patrick Smith/Getty Images
The first overall pick in fantasy football is always a great place to be, and this year is no exception. However, unlike most seasons where the top pick is pretty much a consensus, fantasy managers have a crucial decision to make from the very start in 2022. The major downside of picking first is the very long wait in between picks, which could get a little frustrating. On the bright side, this means that you will be able to make back-to-back selections for most of a draft, which gives you more control. It's important to stay active in between picks at this draft spot, as there could be long positional runs during the turn that affect your draft strategy.
---
More Perfect Drafts: 6th in a 12-Team ESPN PPR League | 1st in a 12-TEAM Superflex PPR league | 4th in a 12-Team ESPN PPR League
---
In this article, I will walk through a perfect draft with the first pick in a 10-team ESPN PPR league. Each pick was optimized using projections and value-based rankings from the 4for4 Draft Hero tool.
Draft Hero Settings
Roster Settings: 1 QB, 2 RB, 2 WR, 1 TE, 1 Flex (WR/RB/TE), 1 Kicker, 1 DEF, seven bench spots
No restrictions on when to draft positional players: Even though it's often recommended to wait on drafting certain positions, I'll remove restrictions in case any values present themselves. With this being said, I'll almost definitely only take a defense and kicker in the last few rounds.
Limit 1 TE, K, DEF: Limiting these less important positions to just one makes the draft a lot more realistic and challenging.
Targets: Mark Andrews and A.J. Dillon. I'll explain why I like these specific targets in their respective draft rounds, assuming I am able to land them.
Jump to Pick: 1 | 2 | 3 | 4 | 5 | 6 | 7 | 8 | 9 | 10 | 11 | 12 | 13 | 14 | 15 | 16 | Draft Recap
Round 1, Pick 1 (1) - RB
Christian McCaffrey

,

Panthers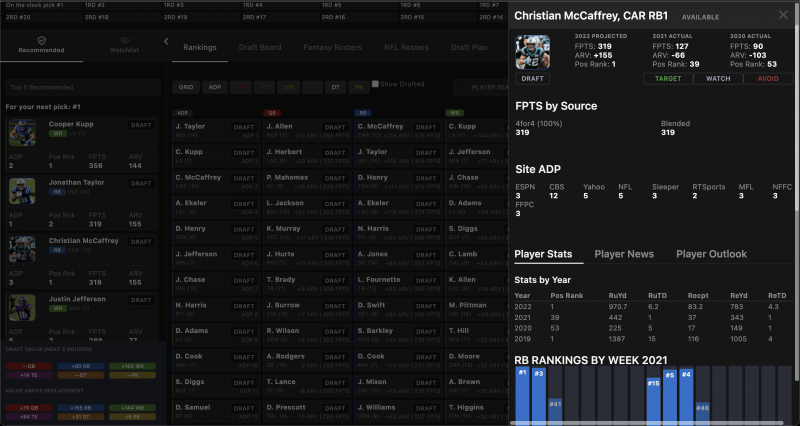 There is a big divide in the fantasy football community on who to take with the 1.01. In fact, because of how difficult of a decision this is, 4for4 actually has McCaffrey and Jonathan Taylor projected for the same amount of points this season in PPR. I am personally on team McCaffrey—while Taylor is undoubtedly an incredible player and had a fantastic season in 2021, CMC's ceiling is just so much higher. Last year, Taylor averaged 22 fantasy points per game en route to being the RB1 on the year. When he was the RB1 in 2019, McCaffrey averaged 29 points per game. Yes, his injury-riddled past two seasons are troublesome, but his upside is so high that he's worth the risk even with the first pick. There might not ever be a player that can offer the floor-ceiling combo that he does.
I'd definitely be looking to secure a running back with the 1.01, as elite RBs are more valuable than elite WRs in fantasy. I would start to consider a receiver like Cooper Kupp or Justin Jefferson at the third pick once McCaffrey and Taylor are off the board.
Suggested Alternatives: Cooper Kupp, Jonathan Taylor, Justin Jefferson, Derrick Henry
My Top Alternative: Jonathan Taylor
Round 2, Pick 10 (20) - RB
Saquon Barkley

,

Giants
Round 3, Pick 1 (21) - TE
Mark Andrews

,

Ravens

Because of how deep wide receivers are this year, I chose to address some of the less stacked positions with these two picks. In drafting McCaffrey and Barkley, we now have the players who were going first and second overall in fantasy drafts before the 2020-21 NFL season. Barkley has been a bit of a disappointment the last two seasons and has dealt with injuries similar to McCaffrey, but should be good to go for 2022. The Giants' offense was one of the worst units of all time last season, ranking dead last in the NFL in touchdowns scored. With Bills OC Brian Daboll coming into town, the offense should get a much-needed boost, elevating Barkley's value. Saquon also sees volume in the passing game, giving him a high floor. He's still an incredibly dynamic player when healthy and has overall RB1 upside if things break right.

Andrews ended Travis Kelce's five-year streak and was the TE1 last season, racking up over 150 targets and 1,300 receiving yards despite Lamar Jackson missing five games. With Jackson healthy and Hollywood Brown out of town, Andrews is the clear top option in the Ravens' passing game and should be great again. Your lineup might not look great taking a tight end this early, but you'll feel much better in week 6 when your opponent can't decide whether to start Mike Gesicki or Gerald Everett against you. Andrews' positional advantage makes him well worth it in the top of the third.

Suggested Alternatives: Leonard Fournette, Josh Allen, Javonte Williams, James Conner

My Top Alternative: Leonard Fournette
Round 4, Pick 10 (40) - WR
Terry McLaurin

,

Commanders
Round 5, Pick 1 (41) - WR
Diontae Johnson

,

Steelers

With two great starting RBs and an elite TE secured, it's a good time to start loading up on wide receivers. Given we waited this long to address the position, McLaurin is a great WR1 for our team. Carson Wentz isn't anything awe-inspiring, but he's legitimately the best quarterback of McLaurin's career. As the clear #1 for the Commanders, Scary Terry should be near the top of the league in targets and will be a safe and dependable receiver. If he gets a good connection going with Wentz and is able to improve his red-zone connection, he has top-10 upside.

One of my targets for the draft, Diontae Johnson is the definition of a high-floor, low-ceiling player, which is exactly what our team needs given the potential volatility at running back. He had a whopping 169 targets last season and was the WR9. With JuJu Smith-Schuster no longer in Pittsburgh, Johnson should see a similar amount of targets and will be a set-and-forget type of player that we can count on to produce each week, even if it isn't flashy or world-beating.

Suggested Alternatives: Brandin Cooks, Mike Williams, DK Metcalf, Lamar Jackson

My Top Alternative: Brandin Cooks
Round 6, Pick 10 (60) - WR
Allen Robinson

,

Rams
Round 7, Pick 1 (61) - QB
Jalen Hurts

,

Eagles

To fill out our starting skill position players I took Robinson, who has a new home in Los Angeles this season. ARob was a huge disappointment last year, never scoring more than ten fantasy points in any given week. However, there's reason to believe he's due for a bounce-back year. With the Rams, he has far and away the best QB of his career in Matthew Stafford and fits in nicely as the WR2 next to Cooper Kupp. He will likely play a role similar to what Odell Beckham did last year and be used as a red zone and deep ball threat. Given his prior production with absolutely horrible quarterback play, I'm confident last season was a blip on the radar and Robinson will get back to his productive ways.

I'm surprised Hurts is available this late, and he's a big value in the seventh. Hurts is a fantasy football cheat code, as his abilities as a rusher make him extremely valuable even if he isn't that great of a quarterback. Throw in the fact that the Eagles added an elite weapon to their passing offense in A.J. Brown, and Hurts should easily be a top-10 quarterback for fantasy again this year. Unlike a pocket passer like Tom Brady, Hurts gives us a high floor thanks to his guaranteed rushing output.

Suggested Alternatives: Adam Thielen, Darnell Mooney, Gabriel Davis, Tom Brady

My Top Alternative: Tom Brady
Round 8, Pick 10 (80) - WR
Adam Thielen

,

Vikings
Round 9, Pick 1 (81) - RB
A.J. Dillon

,

Packers

All Adam Thielen does is score touchdowns. No matter the circumstances, he has a connection with Kirk Cousins that makes him unstoppable in the red zone. In fact, since 2018, Thielen ranks fourth in the entire NFL in receiving touchdowns behind Davante Adams, Mike Evans, and Tyreek Hill. Even if he isn't the #1 receiver for the Vikings, he still should see more than enough volume to be a quality fantasy player and is a steal this late. He's a phenomenal player to have on our bench in case any of our receivers get injured.

While an NFL team does not usually have two running backs that are both fantasy-relevant, the 2022 Packers might be an exception. Dillon and teammate Aaron Jones are arguably the two best pass-catchers in Green Bay, and Dillon should see plenty of volume even if he is second on the depth chart behind Jones. At 247 pounds, Dillon is also built to be a goalline machine, and might see a good amount of the most valuable touches: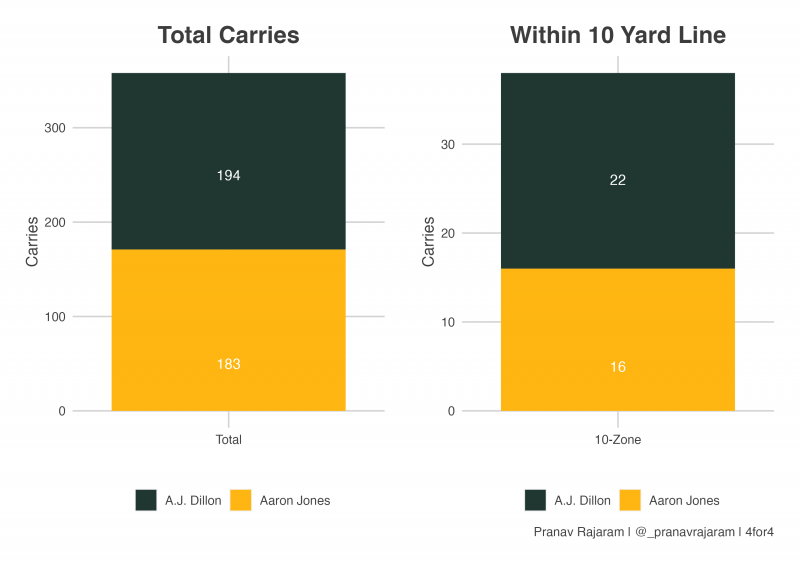 Here, we can see that Dillon actually out-touched Jones both in total and within the 10-yard line, a very promising sign for his 2022 outlook. He likely won't get enough opportunities to be a consistent starter (barring injury), but Dillon is a great depth addition to our team.
Suggested Alternatives: Chase Edmonds, Rashod Bateman, Clyde Edwards-Helaire, Drake London
My Top Alternative: Chase Edmonds
Round 10, Pick 10 (100) - RB
Rhamondre Stevenson

,

Patriots
Round 11, Pick 1 (101) - WR
Robert Woods

,

Titans

Rhamondre is one of the few late-round players that could realistically finish as an RB1. While he's listed behind Damien Harris on the depth chart, Rhamondre has actually seen plenty of work with the first team offense in training camp so far. He is a better pass catcher than Harris is, and with James White still dealing with an injury, Stevenson might be the third down running back for the Pats. A dominant runner, if Stevenson is able to supplant Harris as the starter, he will be fantasy gold. It goes without saying that if Harris gets injured, Stevenson would immediately become a weekly top-20 play.

Robert Woods will never get the respect he deserves. Perhaps due to his unflashy playstyle, Bobby Trees always seems to be going lower than he should in drafts. His situation in Tennessee isn't the best this season, but he is still the presumptive #1 in an offense with a solid quarterback. As long as he recovers from his ACL injury smoothly, Woods should be a safe depth option, especially in PPR.

Suggested Alternatives: Brandon Aiyuk, Melvin Gordon, James Cook, Nyhiem Hines

My Top Alternative: James Cook
Round 12, Pick 10 (120) - RB
Melvin Gordon

,

Broncos
Round 13, Pick 1 (121) - WR
Skyy Moore

,

Chiefs

Melvin Gordon is not a fun player to draft. Fantasy managers desperately want Gordon out of Denver to allow Javonte Williams to receive the full workload, but the fact of the matter is that Gordon is here to stay. In training camp so far, he's received 46% of the touches as the 1st team RB, indicating that this truly will be a timeshare. If that is the case, Gordon will see enough volume to be a very solid player for fantasy once again.

Moore, on the other hand, is a very fun player to draft. The rookie out of Western Michigan has shined during training camp, making an array of spectacular catches and even seeing work out of the backfield (he does wear #24 after all). Attached to what might be the best offense in the NFL, Moore has a chance to assert himself as the top wide receiver on the Chiefs and be a fantasy jackpot.

Suggested Alternatives: Tyler Boyd, Jarvis Landry, Patriots DST, Jakobi Meyers

My Top Alternative: Jakobi Meyers
Round 14, Pick 10 (140) - WR
DeVante Parker

,

Patriots
Round 15, Pick 1 (141) -
Bills

DST

Another training camp stud, Parker has displayed a connection with Mac Jones in New England, especially in the red zone. If this continues into the season and he can be a touchdown machine, he will be valuable for fantasy.

With my second-to-last pick, I'll take 4for4's highest projected defense in the Buffalo Bills. With stars like Micah Hyde and Jordan Poyer, the Bills should once again be a great defense and are the best pick available.

Suggested Alternatives: Ryan Succop, Nick Folk, Matt Prater, Cade York

My Top Alternative: Buccaneers DST
Round 16, Pick 10 (160) - K
Ryan Succop

,

Buccaneers

It's important for our kicker to be attached to a good offense, and Succop is exactly that. He should get plenty of scoring opportunities with Tom Brady back in Tampa and is 4for4's fourth highest projected kicker. This is also a fitting pick, as Succop was the Mr. Irrelevant of the 2009 NFL Draft and finds himself as the final selection here too.

Suggested Alternatives: Robbie Gould, Cade York, Jake Elliott, Chris Boswell

My Top Alternative: Jake Elliott
Draft Recap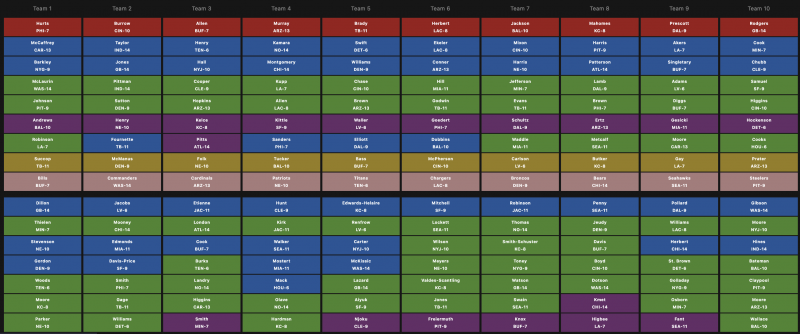 This might be the most fun team I've ever drafted. With CMC and Saquon at the helm, if this team hits, it will be legitimately impossible to stop. There is a risk of it backfiring if injuries continue to plague our most elite players, but filling out the supporting cast with safer players should help remedy that. We have a great balance of upside and consistency that should be a powerful, league-winning combination.